Blog
5 Ways how IDV Provides an Active Defence Against Fincrime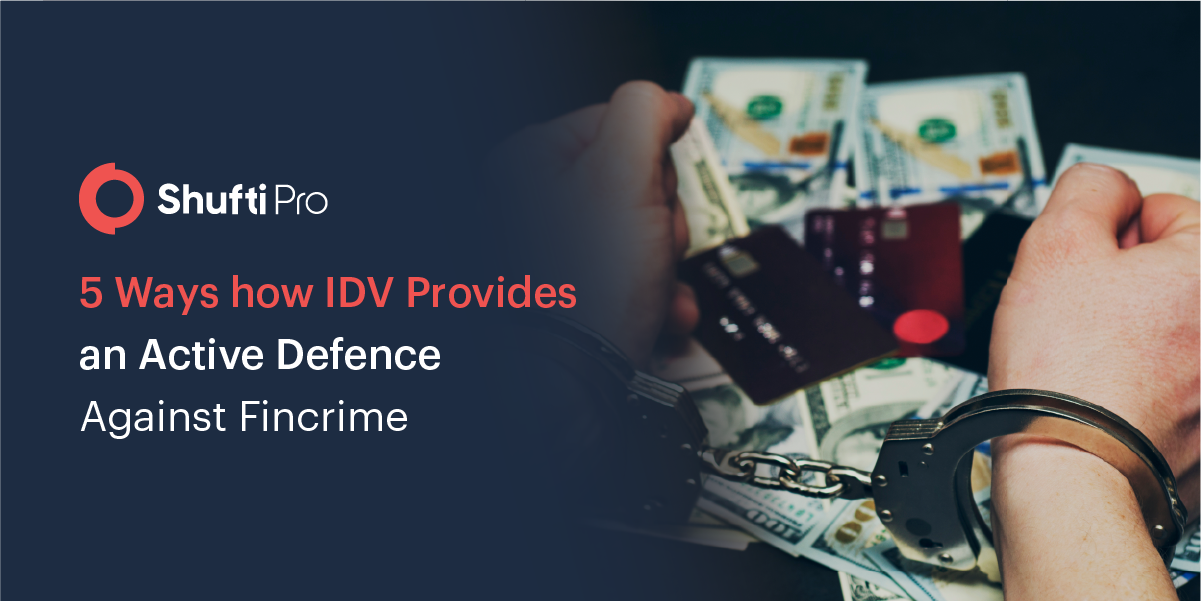 Identity theft, account takeovers, and data breaches… The world has seen enough cybercrime to open its eyes. A new type of revictimization fraud is on the rise in which the victim's stolen data is sold over multiple platforms. Identity thieves use personally identifiable information (PII) to conduct crimes like money laundering and terror financing.  
Criminals are pulling ahead of advances in technology by banking on the same methods used to prevent them. Fincrime, also known as financial crime accounts for a staggering $42 billion reported in annual losses. Fraudsters carry out their ill motives by stealing personal data and creating synthetic identities. The new identities are then used to issue credit cards, false insurance policies, evade tax authorities and banks, and steal money from the victim's bank account. Identity verification acts as a deterrent against fincrime by verifying the legitimacy of users' identities. It takes into account digital document verification and biometric authentication to provide a foolproof defence against false and fake users.
1- Prevention of Illicit Cybercrime
There is a cyberattack every 39 seconds as revealed by the University of Maryland. Financial institutions are always on the verge of cybercrime. Since they involve a good deal of monetary influx, they are a sweet spot for fraudsters. Banks and online businesses are prone to chargeback fraud which is another case of identity theft. Online scammers give enterprises a good run for their money by initiating unauthorized transactions resulting in instances of friendly fraud. 
Criminals then clean the ill-gotten money to hide the original source of income through money laundering. Once the money enters the legal financial system and is free of suspicion, it is used to carry out other organised crime such as terrorist financing, corporate data breaches, drug and arms trafficking, etc. Identity verification can prevent financial businesses from onboarding bad actors with their platforms and prevent potential fincrime. 
2- Mitigating the Risk of Identity Theft
1 out of every 10 individuals on the internet is a victim of identity theft, and 21% of them are cases of revictimization. Cybercriminals employ several methods to hijack the identity of online users and use it for their own purpose. By targeting major industries like healthcare and finance, fraudsters make a good deal of money. Stolen patient information and credit card fraud are one of the major reasons accounting for identity theft these days.
Identity theft requires a problem-oriented solution which is digital identity verification. Today, since most of the financial crime is committed through online platforms, online protection tools are necessary to meet the current day standards. Identity verification is a procedure to validate the real identity of an online user and saves enterprises from onboarding potential criminals which would harm them in the long run.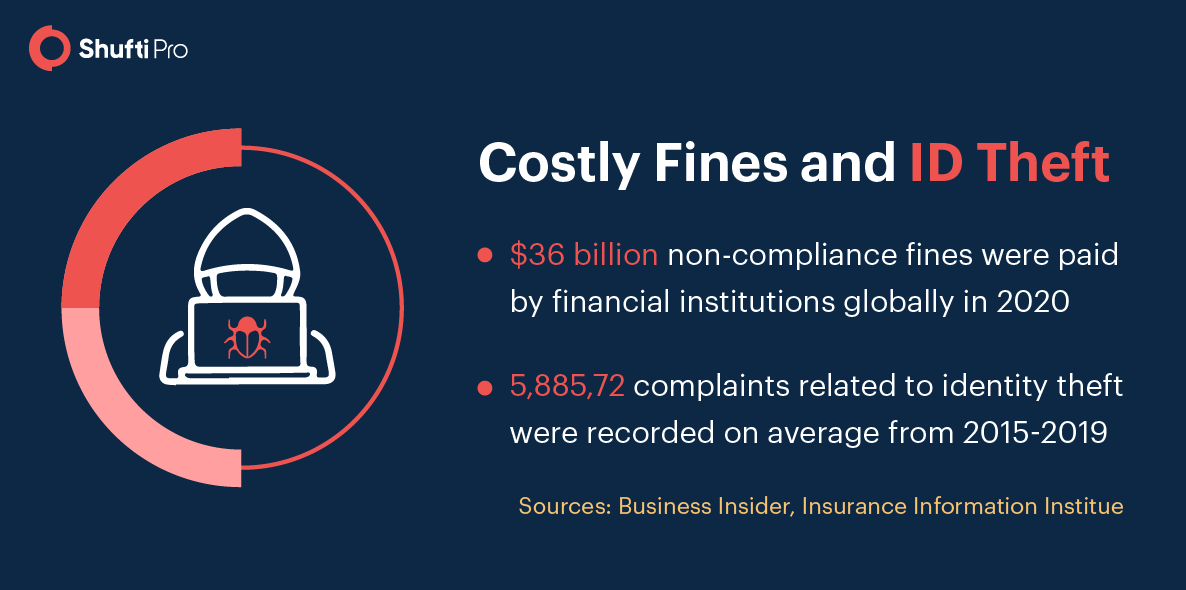 3- Avoiding Costly Fines and Penalties
Global regulators charter different rules and regulations to protect banks and financial businesses. Even though these laws may be relevant to specific service providers, they align with the fundamental purpose of preventing fincrime. These set of regulations are often termed as AML/KYC compliance, which is used to ensure secure customer onboarding and prevention of financial crime.
Organizations which fail to comply with Know Your Customer (KYC) and Anti Money Laundering (AML) standards are subject to non-compliance penalties. According to a study, some banks which were fined for not meeting proper regulatory requirements are listed below:
The Goldman Sachs Bank in the U.S. was fined more than $4 billion for AML non-compliance.
The Financial Conduct Authority (FCA) imposed a penalty of £37.8 Million on Commerzbank in London due to a high-risk financial system.
Westpac Bank of Australia paid $1.3 billion in penalties imposed by the federal court due to AML breaches and not complying with FATF's recommendations.
Identity verification can help financial institutions cut on costly penalties by ensuring AML/KYC procedures are performed the right way and on time. It also helps in the ongoing monitoring of customers which frequently perform high-risk transactions. Through identity verification, suspicious user behaviour can be timely reported to regulatory authorities like FinCEN and fincrime can be taken down.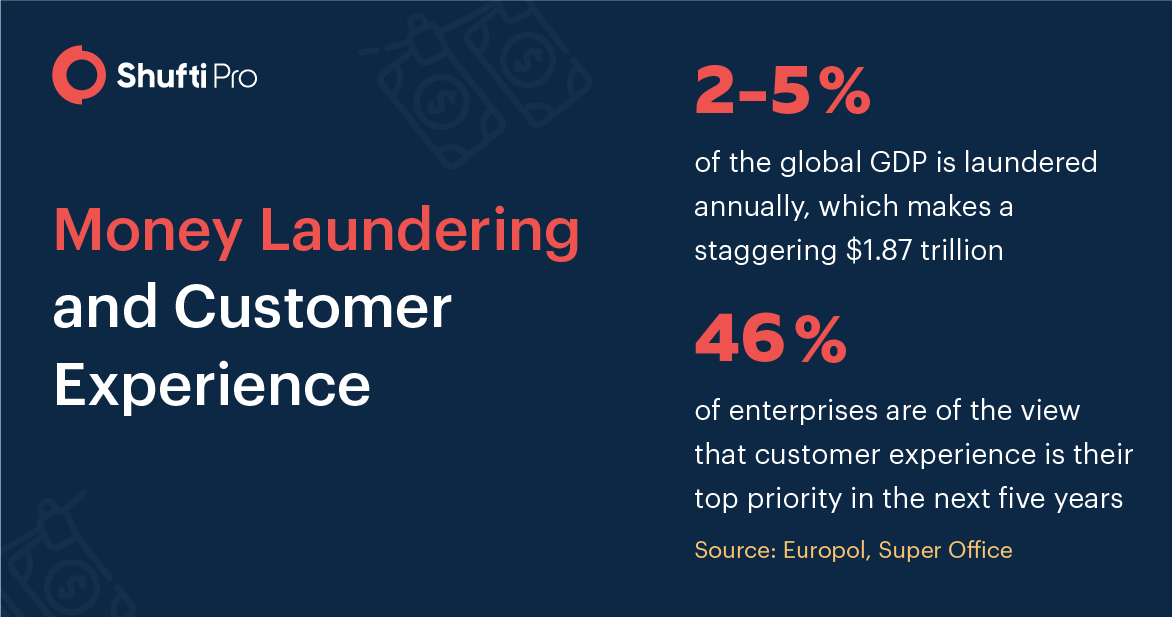 4- Elevating Customer Experience
76% of customers are of the view that a business needs to understand their needs to deliver a good service. Providing products and services that best suit your customer needs is a good means of improving your sales and gaining market reputation. User experience is a driving force in a good customer-business relationship.
Enterprises can provide a safe and secure channel to their customers by using identity verification services which help elevate the overall communication and onboarding process. By using state-of-the-art technologies including face verification and document authentication, financial businesses verify their customers' identity and keep fraudsters at bay.
5- Banking on Cost-effective Solutions
Efficiency in business operations is affected by a lot of factors including the turnaround time of a system and customer response. Gone are the days when users needed to take part in a manual verification procedure. Now, with digital ID verification services, customer identities are verified anywhere and anytime with automated systems accurately. This saves online businesses the cost and time of investing in a team of KYC experts.
Shufti Pro's IDV Solution
Identity theft and costly penalties are both a growing concern for financial organizations in 2021. One of the main reasons include not having a proper mechanism to screen customers and investing in an effective AML compliance program.
Shufti Pro's identity verification and AML screening solutions can streamline the customer onboarding process and significantly mitigate the risk of fincrime using automated solutions. Our identity verification encompasses a wide array of products including document verification, and facial biometric authentication. With the power of Shufti Pro's AI-based IDV solutions, businesses can now verify their users in realtime and with confidence and put an end to financial crime.
Disclaimer:
No warranty is herein provided that the information contained in this document is accurate, up-to-date, and/or complete. In no circumstance(s), does such information constitute legal or any other advice. Any person who intends to use, rely, pass-on, or re-publish the information contained herein in any way is solely responsible for the same. We suggest to verify the information and/or obtain
expert advice
independently if required.