Blog
10 Red Flags to Detect Money Laundering in the Finance Sector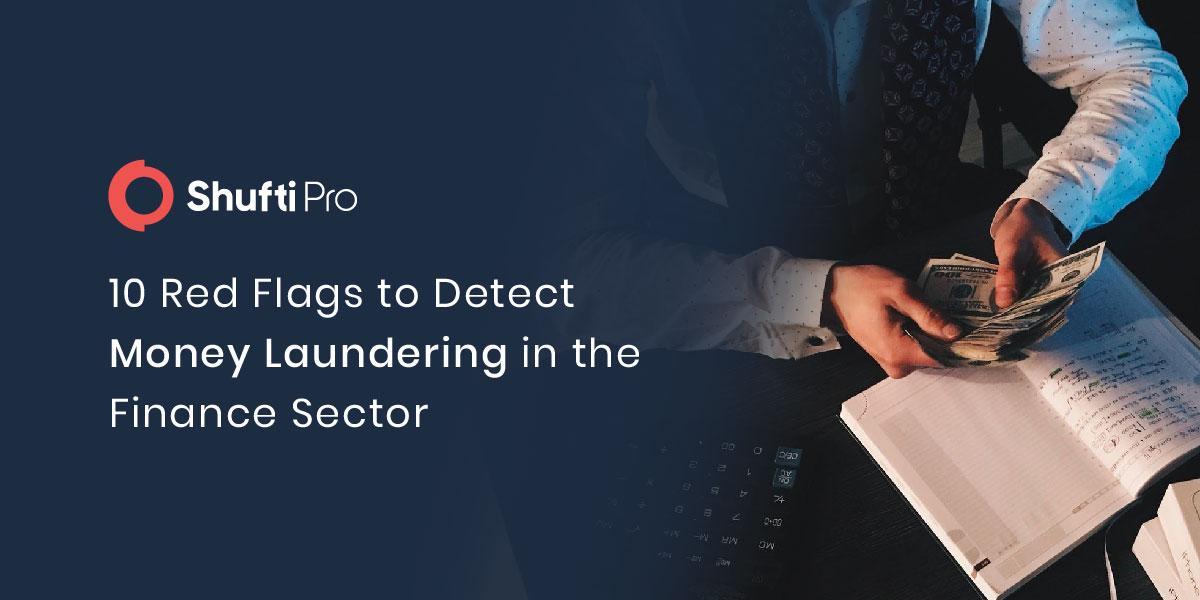 Crime is increasing rapidly in the modern world and with advanced technology, fraudsters are figuring out better ways to execute their malicious plans. One of such crimes is money laundering that has been exploiting businesses for a very long time. The conventional methods of laundering money have taken the virtual road. Criminals have developed sophisticated ways to conceal the origin of illegally earned money. Financial institutions, crypto exchanges, and Fintech companies are at the highest risk of money laundering. 
According to reports from UNODC and Europol, two to five per cent of the global GDP is laundered every year. This accounts for EUR 715 billion to 1.87 trillion. 
Given the rapid boom in money laundering over the past few years, all businesses are expecting an increase in the future as well. Regulatory authorities of all countries are in action to prevent money laundering. Every business is obligated to follow guidelines from the Financial Actions Task Force (FATF). These recommendations are designed to secure businesses from different types of criminal activities, especially money laundering. Furthermore, the guidelines have highlighted certain acts that can help enterprises in identifying money laundering activities. These acts are referred to as red flags by FATF and it makes money laundering identification easier. The blog covers 10 red flags from FATF that can help you secure your business. 
What is Anti-Money Laundering?
The act of concealing the origin of illegally earned money is called money laundering. Anti-money laundering (AML) refers to steps taken to mitigate money laundering. It includes laws and regulations to protect companies against different methods of money laundering, including smuggling, online gaming, drug trafficking, fraud, money mules, and gambling.
Read more: A Comprehensive Guide to AML Compliance [2020]
10 Red Flags from FATF
Considering the continually increasing rate of money laundering in different sectors around the world, here are 10 red flags from the Financial Actions Task Force (FATF) that can help you in identifying money laundering activities on time.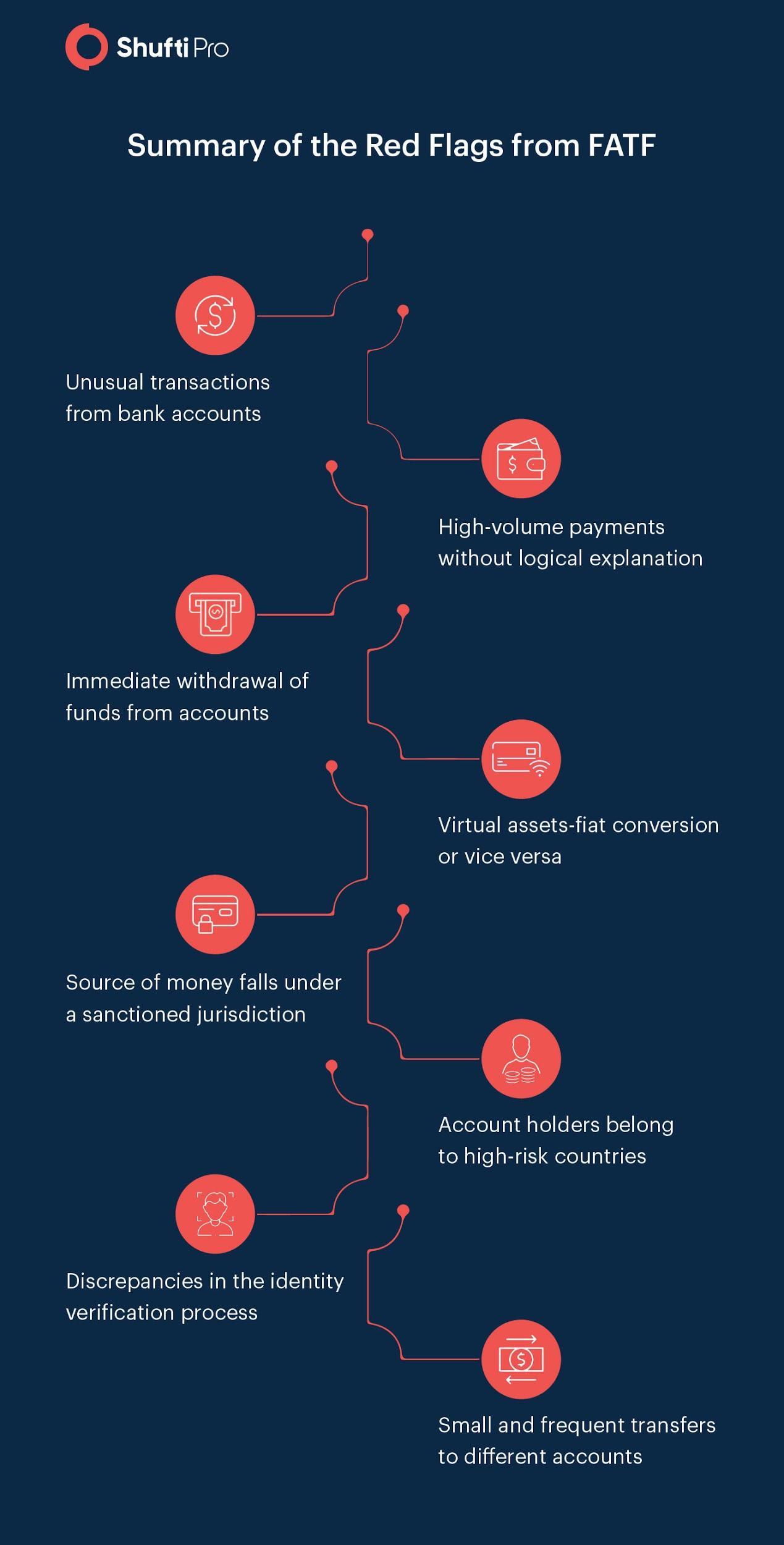 Customers are Highly Secretive
The account opening process in banks or any other company dealing with money requires plenty of information. How would you know about a suspicious client? Your customers do not share the bigger picture of their business. They are reluctant to share personal information. Worst case scenario, your client discloses one of his partners who has been highlighted in PEPs or sanctions. If your end-users are secretive about their business or source of income, it is better to decline their account opening process. Transactions in the future might be suspicious and cause troubles for you. 
Funds from Suspicious Accounts 
Did your bank just notice a suspicious account with weird transactions every week or month? Your bank might be in trouble, because the red flags from FATF have mentioned that any bank account that receives funds from suspicious accounts might be involved in money laundering. For instance, one of your customers has received funds from a sanctioned country or an account that has been blacklisted by another bank? 
Immediate Withdrawal to Private Wallets
Another red flag from FATF states that all financial institutions must monitor transactions of accounts that make an immediate withdrawal of funds as soon as received. For instance, one of your clients receives a large amount of money every three days or week and there is immediate withdrawal of money every time? This is another suspicious activity that you must watch out for or there are multiple high-volume transactions in less than 24 hours. 
Conversion to Virtual Assets or Vice Versa 
Virtual assets (VAs) are not commonly used for day-to-day transactions which makes it an easy target for fraudsters for money laundering. Criminals withdraw money as soon as received and convert it into virtual assets. They also convert small amounts of money to meet the threshold of banks into VAs. Incurring the additional charges multiple times is not a problem either, which, according to FATF, is unusual. On the contrary, virtual assets can be converted into fiat money and your organisation might receive small amounts of VAs converted into local currency. Monitor such transactions because frequent conversions are usually meant to disguise the source of money. 
Inconsistent Transfers without Logical Explanation
Logical explanations are mandatory for transfers through any business account. If your customers cannot justify their transactions, it is better not to let them transfer or receive funds at all. There is an unusual repayment cycle set by the client which cannot be explained with sound arguments.
Transactions with Unregistered Geographic Locations
According to FATF guidelines, transactions with countries that are not registered or the states that are sanctioned, are risky. If there are any clients that transfer or receive funds from unregistered geographies, it is better to get in touch with them immediately. In case the transactions cannot be logically explained, restrict any transactions from the same account. 
Frequent Transfers to Different Accounts 
Transferring money is not a problem but unusual transfers are not a good option either. Banks and other financial institutions should monitor transactions at all times to identify unusual patterns of funds transfer. For instance, one of the clients was having no transactions for some time. Suddenly, there have been many transfers in a while accounts in any unregistered jurisdiction. This is suspicious activity because a dormant account was activated and all transactions have been to sanctioned areas. 
Account Holders Belong to High-Risk Countries 
During the customer onboarding process, you will come across applicants that belong to high-risk countries. There is no harm in getting them onboard but be sure to perform background checks. As per the FATF guidelines, Anti-Money Laundering compliance is obligatory and for dealing with high-risk countries, performing necessary background checks are mandatory as well. This will include verification through sanctions and PEPs. 
Recommended: Anti Money Laundering – What is AML compliance and why is it important?
Multiple Accounts Under the Same Client 
Clients that have multiple accounts under the same details must be verified at regular intervals. Monitoring them is essential due to the high probability of money mule scam. Money launderers use third-parties or money mules for laundering money. This is why there might be more than two accounts with the same details and regular transactions without explanation. 
Irregularities in Customer Due Diligence Process
Lastly, people with suspicious backgrounds or illegal motives are reluctant to perform AML checks. Often there are discrepancies in the Customer Due Diligence (CDD) process. Maybe there's an issue with documents or you encounter spoof attacks during face verification. Being a part of the finance sector, you are obligated to perform robust checks and if you face any issues in the verification, it is better to not onboard the applicant.  
Key Takeaways 
Money laundering is on the rise and there is a dire need for AML checks in the finance sector. Stringent guidelines from FATF are challenging to comply with, but the authority has given a list of red flags that can make it easier for all organisations in the finance sector to combat financial crimes. Unusual transactions, discrepancies in the customer due diligence process, frequent transfers from accounts without logical explanations, VA-fiat conversion or vice versa, transactions from sanctioned locations, and multiple accounts of the same customer are some of the red flags shared by FATF. If your bank is facing any of these issues, be sure to enhance the security measures and perform necessary background checks. 
Get in touch with out experts to know more FATF guidelines and ongoing AML checks for enhanced security of your bank. 
Disclaimer:
No warranty is herein provided that the information contained in this document is accurate, up-to-date, and/or complete. In no circumstance(s), does such information constitute legal or any other advice. Any person who intends to use, rely, pass-on, or re-publish the information contained herein in any way is solely responsible for the same. We suggest to verify the information and/or obtain
expert advice
independently if required.