BEFORE YOU GO...
Check how Shufti Pro can verify your customers within seconds
Request Demo
No thanks
Data digitisation has made it accessible not only to legitimate users but also to cyber criminals. These criminals exploit such information to engage in illicit activities, increasing businesses' investment in fraud detection solutions to safeguard themselves and their clients.
Artificial Intelligence (AI) has emerged as a powerful technology in the digital age. Leveraging AI, companies can enhance the efficiency and reliability of their document verification process by enabling computers to make human-like decisions.
Types of Document Fraud
Banks and financial institutions encounter various forms of document fraud, including counterfeit and stolen documents. Customers expect instant verification, but the multitude of document fraud types makes the verification process challenging. 
Let's have a quick look at the different types of document fraud:
1. Modified Documents
Scammers alter original documents, and this category includes two different document types:
Forged Documents:

Vital information on documents is changed by scammers to perpetrate identity fraud. They manipulate variable information, add authentic pages from other documents, remove specific pages, or apply counterfeit stamps or watermarks.

Blank Stolen Documents:

When scammers gain access to blank documents, they use them to deceive banks.

2. Illegal Documents
Illegal documents are entirely fake, distinct from forged documents. This category encompasses two different types:
Counterfeit Documents:

These

documents

are reproductions of originals. Scammers acquire official blank documents and fill in false details.

Camouflage Documents:

Camouflage or fantasy documents contain information that should not be present. Detecting this type of fraud is relatively more straightforward as some aspects of the document raise suspicions.
How AI Streamlines the Document Verification Process?
In the age where document fraud is prevalent, banks and financial institutions grapple with verifying documents while meeting customers' demands for instant verification. This is where AI comes to the rescue, streamlining the online document verification process.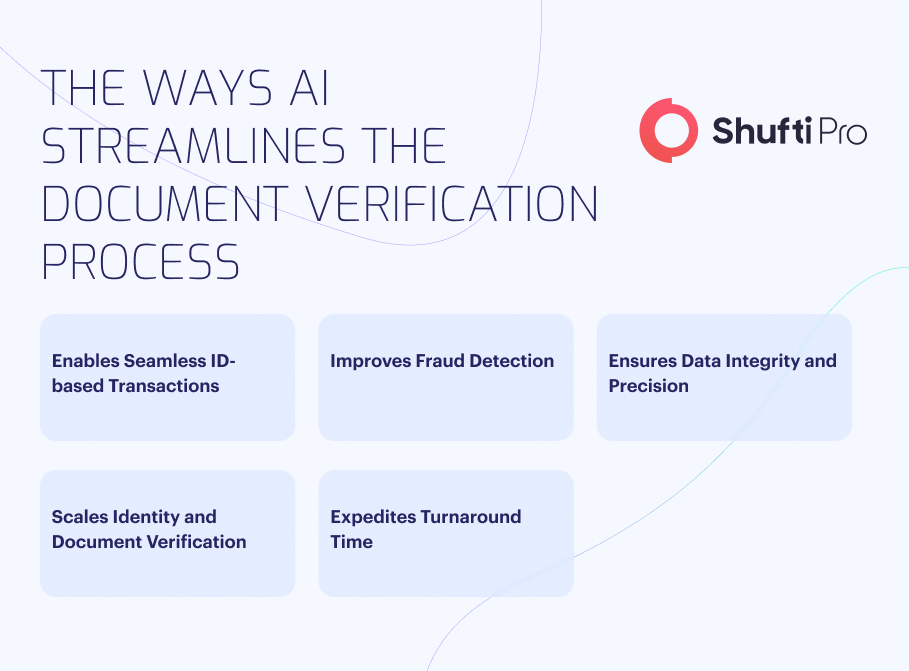 1. Enables Seamless ID-based Transactions
In today's digital landscape, numerous industries, from banking and healthcare to government and retail, offer online services, allowing customers to conduct transactions remotely. However, the risk of fraudulent transactions persists in the online realm. To protect businesses from falling victim to cybercriminals, it is crucial to implement a robust and user-friendly identity verification system.
Artificial Intelligence (AI) is vital in processing, verifying, and authenticating customers' identities, enabling seamless digital transactions. Leveraging its data collection and analysis capabilities, AI continuously enhances the verification process, facilitating smooth ID-driven transactions for businesses. This eliminates the need for in-person or in-store verifications, enabling you to embrace digital transformation within your operations fully.
2. Improves Fraud Detection
With the advancement of technology, fraudsters continuously devise new strategies to produce counterfeit documents and steal identities, posing a threat to businesses. Robust document and identity verification solutions must be used to safeguard against fraudulent transactions.
Implementing an AI-based document check empowers businesses to adapt to emerging methods and address vulnerabilities in their verification systems over time. Through continuous learning, AI can discern between genuine and forged IDs or documents more accurately than non-AI verification solutions. Furthermore, AI-powered solutions offer greater flexibility. Instead of rigidly adhering to pre-programmed rules, AI can self-correct and refine its processes, enhancing efficiency in detecting fraudulent transactions.
3. Ensures Data Integrity and Precision
Authentic documents often incorporate specific features to prove their legitimacy, such as encoded MRZ areas, NFC chips, embedded algorithms, or data fields in standardised formats and locations. An AI-based document verification solution can examine whether a document contains all the required data features, ensuring its authenticity.
Moreover, AI ensures data integrity within the system by identifying any anomalies. For instance, it can verify the authorised owner of a document by matching the uploaded photo with biometric analysis. It can also detect potential signs of document tampering, such as wear and tear on IDs, barcode discrepancies, pixel quality variations, and microprint inconsistencies.
Furthermore, AI's tireless nature enables it to minimise and identify errors that human eyes may overlook. By leveraging AI-powered verification, businesses can enhance the accuracy and reliability of their data while mitigating the risks associated with human fatigue.
4. Scales Identity and Document Verification
As your business expands, it becomes imperative for your document and identity verification solution to accommodate a growing number of customers. Failure to scale the solution accordingly can elevate the risks of forgery, fraud, and identity theft.
Leveraging AI and machine learning enables you to effectively scale identity and document verification processes. AI surpasses human capabilities in processing a larger volume of identities faster. Furthermore, AI can make human-like decisions and eliminate the need for human intervention in the verification process. This enhances efficiency and reduces the potential for errors and fraud.
5. Expedites Turnaround Time
The process of manual document and identity verification can be time-consuming and monotonous. It necessitates customers physically visiting a store to provide proof of their identity. However, even with in-person verification, the manual processing and authentication of official documents are less dependable and precise than document verification.
A company can expedite identity processing, verification, and authentication by leveraging AI technology. As a result, the customers will experience a quicker turnaround time during the verification process. Additionally, AI can be utilised to enable passwordless logins, replacing them with secure identity verification methods like facial recognition and biometrics. This eliminates the need to remember passwords whilst ensuring their accounts remain secure.
How Can Shufti Pro Help?
Shufti Pro offers an AI-powered document verification solution to 230 countries and territories and supports 150+ languages. Our automated ID document verification service helps businesses streamline onboarding, hire legitimate clients in real time, and help enterprises abide by KYC and AML regulations.
Still confused about how an AI-powered document verification solution helps keep scammers away.