BEFORE YOU GO...
Check how Shufti Pro can verify your customers within seconds
Request Demo
No thanks
In the digital age, businesses that operate online face a significant challenge when verifying their users' age. Age verification is particularly important in industries such as gambling, alcohol, and relevant age-restricted content, where it is a legal requirement to verify the age of users. Failure to do so can result in costly fines, legal action, and reputational damage. In this blog post, we'll explore the importance of age verification and how it can help businesses play safer.
Why is Age Verification Important?
Several countries have strict laws surrounding the sales of certain products and services to minors; for example, it is illegal to sell alcohol or tobacco to anyone under the legal age limit. Additionally, some countries have regulations in place around online gambling, and these typically require the verification of the user's age before they can access the service.
In addition to legal requirements, there are ethical considerations around the provision of age-restricted content. Many businesses choose to verify the age of their users to ensure that they are not providing access to inappropriate content to minors.
The consequences of failing to verify the age of users can be significant. For example, companies that fail to comply with age verification regulations in the UK can face fines of up to £250,000 or 5% of their annual turnover. In addition to legal consequences, there is the risk of reputational damage and loss of trust from their current and potential customer base.
Understanding Age Verification
Age verification is a tool that businesses can use to verify the age of their patrons. Many types of age verification solutions are available, ranging from simple age gates to more complex systems that use multiple data sources to verify a user's age.
Some common methods of age verification include:
Age Gates – Age gates are simple pop-ups requiring users to confirm that they are over a certain age before accessing a website or service.
Self-Declaration – Self-declaration is where users must confirm their age by entering their date of birth or selecting their age from a drop-down menu.
Document Verification – Document verification is where users are required to upload a copy of their ID or passport to verify their age.
Third-Party Verification – Third-party verification involves using data sources from third-party providers to verify a user's age, such as credit reference agencies or government databases.
The Benefits of Age Verification Solutions
Compliance with Legal Requirements – Age verification solutions enable businesses to comply with legal requirements around age-restricted products and services.
Risk Reduction – By verifying the age of their users, businesses can reduce the risk of legal action, fines, and reputational damage.
Improved Trust – Age verification solutions can improve trust between businesses and their customers. By taking the responsibility of age verification seriously, businesses can demonstrate their commitment to providing a safe and responsible service.
Customisable Options – Age verification solutions can be customised to meet the needs of different industries and businesses. For example, some solutions allow businesses to set different age limits for different products or services.
Enhanced User Experience – Age verification solutions can improve the user experience by streamlining the age verification process, reducing friction, and improving the overall user experience.
Data Protection – Some age verification solutions provide an additional layer of data protection by verifying the age of users without storing their personal information.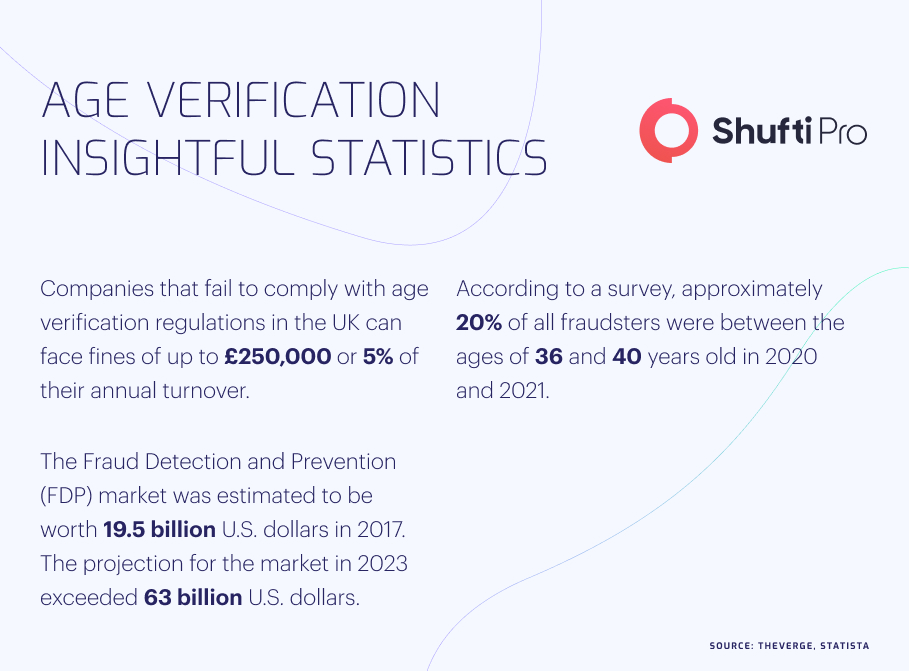 The challenges of Age Verification Solutions
Cost – Age verification solutions can be costly, particularly for small businesses. Some solutions require ongoing payments or a subscription model, which can be prohibitive for smaller businesses. 
User Experience – Some age verification solutions can be intrusive and disrupt the user experience. Businesses need to find a solution that strikes the right balance between user experience and compliance.
Complexity – Some age verification solutions can be complex and difficult to integrate into existing
Why should Businesses opt for Shufti Pro's Age Verification service? 
Shufti Pro, being one of the leading IDV service providers across the globe, has been serving a plethora of businesses, ranging from start-ups to large-scale organisations. We offer KYC, KYB, and AML services in 230+ countries and territories. Given the ability to verify 3000+ documents, Shufti Pro authenticates documents in 150+ languages with an accuracy rate of 99.3%. The company aims to create a secure digital marketplace through its AI-driven efficient verification services without identity theft and other fraudulent activities.
With an unparalleled track record of IDV solutions, in the industry of IDV solutions, we can help you achieve your aims whilst protecting you from attempted fraud legal actions, and sizable fines. So, what are you waiting for? Visit our website now or get in touch with our IDV experts.