BEFORE YOU GO...
Check how Shufti Pro can verify your customers within seconds
Request Demo
No thanks
Several businesses are unaware of the significance that age verification holds for their business. UK gambling firms paid £19.6m in penalties due to money laundering and under-age gambling conducted on their platforms. 
Regulatory authorities are introducing stringent Anti Money Laundering (AML) and age-restricted selling regulations to eliminate the risk of money laundering and under-age gambling addiction. 
For example, the United Kingdom Gambling Commission amended the identity verification and KYC regulations for online gambling sites. The new regulations require online gambling websites to verify at least the name, address, and age of their players before onboarding them. The previously registered players should be verified as well. 
With strict changes in the age-verification regimes, the businesses need to gain in-depth knowledge about verification, its methods, and benefits. Several businesses need to incorporate age-verification software in their systems due to one reason or another but are unaware of urgency due to lack of awareness. 
What Is Age Verification?
Age verification is a process in which the identity document of the user/customer of a business is screened to verify if the age information provided is true or not. This process can be performed manually or through an automated process. Manual verification is not practiced commonly because it has a high risk of human error and the process is hefty. 
To solve this problem online age verification is used widely by many businesses. It helps in remote age verification of customers from any corner of the world. 
How is Online Age Verification Performed?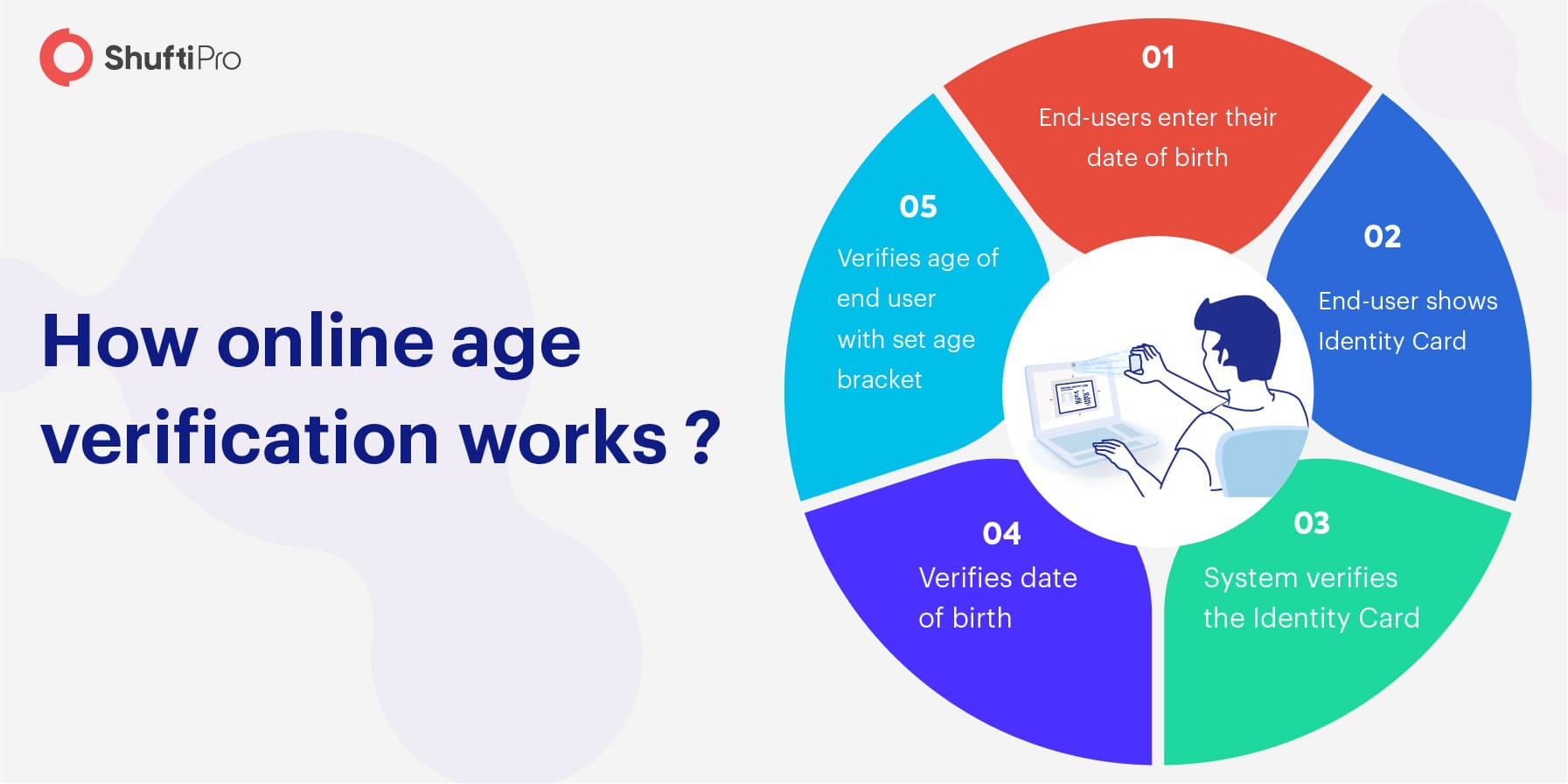 Online age verification is a swift process that shows results within a minute saving a lot of time and effort of the fraud officer and compliance department. 
The end-user (your customer) is asked to enter his date of birth and show his ID Card or another identity document (passport, driving license) bearing his date of birth. 

The system screens the document for default format and matches the date of birth on the document with that added by the end-user. 

Once the verification process is completed the results are shown to the end-user and updated in the back office. 
Why Businesses Need Age Verification?
The significant reasons why businesses need to verify the age of their customers are listed below:
Regulatory Compliance
Regulatory compliance is often one of the major reasons why businesses need to verify the age of their customers is regulatory compliance. Regulations in several countries like the UK and the USA have made age-verification necessary for some businesses and huge penalties are imposed in case of non-compliance. 
Regulatory compliance helps businesses in gaining credit rating and market value. 
Corporate Social Responsibility
Corporate Social Responsibility includes the operations and activities of a business that do not reap monetary gain but help it in improving its market value and brand image among the masses. 
Businesses that sell age-restricted products can use age-verification to show their commitment to the benefit of the masses. Children die every day due to unhealthy consumption of drugs and alcohol, 442 children died in the U.S. in 2015 due to drug overdose. Alcohol sellers should use age verification to play their part in decreasing deaths due to the under-age consumption of alcohol. 
It will help the liquor store in gaining prominence as a regulatory compliant and socially responsible business. 
Risk of Fake Identities
Often the children use the identity cards of their parents/elders to buy goods online. In such cases, if a business does not use identity verification it might end up losing its credibility and will also face penalties.
Another source of risk for some businesses is when identity thieves use the identities of other people to get free services and benefits. Often some benefits like pension and old age funds are given to needy people. Criminals might use fake identities to gain those benefits illegally. 
Businesses That Need to Verify The Age of Their Customer
Online alcohol stores have a high-risk because they have no face to face interaction with their customers. So, it is very easy for children to buy drugs and alcohol online by using the ID card number of their parents or elders. 
Several Businesses need to use online age verification to gain the benefits mentioned above. It is a common belief that only gaming and gambling websites need ID verification but the reality is the other way round. Below is a list of businesses that need to verify the age of their customers: 
Online gaming and gambling websites
Online gaming and gambling websites are under the strict scrutiny of the regulatory authorities. They need to run in-depth KYC on the gamers before onboarding them and age-verification is a necessary part of this regulation. The major reason is to reduce gaming addiction among youngsters. Also, most of these sites are not suitable for underage kids. 
Online age verification helps online gaming businesses to reduce the risk of non-compliance penalties by providing global coverage in age verification. It reduces the hassle of regulatory compliance by providing swift results. It helps businesses in retaining legitimate customers and keeping minors at the bay.  
E-commerce is a huge market. Often such platforms have a diverse range of products, some of them are suitable for minors and the others are only for adults. Such platforms have a hard time managing their audience because regulations related to age-verification are imposed on such platforms as well. 
For example, if an online store sells grocery items and liquor as well in its products range then he will need to introduce roadblocks in its website design to mitigate the sales to minors. In this case, online age verification software proves to be an efficient tool for seamless risk prevention.  
Drug stores and hospitals (medical marijuana)
Online drug stores and hospitals have the right to sell some very expensive drugs. Often such drugs prove to be fatal if used inappropriately. Online drug stores and hospitals (serving online or physically) are developed with the intention to serve needy patients with prescribed drugs. 
Children use the prescriptions of their parents to get drugs. In such cases the children often get addicted to these drugs and the parents or the drug store/hospital is unaware of the damage made due to their negligence. 
It is a common practice to use the stolen identities of minors to onboard online lottery websites. These websites are exploited by criminals to wash their black money. In case a lottery website does not verify the age of its customers before onboarding them it will face multiple consequences if a criminal will launder money through their platform using the identity of a minor.
The lottery website will have to pay penalties for underage selling and non-compliance with AML regulations. So, age-verification is inevitable to avoid harsh regulatory fines and reputational loss.
NGOs and Govt. Pension Funds
NGOs and Government organizations have many beneficiary programs for senior citizens such programs include, food tokens, pensions, health benefits, tax deductions, etc. Criminals use the identity cards of these people to get benefits illegally. These organizations need to run KYC processes including age-verification, to reduce the loss of needy people. 
The legal sector needs to run KYC and AML screening on their customer for compliance with AML regimes. At times the legal representatives are in a situation where the rights are transferred to a person after he/she reaches a certain age. In such cases, people often use fake IDs to manipulate legal representatives. 
Online identity verification and age verification software will be very useful in such cases, as it will help the legal representatives in swift KYC screening along with age verification within a minute. It makes the whole verification process easier for the clients and the legal representatives as well. 
Government agencies can use age verification for e-voting. It will reduce the hassle and cost of election a lot. Stringent identity verification and real-time age verification measures will reduce the risk of fraud in the election. 
To wrap up, the benefits and use-cases of age verification are way beyond the general understanding of the masses. Many businesses can utilize age-verification software to increase their customer retention and fraud prevention. It helps the businesses in streamlining their security operations by onboarding secure clients.