BEFORE YOU GO...
Check how Shufti Pro can verify your customers within seconds
Request Demo
No thanks
Fraud is a growing concern for many industries and the automotive industry is no exception. In 2022, auto fraud saw a major rise with car crimes increasing by 7%. As vehicles implement more intricate and complex technologies into software and electronic systems, opportunities for fraud also increase with such technological advancement. Misrepresenting auto's condition, false warranty claims, and manipulation of safety test results all are different forms of automotive fraud. Such crimes lead to alarming consequences causing major financial losses, damage to the company's reputation and even concerns for public safety. It is crucial for businesses operating in the industry to curb these types of fraud and remain vigilant in detecting and preventing false attempts. 
How Today's Automotive Workplace is Different
The automotive industry has changed dramatically in recent years, particularly with the introduction of new technologies, such as electric and automatic vehicles, as well as the increased use of data and analytics in production and marketing operations. However, these developments have introduced new problems and threats to the automotive workplace, including the possibility of fraud. The reliance on technology is one of the most noticeable differences in today's automotive sector. Several previously manual procedures, like inventory management and sales reporting, are now computerised, making them vulnerable to fraud. Employees, for example, may be able to modify data or exploit software flaws to steal or abuse information. Many companies have listed complete occurrences stating why employees steal meaningful data for their gains. 
Types of Fraud in the Automotive Industry
From cutting-edge technology to elegant looks that grab the attention of millions, the automobile industry has always been a hotspot for innovation and growth. But, since this worldwide sector has grown rapidly crossing $2.86 trillion in global market revenue, the risk of fraudulent activity has risen enormously. The automobile business is plagued with different sorts of fraud, ranging from fraudulent advertising methods to counterfeit car components, which can have major ramifications for customers, manufacturers, and dealerships alike. 
Identity theft
In this situation, fraudsters utilise stolen personal information to carry out various operations, such as purchasing or leasing a car, obtaining a loan, or starting credit accounts in the name of someone else. Identity theft in the automobile business can have serious outcomes, ranging from damaged credit ratings to the victim facing legal charges. More than 60% of auto dealerships filed cases of identity theft losing three or more vehicles in 2022. As the industry adopts modern methods, the danger of identity theft in the automobile sector is expected to rise, emphasising the need for customers to remain aware and take proactive actions to protect themselves.
Odometer fraud
Odometer fraud is a widespread practice in which the mileage on a car's odometer is tampered with in an attempt to fool potential purchasers into thinking the vehicle has run fewer miles than it actually does. The National Highway Traffic Safety Administration (NHTSA) estimates that odometer fraud costs customers billions of dollars each year. In fact, according to a Carfax investigation, one out of every ten automobiles on the road has had its odometer turned back. The survey also discovered that the average rollback distance was around 50,000 miles, resulting in a $4000 cost to the consumer. Consumers not only lose money as a consequence of this form of scam, but it may also be unsafe if the car has been driven more than it looks.
Warranty fraud
Warranty fraud is a severe problem that may result in large financial losses for both businesses and individuals. Warranty and service contract scams were the third most prevalent kind of fraud detected in 2020, accounting for thousands of consumer complaints, according to the Federal Trade Commission. Furthermore, according to Warranty Week research, the cost of warranty fraud in the United States alone might be as high as $15 billion each year. This sort of fraud can take several forms, such as making false promises, misrepresenting a product's condition, or employing counterfeit parts. Warranty fraud can have far-reaching implications, damaging both the company's reputation and the consumer's safety.
Title washing
Criminals use different approaches to sell out stolen vehicles. One of those approaches is title washing in which the car value is pushed up by washing or removing all the negativity associated with it. Fraudsters implement this technique to remove information from vehicles including water damage, branding, odometer brand, salvage and rebuilt title brand. Title washing pulls the vehicle's worth up, concealing all the major issues that can impact every customer's decision of buying the vehicle. Many nations have introduced strict guidelines to prevent title washing. Last year, Lebanon, Lehigh, and Philadelphia counties imposed heavy charges on the criminals involved in the act.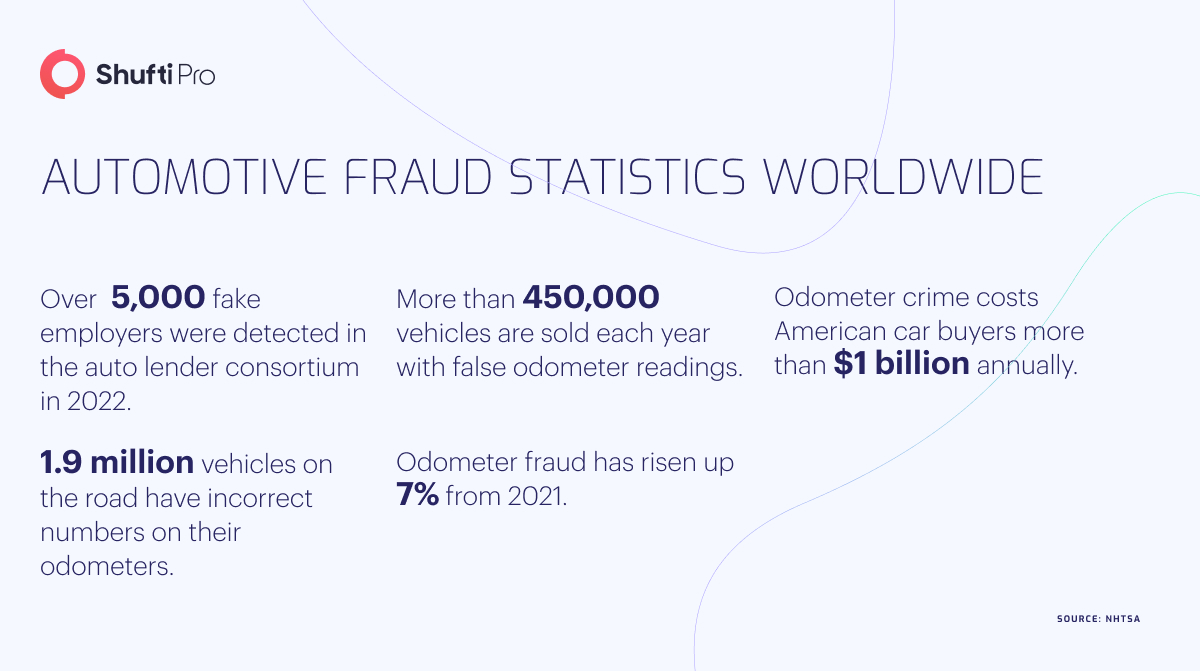 Preventative Measures Against Automotive Fraud
To prevent financial loss, businesses should take a range of measures against all new automotive fraud techniques. Various options are available in the market that employ evolving tech solutions, such as real-time monitoring and secure data management. These two solutions are described below:
VIN Systems
Vehicle identification number (VIN) systems are designed to eradicate all the prevailing issues associated with vehicle numbers. A VIN figure is a 17-digit number that is present on every vehicle used for tracking and identification. VIN systems prove to be a successful solution in preventing insurance fraud. This assists in guaranteeing the correct coverage is delivered, and that the policyholder is not trying to fraudulently insure a different automobile. There are hefty charges on criminals that try to forge vehicle identification numbers and authorities take stringent actions on violations.
Compliance and Regulation
Compliance with global regulations, such as KYC (Know Your Client), allows businesses to have complete control over who they have in their workforce to who is trying out to rent a new vehicle. Being compliant is not enough nowadays, enterprises need to have modern technologies in place to check whether the person is using fake documents or not. Biometric verification plays a crucial part in this process using face recognition technology, car retailers can ensure security and prevent fraud.
How can Shufti Pro Help?
There is no need to worry once you start complying with global regulations. In the automotive industry, it is most difficult to keep up with new challenges and attempts from criminals. But no need to worry as Shufti Pro is here to protect your valuables from getting into the wrong hands. We ensure your business is in line with all security protocols with proper AML and KYC verification processes, detecting fraudsters before they try to run with your vehicle on demand using fake identities.