BEFORE YOU GO...
Check how Shufti Pro can verify your customers within seconds
Request Demo
No thanks
Due to the coronavirus pandemic, tourism has been adversely affected and the entire travel sector is now facing challenges. New travel restrictions have been imposed according to which airports have to perform COVID test verification before onboarding any passenger. The COVID test must be from specified laboratories and not older than the timeframe defined by the state. This is not just a restriction for departures but the new travel restriction is for arrivals too. Why did this happen? Well, news from resources reveals that new variants of the virus were identified in different states and these variants are more lethal to humans than the parent virus. Therefore, travel was initially banned but later, this new rule was imposed. Considering these rules, Shufti Pro has introduced Digital COVID Pass for automated Covid test verification. Let's take a look at the 'what' and 'how' of Digital COVID Pass. 
What is Digital COVID Pass?
Digital COVID Pass is an automated solution that can help the travel and tourism industry in complying with the new rules. The solution deploys thousands of AI models to verify the information on the COVID test. It takes only a few seconds and the results are error-free as well.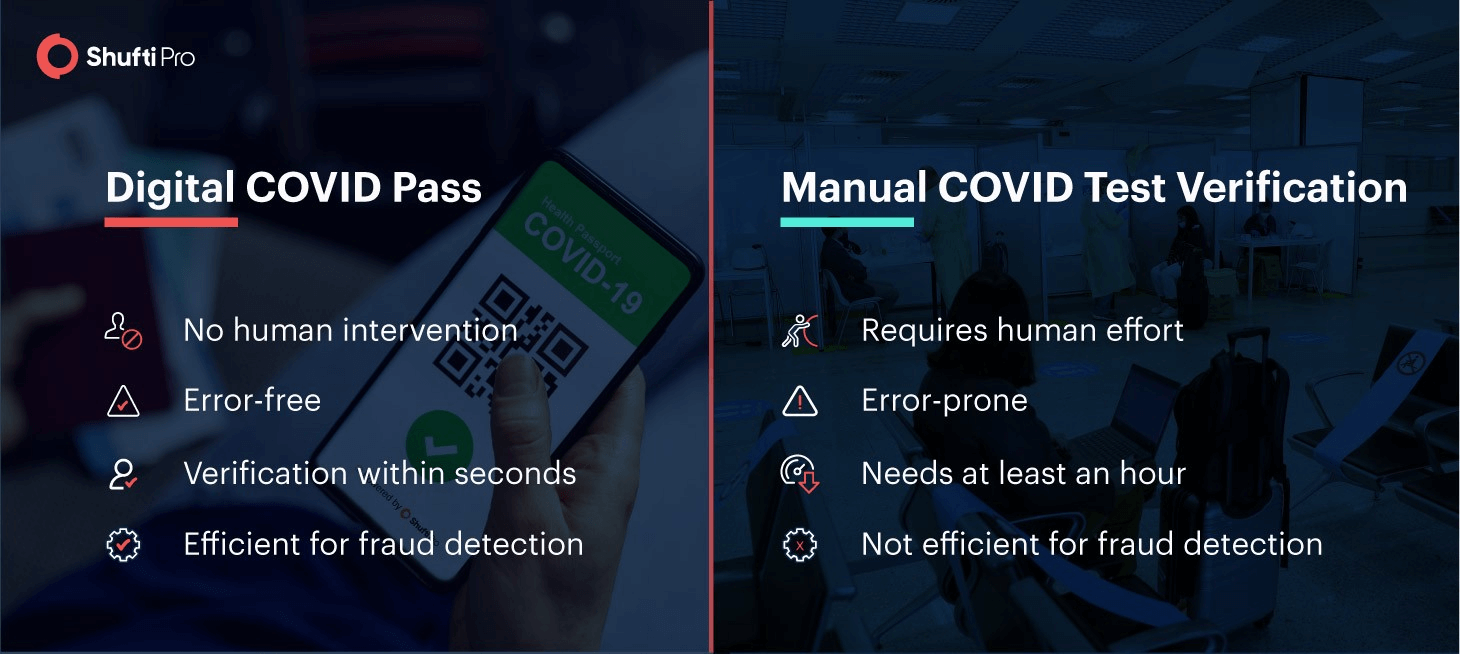 Significance of Digital COVID Pass
Digital COVID Pass has been designed to perform COVID test verification without any human intervention. Take a look at some of the amazing benefits of digital COVID test verification. 
No Integration or Installation
First and foremost, you do not have to install any API or software for Digital COVID Pass. It is a simple yet unique solution that uses thousands of AI models to extract information from the COVID test and verify if the reports are acceptable or not. In the blink of an eye, you can validate Covid report and that too without any integration or installation. 
Real-Time Verification
Within seconds, you are verifying reports, providing passengers with a state-of-the-art experience and ensuring safety too. Furthermore, we maintain our traditional accuracy level i.e. 98.67%. All in all, you are not just digitally verifying reports, you are adding automation along with the highest level of accuracy. 
Error-free COVID Test Verification
Manual methods need human attention which is prone to errors. Extracting information from the Covid test and validating it consumes a lot of time and effort. To avoid any errors, automated COVID test verification is what can help. From data extraction to verifying it against data from laboratories, automation will make the entire process free from errors. 
Digital COVID Pass – The Process
Shufti Pro's Digital COVID Pass is based upon enhanced AI models. These models can extract data from codes given in the report and the documents are verified for forgery or any other issue. Then, the extracted data is cross-checked with the information provided by the specified lab. We also ensure that the report is not older than the defined time and from labs that are authorised by governments.. 
Who Needs Digital COVID Pass?
This began with the new travel restriction, but COVID test verification is now mandatory for the majority of industries. Keep reading to find out the sectors that need Covid test verification and how Digital COVID Pass can help in facilitating tourism across the globe. 
Airports 
Airports top the list and all states have been guided to perform Covid test verification for all the passengers. Be it arrivals or departures, all the passengers have to submit a negative COVID test report. However, fake Covid tests are increasing hassles for airport authorities. Ultimately, an automated solution like Digital COVID Pass is the need of the hour. 
Arenas
Next is arenas – highly crowded places where the virus can easily spread. So, arenas must make sure that all people in the place are healthy. With manual COVID test verification, it seems like a tough job because anyone with a few symptoms can show forged reports for the sake of enjoyment. Tourists love to visit such places and what could be the result if their reports are not verified or wrongly verified? Digital COVID Pass, on the other hand, will never let you down. The state-of-the-art service will ensure all Covid negative people enter the place. 
Conferences 
Travelling for official purposes is allowed in almost every state; therefore, the need for Covid test verification at conferences becomes essential. A better option for conferences is to install touchless kiosks at security checkpoints. The touchless method will help in avoiding physical contact, verifying identities, and Covid test verification will be a bonus. 
Suggested: Securing Public Facilities with Touchless ID Verification Kiosks 
Malls
Malls are an all-in-one place for people. They can shop and enjoy at the same time but due to the coronavirus outbreak, people have to stay at home. With the help of Covid test verification, malls can ensure safety and health of all the visitors. What could be better than having an automated solution for the purpose? 
Large-Scale Events
Apart from the tourism perspective, large-scale events like The Olympics also have to ensure that anyone who is attending the event is Covid-free. Manually achieving the goal demands time and a lot of effort. The cumbersome process can increase the drop-off rate as well. Fortunately, you have Digital COVID Pass to save the day. 
Summing It Up
In a nutshell, Covid test verification is the need of the hour and all the public facilities, especially the travel and tourism sector have been strictly guided to perform Covid test verification. Other than the travel industry, arenas, conferences, malls, large-scale events, and other public places have to verify COVID tests. Currently, all the authorities are using manual COVID test verification methods, but that is not an efficient choice. Shufti Pro's Digital COVID Pass is an AI-powered solution that can validate Covid tests in no time and guarantees highest levels of accuracy too. 
Talk to our experts and know more about Digital COVID Pass.