BEFORE YOU GO...
Check how Shufti Pro can verify your customers within seconds
Request Demo
No thanks
Within the last two years, France' cryptocurrency landscape has experienced significant milestones. The country's crypto industry, which became regulated in 2019, has now become liable to implement robust Know Your Customer (KYC) procedures, on top of a few other changes. The new crypto regulations are indicative of a major disruption in the cryptocurrency market. These changes were initially introduced in the Ordinance № 2020-1544 on 9 December 2020 and have come into effect as of 9 June 2021. That being said, let's take a look at what the updates are and how companies can maintain KYC compliance to avoid fines and penalties. 
What's New in France' Crypto Regulation?
Anonymous transactions are banned

KYC for crypto transactions has become mandatory 

Mandatory Registration with AMF

Use of third parties for KYC compliance has been permitted

Scope of AML/CFT has been expanded
Current Landscape of Crypto Regulation in France
The current regulations regarding the treatment of cryptocurrencies can be found in the PACTE law. The French PACTE law was introduced back in 2019 to regulate the cryptocurrency industry. Prior to the regulation of this emerging market, regulators were concerned about the use of crypto-assets to facilitate crimes, including money laundering and terrorism financing.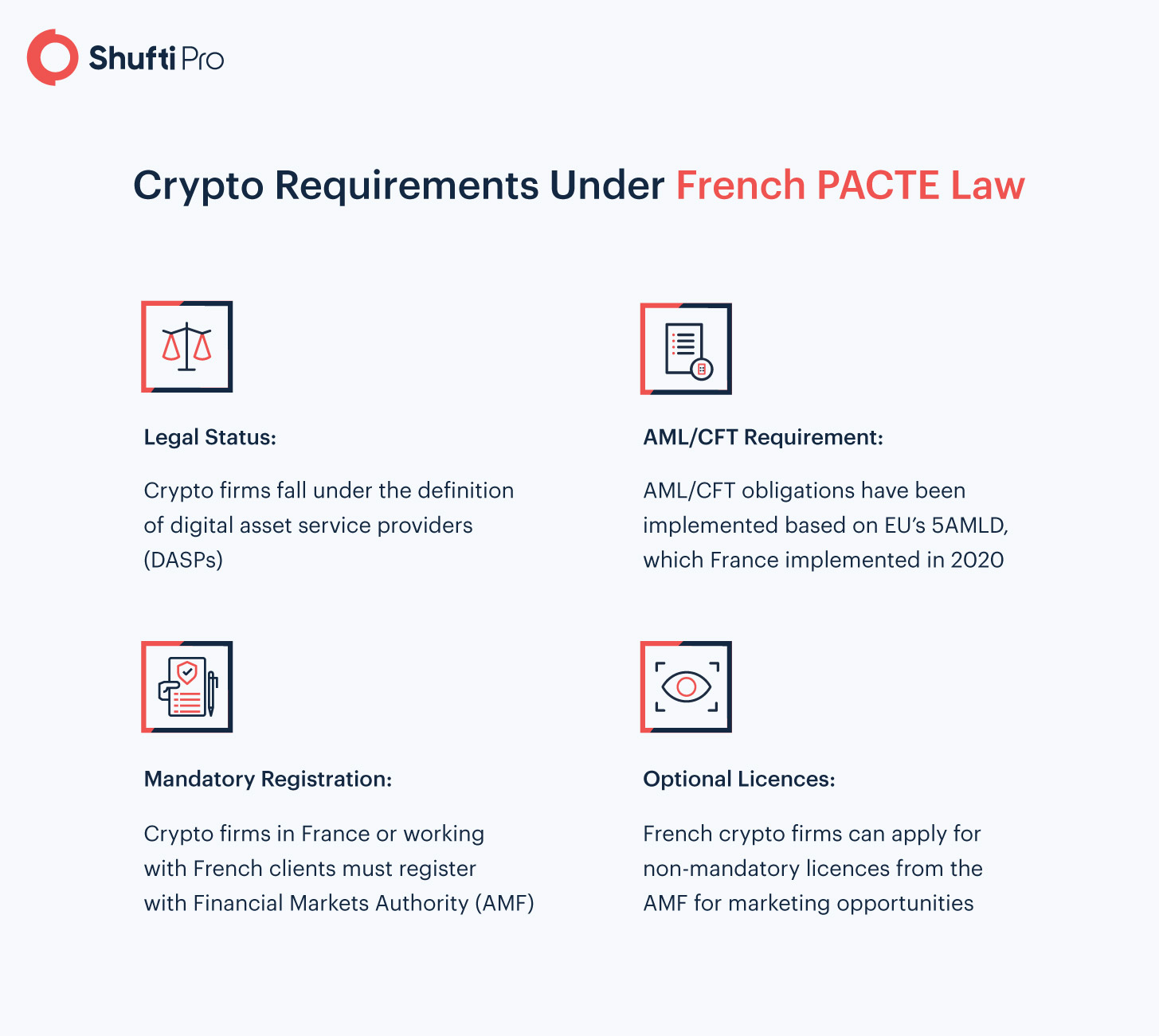 Under the PACTE law, crypto firms are required to register with the AMF (Autorité des marchés financiers) – the French financial regulators. Additionally, any firm that needs to receive additional benefits, such as unrestricted access to financial services, has to acquire an optional licence from the AMF. With the help of this licence, crypto firms became eligible to open a deposit or payment account with French credit institutions. 
What's the Update? 
Prior to June 2021, the four basic principles of the PACTE law were only applicable to crypto-to-fiat transactions and cryptocurrency custodians. The updated French crypto regulation extends the scope of AML (Anti-Money Laundering) and KYC compliance to crypto-to-crypto transactions and trading platforms operating in France. 
KYC requirements, in particular, have been tightened in the French cryptocurrency market. To streamline the KYC process, however, the use of third party service providers for KYC procedures has been permitted. Following is the summary of the five major updates that have been listed down in new French regulation for crypto. 
1- Anonymous Transactions Banned
Perhaps the biggest change in the French crypto regulation has been the effective ban on anonymous crypto transactions. This means that the transaction limit for KYC checks has been updated from €1000 to €0. As a result, even the smallest crypto transaction will now go through Know Your Customer procedures to mitigate the risks of financial crime. 
2- Mandatory KYC
Any crypto firm operating in France now has to implement robust Know Your Customer processes to stay compliant to the country's cryptocurrency regulation. Under the decree published by the Finance Ministry, each crypto customer will have to go through an identity verification process, regardless of the size of their transaction. Regardless of the controversies, regarding this law, KYC checks were deemed necessary by regulatory authorities due to their ability to detect and prevent financial crimes. The rule has been expanded to include crypto-to-crypto transactions and cryptocurrency exchanges. 
Suggested Read: Latest Regulatory Updates on KYC Verification for Crypto Exchanges
3- Registration with AMF
Similar to all other cryptocurrency transactions, French crypto-to-crypto services and trading platforms are mandated to register with the Financial Markets Authority, more commonly known as AMF. To ensure compliance, the AMF will be verifying the firm's Ultimate Beneficial Owners (UBOs) and managers. A close check will also be kept on the implementation of AML and CFT measures.
4- Third-party KYC
Following the announcement of the updated French crypto regulation, concerns were raised regarding higher costs of KYC compliance and customer onboarding. The Block reported that where customer onboarding currently costs €1, companies were worried that KYC measures will shoot this cost to €5. As a solution to this problem, the use of third party service providers has been allowed for the first time ever under the law to streamline Customer Due Diligence (CDD) and KYC for crypto. 
5- Expanded Scope of AML/KYC
Every crypto-to-crypto exchange and trading platform must devise and implement proper AML/CFT procedures to eliminate the threat of crypto-related crimes. This should include the following CDD processes:
 Authentication of the end-user's ID documents 

Identity verification of the customers and the crypto firm owners

Identification of the true nature of the business

Ongoing monitoring of the customers and their transactions

Screening of customers against sanctions and criminal watch lists

EDD (Enhanced Due Diligence) for high-risk entities
How can Firms Comply With Updated Crypto Regulation in France?
Crypto firms in France that fail to comply with KYC and AML regulations are punishable under the law with a fine of up to €5 million. Such fines directly impact a company's bottom line and lead to a tarnished brand image. Compliance with the updated crypto regulation is, therefore, necessary. 
Any crypto firm that aims to stay compliant, needs to devise its own set of policies and procedures for the implementation of KYC requirements. This includes processes such as identity verification, document authentication, and more – all of which can be easily implemented through third party ID verification service providers. These IDV providers ensure that companies stay compliant by utilizing AI-powered technologies. The same solutions can also be used for AML compliance to automatically screen every onboarded customer against global sanctions, criminal watch lists, and Politically Exposed Persons (PEP) lists. 
Global IDV providers such as Shufti Pro provide the added benefit of low compliance costs and rapid customer onboarding through the use of biometric technology for customer identity verification. 
Suggested Read: Avoiding Billion-dollar Fraud & Non-Compliance Costs With Shufti Pro
Final Thoughts
For the cryptocurrency industry to sustain itself despite the countless controversies regarding it, regulatory obligations are necessary. AML and KYC requirements are implemented for the crypto sector as they pose a disincentive for criminals, allowing companies to acquire a clean customer base. With the implementation of the updated crypto regulations, French crypto firms can encourage the use of digital assets in the country, paving the way for other opportunities within this emerging sector. 
Need more information on AML/CFT compliance? Get in touch with our experts.