BEFORE YOU GO...
Check how Shufti Pro can verify your customers within seconds
Request Demo
No thanks
From the Panama papers, Paradise leaks and Danske Bank case to the most recent revelations about SEB bank, money laundering scandals over the last few years have taken the world by storm. As general awareness about money laundering strengthened, so did the pressure on the regulatory authorities across the globe to counter build proper anti-money laundering laws and regulations. 
With every new revelation, lawmakers gain a great insight into how the financial system can be exploited and, as a result, find better ways to devise new amendments in already existing laws.
This is one of the reasons why the European Commission proposed the 5th Money Laundering Directive only a year after the legalization of AMLD4. Although published in the official journal of the EU in June 2018, AMLD5 was originally proposed in July 2016 as a part of its action plan against terror financing and money laundering, after the Paris and Brussels attacks, and as a reaction to Panama paper published in 2016.
The primary intention to make changes by January 2017 looked over-aggressive; a final devised text was reached in December 2017. 5th Money laundering Directive came into force in July 2018, and member states are required to make amendments in national laws accordingly before 20th January 2020.
What is AMLD5?
The 5th Money Laundering Directive aims to eliminate the financial crimes without making changes in the functioning of financial payment systems and market. It intends to prevent money laundering and large scale concealment of funds by promoting transparency. The businesses operating across Europe are obligated to comply with these regulations.
What are the Key Changes in the 5th Anti Money Laundering Directive? 
AMLD5 serves greater prospects and shows the European Union's leadership role in AML legislation. One of the key features of AMLD5 is that it proposes changes in already existing legislation in AMLD4, instead of replacing them.
The precise amendments that the fifth directive proposed are:
The scope of money laundering screening is extended to virtual currency providers, art worker traders, e-wallet providers, and tax-related services.

European member states require to develop a list containing all public offices and its functions nationally that qualify as politically exposed (PEP) for enhanced due diligence.

Financial flows from high-risk non-European states are subjected to high due diligence.

AMLD5 makes it obligatory to consult beneficial ownership registers while performing AML screening.

The directive also recommends that access to beneficial ownership information for EU based businesses should be made publicly accessible. In AMLD4, this information was not publicly accessible.

It also ends the anonymity of saving accounts and safe deposits across all the banks under the European Union.

Information on real estate holders is to be made centrally available to public authorities across Europe.

The payment threshold for prepaid cards and e-money is to be lowered. Previously, the threshold was a maximum of 250 euros. AMLD5 requires this threshold to be lowered further to 150 euros.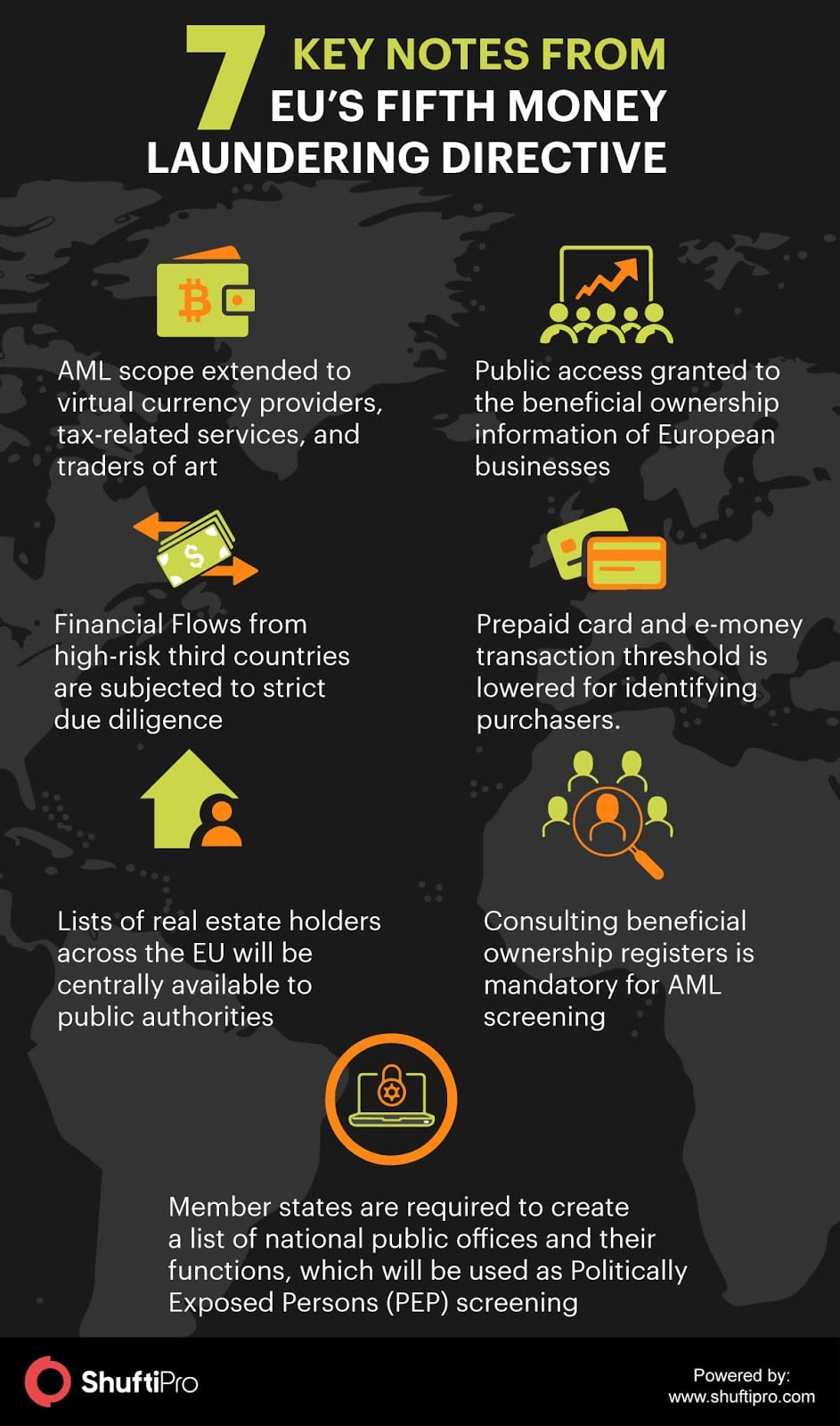 Following the spirit to become AML leaders in the world and to stop money laundering across Europe, the European Commission requires member states to implement these changes in national laws by January 20th, 2020. And as the deadline imposed by the EU ends almost in a month, let us have a deep dive into how it will impact the AML regulations landscape for businesses across Europe.
How will AMLD5 impact Anti Money Laundering Regulation Regime?
Virtual Currency Service Providers in Scope
Since the virtual currency is the talk of the town for a while now and regulators are finding ways to regulate decentralized cryptocurrencies such as bitcoins, AMLD5 will apply to virtual currency service providers as well as electronic wallet providers, to cover the risks associated with cryptocurrencies. In addition to this, the traders of artwork and entities rendering tax-related services are also in the scope of AMLD5 regulations.
Enhanced KYC including access to Beneficial Ownership Information
The business across Europe are obliged to consult related registers while performing KYC. However, for now, it is only applicable to the businesses registered and operating under the European Union.
Public Access to Beneficial Ownership Information
AMLD4 required the member states to maintain central registers for beneficial ownership information and required interested parties to demonstrate legitimate access to beneficial ownership registers. Under the AMLD5, this information is to be made publicly available except for trusts and similar legal arrangments. 
In such cases, legal information about beneficial ownership will be granted to anyone demonstrating a legitimate interest. The beneficial ownership information will be comprised of; the name of the beneficial owner, date of birth, nationality, country of residence, and the extent of the beneficial interest held in that particular business.
Access to Information on Real Estate Holders
Money Laundering through real estate is estimated to reach $1.6 trillion a year. Owing to this, the AMLD5 makes information on real estate holders, available to the public authorities. This does not require to maintain a central register for the information.
Lower Prepaid Card and E-Money Threshold
Prepaid cards are being used in money laundering across the globe. According to the FBI, drug cartels utilize prepaid cards to launder illegally earned money from drug sales across the United States. For identifying prepaid cardholders, AMLD5 lowered the threshold of prepaid cards from 250 euros to 150 euros. Furthermore, E-money transactions using prepaid cards are lowered to 50 euros. 
No member state is allowed to increase this amount, however, these amounts can be lowered further. AMLD5 not only lowers this amount but also includes strict restrictions on anonymous prepaid cards issued in non-member countries.
Regulations for Bank Accounts and Safe Deposit Box
One of the stricter regulations in AMLD5 is the abolishment of the anonymity of bank accounts, saving accounts, and safe deposit boxes. Member states are obliged to design central registries or data retrieval systems by September 10, 2020, which will be directly accessible by the Financial Intelligence Units and competent national authorities.
Once the directive is transformed into legislation, the financial institutions will require to build or render digital KYC services for the onboarding process and it is important for the financial institutes to attain clear guidance on this directive and formulate strategies accordingly.