BEFORE YOU GO...
Check how Shufti Pro can verify your customers within seconds
Request Demo
No thanks
 After the rollercoaster year 2020, Shufti Pro hopes this year will be less distressing for everyone across the world. Due to the pandemic and rapid digitisation, cybercrime increased and a significantly higher number of frauds were reported. During identity verification, our team experienced a rise in different types of fraud. As per our data, identity fraud has increased by 3.36% globally. Given the increase in identity fraud statistics, we have published Shufti Pro Global Identity Fraud Report 2020. This report is an all-in-one guide for all business owners who want are keen to know the latest fraud insights and how they can secure their company from fraudulent activities in 2021. 
Our Global Identity Fraud Report 2020 has segregated all the information in sections. First, you will find out the frauds repeatedly reported by our tech team in 2020. Followed by this, you will find an industry-wise division of the frauds along with the numbers reported. Our Global Identity Fraud Report 2020 has also identified the holiday season fraud rate. Lastly, we have also made some predictions for 2021 that will help you in making a rational decision for your enterprise. To make sure you don't miss out anything from the Global Identity Fraud Report 2020, here are the key takeaways to give you a brief overview of the report. 
Most Reported Frauds in 2020 
Our Global Identity Fraud Report 2020 covers the below-mentioned fraud types in detail. Here is an overview of the most reported frauds last year. 
Data Breaches
According to IBM reports, the majority of stolen identities are used for data breaches. A data breach is a cybercrime in which criminals gain illegal access to the company's information and the acquired information is used for other crimes like ransomware. According to our identity fraud report, data breaches led to more identity frauds in 2020 than any other crime. 
Biometric Spoof Attacks
The global biometric fraud rate did not dramatically increase but their methods have become more sophisticated. Furthermore, biometric fraud has decreased globally but a few countries have experienced a significant rise in biometric fraud attempts. Nevertheless, these attempts are still not sophisticated enough to dodge AI-powered biometric authentication checks.  
Document Frauds
Identity document frauds remarkably increased in 2020 and tampered documents were widely used for surpassing identity verification checks. Synthetic identity fraud, fake documents, countered IDs, and stolen ID documents were repeatedly submitted to us for verification.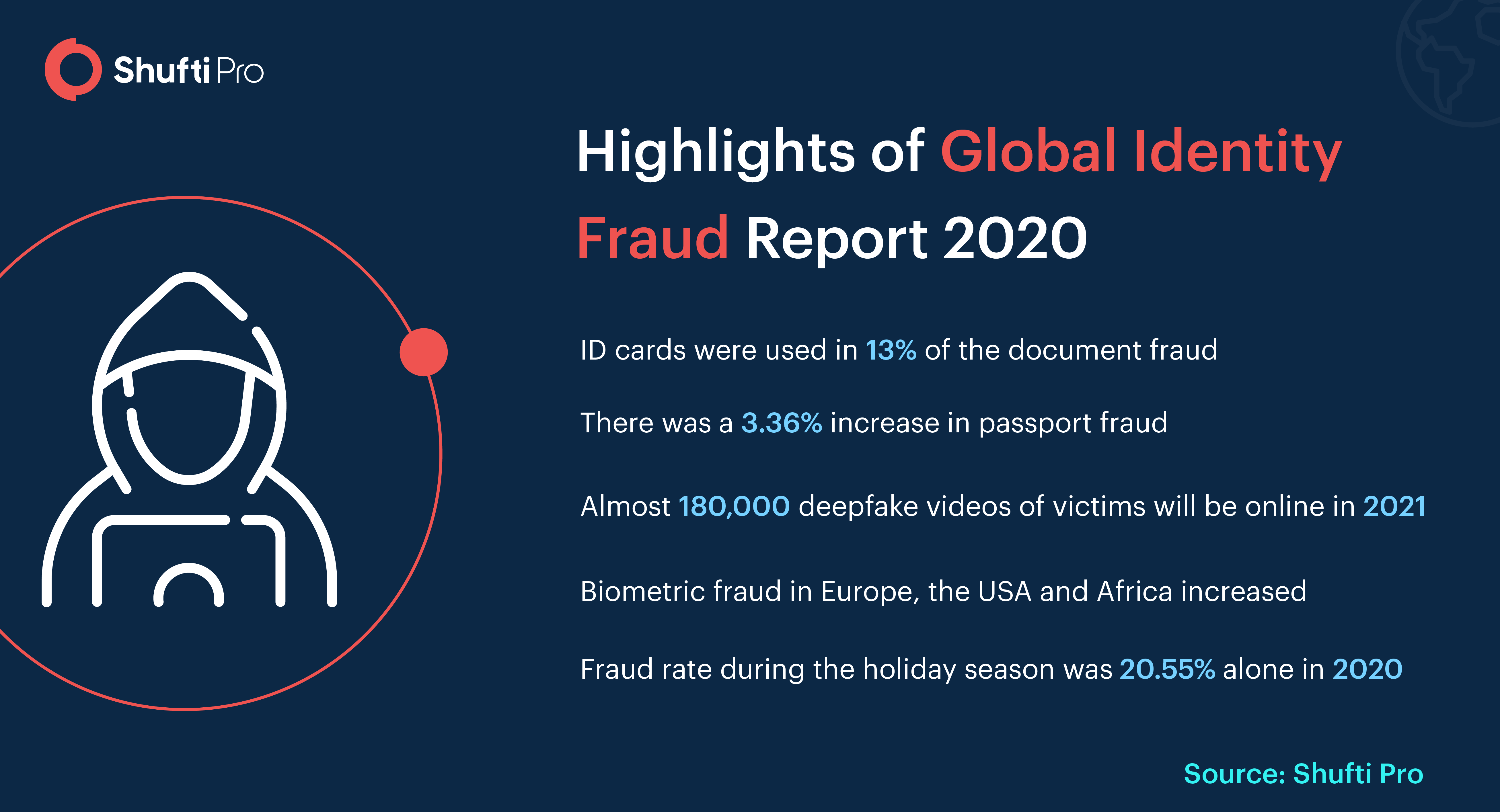 Industries with the Highest Ratio of Frauds in 2020 
Next section in our identity fraud report 2020 is the industry-wise division of fraud statistics. This section of the report provides you with a detailed view of the industries that experienced the highest ratio of frauds last year. Let's take a look at three of these industries: 
Finance Sector 
The fundamental goal of fraudsters is to acquire money in any way possible. For the same reason, the finance sector is the primary target of all criminals. According to Statista, fraud losses in the UK's online banking system have increased from GBP 66.7 to GBP 111.8 million in the last ten years. 
Crypto Exchanges 
Cryptocurrencies will soon be a mode of payment in different regions of the world as predicted by experts. However, this sector is also not secure and in 2020, crypto exchanges reported a significant rise in criminal activities like crypto mining and money laundering. 
Insurance Sector 
The Insurance Fraud Bureau states that there was a 5% increase in false insurance claims in 2020. This sector was not safe from fraudulent activities either. Criminals used stolen identities and claimed health insurance, unemployment insurance, life insurance, and many other benefits. Due to the same reason, the RBI allowed video KYC to help fight insurance fraud. 
Predictions for 2021
Predictions for this year are not very exciting because identity frauds are expected to increase. Moreover, new types of fraudulent activities are expected to increase challenges for businesses. Here are some predictions that our Global Identity Fraud Report 2020 has discussed.
Synthetic identity fraud will increase 

Digital replay attacks are expected to rise 

Re-victimisation will be at its peak in 2021

Deepfakes will hinder biometrics 

Healthcare frauds will significantly increase 
Summing It Up
Shufti Pro's Global Identity Fraud Report 2020 describes the identity fraud committed in 2020, the industries with the highest rate of fraud, and holiday season fraud statistics. The distressing year 2020 has finally ended and everybody is expecting 2021 to be good. Nevertheless, identity fraud will continue to increase this year as per our predictions.  
Fortunately, Shufti Pro's identity verification services are there to help your business stay safe at all costs. Download our report and know everything about 2020 identity frauds and what to expect in 2021.
If you need any help with our products and services, our customer support is always available to help.