BEFORE YOU GO...
Check how Shufti Pro can verify your customers within seconds
Request Demo
No thanks
Know Your Customer, commonly referred to as 'KYC', is an identity verification process that plays a critical role in preventing financial crime within the financial sector. It spans a wide variety of means to check the legitimacy of customers, such as face verification, document verification, address verification, two factor authentication, facial biometric authentication and video KYC. All of this enables businesses to conduct proper screenings when onboarding customers, ensuring minimal exposure to high-risk customers and entities, whilst adhering to KYC regulations. 
So, what exactly happens in the KYC process? How does KYC work? 
This is what Shufti Pro's digital KYC verification process entails:
1. KYC Step 1 | Customers provide data Firstly, customers are required to add their personally identifiable information (PII) for account registration. PII spans numerous types of information like:
Name 

Date of birth 

Email address

Social security number

Passport number 

Driving license 

Financial information (e.g. credit/debit card details)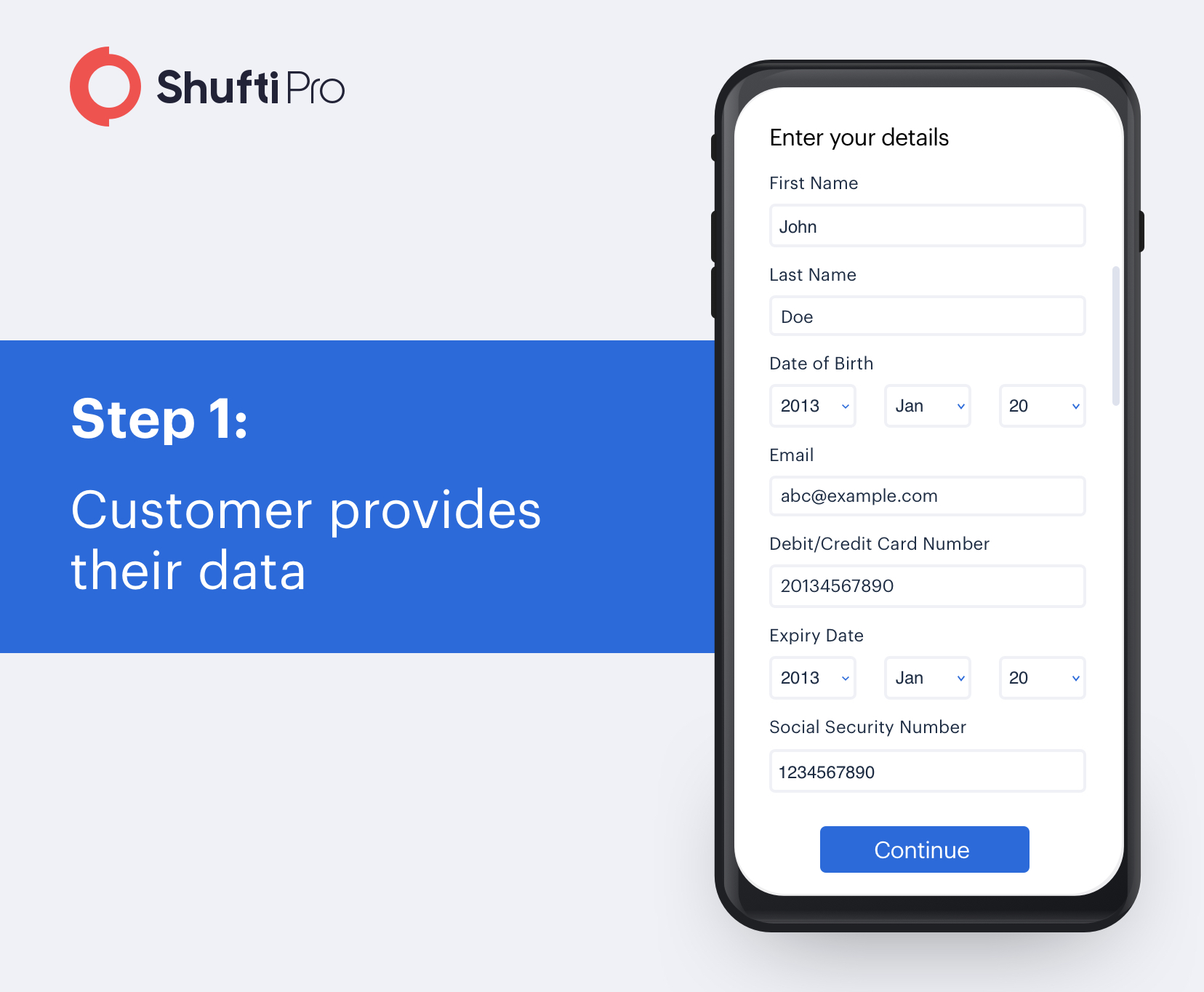 2. KYC Step 2 | Customers upload their ID documents
Next up, customers upload clear scanned copies or images of their identity documents. At Shufti Pro, we cover a vast range of over 10,000 types of ID documents across 230+ countries and territories, supported in 150+ languages. Our pioneering optical character recognition (OCR) technology then extracts all the required information from the scan or image of the document that has been uploaded and further processing continues.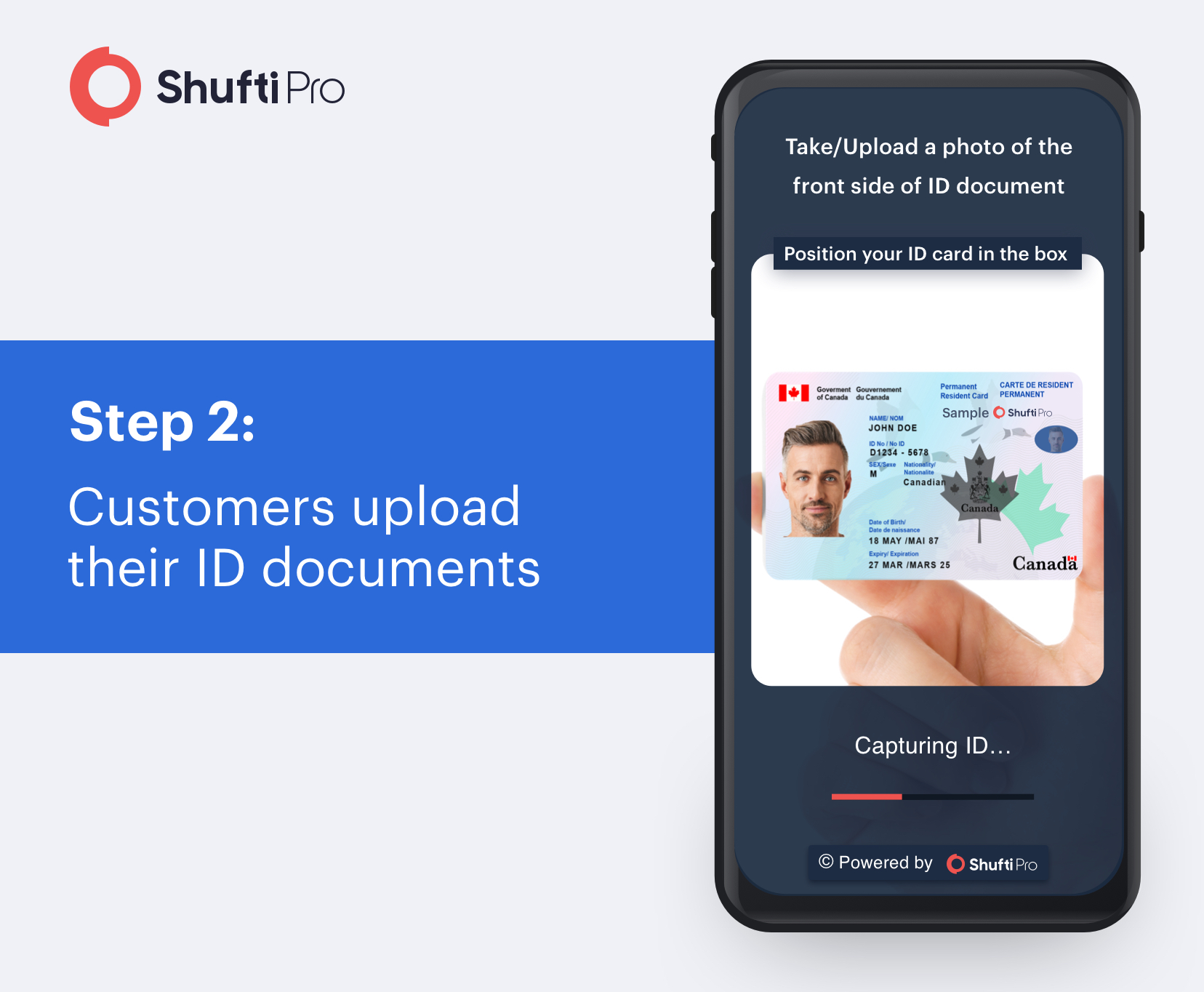 KYC Step 3 | Verification of the customer's identityThe OCR extracted data is then matched against manually added data, alongside checking the originality of the uploaded documents to verify the authenticity of the customer's personal details. The document images are then checked against the default document format for validation.
 
KYC Step 4 | The final resultsThe final verification results are delivered and the complete proof of verification is uploaded in the client back office. IF the customer successfully passes all of the verification steps, onboarding is completed.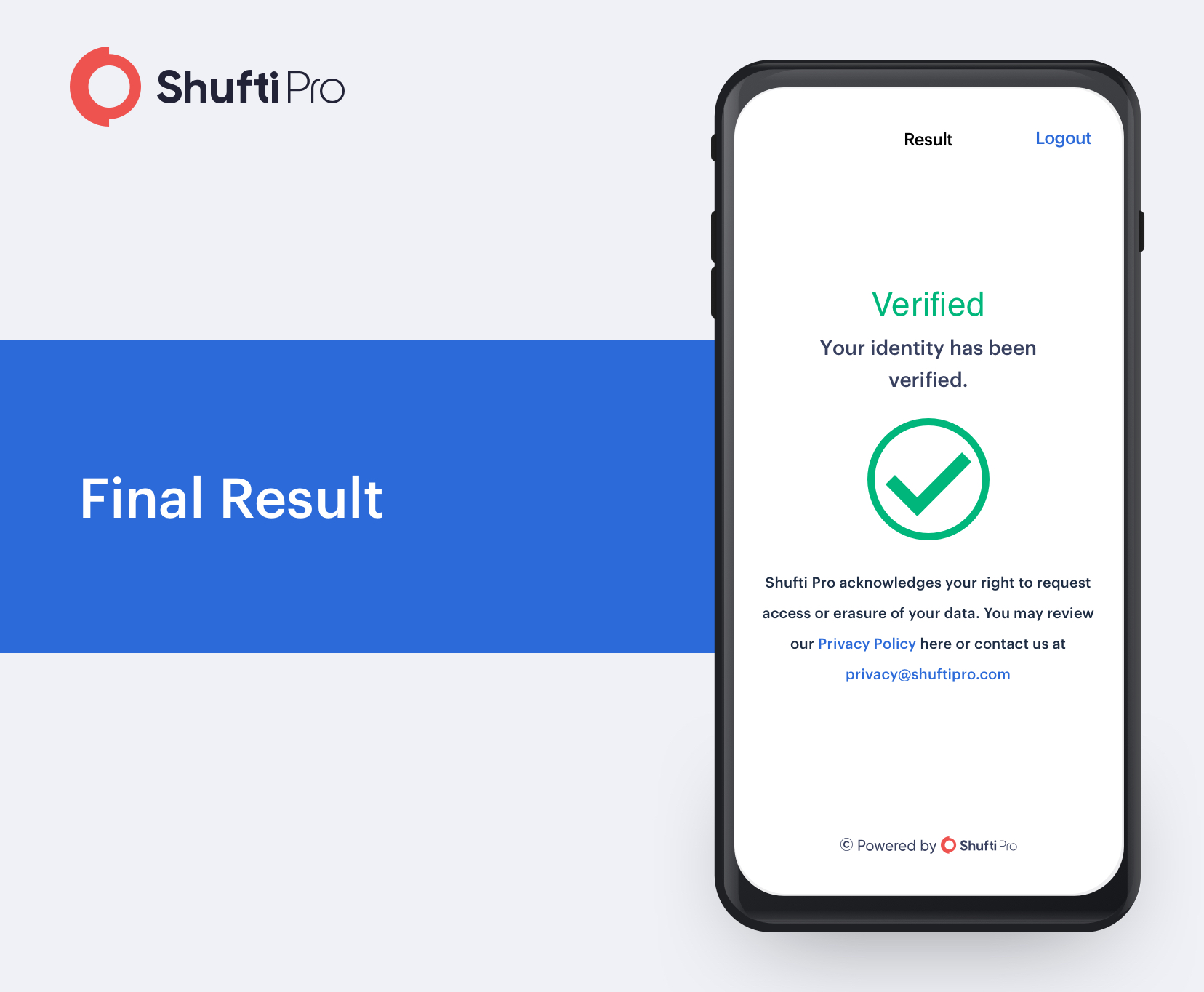 It's important to note that the KYC verification process may differ depending on your industry and whereabouts in the world you are based – this is due to KYC compliance regulations. Let delve deeper into this, allowing your organisation to conduct effective and compliance video interview KYC. 
What is KYC Compliance?
KYC compliance is a critical component in the formulation of KYC verification processes; it offers guidelines and obligatory practices that need to be implemented when conducting this process. The policies vary across industries and jurisdictions, and are exceptionally important to those operating within the industries of finance, banking and online payments. These requirements effectively deter money laundering, fraud, terrorist financing and an array of other financial crimes. 
KYC compliance is a legal requirement and can incur legal and financial consequences if organisations fail to comply. The regulatory landscape is tumultuous and ever-changing in order to keep up with growing threats so be sure to stay up-to-date. 
For more information or assistance on KYC regulations and compliance, talk to one of our compliance specialists now. 
Common questions about the digital KYC verification process answered by Shufti Pro's IDV experts:
Which ID documents are considered for KYC verification?
Government-issued ID cards, passports, driver's licenses, debit/ credit cards are required for document verification. Employee letters, insurance agreements, utility bills, bank statements, tax bills, and rent agreements may be required in case of customer address verification. 
At Shufti Pro we authenticate more than 10,000+ ID documents, so you've got a wide range of identity documents to choose from. For a full list of documents supported by Shufti Pro, click here. 
How can my company carry out KYC verification and customer onboarding?
Companies usually work with an identity verification provider – like us. Verification software isn't a quick or easy thing to develop, so we handle that part for you. Our solutions are easily integrated into the company's KYC practices and website for customer onboarding and verification. We have recently launchedan e-IDV solution to revolutionise identity verification landscape globally. Learn more about our e-IDV solution here.  
What IDs can be used for KYC verification and onboarding?
This will vary depending on your IDV provider. At Shufti Pro, we verify an expansive range of documents, 10,000+ ID documents across 230+ countries & territories, in 150+ languages – we're dedicated to creating a safe digital world. 
How long should it take to verify a customer?
Again, this will depend on your KYC verification provider, but generally across the industry it's between 30 seconds to a minute. However, here at Shufti Pro, we offer unmatched verification – in 30 seconds or less.