BEFORE YOU GO...
Check how Shufti Pro can verify your customers within seconds
Request Demo
No thanks
Online gaming has become more popular since COVID-19. The pandemic forced people to stay indoors, shift towards digital entertainment, and find new channels of connecting with others. 2020 witnessed significantly boosted online gaming revenues due to the COVID-19 outbreak. Whilst the growth trend has been normalised, online gaming is still popular today. There are nearly 1.1 billion online gamers across the globe, with China, Japan, and South Korea having significant online gaming reach among the population. However, with the evolution of the gaming sector, financial crimes are also rising. Thus, regulators are developing stringent regulations to protect the gaming industry from money laundering and gaming scams. 
Difference Between Gaming, Gambling, and Sports Betting
Gaming:

This includes sports requiring a certain level of knowledge, strategy, or skill to achieve the desired outcome. In such games, the player's actions and decisions directly affect the outcome, and luck plays a secondary role. 

Gambling:

It

is based on games of luck or chance; random events such as dice rolling, roulette wheel spinning, or drawing a single card from the shuffled deck determine the outcome. Although some gambling games include skills like poker, the overall outcome depends on luck. 
Betting: This entails placing a bet on the result of an event like a horse race. A combination of knowledge, skill, and luck determines the results of such events.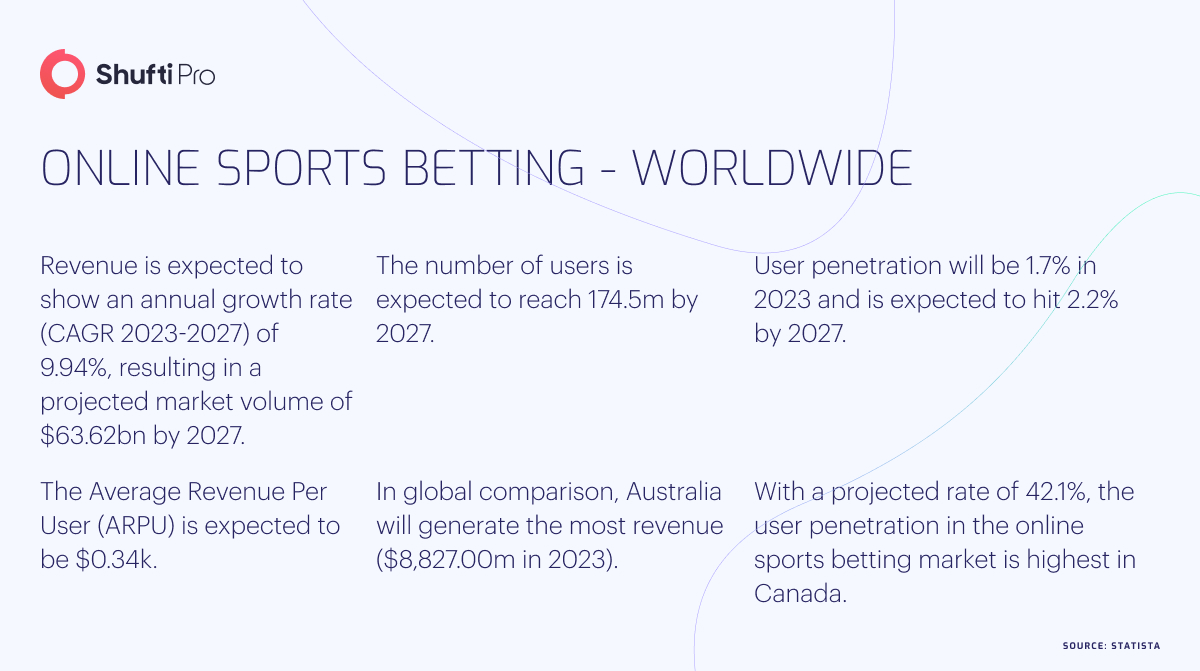 Latest Gaming and Gambling Regulations Worldwide
Scammers are becoming smarter in using even the gaming sector for money laundering and other financial crimes. Thus, regulators are introducing new regulations to safeguard the gaming and gambling industry from crimes. 
MEF Implements Tax Rules on Commercial Gambling Operators to Combat Financial Crime
Cambodia's Ministry of Economy and Finance (MEF) introduced tax rules for commercial gambling firms to mitigate the risk of money laundering and other crimes and enhance transparency.  According to the Secretary of State of MEF, Mey Vann, the rules would let players enjoy commercial gambling in casinos. However, casinos must change their word on signboards to "commercial gambling" from 2023 onwards. The guidelines instructed the gambling industry to register with GDT, preserve accounting records, and keep supporting documents for at least ten years. Vann said this is a good perspective of government to ensure accountability and transparency.
NSW Make Reforms to Combat Gambling and Money Laundering
The Australian government has issued new laws to limit gambling and money laundering through "cashless gaming." The new system would require Poker machine users in NSW to register themselves, give reliable ID, set a limit for their losses, and link it to their personal account. The reforms are to protect players from being exploited whilst stopping money laundering. The new system is valid for five years. Many of the pokies in New South Wales can receive software and hardware updates to ensure their proper functionality. All the poker machines are currently connected to the statewide monitoring system for revenue protection, but they can change to accommodate the new proposed system. 
EGBA Introduces New Guidelines to Mitigate the Risk of Money Laundering in the Gaming Industry
The European Gaming and Betting Association (EGBA) has recently announced new guidelines for online gambling operators to prevent money laundering. The standards will guide online gambling businesses conducting business and customer risk assessments, suspicious transaction reporting, Customer Due Diligence (CDD) processes, record keeping, etc. The guidelines would be applied to the entire EU territory. They would soon become a part of the Anti-Money Laundering (AML) regulation to facilitate the gaming operators to deliver the best outcomes. EGBA expects yearly reports from all gaming operators to analyse the performance of the new guidelines. 
Swedish Legislators Propose to Increase Money Laundering Penalties for the Gambling Sector
Swedish legislators are considering increasing penalties for gaming businesses that breach the country's AML law. The proposal will increase the penalty for Gambling Act violations by the same amount. Moreover, clients could legally play gambling after accepting several terms in writing. Furthermore, the regulator Spelinspektionen has also announced a fee would be imposed on supplier licences owners from July 1st. Businesses must pay licensing fees for every licence unless exempted by the regulator.
Australian Government Announces Development of Gambling Regulations Commission
Australian spokespersons for Gambling and Harm Reduction urge the NSW government to develop a gambling regulation commission. Cate Faehrmann, a member of the Australian Parliament from the Greens party and a spokesperson for Gambling and Harm Reduction, asks for the support of other parliament members as the indoor hotels and local clubs gambling are susceptible to money launderers and scammers. An independent parliament member, Helen Delton, also submitted the same proposal to create a commission regulating indoor gambling in the lower house of the parliament. As per the data gathered, nearly 2,500 locations in New South Wales can host and run gambling machines without any regulating bodies. 
How to Stay Complaint in 2023?
In this evolving regulatory landscape of gaming, staying compliant with regulations has become challenging. This is where online gaming fraud detection solution comes to the rescue, running age verification checks on every new and existing customer to protect the gaming industry from fraudulent activities. Not only does instant gaming verification help keep criminals away, but it also safeguards gaming and gambling operators from hefty non-compliance fines. 
How Can Shufti Pro Help?
Shufti Pro offers globally trusted IDV solutions that perform robust age verification checks to identify minors and restrict their access to your gaming site. The fully automated identity verification solution verifies identities within seconds, ensuring online gaming safety. Our robust age verification process protects your business from heavy non-compliance fines whilst providing a secure digital environment. Our IDV solution offers an interactive user interface that boosts customer experience and accelerates trust worldwide. 
Still, how do we help gaming and gambling operators maintain regulatory compliance in this evolving regulatory landscape?