BEFORE YOU GO...
Check how Shufti Pro can verify your customers within seconds
Request Demo
No thanks
Other than following AML and KYC laws, crypto exchanges have a huge responsibility on their shoulders, ensuring effective risk management. The crypto industry, just like the finance sector, is constantly jolted by changes in regulations.
With the recent collapse of FTX and the unusually high $12 billion withdrawals of Binance, crypto exchanges need to implement strong internal controls to limit their risk exposures.
Money laundering, terrorist financing, and financial frauds plague the crypto industry, hurting its reputation.
Recently, Binance teamed up with its rival Huobi and recovered $2.5 million worth of bitcoins from getting laundered by Harmony One.
This is an excellent example of collaboration and emphasises how companies may now need to go out of their way, collaborate with rivals, and stop financial crimes wherever possible.
Let's dig into why risk assessment should be an integral component of crypto firms in establishing trust with and onboarding legitimate customers.
Prerequisite for Trust Building in Crypto Exchanges
The cryptocurrency market is mostly unregulated and has been struggling with developing trust.
To restore this trust, crypto companies must abide by the ever-changing regulations, be more transparent in their liquid cash reserves, and implement robust internal risk and security measures.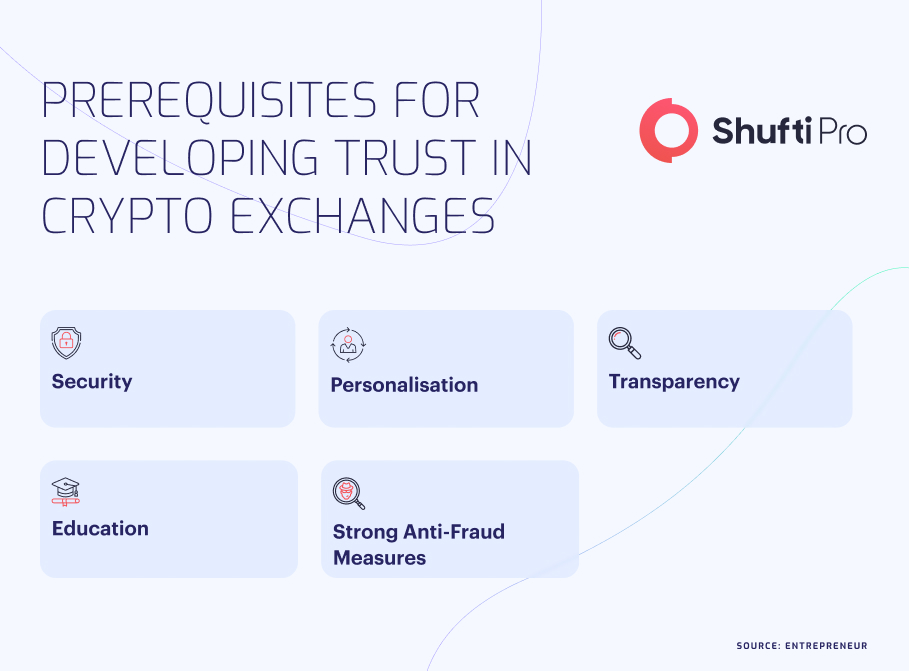 As blockchain technology continues gaining momentum, so do the legal uncertainties. Here are some prerequisites for building trust in crypto exchanges.
1. Security
Customers will continue investing with the exchanges knowing that their funds and cryptocurrencies are safe. Since crypto is still in its infancy stages, building trust using innovative technologies will take time.
Investors and potential clients have multiple security concerns, such as how to invest funds and the lack of regulation surrounding it.
2. Personalisation
71% of customers feel agitated when they do not get a personalised customer experience. Crypto exchanges can provide a personalised customer experience by implementing strong risk assessment controls and procedures. 
3. Transparency
No company in the world can operate without transparency. FTX didn't collapse overnight, nor did Celcius. Terra Luna. This stresses the importance of transparency.
Crypto exchanges work on proof-of-reserves (PoR), a concept that ensures that the exchange has enough reserves to facilitate liquid withdrawals from its platform without any obstacles.
OKX, without any delay, published its second proof of purchase in December, 2022, to ensure "customer funds are safe and secure at all times." With a minimum of 1:1 reserve ratio, users' funds are backed by tangible assets. Binance and OKX comply with this minimum requirement to ensure greater transparency of how funds are held with the exchanges.
4. Education
There are two obstacles in achieving success through crypto trading; education and security. While we have addressed security, education is an often overlooked aspect.
Many beginners in the field of crypto have little to no knowledge about this field. All they are interested in is having quick, short-term gains, in an extremely volatile market. Most of the beginners often drain their entire life savings and never fully understand why it happened.
Most of the "courses" are aimed at beginners to generate windfall profits for the creators. In reality, these beginners are trapped in the idea of generating easy money. Leading crypto exchanges have come up with their own solutions to educate their audience and provide repeat warnings that users may lose more funds than they have invested.
It is up to crypto exchanges to educate how their platform works. The more educated the customer is, the lower the risk of failures in the long run.
Binance, OKX, and a number of leading crypto exchanges have started publishing videos, blogs, and multiple types of content to ensure their audience are well-informed about the industry's best practices. However, we are just scratching the surface, and a lot more still needs to be done.
5. Strong anti-fraud measures
When Bitcoin, the world's first crypto currency, was created in 2009, the idea was to have strong anonymity in making transactions without relying on any bank or middlemen. However, with the passage of time we saw a number of unpleasant events such as crypto bankruptcies and scams.
Fast forward to 2023, and we see a large faction of users demanding regulatory changes in the industry to reduce financial crimes and money laundering.
This is where crypto exchanges need to incorporate strong anti-fraud measures to deter any fraudulent activity on their platforms. Identity verification, KYC, and KYI are imperative to ensure a safe and sound trading environment.
Key Takeaways
What's happening with crypto today is nothing different than what happened with the casinos in the 1990s. The crypto industry, plagued with financial crimes and money laundering, must take this burden off its shoulders.
The ability to buy, sell, and store crypto anonymously was once its biggest selling point. Today, however, it has started becoming a liability unless swift regulatory compliance is conducted.
The very ability to exchange digital money anonymously is exactly why it is surging in popularity with traffickers, money launderers, drug dealers and terrorists. When cybercriminals attack an organisation, there is a reason they want to be paid in crypto.
Crypto platforms of today can only do away once they implement strong KYC, KYI, and AML policies in place. This is where Shufti Pro helps crypto exchanges to remain compliant with AML, avoid hefty fines, and continue operating as a regulated business with utmost honesty and transparency.
Our AML experts have helped crypto exchanges in remaining compliant and can do the same for you too. It is time to fight money laundering and terrorist financing with an iron fist, which can only be done with strong ID verification measures.