BEFORE YOU GO...
Check how Shufti Pro can verify your customers within seconds
Request Demo
No thanks
Enhanced Due Diligence (EDD) is an advanced and refined version of KYC due diligence process that goes beyond the traditional ID checks in a typical CDD (Customer Due Diligence). The entire purpose of EDD is to identify high-risk businesses and entities relying either on large cash volume transactions, or making high amounts of purchases anonymously.
As such, reliance on EDD, while it may be more time taking than regular CDD, adds an extra layer of protection to identify and validate high-risk end users. EDD procedures also notably reduce the chances of money laundering and terrorist financing.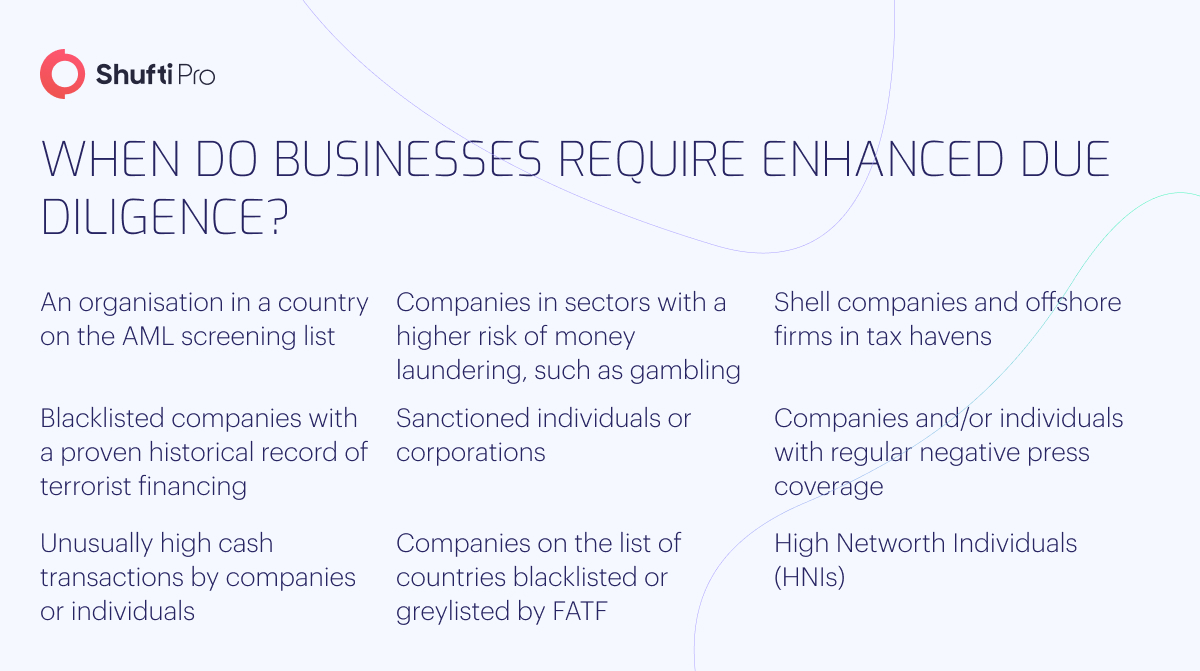 When Do Businesses Require Enhanced Due Diligence?
Here are some factors to consider when implementing EDD procedures in your organisation:
An organisation in a country on the AML screening list

Business Owners

Companies in sectors with a higher risk of money laundering, such as gambling 

Politically Exposed Persons (PEPs) and close family members

Shell companies and offshore firms in tax havens (British Virgin Islands, Panama, etc.)

Blacklisted companies with a proven historical record of terrorist financing

Sanctioned individuals or corporations

Companies and/or individuals with regular negative press coverage

Unusually high cash transactions by companies or individuals

Companies on the list of countries blacklisted or greylisted by Financial Action Task Force (FATF)

High Networth Individuals (HNIs)

Companies working in the oil, tobacco, weapons, and mining industry
When is EDD Required?
While CDD procedures are ideal for any company to remain compliant, at times they may not be enough to detect and mitigate fraud from high-risk entities. That's because end users with a proven track record of suspicious activity may pose a significantly bigger risk to your business, eventually leading to severe fines and penalties.
You, as a business, can collect additional details such as personal information, past bank statements, links to other companies, etc., from your clients to conduct enhanced due diligence. 
Enhance Due Diligence in Banking and Fintechs
Fintechs and banks are evolving rapidly with the passage of time. Compliance with fast-changing regulations is not easy, but EDD reduces the risk of getting compromised in the near or long term.
What Are the Procedures for EDD?
There are many that you can use, but here are the most prominent ones:
1. A Risk-Based Approach
Using Customer Risk Profiling through Questionnaire, is a great way to implement a risk-based approach and investigate potentially high-risk customers. This is vital to ensure your business is compliant with KYC and AML laws. Any chances of financial crimes committed by high-risk customers may pose a serious threat to your business.
2. Getting Additional Information
Understanding the origin and legitimacy of income is important to minimise your chances of dealing with an unpleasant event later down the road.  Verifying asset value through proof of income ensures that the client you're onboarding hasn't conducted financial crimes such as money laundering and tax evasion.
If a client's net monthly income is $1 million, it is impossible to accumulate assets worth over $1 billion. Either there is a huge amount of debt on your client, or there have been financial Inconsistencies between earnings and net worth. This could be a clear red flag of a potentially fraudulent client.
3. Track Ongoing Transactions
Checking transaction history is one of the most basic requirements you need to consider before onboarding a new client. What is the nature of their ongoing transactions? Are your clients dealing with a sanctioned company from a blacklisted country? If yes, then it is time to detect and mitigate such attempts.
4. Researching Existing and Ongoing Press Coverage
Some companies and countries are notoriously known for getting negative press coverage repeatedly. These companies are either heavily fined, or continue getting sanctioned by regulatory watchdogs.
Remain vigilant of your clients' press coverage and conduct EDD should you encounter anything suspicious.
Why is Enhanced Due Diligence Important?
Fraudsters, drug cartels, and money launderers are often street smart, and know how to get their way around regulations and sanctions. They will use a number of masking techniques to get fake identities and have legitimate businesses on paper.
Your business needs to use AI-based KYC and EDD technologies to detect, investigate, and mitigate financial crimes. 
What is the Difference between Enhanced Due Diligence And Customer Due Diligence?
EDD is an enhanced form of CDD, which outlines the basic principles of customers' ID verification. EDD can increase the time and effort it takes for your business to verify each new onboarding client, however, it always pays off.
Use EDD in special cases as mentioned earlier.
What Additional Documents are Required in an Enhanced Due Diligence Check?
Here are some additional documents that your business may demand from the client. This is not a final list and is subject to change based on your company and the client you are onboarding:
Numerous ID documents including ID card, work permit, and passport

Remote verification and/or in-person verification

Articles of incorporation, registration documents

Locations and names of suppliers and customers

Full Name and asset ownership details of the company's board members

Banking details and relationships with other financial and non-financial firms

Auditing beneficial owner's assets such as incoming/outgoing cash flows, nest assets value, and source of income

Screening the client against AML and other sanctions lists
EDD Compliance – A Matter of Urgency
Lacking EDD compliance means that you are not taking CDD seriously.
EDD helps you not only remain compliant, but also ensure you do not unknowingly help the perpetrators of financial crimes. 
Non-compliance on EDD can expose your business to significant danger:
Heavier fines

Negative press for helping funding terrorist financing

Possible sanctions

Bankruptcy
Ignorance was never a bliss, and when it comes to KYC, it will always be costly. That's why we at Shufti Pro help you to remain compliant and lawful using EDD.
Want to know more? Consult with an EDD compliance expert today.