BEFORE YOU GO...
Check how Shufti Pro can verify your customers within seconds
Request Demo
No thanks
Shufti Pro, the global identity verification service provider, started from humble beginnings with a single office in the UK. Within three years of its launch, the company successfully secured 500+ clients worldwide. Today, the company has become the fastest-growing competitor in the IDV industry, with offices spread across 5 countries, namely Dubai, Cyprus, Sweden, Ukraine, and the UK. 
The remarkable journey and consistent efforts of Shufti Pro have not gone unnoticed. This year, the company achieved a major milestone for conquering the hearts of its customers – a global award for acquiring a 92% end-user satisfaction rate. 
The Recipe for Making Your Customers Happy  
Keeping the customers satisfied is as integral to the bottom line of a business as acquiring new customers. And when it comes to keeping customers happy, the efforts of Shufti Pro are parallel by none. Because of the importance we place on customer satisfaction, Shufti Pro recently bagged the "Product Leader Award" from Crozdesk, based on an end-user happiness score of 92%.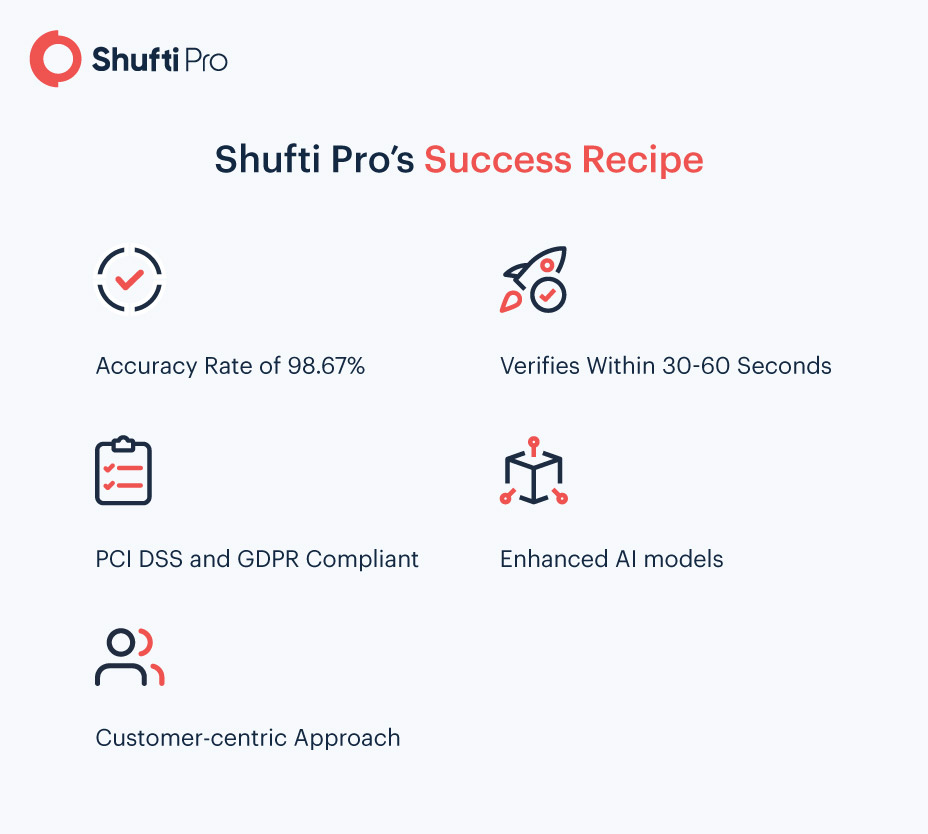 Innovation
If you were to look at the market leaders of any business sector, it would be clear that they all have one quality in common: innovation. Similarly, continuous innovation has also been the major driver behind the success of Shufti Pro. 
At Shufti Pro, we aim to build the perfect balance between staying relevant and keeping customers satisfied through our AI-based solutions. By incorporating thousands of enhanced AI models, we are able to deliver top-of-the-line services to the customers. Some user-centric products that are evident of these efforts are listed below:
Digital COVID Pass
For the safe renewal of public facilities amid the ongoing crisis, Shufti Pro launched its Digital COVID Pass. Our product proved to be a major success, as it allowed cinema's, shopping malls, and other public spaces to verify customer identities and authenticate their COVID test reports in a single go. 
Touchless Kiosks
Security clearances are often the most tedious part of the passenger journey. To streamline security checks at airports, Shufti Pro introduced a Touchless Kiosk service. With the help of Shufti Touchless Kiosk, airports can effortlessly validate passengers within 5 seconds and reduce other hindrances such as the onboarding of fraudulent passengers, long waiting queues, and slow manual checks.
Facial Biometric Authentication 
By performing ongoing KYC, financial fraud can be substantially reduced. Shufti Pro's Facial Biometric Authentication solution utilizes AI-based "liveness detection" capabilities to detect fraud in real-time.  
NFC Verification
In a world where customers go after the most convenient services, there is no space left for complex verification processes. With NFC Verification, end-users get verified online through a simple tap of their chip-based ID on their smartphone. 
The Highest rate of Accuracy 
A major quality that makes Shufti Pro stand out from a highly competitive crowd is that we promise an accuracy rate of 98.67% – the highest in the IDV market.
This became possible for us because of two factors.Firstly, our enhanced artificial intelligence is developed using thousands of artificial intelligence models to enable faster, reliable, and accurate identity verification. 
Secondly, Shufti Pro uses a hybrid approach that combines the use of AI and human intelligence. All the verification results are cross-checked by human experts to eliminate the likelihood of false positives. Because of this, no spoof attack or sophisticated fraud goes undetected.
Swift Services
In today's digital-first world, manual procedures simply do not suffice. To enhance the process of ID verification, the manual task of inserting data needs to be automated. Shufti Pro utilizes Optical Character Recognition (OCR) technology to reduce manual workload for KYC procedures.
To further enhance the customer's experience, Shufti Pro has introduced an auto-capture feature. This feature automatically captures the ID document and the end-user's face when shown to the camera during verification. With the selection of technology and methods used by Shufti Pro, the entire identity verification process becomes seamless and fully automated. 
Thus, from the initial stage of onboarding to the verification results, the entire IDV process is completed within 30 to 60 seconds. 
Secure Data 
For high-end businesses and data sensitive industries, it is essential that they safeguard customer data from any kind of threat. Shufti Pro's solutions are compliant with GDPR (General Data Protection Regulation) and PCI DSS (Payment Card Industry Data Security Standard). By following proper encryption standards and maintaining compliance with such regulations, Shift Pro provides companies with an opportunity to effortlessly perform remote identity verification without violating data protection regulations. 
Additionally, Shufti Pro ensures customer data confidentiality by providing end-users the right to have their data removed whenever they want. At Shufti Pro, we are aware that with data comes great responsibility. With the adoption of transparent practices, we prove that safeguarding it is our key priority.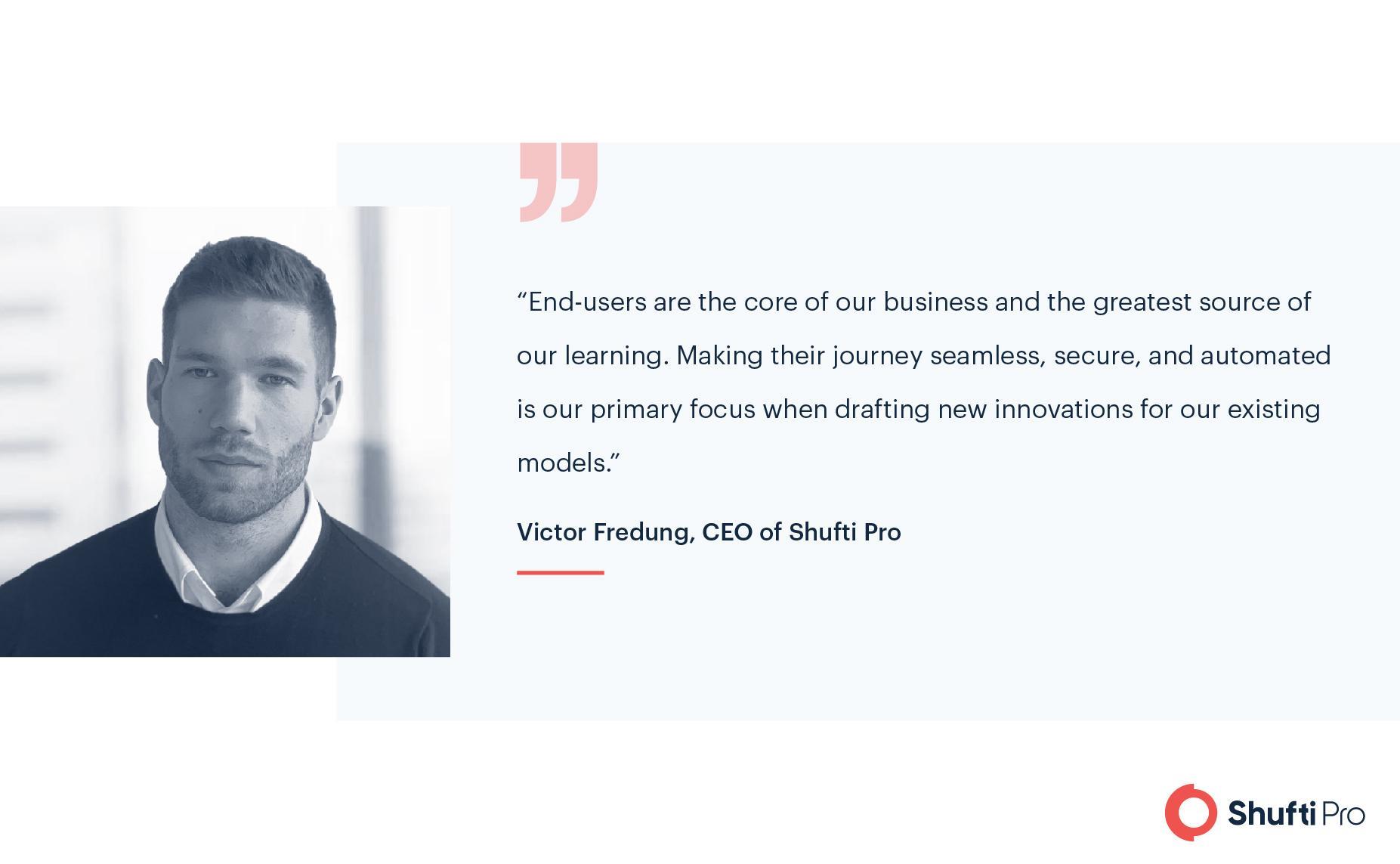 Convenience
Exhaustive research and continuous innovation have enabled us to impart convenient experiences for our customers. Since all of our products are designed keeping in mind our customer's journey, we aim to streamline each process from the initial account opening stage to the end results. 
Our interactive user interface and automated AI-powered solutions enable us to  continuously enhance our products. Additionally, in case verification fails, our customers are provided with automated decline reasons as well as guidelines to successfully pass the verification checks. 
Lastly, we are driven by customer feedbacks that are acquired after every verification attempt. This  practice allows us to continuously improve our products to better cater to the needs of our customers. 
In Short, Happy Customer are the Key to Success
Shufti Pro has made its mark in the IDV industry by keeping the user's journey at a high priority. Convenient, automated, and rapid services not only allow Shufti Pro to attract new customers but also sustain them. Our award-winning streak is celebrated worldwide, and undoubtedly, the company will continue to deliver seamless experiences in the future as well. 
Want to check if we live up to our promises? Try Our Free Trial!