BEFORE YOU GO...
Check how Shufti Pro can verify your customers within seconds
Request Demo
No thanks
In the evolving regulatory landscape, combating financial crimes has become a top priority of regulators worldwide. As illicit activities continue to rise, so do the fines encountered by financial firms that violate Anti-Money Laundering (AML) regulations. According to the Financial Times, 2022 witnessed a 50% rise in AML fines compared to 2021. Brokerage and trading companies were fined over $6 billion, whilst the banking sector was charged with more than $2 billion. This makes robust transaction monitoring solutions necessary for banks and other financial firms.
A Quick Recap of Major AML Fines in July 2023
Let's have a quick overview of the financial firms that faced significant penalties due to AML violations in July 2023. 
FIAU Fines iGaming Firm €236,789 Over Money Laundering
The Financial Intelligence Analysis Unit (FIAU) has fined a Malta-based iGaming company €236,789 over AML deficiencies. The remote gaming operator failed to conduct checks or inquire about the player's source of funds. There were several cases where Enhanced Due Diligence (EDD) should have been performed but was not conducted. Moreover, it was found that more than 80% of its clients were not screened against Politically Exposed Persons (PEPs) lists, even though they crossed the threshold of €2,000. 
The review also found that many risks were not addressed by the firm's Customer Risk Assessment (CRA). The FIAU observed several procedures and policies were inaccurate, missing, or incomplete during the examination. Several risks linked to the firm's products were not appropriately addressed in its Business Risk Assessment (BRA). Furthermore, the iGaming operator lacks training obligations and internal reporting.
The FIAU Imposes Fines Worth €2.2 Million During the First Half of 2023
The FIAU has fined €2.2 million during the first half of 2023. Judge Josette Demicoli ruled that the Financial Intelligence Unit shouldn't be classified as a court as it isn't authorised to levy administrative fines that breach the European Human Rights Convention. 
According to Finance Minister Clyde Caruana, FIAU faced 17 court cases alleging constitutional breaches. The FIAU continued to levy penalties and issued fines of approximately €780,000 from April to June. 
The FIAU imposed a maximum fine of €5 million, adhering to the regulations governing its operations. In response to Malta's grey-listing by the watchdog, the FIAU intensified its oversight of the financial sector. Earlier this year, former FATF President Marcus Pleyer cautioned Malta against deprioritising efforts to combat financial crime, a trend observed in "many countries' following FATF evaluations. These evaluations often redirect resources from crucial authorities to counter terrorism financing and money laundering. Pleyer encouraged Malta to capitalise on the post-grey-listing period and continue implementing reforms. He stated that the process had enhanced Malta's capabilities in fighting money laundering, with key authorities now possessing a deeper understanding of risks and improved structures for detecting, investigating, and disrupting illicit financial flows.
Crown Casinos Fines $450 Million Over AML Failures
The financial crime watchdog AUSTRAC has charged casino operator Crown with 546 violations of anti-money laundering laws, imposing a $450 million fine. In the settlement, Crown acknowledged its failure to assess business-related risks and implement a suitable transaction monitoring programme. The court found that the Crown had assigned an unjustifiably low money laundering risk to high-end players.
AUSTRAC reported 60 high-risk clients, including 43 junket operators with a combined turnover of $69 billion, some of whom were considered 'politically influenced.' Suspicious transactions identified by Crown Melbourne and Crown Perth authorities amounted to at least 40, with an additional 38 involved in substantial transactions totalling around $450 million.
Crown was fined $120 million in November for not promoting responsible gambling at its Melbourne casino. After a restructuring of management and the board, Crown was granted a conditional licence for its $2.2 billion Barangaroo casino in December. Nicole Rose, CEO of AUSTRAC, warned of the gambling sector's vulnerability to criminals attempting to launder money from drug trafficking or human trafficking. She emphasised that Crown's breaches of the AML and Counter-Terrorism Financing (CTF) Act allowed high-risk practices, behaviours, and customer relationships to persist unchecked for an extended period.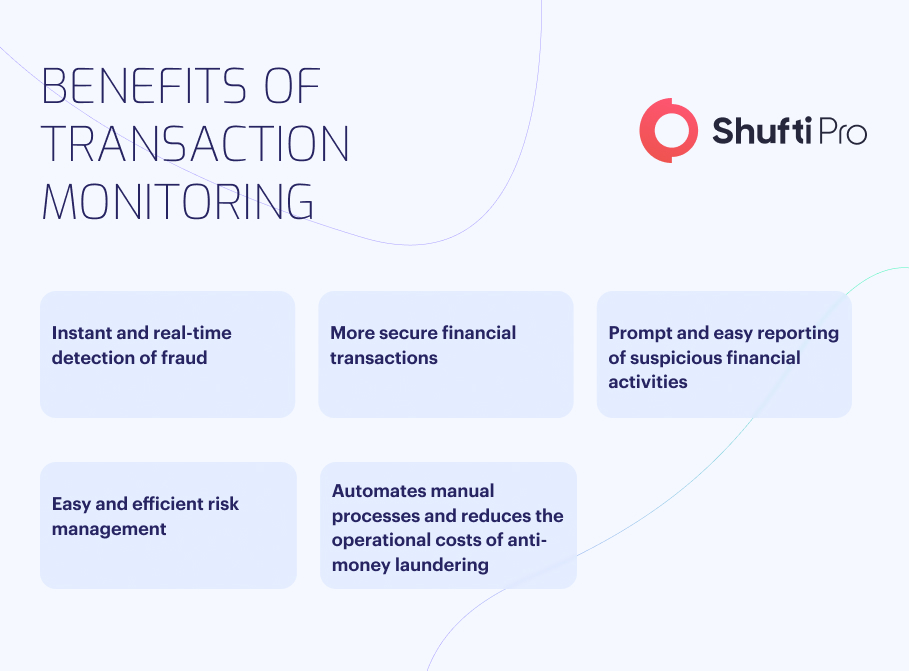 Transaction Screening Solution to the Rescue
Instant and Real-Time Detection of Fraud:

A robust

transaction monitoring solution detects fraud in real time and protects the firm from heavy non-compliance fines.
More Secure Financial Transactions:

The

transaction monitoring process in banks

secures customers' financial transactions and builds a positive brand image. 
Prompt and Easy Reporting of Suspicious Financial Activities:

The transaction monitoring system reports suspicious activities quickly, mitigating the risk of money laundering and other financial crimes. 
Easy and Efficient Risk Management:

The AML transaction solution helps financial firms access the risk level associated with any customer. 
Automates Manual Processes and Reduces the Operational Costs of AML:

When financial institutions use transaction monitoring solutions for AML, they save much time and resources compared to manual monitoring. The screening solution eliminates human errors, making it more reliable. As a result, businesses can reduce their anti-money laundering operational costs significantly, ultimately boosting their profits by the end of the year.
How Can Shufti Pro Help?
Shufti Pro is a globally trusted AML transaction screening solution provider, helping banks and other financial firms comply with regulations and avoid heavy fines. 
Here's what our AML transaction solutions bring to the table:
Fraud Detection and Prevention:

Our AI-powered transaction monitoring solution analyses real-time transactions, helping firms detect and respond to suspicious activities as quickly as possible.

Compliance with Regulations:

Our transaction monitoring solution helps banks and other firms adhere to regulatory requirements and avoid hefty non-compliance penalties.

User-Friendly Interface:

Our transaction monitoring solution has a user-friendly interface, boosting customer experience and helping businesses make their mark in this digital age.
Still confused about how our transaction screening solution helps your firms avoid heavy non-compliance fines?