Blog
The Significance of Age Verification in the Digital Space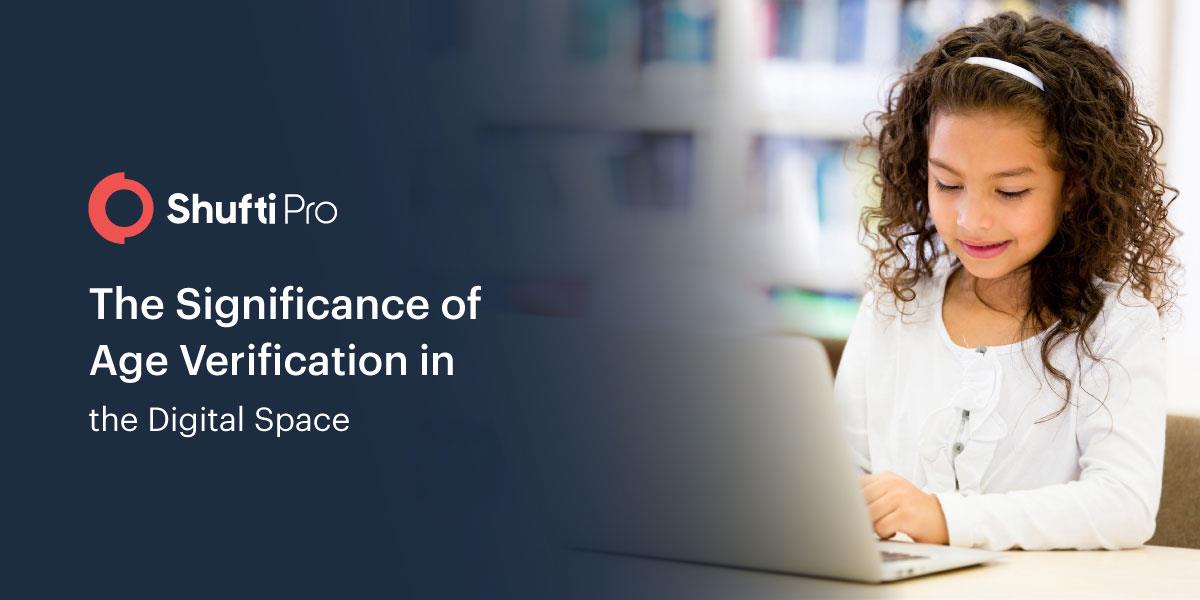 With the innovation of technology, digital services among younger audiences are becoming increasingly popular. In 2018, a statistics report shows that 94% of individuals ranging from 3 to 18 years have access to the internet at homes. The increase in online services has created ample opportunities for children to learn, communicate and acquire information. 
Minors should be protected from consuming content which is not suitable for their age. Since children have little to no knowledge about social values, self-protection and the risk of being exposed, there should be proper measures to safeguard them from services used by the adult population. 
If the age verification of minors is compromised, it will negatively impact younger audiences since the content they are consuming does not correspond with their age limit. Traditional methods for verifying user age have become obsolete and are outwitted by smart minors. So what's the solution to outsmart these kids with big brains? To find out, let's dive into the blog.

Why is Online Age Verification Important?
Online age verification is a digital solution which incorporates purpose-built products and services to verify age and identity of users over the internet. Merchants providing age-restricted services and products are subject to both moral values and by law to limit underage access of their items to protect minors.
Online age verification helps ecommerce businesses avoid chargeback costs initiated by parents in response to purchases made by their children without consent. Despite rigid rules for payment card verification, most minors easily bypass these methods.
Risks Without an Age Verification Software
Without an age verification mechanism, companies cannot ensure their products and services  are suitable for the end-user. What happens if an online weapon store sells arms to a 14-year old or an e-tobacco store provides cigarettes to children? The results could be alarming since teens and minors taking part in adult-only activities impacts their mental as well as physical health. Moreover, the company providing these resources is at a bigger risk. 
Brand Image at Stake
When looking for an online service or product, consumers always look for a popular brand name with a good reputation. A survey by Customer Thermometer shows 13% of customers are likely to pay 31-50% more if you convince them your business positively impacts the world. Age verification practices aim at not only protecting minors from underlying dangers but also helps in developing a good reputation in the market. How many times do people come across the warning "Access to this website is limited. Verify if you are above 18" and actually take it seriously? We all know no one does, especially the ones who should. 
In the digital space, businesses should acknowledge and take relevant measures for the protection of minors as that of a business operating physically. Online businesses are always under strict monitoring by regulatory authorities which creates the need for an age verification mechanism. Not doing so can lead to a negative brand reputation. 
Regulatory Compliance
Compliance with stringent age verification laws and regulations is a major challenge faced by online businesses.  The lack of robust systems and Know Your Customer (KYC) practices poses a potential risk to age-oriented service providers and minors alike. For different countries and territories, there is a unique set of age restriction rules for governing consumption of content and services. The General Data Protection Regulation (GDPR) chartered by the European Union is one of the most challenging frameworks for online businesses when it comes to achieving compliance. Lack of clarity in regulations makes it difficult for sellers of age-advised products to carry out their operations smoothly.   
Industries Which Need Age Verification
The e-gaming Industry
With the development of high-end smartphones and computers, the gaming industry has evolved drastically. The combined income generated by the e-gaming industry is almost $776.4 million and is expected to reach $1.6 billion by the end by 2023. Similar to other online businesses, the e-gaming industry is also subjected to online age verification. When talking about age authentication of minors, online gambling and e-betting platforms are of primary concern. Since betting money inherently provokes anti-social behaviour in younger audiences, it needs to take place under certain constraints. Minor protection laws are implemented to keep online gaming platforms a safe place for players to engage. 

Alcohol and Tobacco Stores
A survey on alcohol consumption shows 2.8 million alcohol-related premature deaths per year. Alcohol and tobacco usage is prohibited for minors to consume worldwide. In the USA, the legal age for buying alcohol products is 21 across all states except for Puerto Rico and the Virgin Islands where it is 18. Since digitisation has become global, online services and products are streamlined. Purchasing tobacco and alcohol from online stores and e-commerce platforms has become easy, and for minors too. Underage individuals are prone to an increased risk of mental health problems as a result of illegal drinking. Laws like the National Minimum Drinking Age chartered in 1984 lists rules and regulations for the minimum drinking age. Since clever minors are in pursuit of avoiding age verification checks to gain access to their desired products, a robust age authentication mechanism is a need of the hour.
Online Gambling Platforms
Online gambling platforms are gaining the attention of younger audiences over the past few years. Today, gambling websites and online casinos make huge sums of money by providing online users with platforms where they can gamble their money and have some fun. But, they often forget to take care of a specific set of users, the minors. User authentication frameworks on these websites often lack in secure age verification of players which leads to minors indulging in gambling activities. This not only allows children to use their parent's payment cards but also poses a risk to their personally identifiable information including credit card details and name or addresses.
Traditional Methods of Online Age Verification
Because of the fact that children are underage and do not have proper credentials to perform transactions, age verification procedures need to be transparent and robust. Some of the methods used currently by online businesses are below:
Self-Authentication
The most commonly used method to validate age using online services is self-verification. Generally, the registration page on the platform requires the user to enter their credentials including name and age. Most minors don't bother paying heed to age-restriction guidelines before associating ties with these services and end up providing either false information or the identity proof used by their parents.
Although self-authentication is easy to employ, it can also be easily deceived. Children often quickly learn to lie about age to access their favorite items and services online, which in the case of real world stores is not possible. Since online gambling and e-betting platforms lack proper frameworks for secure age verification, they are usually rigged and are often a preferred target for online scammers. As a result, an age verification service for e-gaming websites becomes necessary.
Payment Card Verification
According to Shift Processing, there are more than 2.8 billion credit cards used by consumers across the globe with 70% of people having at least a single payment card. This method of payment is popular among e-commerce users for buying products online, and eSports betting is no different. 99.9% of gambling intermediaries (bookies) provide the option for debit or credit card transactions for betting activities. 
Payment cards also serve as a method for conducting age verification checks, which in the case of minors is an uphill task since many use their parent's credit cards. A reversal request from the parent's often resulting against the non-consenting transaction, hurts the business in the form of chargeback costs. The crux of the matter is that free-to-use online gaming platforms and adult-oriented websites don't even offer age verification using payment cards.  
Age Authentication with Online ID verification
Regardless of whether you run an online alcohol store, sell e-cigarettes or own an online casino for gambling, it is your moral obligation to guarantee the products or services you provide does not have adverse effects on minors. Many age limited platforms and service providers are struck with the question of how to come up with an effective means of age verification. 
With rapidly emerging technologies making their way into the market, online businesses can effectively verify their customers' age to provide tailored content and services. Online ID verification incorporates authentic document and biometric verification to aid these platforms in carrying out operations. An ID verification system for age confirmation verifies genuine users with legal age instantly and reduces the cost and risk of traditional verification procedures. 
How Shufti Pro Helps
Shufti Pro provides real-time time verification of online identity by incorporating thousands of AI-based models to empower digital businesses. This helps in achieving regulatory compliance as well as defending against potential fraudsters. 
With Shufti Pro's time-effective and robust age verification solution, online businesses including e-gaming and gambling platforms can swiftly verify their customers' identity in about 15-60 seconds, which is the fastest verification time offered by any age verification vendor in the market. 
Shufti Pro's age verification system is purpose-built for acquiring customized user data including date of birth and name, giving the end-user a sense of security. By taking into account risks associated with age-restricted services and platforms, Shufti Pro provides global coverage with cost-effective and seamless integration solutions.
 Need to age-verify your customer? Get in touch/Connect with our experts
Disclaimer:
No warranty is herein provided that the information contained in this document is accurate, up-to-date, and/or complete. In no circumstance(s), does such information constitute legal or any other advice. Any person who intends to use, rely, pass-on, or re-publish the information contained herein in any way is solely responsible for the same. We suggest to verify the information and/or obtain
expert advice
independently if required.