BEFORE YOU GO...
Check how Shufti Pro can verify your customers within seconds
Request Demo
No thanks
Amidst technological advancement and the changing regulatory landscape, the gaming sector demonstrated promising growth over the past 12 months. The US remained the biggest gaming market worldwide with a revenue of $54.9 billion in 2022 and China ranked second in the video gaming market, generating approximately $44 billion in annual revenues. 
The global gambling market is forecasted to reach $260.44 billion between 2022 and 2027 at a Compound Annual Growth Rate (CAGR) of 7.1%. It is predicted that 2023 is the year of various opportunities and surprises for the gaming market worldwide.
Gaming Market Outlook 2022
Let's glance back at some key facts and statistics on the gaming market in 2022.  
How Gambling Industry Will Evolve in 2023
A jump in the number of online gamblers worldwide shows no signs of gambling slowing down anytime soon.  Let's look at what 2023 holds for the gambling sector.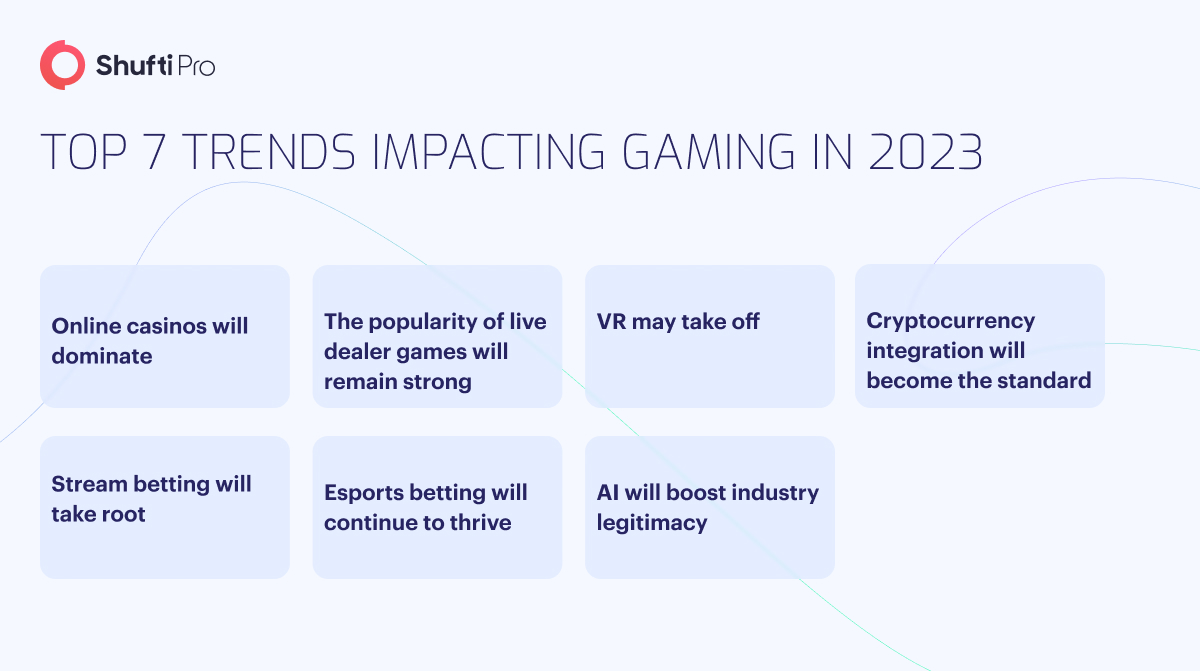 1. Online Casinos Will Dominate
The last few years were challenging for land-based casinos. The Covid pandemic and the growing economic instability caused a drop in the number of US customers visiting gambling establishments/venues in person. Analysts identified a 15% spike in interest in opening virtual casinos in the previous year which shows that gambling, like other sectors, is going digital.
2. Popularity of Live Dealer Games will Remain Strong
The comfort and convenience of digital gaming with live human dealers proved to be a promising combination. A number of virtual game developers launched live dealer games in 2022, soaring across Europe and emerging markets. The public's hunger for mobile-first experiences and the development of advanced Virtual Reality (VR) technologies will contribute to the growth of live dealer games even further.
3. VR May Take Off
Live dealer games have been a stepping stone for immersive gaming experiences, and VR casinos are expected to be the next step in the evolution of gaming. Some digital casinos are already offering gamers the chance to join a virtual environment. However, most platforms are still in their infancy and hold a few opportunities for real-money games. It is found that 32% of US gamers and 24% of UK gamers see no application of VR due to their costs and lack of compatible content. Furthermore, Meta's third-quarter results for 2022 show a drop in share prices by 25%, alongside layoffs which means this is not boosting trust in a VR-first future, meaning this may be a space to look out for in 2023.
4. Cryptocurrency Integration will Become the Standard
The integration of cryptocurrency in the digital casino environment is gaining popularity. Despite the fact that it is still in its development phase, crypto casinos are considered to be a safer option compared to gambling with fiat currencies. This is due to the added layers of security that offers enhanced data protection. Hence, more digital casinos are forecasted to offer crypto transactions in 2023 and beyond.
5. Stream Betting will Take Root
Gambling through streaming platforms hit a siege in 2022 after Twitch banned the streaming of gambling zones without official licensing. As reported by The Guardian, "the ban followed a series of controversies surrounding popular streamers the likes of ItsSlicker who admitted to scamming other hosts out of thousands of dollars." Numerous platforms such as DLive, Trovo, and Mixer have tried to fill the hole and it is expected that stream betting will take root but might find a new home.
6. Esports Betting will Continue to Thrive
After gaining traction during Covid-19, esports continues to enjoy a deep-rooted customer base. Pinnacle just offered its  "Pinnacle Cup Championship 2022" which attracted 200,000 viewers. According to Alex McBride, Head of Esports, "esports is going to be bigger. However, the key to continued industry growth lies in forging successful relationships between operators and the esports community at large."
7. AI will Boost Industry Legitimacy
Every industry is reaping the benefit of Artificial Intelligence (AI) and gambling is not an exception. The integration of AI and Machine Learning (ML) in digital gambling platforms promises everything from enhanced user experience to highly tailored gameplay. AI is continually improving the gaming industry by flagging suspicious activities, protecting firms from fraudulent activities and hefty non-compliance penalties. Thus, AI will keep boosting gambling legitimacy in 2023 and beyond.
What Does Shufti Pro Bring to the Table?
The gaming industry is expected to adjust to the ever-changing trends and scammers are also gearing up to exploit the sector. This is where Shufti Pro steps in. Shufti Pro offers an AI-powered AML screening solution that is trusted worldwide. 
Here's what makes Shufti Pro's AML verification solution the best choice a business owner has ever made:
Validate companies' official registration numbers

Screen potential customers against 1700+ global AML watchlists

Conduct background checks of Ultimate Beneficial Owners (UBOs) in real-time

Eliminate risks of non-compliance fines
Still confused about how you can protect your businesses from the risk of money laundering and other financial crimes?