BEFORE YOU GO...
Check how Shufti Pro can verify your customers within seconds
Request Demo
No thanks
With social distancing becoming the necessity during the pandemic, more and more companies began to onboard customers and perform customer verifications through digital means, and it is believed that this trend will continue long after. Now as the world recovers from COVID-19 blow, this acceleration towards digital adoption is expected to further increase in the banking and financial sector, with the introduction of video-based KYC method.
The financial sector businesses are bringing exciting new digital services for their customers. With the introduction of these services, the need for online identity verification increases as well, that can be well met by integrating the systems with an advanced verification system such as video-KYC.
In Video KYC, a KYC expert or representative of the financial institution authenticates the identity of a customer. He/She also verifies the documents presented during the live video call. During the video call, a customer is required to display their government-issued identity documents to the company's official after verifying his credentials. Significant financial and other mobile wallet companies have started setting up infrastructure for this new verification system. 
Who performs video KYC with customers?
In video KYC, the customers are connected with a trained KYC expert, who conducts the interview and asks them to verify their identity by showing a government-issued identity document as proof of identity. During the process, the KYC expert asks questions from the customer and observes their behaviour and body language as well to ensure that the person in front of the camera is not an impersonator.
Read more: Video KYC – Understanding the 'what' and 'how' [A short guide]
General guidelines for Video KYC
Companies have to follow certain guidelines while employing a video identification process for customer verification.
Record video and capture live photo of the customer

Capture image of the identity document

Match the photo of the customer with the one on the identity document

Match details on ID file with that on the form

Use the latest AI and Face recognition technology

Recorded video to be saved securely with date/time stamp

Identification and liveness of customer beyond doubt
Advantages of implementing video KYC system
Using video-based customer identification method has various benefits for organizations;
Effective fraud prevention
Effective fraud prevention is one of the most significant benefits that video KYC offers. With live video interviews and the use of AI and facial recognition, companies can reduce identity fraud cases and secure their operations significantly. 
Ian Kane, COO and founder of TERNIO, believes that Video KYC offers more security as compared to other verification methods. "Video would be more secure than photo-based ID checks. It's much harder to fake a video, especially if the user has to meet certain criteria like holding a piece of paper or saying a certain phrase. I think ultimately, it gives all compliance teams more confidence that a user is who he/she says they are".
Prevent money laundering
Onboarding legitimate customers will also protect your business from money launderers. With video KYC interviews, thorough background checks can be performed on your clients to ensure they are not present in any sanctions or watch lists. So video KYC can prove to be a handy tool in the fight against money laundering as described by Victor Fredung, CEO of Shufti Pro.
Victor believes that, "Video KYC is a robust safety measure, an additional layer of security to safeguard onboarding processes and to curb financial crimes, especially money laundering. A blend of video KYC and other AI-based verification solutions can prove to be an unbreakable risk cover for banks and businesses."
Reduced paperwork
With the complete verification process being performed digitally, the companies can say goodbye to the hefty paperwork, and long manual processes.
Eliminate human errors
With the help of advanced technologies like artificial intelligence and liveness detection, the possibility of human errors is substantially reduced.  
Drop-off reduction
With a quick and smooth customer verification process, video KYC helps in reducing the drop-offs, which they normally have to face with the traditional authentication methods.
Enhanced customer experience
KYC through video call eliminates the major struggle of the verification process including the drop-offs that occur at multiple steps of the physical verification process. Slow onboarding process can frustrate new customers, who then abandon the onboarding process, as evident from the stats below.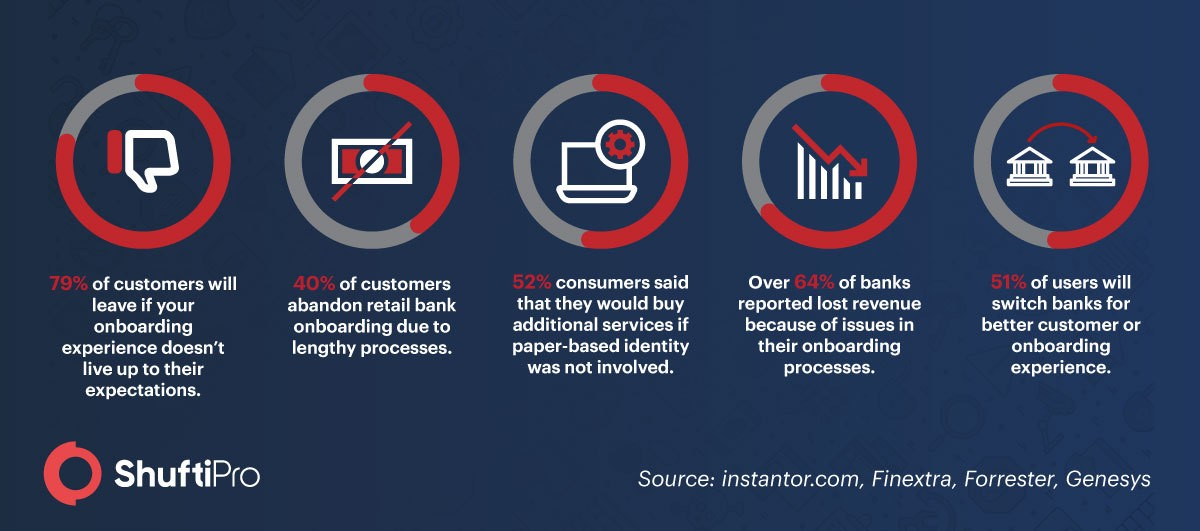 These statistics show why quick online verification tools are the need of the hour. With video KYC solution customers can easily verify their identity by displaying the identity documents to the camera and answering a few relevant questions asked by the KYC expert taking the interview. After the collection of the user-provided information, he or she will be verified.
Faster identity verification
Customer authentications through video KYC method replace the physical visits of the customers for verification. Hence by remote verifications, the process gets completed faster without any delays.
Video KYC solution by Shufti Pro
Shufti Pro's video KYC solution enables a swift and secure identity verification process for your customers. Both banking and financial institutions can acquire video KYC service from Shufti Pro and onboard customers without any delay. Shufti's video KYC solution utilizes facial recognition and liveness detection for effective customer face authentication and to ensure the live presence of customers during the interview.
Furthermore, Shufti Pro's document verification solution helps to authenticate the validity of the identity card in real-time, and the entire verification process is completed in minutes. 
Three solutions for you to choose from
Shufti Pro offers three video KYC plans to banks and financial institutions from which they can select the plan best suited for their business needs. Companies can choose;
The nationality of their customers and the language for verification method for customized experience.

Their own KYC experts for the verification process. 

Automated AI-based option to perform verification without hiring KYC experts
Conclusion
Performing identity verification while onboarding customers is a requirement every bank and financial institution has to fulfil. With the development of new digital services that are being offered to the customers, these institutions must employ digitally advanced verification solutions to overcome the growing risk of frauds and money laundering. Here Shufti Pro can help them keep their operations secure and their customers happy. Our video KYC solution offers enhanced security with a quick verification system compatible with their onboarding operations.