BEFORE YOU GO...
Check how Shufti Pro can verify your customers within seconds
Request Demo
No thanks
Open banking is surely one of those trends that have the potential to change the banking and financial landscape for generations to come. It is estimated that only in the UK, open banking will create revenue opportunity of £ 7.2 Billion by 2022 whereas 71% of SMEs are expected to adopt open banking channels in order to perform their financial and banking activities. 64% of adults will be embracing open banking by 2022. Several use cases are being suggested ranging from KYC for Banks to integration of insurance claims with banking accounts of the retail user. But before we explain why Open Banking will disrupt conventional banking operations in less than 5 years, let us explain what is "Open Banking"?
What is Open Banking?
Open Banking is a process in which banks allow their customers to share their financial information with third-party apps in order to perform several financial activities. Driven by Application Programming Interface (API), Open banking has been part of conventional banking for quite some time in the form of online banking and integration of Visa and MasterCard like services with bank accounts.
But the current wave of Open banking practices and solutions commenced in January 2018 when the UK asked 9 of its major banks to allow their customers to share their data with third-party apps for a seamless banking and transaction experience. In just over 1 year, more than 100 companies have used Open Banking as a mean to launch new services and application.
The UK is not the only market where Open Financial Sector is making waves but countries such as Singapore, Hong Kong, and Australia have started embracing this technological advancement in order to stir competition, enhance user experience and change outdated business models. Mexico recently implemented a law to strengthen the adoption of Fintech. Several US banks have also started working seriously in Open Banking space, although there is still a regulatory and legal vacuum to support such a dynamic area of innovation.
With KYC due diligence and ID Verification becoming the cornerstone of the regulatory landscape, Open banking was the much-needed incentive for the banking organizations to experiment with technology as many of them complained about regulators' reluctance with approving technical solutions. Software performing AML Checks for banks. KYC verification, alongside other RegTech, can now be easily available to banks, thanks to open banking protocols and smartly designed APIs.
Examples of Open Banking Solutions
HSBC has launched Connect Money App that allows customers to view their bank accounts from 21 different banks in a single mobile application. Flux launched a digital receipt and loyalty points app, which facilitates Barclays' customers even in the absence of a physical loyalty card. Llyods introduced account aggregators that enable customers to track their spending behaviors and locate best deals. There are several other third-party service providers that offer API based integration to perform several compliance based actions such as KYC & AML checks. Document verification is also offered through open banking apps to authenticate the credit cards used for online payments.
Millions of actions are being performed using this Solution APIs in the UK alone on a monthly basis as reported by Open Banking Implementation Entity (OBIE).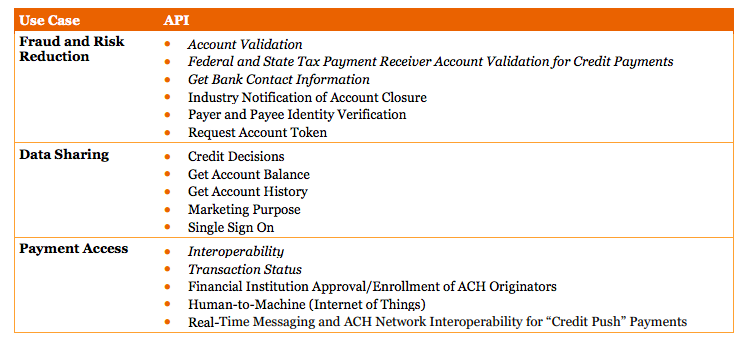 How efficient is Open Banking?
Non-banking fintech solutions have completely changed the consumer attitude towards legacy financial organizations. Increase in connected devices and API driven open banking provided an opportunity to conventional banking organization to offer innovative customer experiences, especially to retail consumers and businesses.
Some finance world influencers hold the view that few banks can show reluctance to adopt Financial  channels as they consider it a business risk to share a huge amount of data to third party service providers and getting little to nothing in return. But a counter-argument can be given that most API-driven solutions are focused either at protecting business interests or providing a seamless user experience. For example, in the case of HSBC app, the user can get all their financial information in a single app and a typical Know Your Customer solution can safeguard a banking organization from payment fraud and account takeover scam.
Some consumer groups have also shown resistance in adopting Financial channels, citing concerns that range from data usage to confidentiality of shared data. With scandals such as Cambridge Analytica and news of digital data breaches happening because of lax security protocols also play a significant role in this consumer skepticism about banking. But it has to be understood that Open-Banking APIs are even more secure at data sharing as compared to previous methods used by finance industry. Third-party service providers understand the crucial nature of data they receive from large banks and it is why the majority of them have taken steps to ensure data security. Some solutions offering KYC in banking have complied with GDPR as well to ensure that both the end-consumer and banks availing their services are not at risk of a serious data breach.
Conclusion
Small businesses and individual consumers will be able to make the most of banking but despite a whole generation of innovators trying to create a contextual link up of data and tech solutions, there is still a lot of room for creative problem solving and real-life applications. KYC verification is one aspect that can help create a financial landscape where fraud and scams can be made virtually impossible. KYC compliance seems to be the biggest hurdle and the same goes for other regulations that might be making banks reluctant.
But the bigwigs of financial world should also not forget that with an increasing array of competitors flooding the online marketplace (PayTech, Fintech and challenger banks), Banking is the only way to replace legacy core systems with swift and agile solutions.