Blog
Why Financial Industry Needs KYC/AML Compliance?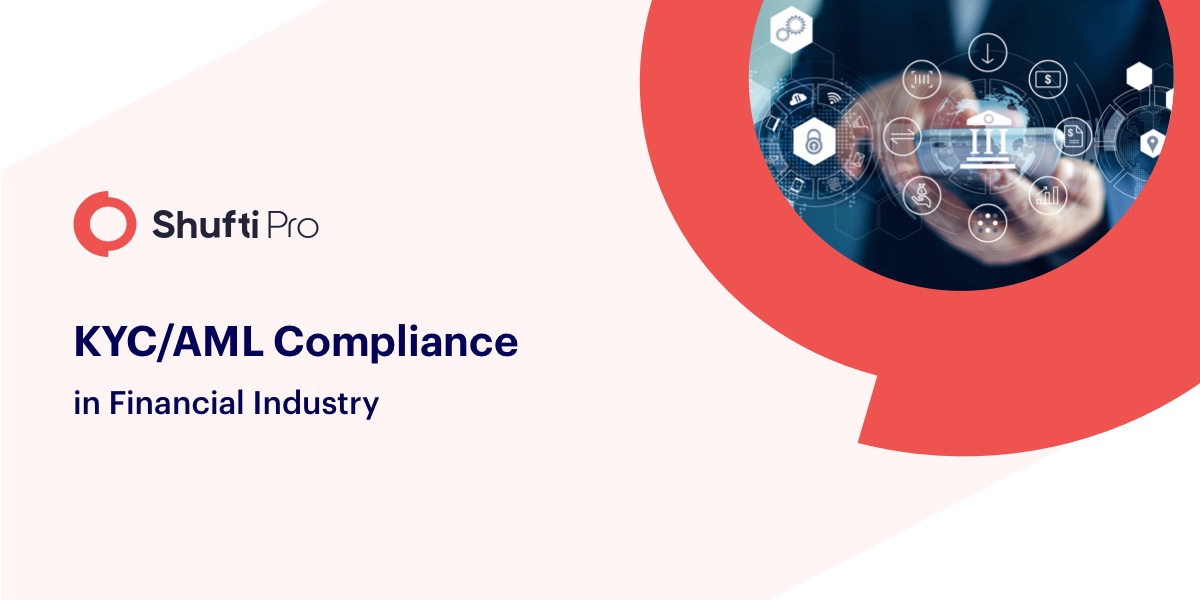 The largest concern of financial institutions is "risk management" due to a high rate of financial crime in the industry. Financial crime takes multiple facets in different sectors of financial industry. Money laundering is one major threat and most of the financial institutions cater to it by using an online KYC/AML verification solution. 
Money laundering and terrorist financing increased at a rapid pace in recent years. Global regulatory authorities are introducing new rigid KYC/AML regulations. Financial institutions are under the strict scrutiny of global financial watchdogs. Millions of dollars of fines are imposed on financial institutions in an event of non-compliance. For instance, FINRA fined $1.1. Million to J.P. Morgan Securities for failing to report 89 potential high-risk profiles after an internal investigation of its stakeholders (employees and advisors). 
The rise of FinTech not only injected more competition into the industry but also shared the financial risk of typical financial institutions. The advent of this industry made banks and other financial institutions to enhance their operations and to introduce digital solutions for their typical financial operations to retain their clients. 
This advanced approach has pros and cons for the financial industry. Financial institutions were able to overcome the competition but also introduced new risks in their business models – the risk of online frauds and crime. 
Common Frauds in the Financial Industry
Before listing the most common frauds it is necessary to understand the motive behind these frauds committed against financial institutions. 
Clients and investors of financial institutions are the most common source of fraud and a threat to financial institutions. The major motive of these criminals is to get financial gain or to commit a financial crime in an anonymous way. Often the criminals use stolen or fake identities to execute their crime. This is the reason why all KYC/AML regulations need financial institutions to run KYC/AML verification on their clients and stakeholders before serving them. 
Common frauds with financial institutions are mentioned below:
Money laundering and terrorist financing
Money laundering is committed to hide the money trail or black money. Financial institutions are used by criminals to launder their black money in other countries and to finance terrorist groups. Banks are not allowed to extend services to money launderers, in case the banks are found to be involved in such illegal transactions they are fined as per AML regulations. 
Account takeover fraud
Account takeover fraud is also a very common fraud in the financial industry. The criminals take over the account of a legal customer using the stolen credential (passwords, PINs,etc.) and use it for accumulating money or to make a transaction through that account. This is the reason why financial institutions are investing in biometric verification for account access.
Phishing scams
A common cyber-attack on financial institutions is phishing scam which is executed through fake emails sent to the employees of financial institutions. These scams are executed to gain illegal access to the confidential data of an organization. Employee training and firewalls is a good practice to mitigate these scams. 
Fake identities
Criminals use fake identities to open accounts at financial institutions to conduct their illegal activities. The most common victims of identity thieves are the financial institutions because they serve well the money motive of criminals. Research of Insurance Information Institue found that 3 million identities were stolen in 2018 and 1.4 million of those stolen identities were fraud-related. 50% of those identities were stolen to conduct credit card fraud with banks and businesses.
Key Points of Global KYC/AML Regulations
Exercise identity verification on your customers before serving them

Customers should be screened for international sanction lists, terrorist lists, high-risk countries and PEPs (Politically exposed people)

On-going AML screening of clients

Proper record-keeping for the AML practices in the organization

Any transaction above the "minimum cash transaction threshold" must be reported to the concerned authorities

Proper training of employees and an integrated

AML compliance program

Fines in case of non-compliance
Recent Global trends in KYC/AML
Global financial regimes evolved in 2019. Many changes occurred in KYC and AML Verification regulations around the globe. Countries are working on extending the scope of their KYC/AML regimes. 
Canadian regulatory authority FINTRAC has changed the KYC/AML regimes to align them with international KYC/AML regulations of FATF. Online KYC is possible as scanned copies of identity documents can be used for due diligence. Also, Money Services Businesses and virtual currency businesses are added to the reporting entities list. They will be liable for typical KYC and AML rules that apply to businesses involved in fiat transfers. 
The UK amended its Money Laundering Act (MLA-2017) and require the international affiliates and subsidiaries of UK-based businesses to exercise the EU AML regulations in non-EEA countries aswell. 
Five major Dutch banks are joining forces to develop a joint technological system to handle the due diligence data of their customers. Also, they plan to develop joint KYC/AML procedures by sharing the financial data of their clients, for better KYC and AML compliance. 
Businesses that Need Real-time KYC and AML Verification Solution
As per the global AML and KYC regulations, the financial institutions must perform KYC and AML compliance. Financial institutions need to practice in-depth KYC and AML compliance. The institutions that are liable for compliance under the KYC and AML regimes are banks, brokerage houses, insurance companies, forex exchanges, non-banks mortgage lenders, money transmitters, cryptocurrency facilitators, etc. 
How Online KYC and AML verification is Performed?
The API is integrated with the system of financial institutions. Every time a new user is onboard or end-user accesses its account the verification is performed. Real-time identity verification is performed through in-depth screening of ID document and face verification or biometric verification. Also, the documents and address are verified in real-time before onboarding a new client. Once the verification is completed the end-user is allowed access to the system of the financial institution. 
Incase of AML verification the information of the end-user is screened against regularly updated databases that consist of global sanction lists, watchlists, and PEP lists.
 Benefits of Online KYC and AML Verification Solution?
Financial institutions and businesses are willing about going KYC and AML complaints after looking at the rigid behavior of global watchdogs. It is important to investigate the advantages of every step taken. 
Fraud prevention
Online KYC and AML solutions help the financial institutions in preventing the risk that comes from a diverse clientele. Identity thieves and money launderers can be identified at the very first stage and help the businesses in serving only legitimate businesses. 
Regulatory compliance
Online KYC and AML verification software help the financial institutions in catering to regulatory compliance needs. Compliance prevents penalties and credibility loss that could be huge in some cases. For example, Swedbank was recently fined for non-compliance and lost its market value along with its credit rating. 
Customer on-boarding
Online KYC and AML verification solution help the financial institutions in on-boarding clients with good credibility. Fast verification helps in seamless onboarding and helps retain more happy clients. Customers are verified within 30 seconds, reducing the hassle of manual verification. 
To wrap up KYC and AML compliance is inevitable for global financial institutions. Real-time KYC and AML verification solutions are suitable for seamless compliance. 
Disclaimer:
No warranty is herein provided that the information contained in this document is accurate, up-to-date, and/or complete. In no circumstance(s), does such information constitute legal or any other advice. Any person who intends to use, rely, pass-on, or re-publish the information contained herein in any way is solely responsible for the same. We suggest to verify the information and/or obtain
expert advice
independently if required.