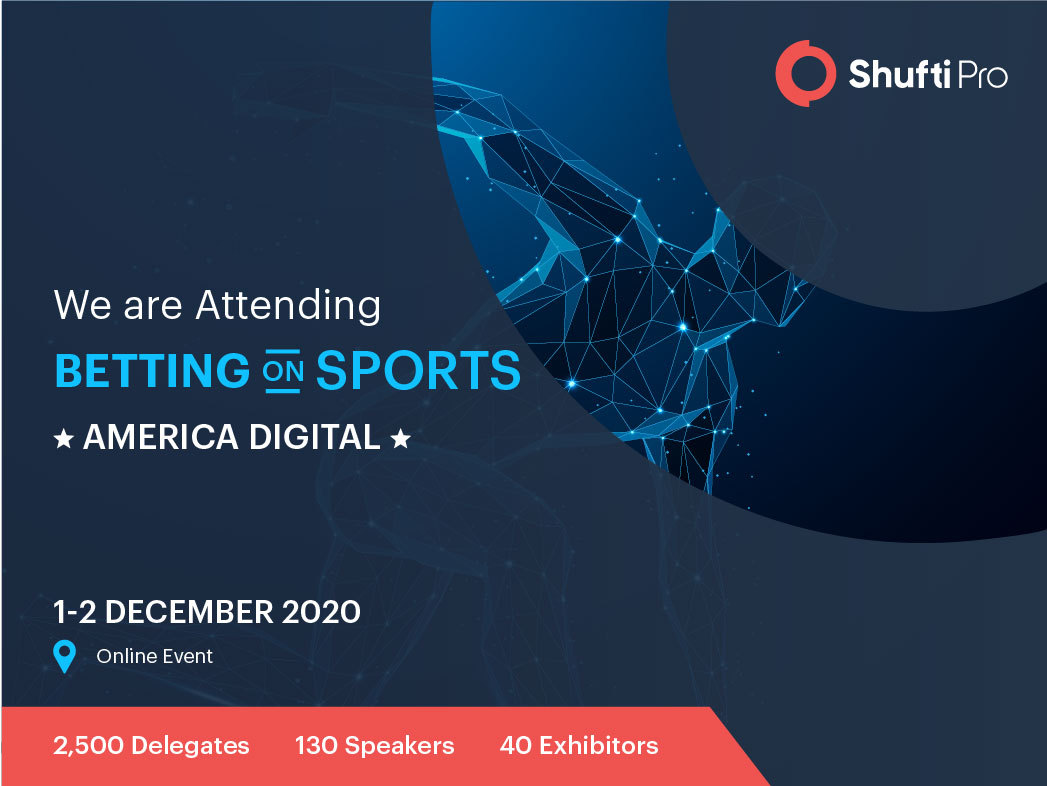 Shufti Pro is Attending Betting on Sports *America Digital* by SBC Events
Shufti Pro cannot wait to participate in Betting on Sports America, the biggest virtual sports betting event in North America. 
The event will be held on 1st & 2nd December 2020 and will be full of thought-provoking discussions on the future of sports betting in the USA. 
Due to the COVID-19 pandemic, SBC has changed its Betting on Sports America to a digital event for the safety of the attendees and to maintain the social distancing protocols. Despite that, the event is still an amazing opportunity to interact with industry leaders, executives from major gaming operators, sports organizations, and regulators.
This event presents a huge range of opportunities for networking through roundtable debates and various workshops. An expo hall will be showcasing the latest and the most innovative supplies from the industry leaders. 2,500 delegates will be participating along with 130 speakers and 40 exhibitors from all around the world to take part in shaping the future of betting on sports.
Shufti Pro will be a part of this event to highlight the importance of identity verification regulations and how the use of AI-powered technology is the future of these regulatory demands. Shufti Pro uses AI-powered identity verification solutions to offer KYC and AML services with an accuracy rate of 98.67%. It has assisted various organizations around the world to comply with their KYC regulatory needs. Betting on sports require stringent regulations as it can open doors for various types of fraud and money laundering activities. Protection of minors is also an utmost priority in these sports betting endeavors. Shufti Pro's identity verification solution can fulfill these requirements. 
So save the dates and join Betting on Sports America with team Shufti Pro to learn how you can seamlessly deal with your regulatory needs and fight fraud.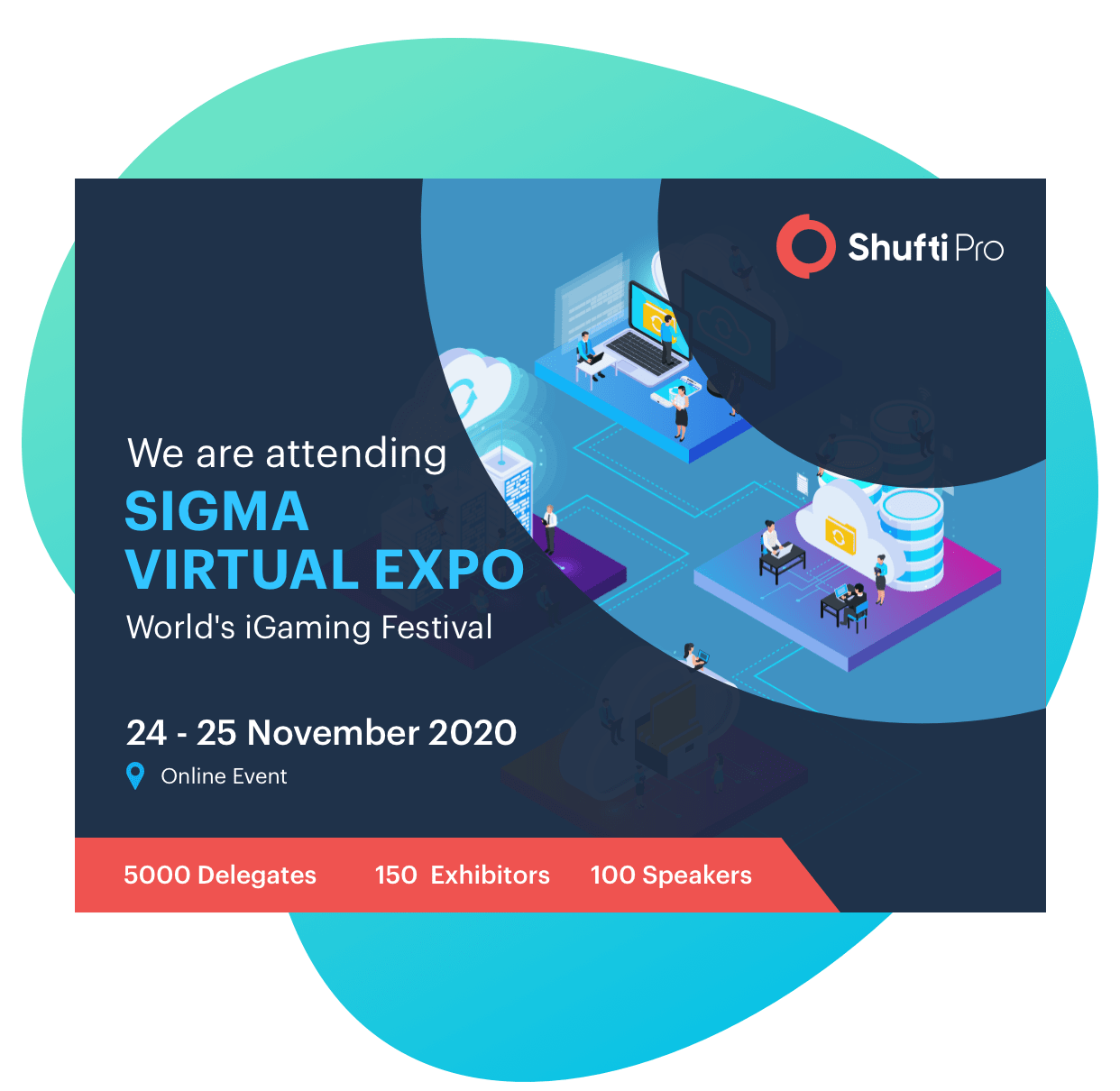 Shufti Pro is Excited to Participate in an Innovative Virtual Event- SiGMA Europe
London UK, Shufti Pro team is excited to attend SiGMA Europe, a virtual event that will discuss the future of the European gaming and tech sphere.   
After a huge success in Asia and America, SiGMA and AIBC now bring the expo floor full of world-class exhibitors, conferences, and workshops in Europe. 
From 24th-25th November 2020, the virtual event will give you the opportunity to explore the latest development in the tech industry. AIBC and SiGMA will gather the industry leaders to highlight the innovations in artificial intelligence, blockchain, quantum tech, IoT, and other developing technologies. This online event will provide a state of the art experience with thoughtful and mind-opening interactions with 5,000 delegates, 150 exhibitors, and 100 speakers. 
The event will also highlight the updates in regulations and their effects on your business, innovative marketing, the changes in sportsbooks and payments, and newly developing technologies. SiGMA will take this opportunity to reveal their brand-new career fair with WhyiGaming to open up more career doors. 
Team Shufti Pro will take advantage of this conference to give their input regarding regulations in the related industry. Shufti Pro is an identity verification service providing company that uses AI solutions to assist various organizations in meeting their compliance and regulatory needs. Shufti Pro's identity verification solutions offer multiple services like KYC verification and AML screening around the globe with an accuracy rate of 98.67%. When it comes to the future of gaming and technology, nothing is more important than to discuss the growing concern of security and data breaches that comes with it. There are always bad actors on the loose trying to manipulate the technology for their own benefit. Shufti Pro provides solutions that help the organizations get rid of these criminals and remain intact with the law. 
Save the date and join our team to indulge in this amazing opportunity and learn more about the innovations in gaming and technology.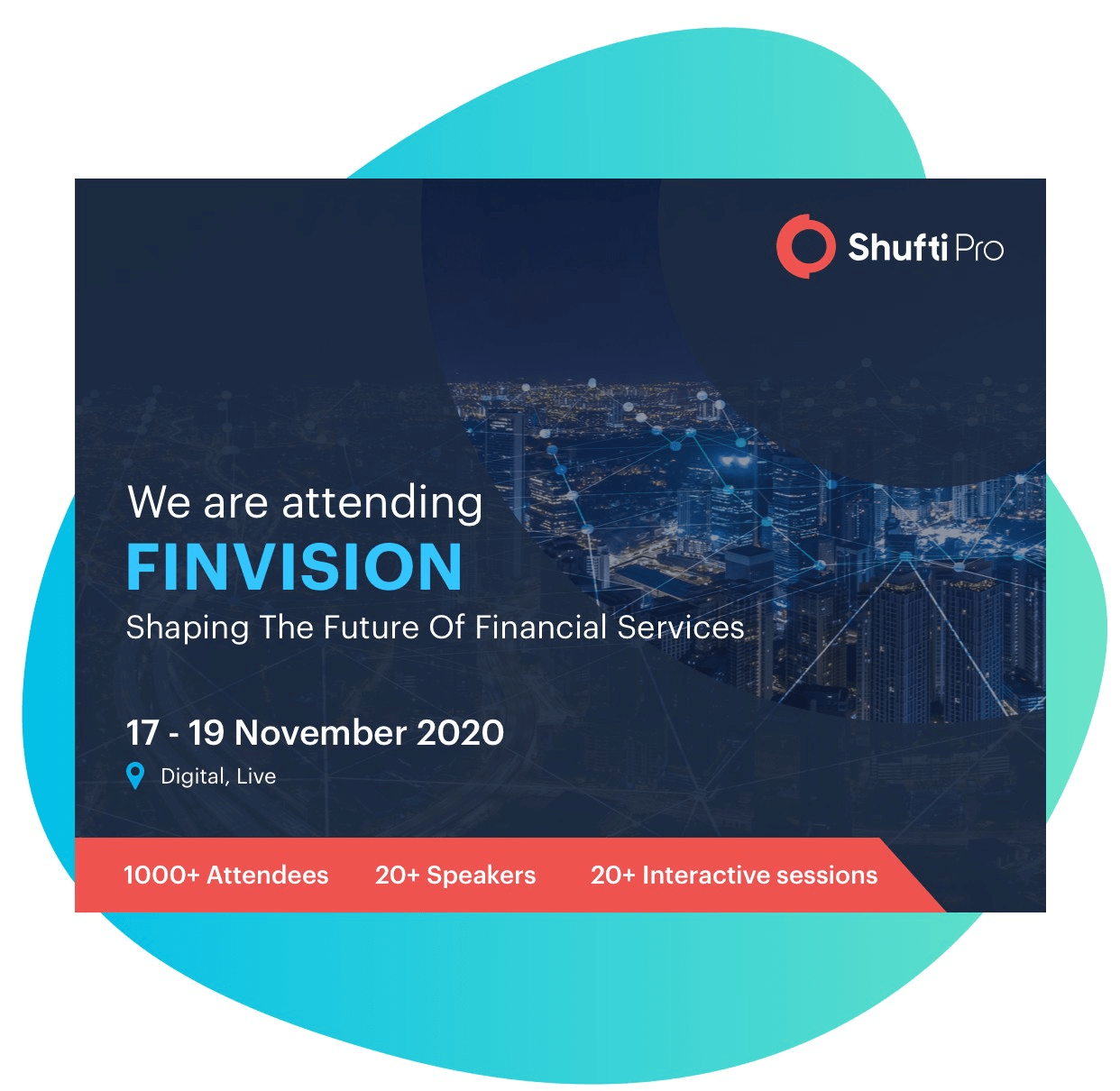 Shufti Pro to be a Part of Financial Innovation at FinVision by FintechOS
London, UK- Team Shufti Pro will be participating in an innovative event, FinVision, to discuss the future of financial technologies. Come join us, to discuss the digital transformation of identity verification. 
The three-day event from 17th to 19th will be filled with end-to-end discussion on the success, practices, and opportunities to innovate the financial sector. Industry leaders, visionaries, and experts from the banking, fintech, insurance, and media community will join heads to give insights on strategies and innovations regarding banking and insurance operations. Over a thousand participants with 20 interactive sessions and more than 20 speakers will take part in panel discussions, debates, detailed case studies, one on one meetings, and live Q/A sessions. The speakers line up include challengers, enablers, global game-changers, technology leaders, banking, and insurance leaders. This platform will allow amazing networking and connection-building opportunities to ignite an interesting and yet beneficial conversation between industry vendors and clientele. 
Shufti Pro, a service providing company that helps financial institutions, banks, insurance companies, e-commerce platforms in safer and fraud-free business operations. Shufti Pro provides identity verification solutions that offer KYC, and AML services to various companies around the world with an accuracy rate of 98.67%. When it comes to the discussion of the future of financial services, nothing is more important than discussing the growing concern of fraud and criminal activities associated with it. Shufti Pro plans on highlighting the issues of identity theft, money-laundering, and cybercrimes, and further plans on raising awareness on how the use of AI-powered technology can eliminate such problems. 
Save the dates and come interact with our team to take initiatives regarding the digital transformation of your company.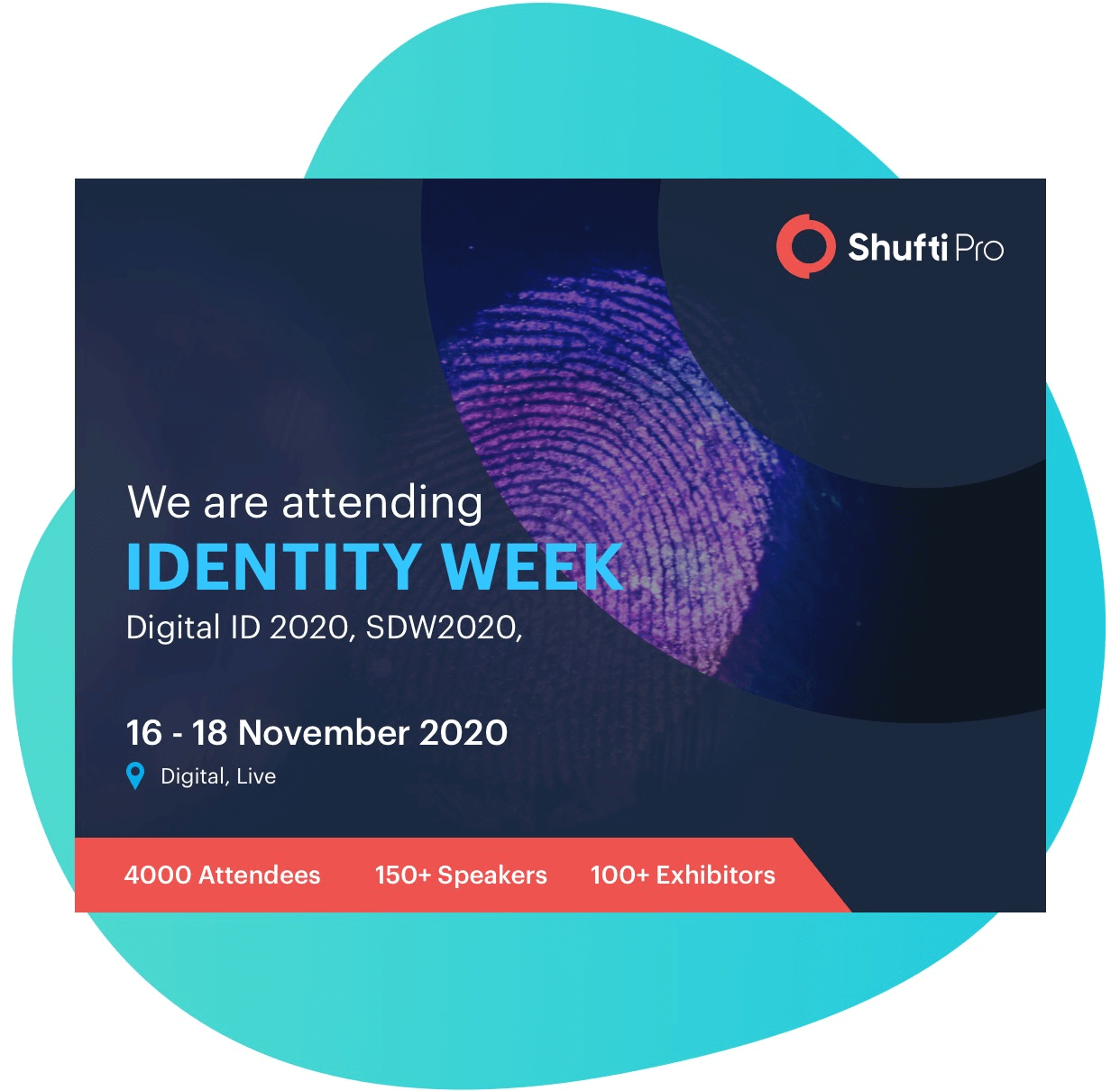 Explore the Future of Identity Verification Solutions with Shufti Pro at Identity Week 2020
Team Shufti Pro has decided to attend a virtual event, Identity Week 2020, to take part in enlightening conversations regarding the identity verification market. Join our team and learn more about securing the world with identity verification solutions. 
From 16 November to 18 November, the three days will be full of debates, presentations by experts, and critical information regarding identity verification solutions. The best minds in the industry will gather to explore the future of government, citizens, and commercial identity verification solutions. Identity Week will give insight into the changing world of identity verification with 150+ speakers, 24 thought-leader panels, and informative presentations, insightful interviews, and an upcoming product launch. 
This event will be a hub of identity and trust and it will do a detailed analysis of how various organizations are going about the identification and verification process. The event will exchange ideas to discuss the upcoming opportunity for a more effective identity verification solution. 
When it comes to identity verification, Shufti Pro cannot be left behind. Shufti Pro is one of the leading names identity verification service providers that offer KYC and AML services. To fight identity fraud and make the marketplace secure is the main goal that Shufti Pro is striving to achieve. Our team is dedicated to providing human authentication service through; face verification, biometric authentication, document verification, address verification, and two-factor authentication. Customer's in around 232 countries across the globe have benefitted from Shufti Pro's highly effective identity verification services with an accuracy of 98.67%. 
Whether you are a sponsor, visitor, conference delegate, etc. save the date and come find team Shufti Pro to learn about the future of identity verification solutions together.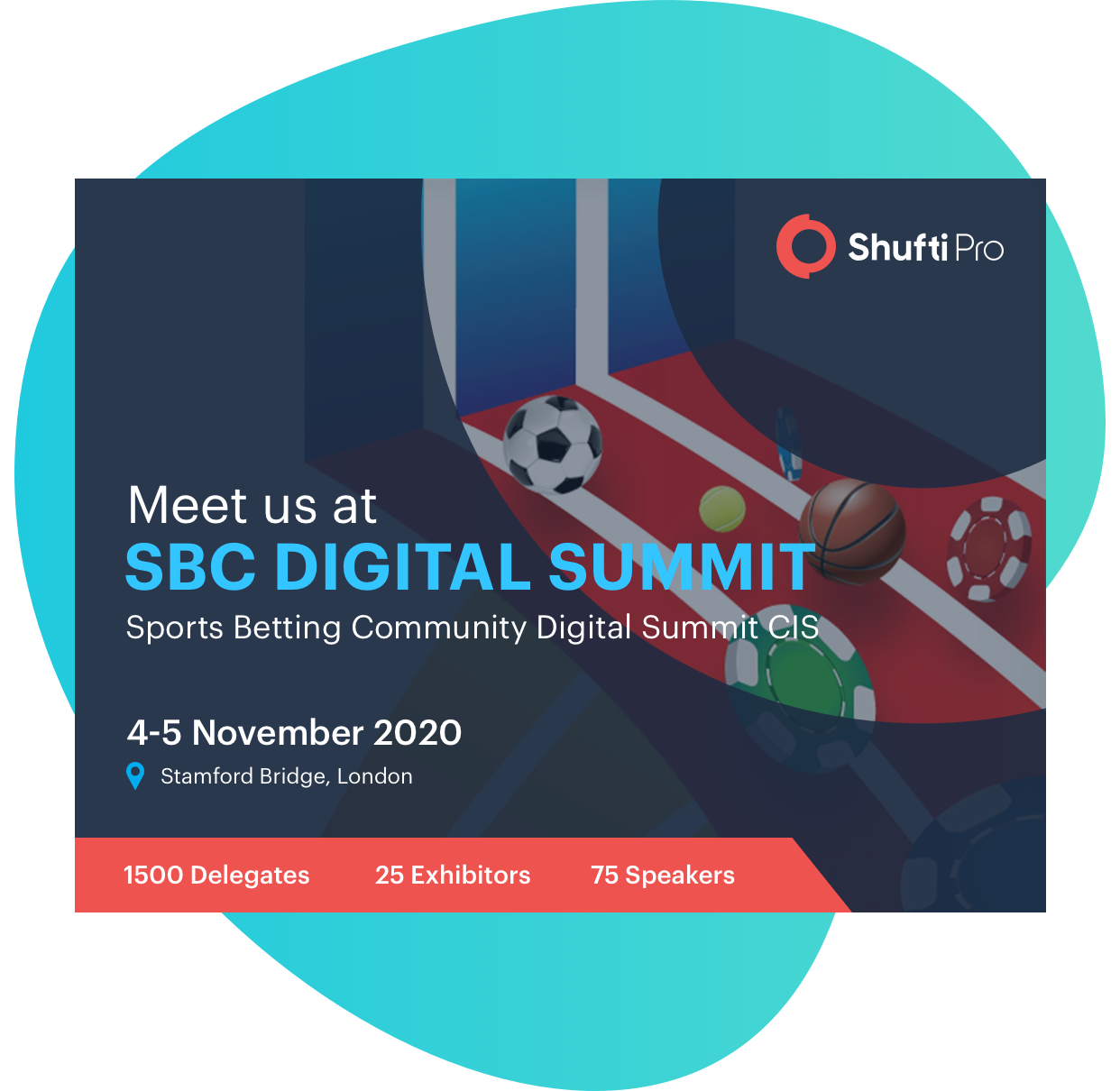 Participate with Team Shufti Pro at the Biggest Virtual Event – SBC Digital Summit 2020
Yes, you have heard it right! Shufti Pro will be attending SBC Digital Summit, the largest online event that is dedicated to the CIS betting and gaming industry. Find our team to learn about the required security measures in the betting and gaming industry. 
On 4th and 5th November 2020, SBC Digital Summit CIS will be held. It is a highly interactive virtual conference that will discuss the future of online gaming and the betting industry in the CIS region. CIS region, although full of opportunities have little to no information available on this particular market. SBC, partnering with many experts will be hosting this conference to provide insights. The conference will be held online through exhibitions, networking, and interactive platforms with experts and delegates in the booming betting and gaming industry in the CIS region. More than 2000 delegates will be attending with 75 speakers and 25 exhibitors.  Over the course of two days, the experts will share their views and the opportunities of this particular market in countries like Ukraine, Uzbekistan, Georgia, and many others. 
Shufti Pro's team will be present at the event to highlight the issue of security in the online betting and gaming industry. Shufti Pro is one of the leading providers to provide online Identity verification services. Fraudsters have taken a toll in every industry, and the gaming and betting industry is not safe from it either. Shufti Pro has helped various industries in fighting identity theft and complying with KYC and AML regulations with an accuracy rate of 98.67 percent 
In order to have a detailed discussion on how to secure the gaming and betting platforms and make the best of opportunities in CIS in related industry, find us at SBC Digital Summit CIS on 4th and 5th November.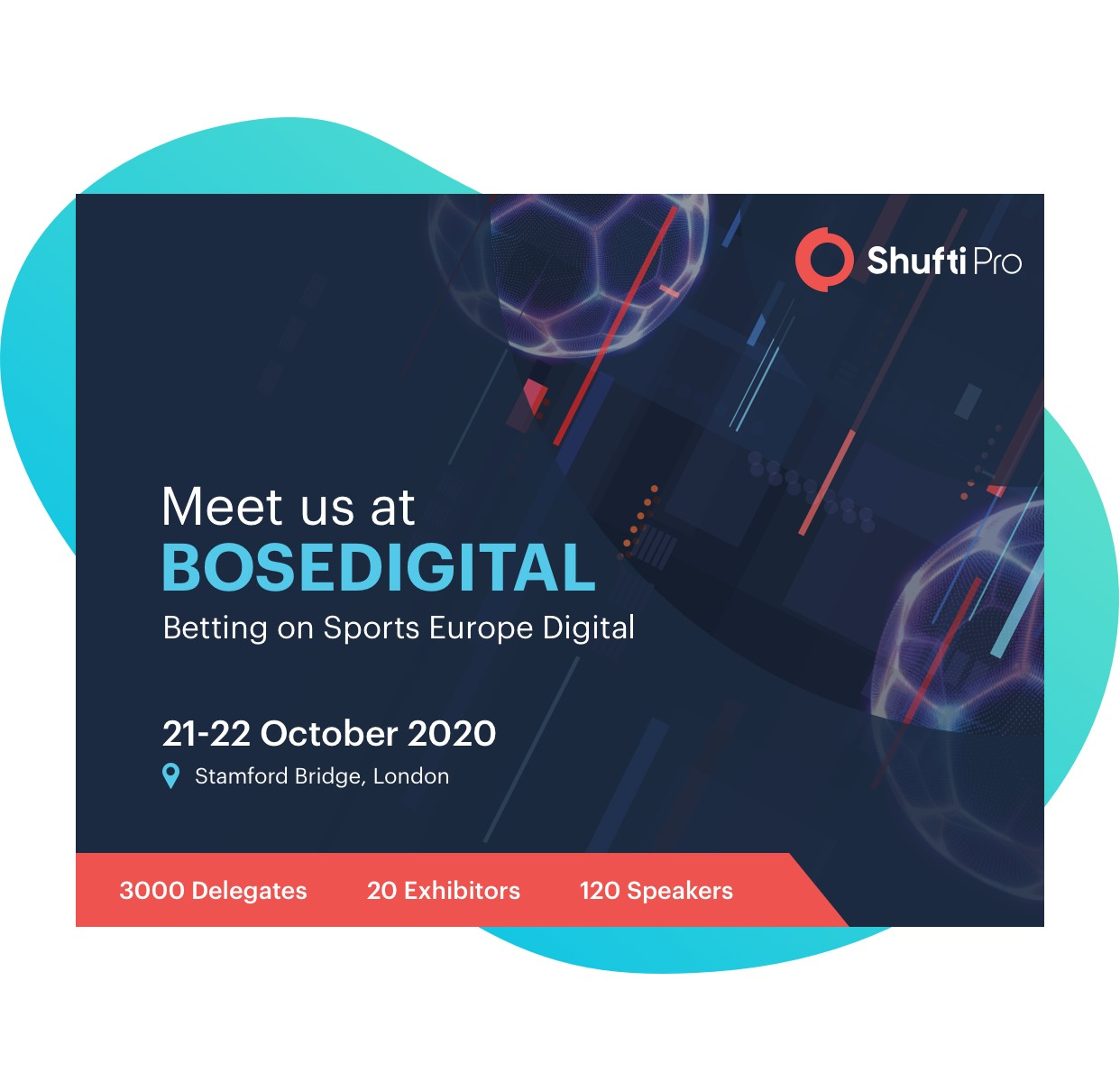 Catch Shufti Pro at Betting on Sports Europe- Digital Event 2020
Shufti Pro cannot wait to attend the upcoming event; Betting on Sports Europe – Digital on 21st Oct 2020. Get in touch with our team to find out how our services can help in making betting on sports safer and fraud-free. 
Betting on Sports Europe – Digital conference will be held in London from 21-22 Oct. All the senior operator executives will put their heads together to discuss the future of sports betting. Conference talks and panel discussions will be held by the major players in the iGaming industry to explore the opportunities in the industry and how to tackle the challenges the industry faces. Around 2,000 delegates will be attending the event with 120 Gambling Operators and 40 Exhibitors. 300 countries will be represented by 200 leading industry speakers in 60 different track sessions. 
When the high-level forum discussions will be held on the future of online betting on sports, then what could be a better issue to highlight than the safety of the users betting. Shufti Pro's team from London HQ will be looking forward to taking part in discussing the issue of the fraudsters in sports betting, compliances related to it, and the significance of age verification in this particular niche. Age verification solution for the protection of minorities is an important issue on its own that requires extra attention.   
Shufti Pro is experienced in providing identity verification and age verification solutions to various industries, including the gaming and gambling industry, across the globe. It provides an accuracy rate of 98.6% in providing KYC/AML services. 
So save the dates 21-22nd Oct, and take part in this intriguing discussion with us. Our representative will be there to help you with any queries you have regarding our services and how it can help your businesses in making sports betting secure.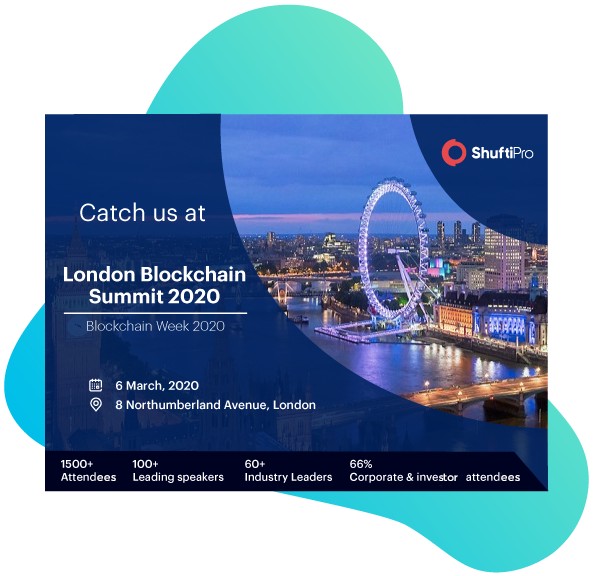 Meet Shufti Pro representatives at the 6th London Blockchain Week 2020
Shufti Pro will be attending the London Blockchain Week 2020, on 6th March 2020. Catch up with our team to learn how our products can add value to the blockchain, digital assets, and the Fintech industry. 
The 6th London Blockchain Week 2020 will occur from 4th till 11th March in London. The highlight of the event will be the blockchain Summit from 5-6 March 2020, a grand event that will bring together businesses, industry experts, investors, and other stakeholders of the blockchain industry. Gain from live expert talks on regulatory challenges of blockchain, future of Fintech and digital currencies, and blockchain use cases in gambling, finance, and supply chain. Additionally, 10 projects will get the opportunity to pitch to the panel of VCs to get a chance to win free exhibition space in the next worldwide Fintech event. 
The event is a great opportunity for blockchain stakeholders to connect with businesses, experts and investors in the blockchain industry, pooling in from every corner of the world. It will bring together 3000+ industry professionals, with 100+ leading speakers while 66% of attendees will be investors. 
Shufti Pro's team from its London HQ will be representing the company at the event. Join  them to know how Shufti Pro could help blockchain stakeholders get the most out of it by securing their platforms. Shufti Pro has experience of working with global blockchain entities. We've served cryptocurrencies, digital exchanges, Fintech entities, and even supply chain companies based on blockchain. 
Don't miss the chance to engage in a one-on-one conversation with Shufti Pro's team to know how our AI-based KYC, AML, and KYB screening solutions, powered with biometric authentication, can fuel your growth. Discuss your business needs, budget, and regulatory obligations to find out which product will suit you the best. 
One of the few benefits of choosing Shufti Pro are: global coverage, verification accuracy of 98.67%, economical prices, customized solutions, flexible pricing models, and all-in-one solutions to fulfill all your 'customer due diligence' needs. 
Recently, Shufti Pro launched "video KYC" solution that'll enable banks to gain a competitive edge by secure onboarding of remote customers through live video. Video KYC is the substitute for in-person verification and helps blockchain businesses onboard a secure clientele from not only their region but from all over the world. 
So mark the dates 4-11 March 2020 for Blockchain Week 2020. The blockchain summit will be conducted from 5-6 March 2020, at 8 Northumberland Avenue, London, WC2N 5BY. Our team will be waiting to meet you on 6th March 2020. 
Want to know more?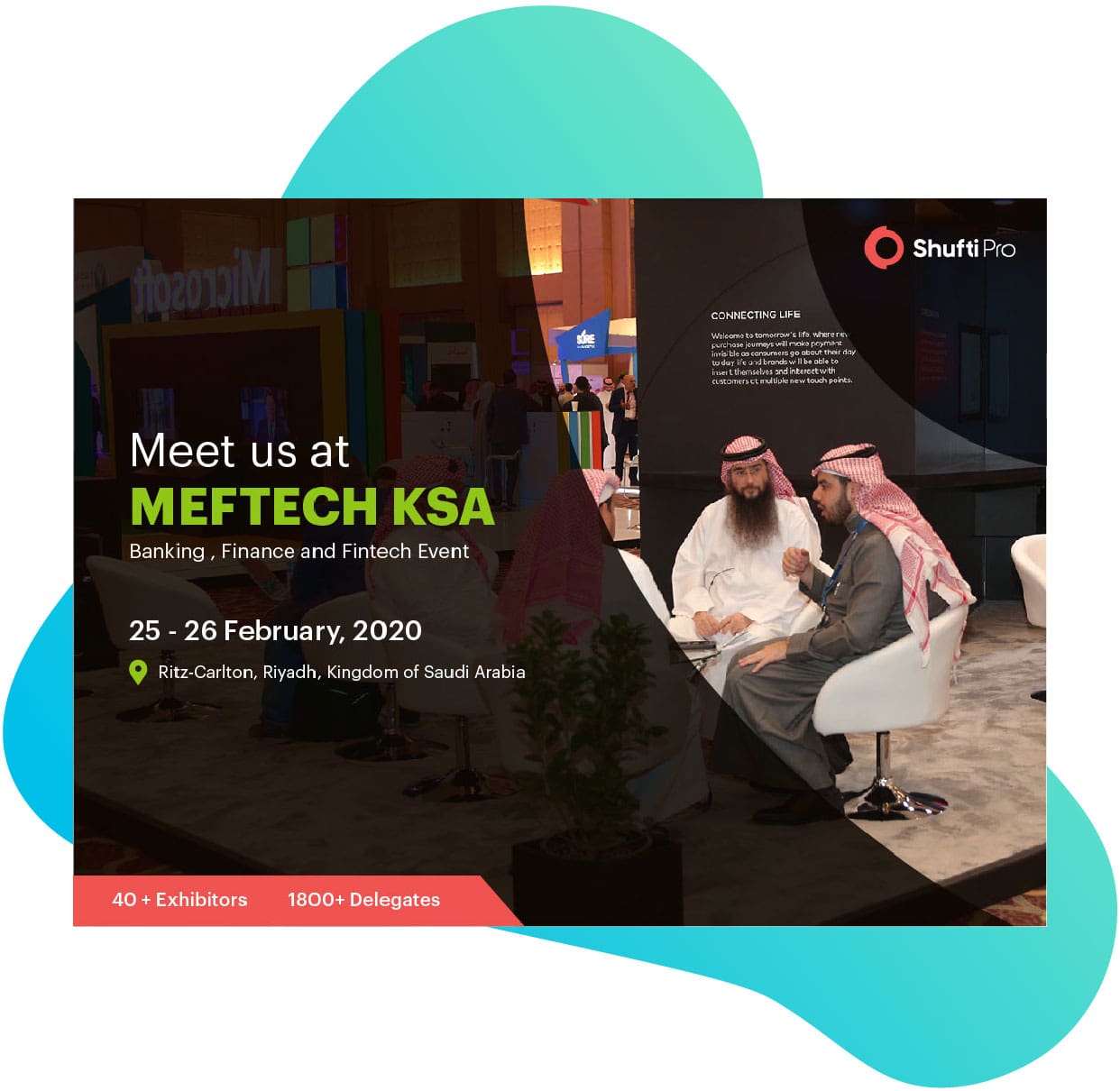 Shufti Pro Awaits You at MEFTECH KSA
Meet Shufti Pro at MEFTECH to learn how our identity screening solutions can enable the Fintech and financial industry in Saudi Arabia to explore growth ventures in the future. Shufti Pro will be pitching its "video KYC" solution in Video KYC for Customer Verification Challenge. Stay tuned to learn about our solution that provides an accuracy like in-person verification. 
What is MEFTECH 
MEFTECH will be hosted at Ritz-Carlton Riyadh, Kingdom of Saudi Arabia from 25 – 26 February 2020. Approximately 2000 delegates and 50 exhibitors will gather under one roof to explore new growth ventures for the Fintech industry in the Kingdom. 
MEFTECH is the oldest running banking, finance, and financial technology event. Till now it has assembled 12,000 senior executives and 1,000 innovative tech providers. Keeping the legacy of this event, decision-makers from the government, banks, and enterprises will be attending the event, and this time Shufti Pro will be there to empower the fusion of tech and finance with its world-class identity verification solutions. This event is an opportunity for the banking and fintech industry of Saudi Arabia to discover better growth opportunities. 
Global fintech entities will discuss the growth prospects of e-commerce, payment solutions, and other businesses. The event will be a step forward to achieve the 2030 vision of the Kingdom of Saudi Arabia. And Shufti Pro will be there to help businesses understand the significance of identity screening in achieving the anticipated growth. 
Shufti Pro will be pitching its video KYC solution 
Shufti Pro is one of the finalists of Video KYC for Customer Verification Challenge, so our team will be pitching its video KYC solution. Catch up to learn how video-based KYC solution delivers an accuracy equivalent to in-person verification. Get to know the AI mechanism we utilize to deliver services to a global clientele.
Here we go! Super excited to announce the finalists for @LuluMoneyApp Video KYC for Customer Verification Challenge!

Congratulations @Quantafic2014, @TeamSignzy, @GBRSedicii, @Shufti_Pro, @GetValify & @WinjitTech and good luck in the final pitch @MeftechKSA in Riyadh on Feb 26! pic.twitter.com/NgqGLK4CCE

— Fintech Galaxy (@FintechGalaxy) February 13, 2020
Meet our team to learn about our KYC/KYB and AML screening solutions 
The financial and fintech industry has huge growth potential but the risk of fraud is always lurking around, given the complexity of services provided by this industry. On the other hand, global expansion and transition with global business entities are inevitable. This expansion leads to increased risk, coming from customers and businesses. So KYC (Know Your Customer) and KYB (Know Your Business) are vital for the fraud-free growth of these industries. 
Recently Saudi Arabia became a member of FATF, it means that businesses need to oblige with KYC/AML compliance regulations that are now aligned with strict recommendations of FATF. Shufti Pro will be attending this event to help you understand how we can share your burden of fraud prevention and regulatory compliance operations so that you can focus on other vitals of your businesses such as growth and profits. 
Utilize from the global experience of Shufti Pro 
Shufti Pro's identity screening solutions can verify your customers, businesses, and vendors from around the globe. It provides KYC/KYB and AML screening services powered with biometric authentication. Shufti Pro has worked with businesses from all over the world and has verified people in more than 230 countries and territories. Recently Shufti Pro has opened its office in Dubai to explore the market in this region. 
Our representatives will be at MEFTECH to help your business identify how our solutions can help you grow. We understand that every business has unique needs. So we will help you draft a customized solution for KYC and AML screening of your customers. 
So mark the dates, 25-26 February 2020 to be hosted at the Ritz-Carlton, Riyadh, Kingdom of Saudi Arabia.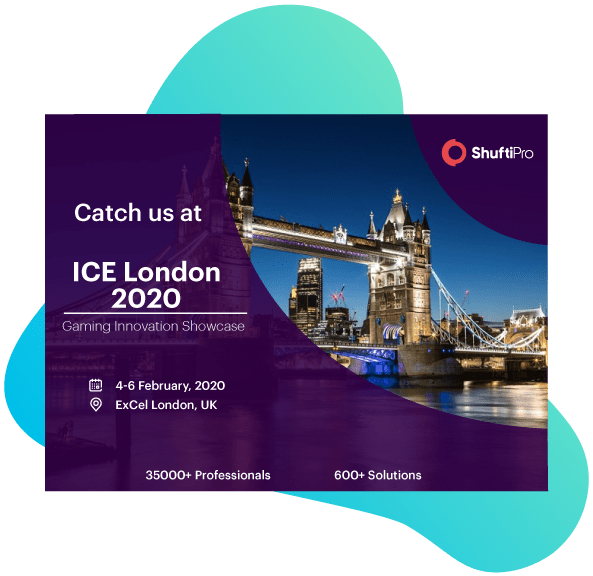 ICE London 2020 – Learn How Shufti Pro Can Help You Secure Your Business
ICE London is a gaming industry event at ExCel London, set to happen from 4 to 6 Feb 2020. Shufti Pro representatives will be there to connect with global entities (Gaming businesses, developers, and gaming enthusiasts). Shufti Pro will explain the significance of its products for regulatory compliance, swift customer on-boarding, fraud prevention for the rapidly growing gaming industry.
What is ICE London?
ICE London is a gaming event lined up to bring the global gaming industry under one roof. It is a three day event set to happen on 4th, 5th and 6th of February 2020. The event is organised by ICE London, the pioneer of global B2B gaming industry. The event will be in ExCel London. 600+ solutions and 35000+ professionals will be present on the event.
ICE London presents the complete platform for businesses to build revenue, innovations and invaluable relationships as the only B2B gaming event that truly brings together the international online and offline gaming sectors.
ICE London will be a perfect mix of entertainment, growth opportunity and community building experience for the participants. Industry experts will share useful insights and businesses will get a chance to learn from the industry leaders while bagging collaboration opportunities with gaming businesses.
The global gaming industry is expected to grow at CAGR of 8.77% during the forecast period (2019-2020). But this growth is not levy of fraud. The ThreatMetrix Gaming and Gambling Cybercrime Report reveals that roughly one in every 20 new accounts created with an online gaming site is connected to a fraudster. Shufti Pro can help the gaming industry combat this fraud with KYC/AML screening of their customers.
Meet our representatives and learn how we can help you grow
Shufti Pro is an identity verification company that provides KYC/KYB/AML screening solutions along with biometric authentication, and consent verification. Meet our representatives at ICE London to know the significance of our solutions for the gaming industry. Having customers from the Gaming industry Shufti Pro is well aware of the regulatory obligations and security needs of this industry.    
Shufti Pro holds its pride in the multiple use-cases of its solutions for several businesses. It is important for businesses in the gaming industry to know their stakeholders, either it is a gamer, a game developer, and graphic developer or your business associate. Shufti Pro can help you develop transparent B2B and B2C relations with global entities without fear of connecting with criminal entities. 
The global gaming market was 148.8 billion in 2019. Whenever there is growth there is a threat of bad actors exploiting the expected loopholes. As you install anti-viruses to prevent hacking and data breach attempts from harming your business. Just like that KYC/AML screening of your stakeholders helps you to mitigate the risk of on-boarding criminals with fake/stolen identities. Shufti Pro can be your reliable partner in this regard as its solutions deliver highly accurate results (98.67%) within seconds. Don't miss the chance to meet our representatives on ICE London at ExCel London and learn how we can help your business prevent fraud in online spaces. 
Verifications are performed through the identity documents of individuals. For KYB screening company registration number and jurisdiction code are used to collect publicly available information about a company that is available with regulatory authorities. We will help you learn several benefits of using our products for your business. 
So mark the dates, ICE London 4-6 February, 2020 in ExCel London and learn more about effective fraud prevention in gaming industry.
About Shufti Pro
Shufti Pro Limited
1st Floor, 35 Little Russell St, Holborn,
 London WC1A 2HH, UK
info@shuftipro.com