Frequently
Asked Questions
Need help? We've got you covered!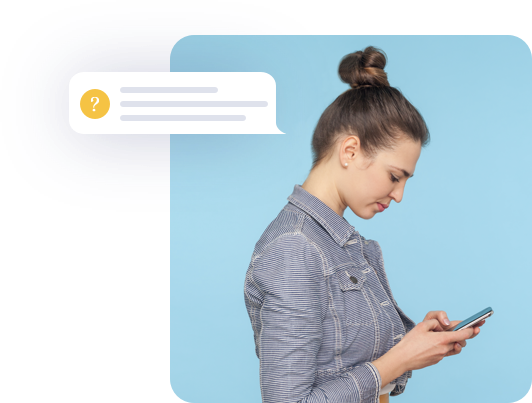 Products
Process
Industry
Shufti Advocates
Pricing
API and Integration
Compliance and Data Security
Support
What is KYC?
KYC or Know Your Customer is an identity verification system that authenticates the real identity of customers during the onboarding process.
What is AML?
AML or Anti-Money Laundering screening refers to the background checks of high-risk entities. Preventing financial crimes like money laundering and terror financing gets a lot easier with AML.
What is Video KYC and how does it work?
Video KYC allows businesses to remotely verify customers. The customer registers on the website and the KYC expert gets in touch with the customer on a live video call. During video call, the AI-powered document and face verification checks are also performed to authenticate the customer's identity.
What is KYB?
Know Your Business or KYB is a verification process that validates corporate entities. Suppliers, vendors, shareholders have to be verified before partnering with other businesses.
What is Digital COVID Pass?
Digital COVID Pass is an automated solution to verify COVID tests. Without any installation or API integration, public spaces can validate PCR tests for safer customer onboarding.
What is an On-Premises IDV Solution?
An On-premises identity verification solution allows businesses to verify identities without sharing any data with third-parties. Shufti Pro hosts the API into the company's servers with one-time integration and empowers them with full control over their customers' data.
What is NFC verification?
NFC verification is another way of verifying user identity through chip-based identity documents. What NFC verification does is, it extracts the user information from the NFC and matches it against the data present on the identity document to verify the authenticity of the ID document.
What do I need to start my verification?
You must have a laptop or mobile with an operational camera and government-issued ID documents to begin the verification. These documents could be an ID card, passport, credit/debit card, driving license or any other ID document that the merchant has chosen. And what about the computer or phone with an operational camera?
How long does the verification process take? And how secure is it?
Your end-users can get themselves verified within 30-60 seconds. Some of our services, for instance facial biometric verification, take even less than 5 seconds to verify users.
Our identity verification and AML screening services are convenient and secure. Shufti Pro is GDPR compliant and all the data acquired during the identity verification process is handled with utmost care while giving complete liberty to your customers to request the deletion of their data.
Which documents are acceptable for KYC? What identification document can I use?
Government-issued ID documents are acceptable that are not expired. Passports, ID cards, driving license, and credit/debit cards are acceptable. You can view all the supported documents here.
Shufti Pro leaves the choice of ID document to the merchant. If the merchant has chosen an ID card, all customers have to show their government-issued ID card for the process. Moreover, we allow merchants to choose more than one document for customer verification.
Do the required data fields differ according to the country?
Yes, the data fields that a person must provide in order to get verified vary from country to country as per their government-issued identity documents and regulatory framework. The format of ID documents differs between countries.
Can I re-verify my customers against AML watchlists to fulfil AML due diligence obligations?
Yes, you can do it with our Batch Screening service. You can upload and process the batch files to verify your customers against the AML dataset, updated every 15 minutes, containing data from 1700+ global criminal watchlists, sanction lists, and PEPs lists. The verification results are delivered within [add time] and in the back-office in CSV format. In the case of positively flagged entities, the links to the identified list(s) are also provided as proof of screening.
Do I get the full verification details if the customer or regulator comes knocking?
Shufti Pro presents you with the complete verification results in the form of a summary report in the back-office. The report offers complete proof of verification including the entire user verification journey, in the form of video and images, the services and data source(s) used, and geolocation data. This evidence will allow you to run the full audit and build the case with adequate proofs to show to regulators about ID verification.
What can I do if I get stuck?
Try refreshing the page/app and try again. If the problem persists, you can contact our support centre to resolve the query.
Which industries are covered by Shufti Pro?
Crypto, finance, insurance, healthcare, gaming, and the travel sector are covered. However, there are other industries we will be glad to work with. You can check all the details here. Even if your industry is not listed here, tell us your use case and our experts will get customised solution for you.
Can Shufti Pro provide services to startups?
Yes, we support businesses of all types and sizes, including startups as well.
How is identity verification different from identity authentication?
Identity verification is the process to confirm that an identity is not fake and matches the record. It just verifies that the identity exists in the real world. Whereas, identity authentication is a one-step ahead of identity verification confirming that the person claiming identity is the one who owns it. For instance, Shufti Pro's face verification matches the live selfie of the user with the photo on the identity document to authenticate the user's identity.
What is a Customer Identification Program (CIP)?
CIP is the fundamental step of the KYC process to identify the individuals before onboarding them. It is to ensure that only real customers are being onboarded. Moreover, it's a legal requirement for KYC-obligated entities. 2
What is Customer Due Diligence (CDD)?
Customer Due Diligence is the process of acquiring personally identifiable information from the customer to assess the overall risk associated with them. It takes into account the name, address, and an official identity document of the onboarding user to evaluate their background. CDD is an essential part of the risk-based Anti Money Laundering (AML) approach which plays a key role in mitigating money laundering and other financial crime.
What is Enhanced Due Diligence (EDD)?
Enhanced Due Diligence is a set of KYC policies and procedures created to perform in-depth verification of high-risk customers. It helps financial institutions monitor and manage large transactions and assess the potential risk associated with them.
Who is the Ultimate Beneficial Owner?
UBO or Ultimate Beneficial Owner is used to define an individual or entity who is a direct or third-party beneficiary of a business. According to the Financial Action Task Force, UBOs are natural persons that have direct control over the business' clientele or those on whose behalf the company conducts transactions. Thus, the UBO is either a legal owner of a business entity with whom another partner entity is associated or a group of individuals that are responsible for the company's governance.
What is Shufti Advocates?
Shufti Advocates is the affiliate program that offers influencers, investors, C-suite professionals, members of advocacy groups, and marketers a chance to earn with us.
How can I become an affiliate?
First, you have to sign up for the program here and you have two options; nurture a lead in the pipeline or save leads before they reach us. If the lead is converted into a sale within three months, you will get the defined share.
How can I sign up for this program?
You can fill out the form here and we'll be in touch soon.
Does Shufti Pro offer pricing plans? What is the pricing range?
Shufti Pro currently offers two plans; Pay as you go and monthly commitment plan. The pricing varies depending on the plan you choose and a number of verifications. You may find our pricing plans here.
What payment type do you accept?
Shufti Pro accepts payment via wire transfer, BTC, and credit/debit card payment.
Are there any setup charges?
Yes, there are setup charges that vary from service to service. You check all the pricing details here.
Do you offer a free trial? If yes, how does it work?
Yes, Shufti Pro offers a 7-day free trial. There are no charges for it and you can explore all our services for free. You can sign up for the free trial here.
For how long is the free trial account valid? Do I need to provide card details beforehand?
The trial account is valid for 7 days. And no you don't need to provide your credit card details. All you have to do is sign up and start right away. No commitments! You can cancel any time.
Will there be any rollover in case I don't consume all the volume?
Yes, your previous month's volume will be compensated at the beginning of the month.
What API integrations does Shufti Pro offer?
Shufti Pro offers a restful API, React Native SDK, Android SDK, iOS SDK, and Hosted Verification Page (HVP). You can check all the options in detail here.
Do I get any tech support for the installation?
Yes, Shufti Pro's tech team will install the API and guide you through all the major and minor details. Moreover, our support team is always available to settle queries.
Is there any application that my customers can install?
Does Shufti Pro offer API documentation?
Can Shufti Pro be hosted on all servers?
Yes, Shufti Pro supports universal servers.
Compliance and Data Security
What happens to my ID data? Does Shufti Pro sell User's data?
Complying with the EU and UK GDPR, Shufti Pro does not sell data to any third parties. The processed data is stored in secure data servers under strict security measures to provide maximum data protection for our clients.
Does Shufti Pro have any compliance certificate?
Shufti Pro holds a variety of Compliance and Cyber Security certifications which include (QG) Quality Guild Management Standards's – GDPR compliance certification, PCI Security Standards Council's (PCI DSS) compliance certification and National Cyber Security Centre's (NCSC) Cyber Essentials Certification. Shufti Pro is registered with (ICO) Information Commissioner's Office UK in compliance with UK GDPR and DPA 2018.
Does Shufti Pro have GDPR compliance certificate?
Yes, Shufti Pro holds a GDPR compliance certificate issued by QG (Quality Guild Management Standards), assessed through GDPR Management Standards that have been written using the principles of the General Data Protection Regulation (EU 2016/679). Further, Shufti Pro is also registered with the Information Commissioner's Office UK under the registration number ZA311469.
How can I contact Shufti Pro?
Where can I find information about the trending news and regulations?
You can visit our resources section to find the latest news, blogs, reports and whitepapers, and much more.
Questions to Consider while
Implementing Shufti Pro's
IDV Solution
At Shufti Pro, we ensure to facilitate your business in
making verification workflows efficient and right from the
start. Having hundreds of global clients, our AI-powered
solutions can help you in
Seamless customer onboarding
Fraud prevention
Complying with KYC/AML laws
Learn more about the IDV marketplace, solutions and
current trends about KYC and AML in our resources.
Couldn't find what you
were looking for?
Write to us with your query at [email protected] or fill our
contact form. Our representative will get in touch shortly.