Address Verification
Address verification service refers to the system that verifies the addresses of customers before any transaction is completed. It helps businesses in ensuring that legitimate users are onboarded and all the business processes are securely completed. Address verification also helps in proving the identity of customers. 
How Does Address Verification Service Work?
Address verification service works in three simple steps and is completed in three simple steps. The accuracy rate is 98.67%. Address verification service has the following steps.
The end-user has to upload a selfie or picture holding the government-issued ID document. The face is matched with the image on the document. 

A secondary document that contains the residential or business address is also required for verification. 

The address on the government-issued ID document is matched against the secondary document and Shufti Pro's API displays the results. The verification results can also be viewed in the back office along with proof of verification.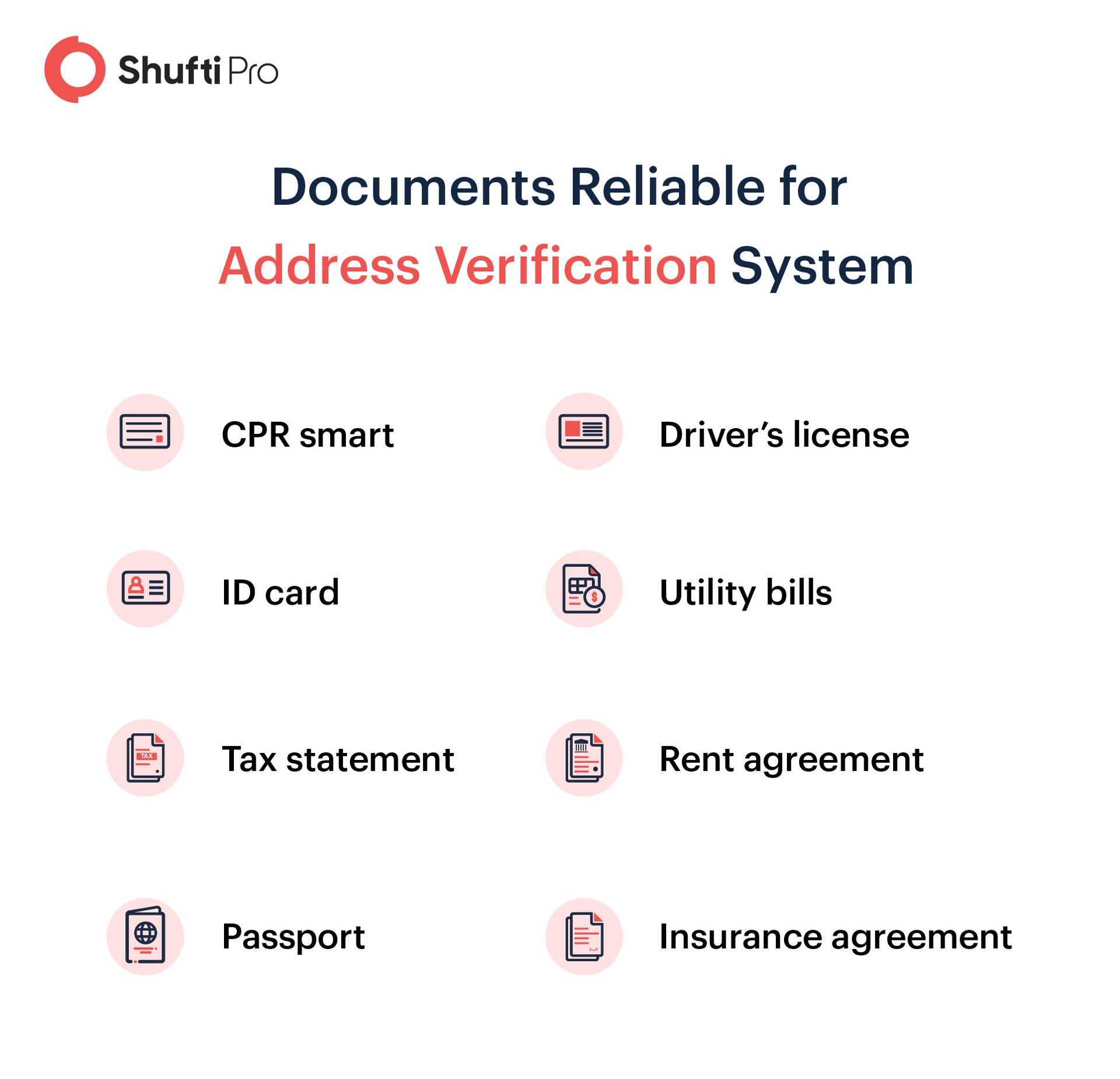 These documents serve as Proof of Address (POA) and must be updated as well. POA should not be older than three months. The verification will fail otherwise. 
Industries that Need Address Verification Service
Regulatory authorities have made address validation mandatory for almost every sector and the following industries must employ address verification service:
E-Commerce Sector
Every year, e-commerce merchants report millions of losses due to chargebacks and returned shipments. Fake addresses are widely used for the purpose; therefore, address verification service can significantly help in ensuring that the products are delivered to the right place. This service also works as an extra layer of security and helps in reducing fraud attempts. 
Finance Sector 
Employing address verification in the finance sector reduces the chances of credit card fraud. It is easy for imposters to use stolen identities and create fake bank accounts. Later, the accounts can be used for money laundering and terrorist financing. With the help of address verification service, the risk can be mitigated. 
Rental Services 
Sharing economies have seen tremendous growth over the last few years and so has the need for address verification. Any type of rental service must verify the addresses of customers to ensure legitimacy and pinpoint the location of the end-user. Through address verification, rental services increase the credibility of their platform. 
Benefits of Address Verification Service
Address verification has several benefits and some of them are:
Fraud Prevention 
Did you know merchants lose $2.40 for every $1 chargeback? The number of fraudulent activities is rapidly increasing, but with the help of address verification service, businesses can combat fraud. 
Better Customer Experience
Enhancing customer experience is what all businesses aim and address verification service ensures this. Merchants can maintain updated records of all customers and ensure timely delivery of the products. Furthermore, businesses can effectively communicate with customers. Enhancing customer experience will not be a problem then. 
Reduce the Number of Returned Shipments
Returned shipments cost companies a fortune and unverified addresses can increase the number of such issues. A report from CNBC reveals that 30% of the total online sales are returned and the losses for merchants are huge. Nevertheless, enterprises can reduce the number of returned shipments by employing an address verification system. 
Better Regulatory Compliance 
With recommendations from FATF and laws from other regulatory authorities for verifying identities, businesses are incorporating address validation for enhanced ID verification. The KYC/AML laws are imposed on different sectors and address verification can be an added layer in the system. This ensures better and effortless compliance with the regulations. Moreover, it saves businesses from hefty penalties. 
Document Verification Solution
Verify your customer's identity through their documents in realtime to provide them with an effortless experience.