BEFORE YOU GO...
Check how Shufti Pro can verify your customers within seconds
Request Demo
No thanks
Regulators levy penalties when compliance programs fail or companies have insufficient compliance measures. Anti-Money Laundering (AML) fines surged by 50% in 2022. As a result, industries must implement an efficient risk-based approach to enhance their AML programs. For this, one of the most critical parts of an effective AML/KYC compliance program, PEP screening shouldn't be neglected. 
PEP Screening at a Glance
A PEP (Politically Exposed Person) is an individual who has or had a major role in the public sector. Heads of state, government officials, governors, high-ranking judges, and military officers are common examples.

High-ranking officials may often be profiled as high risk due to their possible involvement in money laundering, corruption, bribery or other financial crimes. Financial firms and other industries should implement PEP screening procedures to safeguard businesses from illicit activities. The process checks whether an individual is a PEP or not, helping companies stay ahead of criminals.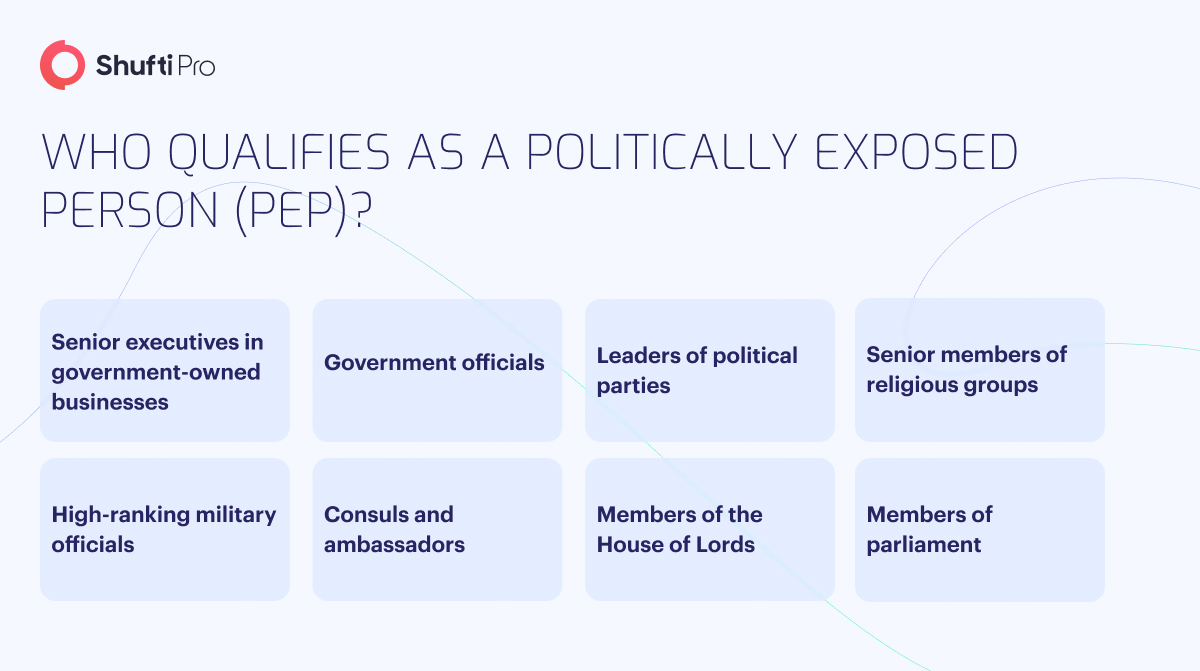 Significance of PEP Screening
Regulatory Compliance-

Every institution has AML regulations to abide by

and in the event of non-compliance, businesses will be subjected to heavy fines.

Screening PEPs protect businesses from hefty penalties.

Fraud Prevention-

High-ranking officials in the public sector may utilise their power to negatively exploit businesses to align with their own political motives.

This is where

PEP screening

proves to be of critical importance when securing

businesses from money laundering, terrorism financing, and

many other forms of

financial crimes.

Positive Brand Image-

PEPs are involved in white-collar crime and this puts a dent in any business's reputation. Screening high-risk individuals satisfy other customers that they are protected against any kind of criminal activity and builds a positive brand image in the market. 
Things to Understand Before PEP Screening
1. How Long a PEP Considered a PEP
Financial Action Task Force's (FATF) Recommendation 12 defines PEPS as those who have been (but might no longer be) designated with a prominent public role. 
The financial firms must assess the Money Laundering and Terrorism Financing (ML/TF) risk of a PEP who doesn't have a major role in the public sector and take a proactive approach to mitigate this risk. 
Some possible risk factors include: 
the status of informal influence that an individual could exercise 

the high rank that the individual had a PEP

if the individual's previous and recent functions are linked somehow
2. Risk Assessment Guidelines to Deal with PEPs
The FATF's 40 Recommendations on Money Laundering states that all financial institutions should: 
have robust risk-management systems to check if the client is a PEP or not

get approval from senior management before establishing corporate relationships with such clients 

take practical measures to confirm the source of wealth and funds

conduct Enhanced Due Diligence (EDD)
3. Who to Check and When to Check
PEP screening is a must for any financial firm before establishing relationships with other businesses. It monitors existing clientele in real-time to ensure that funds being managed on their behalf are not derived from corrupt sources. 
Individuals considered as PEPs:
A former or current senior official in the legislative, executive, administrative, judicial, or military

A high-rank executive of a foreign government-owned enterprise or being a company, firm or other entity instituted by or for the use of any such individual

Any person who is publicly known to be a close personal or professional associate 

A senior member of a prominent foreign political party

A close family member of that individual; meaning parents, children, spouse, siblings, and spouse's siblings or parents 
It is important to understand the interpretation of these PEPs layers varies by country and the expectations of a firm doing business with them are universally similar.
4. Minimum Baseline of Control to Check if Customers are PEPs
A number of controls may be considered to identify and manage PEP relationships. However, all are not appropriate to apply across an institution's full range of business. For instance, in retail banking, a different range of controls might be relevant in retail banking compared to those considered ideal within a private banking or wealth management sector.
Institutions must have effective procedures to identify PEPs before or after the relationship is established

Once identified, additional research may be conducted like understanding the individual's source of wealth and funds

When it becomes clear that the existing client is a PEP,

an appropriate

EDD

should be conducted and senior management should be notified
Such relationships must be subject to ongoing monitoring to ensure that the information about the due diligence remains current and that the associated controls remain suitable. Senior management must approve these reviews.
5. Considerations for Selecting an AML Solution for PEP Screening
It is critical to apprehend that not all AML solutions are created equal. Businesses must consider the quality and expertise of developers alongside their needs before investing in any AML solution. 
Compliance professionals who want to do PEP screening must consider the following things while choosing an AML solution: 
Who is the vendor?

What's the scope of a product?

What is the methodology?

 
Stay Off the PEP List with Shufti Pro
From initial identity checks to sanctions screening and real-time monitoring – AML compliance has never been easy. But Shufti Pro has you covered. 
Shufti Pro's automated AML solution helps businesses screen customers against 1700+ watchlists and comply with global regulations. The efficient AML solution can identify PEPs in less than a second to prevent money laundering across all channels. Available in 230+ countries and territories, Shufti Pro is a globally trusted AML solution provider that eliminates synthetic ID usage by identifying bad actors with 99+% accuracy. 
Shufti Pro organises sanctions and PEP screening lists by region, country and regulation. Want to learn more?