BEFORE YOU GO...
Check how Shufti Pro can verify your customers within seconds
Request Demo
No thanks
From digital payments to new regulations on preventing fraud and FINRA's guidelines on penalising the violators, 2022 saw a lot of activity in the domain of AML compliance. 
Despite regulatory watchdogs penalising financial firms for AML violations in 2022, it didn't take a dent in the money laundering cases. Thus, new AML measures are anticipated in 2023.
A Quick Look at AML Fines in 2022
​​USAA Bank
FinCEN and the Office of the Comptroller of the Currency charged USAA a total of $140 million for failing to take the necessary steps to stop money laundering.
Star Entertainment Group 
The giant gaming organisation in Australia, Star Entertainment Group, has been hit with a $100 million fine for failing to stop money laundering at its casinos situated in Sydney. The group's authorization to manage the casinos was also revoked.
Bittrex
The US Treasury Department charged Bittrex $53 million for breaching AML regulations and failing to prevent money laundering activities. The Treasury Department said that Bittrex agreed to pay $29 million for "apparent violations".
Robinhood Crypto
The top financial watchdog in New York slapped Robinhood with $30 million for having poor AML compliance measures. Additionally, Robinhood's cybersecurity programme did not address the operational risks facing the business, and its practices did not adhere to the regulatory framework for virtual currencies or cybersecurity.
Danske Bank
The SEC has charged Danske Bank for misleading investors regarding its AML compliance program in the Estonian branch. The bank did not disclose the issues raised by the program's shortcomings, prompting the commission to register fraud. As part of the settlement process, the Danske Bank consented to pay SEC $2 billion.
Wise
Wise Nuqud Ltd, a subsidiary of online payments business Wise, was charged Dh 1.32 million by the FSRA for AML violations. Due to Wise's cooperation with the investigation, the monetary fine was reduced by 20%.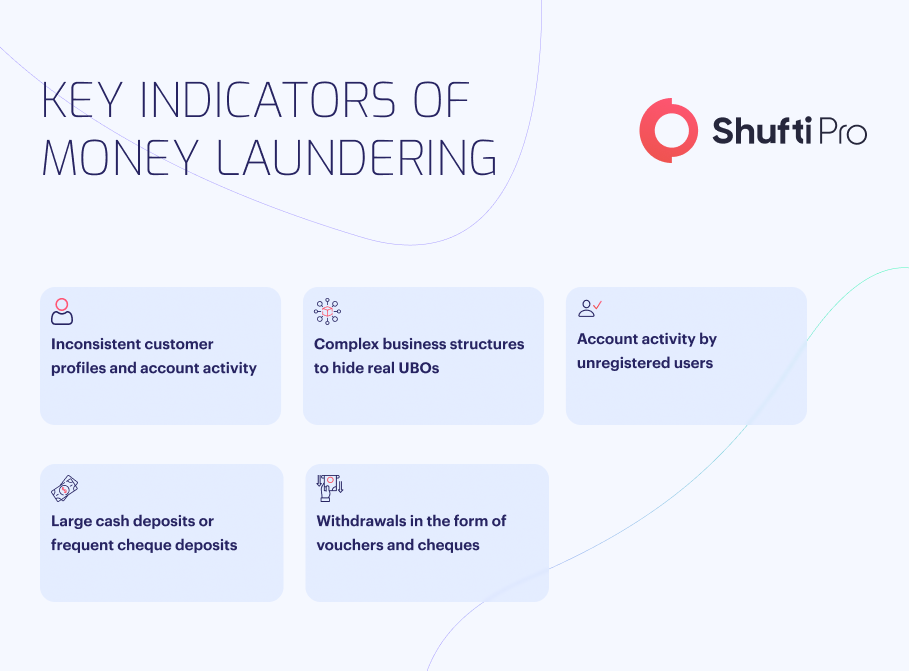 Top 5 AML Trends in 2023
As criminals continue to reap benefits from this unstable situation, all businesses will be encouraged to check AML trends in 2023. With the market continuously evolving, companies must know how to safeguard against fraudsters. They need to act smart and implement the right strategies to stay ahead of scammers.
1. Increased Collaboration Among Regulators and Reg-Tech Companies
AML trends for 2023 include greater cooperation between regulators and Reg-Tech firms. Authorities need to enforce strict regulations to ensure that every business complies with  AML regulations. 
When scammers are using every strategy to exploit businesses, a collaboration between regulatory agencies and RegTech companies will prove to be a significant advancement. It will help companies in spotting abnormalities before they become a concern on a massive scale.
2. Enhanced Crypto Regulations
Improvement of crypto rules is one of the AML trends to look out for in 2023.
The anonymity that comes with cryptocurrency has made it easier than ever for scammers to transfer large funds without getting noticed.
Most authorities do not simply ban businesses associated with cryptocurrencies; instead, they take a risk-based, tailored approach to regulating the industry in order to avoid strangling innovation.
Cryptocurrencies inevitably attract money launderers as well as other criminals due to inconsistent regulatory norms among jurisdictions. Hackers have stolen cryptocurrency worth $4.3 billion between January and November 2022. This represents an increase of 37% from the same time in 2021.
Thus, businesses must expect tighter crypto laws this year in order to prevent such huge losses.
3. Widespread Use of AI Technology
Handling the virtual compliance team and hundreds of employees was one of the crucial responsibilities that compliance officers had to undertake during the COVID-19 pandemic.
After all, the security of financial institutions exceeded geographical bounds. Considering this, a remote and digital framework is necessary in order to comply with the security and regulatory criteria.
This is where artificial intelligence came as a ray of hope.
It can help firms deal with a number of issues that arise due to digitisation. It can lessen the demand for human intervention, particularly when it comes to circumstances requiring the prevention of money laundering.
Although AI could never be able to replace humans fully, it can help to reduce the need for human authorization and speed up various aspects of AML.
4. More Transparent UBO Laws
There's been a worldwide trend toward greater transparency. The publication of FinCEN's proposed rule for the application of the Corporate Transparency Act's beneficial ownership criteria was consistent with this trend.
The Final Rule urges certain firms registered to do business in the US to reveal recognizing and Beneficial Ownership Information (BOI) to the US federal government. 
By providing more openness and information about the legitimate owner of the company, the risk of financial crime is intended to be reduced. Nevertheless, not all countries, such as Switzerland, are going to accept these restrictions, which could lead to a rise in money laundering as well as other financial fraud in these regions.
5. Pressure to Upgrade AML Screening Solutions 
Serious data thefts and information leakage have often been covered in the news over the past few years.
Financial firms are under pressure to deploy Machine Learning (ML) and Artificial Intelligence (AI) if they haven't already undergone a digital revolution.
Financial institutions need to deploy automated AML screening solutions and obtain data analytics as a key priority in order to keep fraudsters at bay.
How Shufti Pro Fits in the Puzzle
Consistent with the Anti-money laundering trends, Shufti Pro is upgrading its AML solution to assist financial institutions in the battle against money laundering and other financial crimes. 
Shufti Pro's AML screening solution helps firms stay compliant with regulations. Businesses may quickly identify suspect, high-risk clients and adhere to international due diligence regulations by cross-checking customers against 1700+ watchlists.
Discover how AML screening solutions can help firms abide by global regulations!