BEFORE YOU GO...
Check how Shufti Pro can verify your customers within seconds
Request Demo
No thanks
Cybersecurity is no more limited to firewalls and antiviruses. It is protecting your system, employees, and customers by implementing security checks at certain touchpoints for all stakeholders, so due diligence is vital to practice robust cybersecurity. Due diligence is also not restricted to just customers but applies to all entities that access your system. However,as customers are the primary source of risk and return, KYC (Know Your Customer) is significant for complete cybersecurity.
Consumers are a vital asset of your company and their security is significant. That's why companies spend millions on cybersecurity and KYC. But cybersecurity investment is not enough as sometimes long verification processes demotivate customers to leave the platform during onboarding. Faster and seamless KYC integrated with cybersecurity checks proves to be a feasible strategy to fight evolving cybercrimes.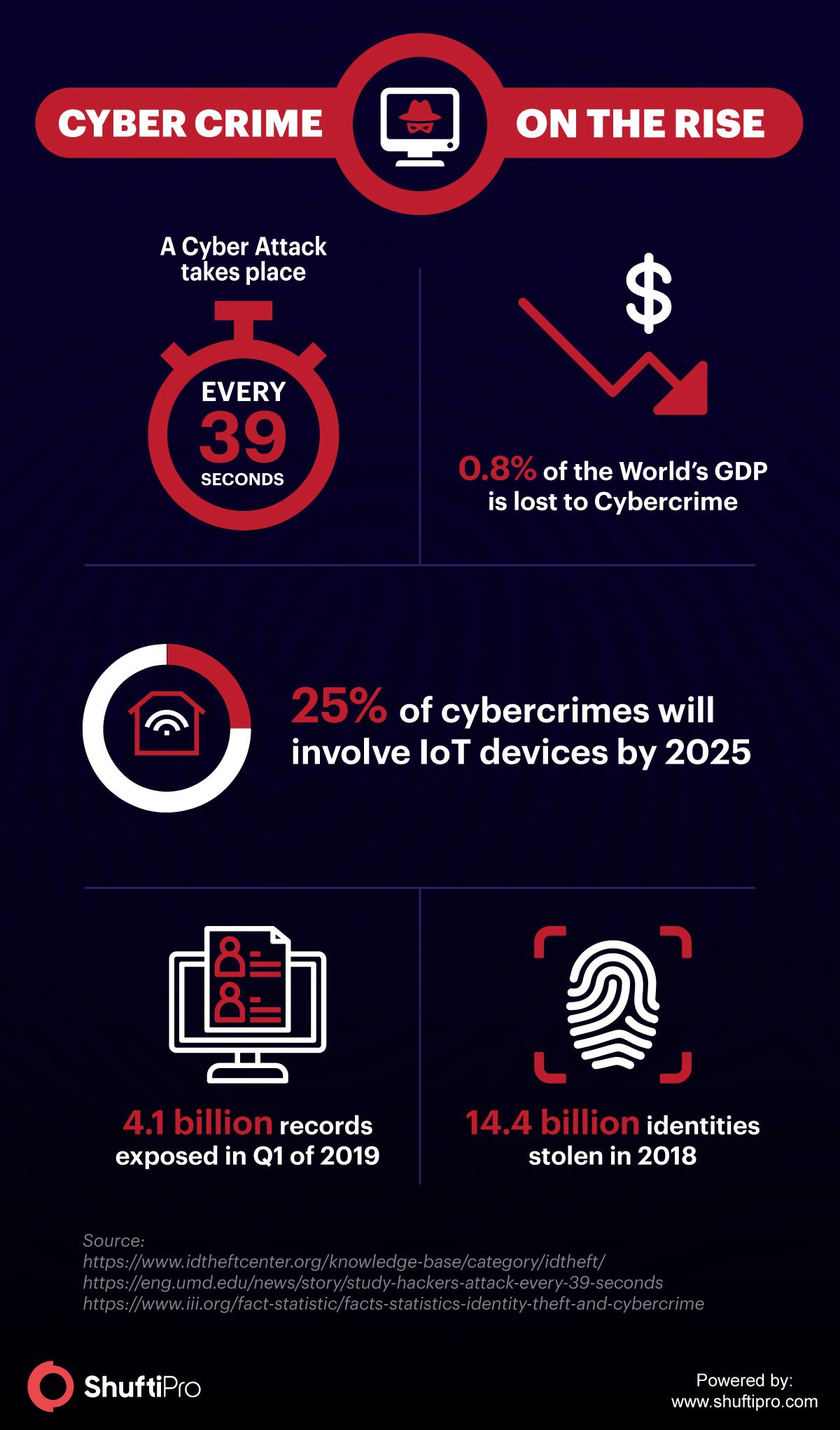 Due diligence in cybersecurity is a tool to gain the trust of all stakeholders
Cybersecurity if grouped with customer due diligence helps fight fraud and enhance the customer experience. A research found that 88% of consumers say their perception of a business is improved when a business invests in the customer experience, namely security. 
Adil Advani of Pure VPN considers cybersecurity a means to gain customer trust by making them feel secure in sharing their data with the company. He states, "Due diligence is a routine part of any acquisition. Identity verification is very important these days due to an increase in cybercrime. Customers, partners, shareholders, and prospective employees want evidence that the organization can protect its sensitive data. Without a cybersecurity policy, an organization may not be able to provide such evidence."

Pair cybersecurity checkpoints with KYC to fight payment frauds 

David Bell from Country VPNs recommends using several KYC checkpoints along with other cybersecurity practices to fight payment frauds. "We implement a combination of KYC tactics like asking security questions, assessment of customer's IDs through artificial intelligence, verify customer's biometrics, and even use social media for verification purposes along with the more formal database. Businesses should pair databases with KYC checkpoints and fraud prevention technology to prevent being exploited by cybercriminals." 

Cybersecurity aligned with regulatory requirements is the key 
Cybersecurity practices reap benefits when KYC practices are aligned with KYC and data protection regulations. Cybersecurity and customer due diligence need to be practiced while taking necessary measures to secure customer data as well. 
Dan Blum, Principal Consultant at Security Architects Partner stated the significance of data protection in KYC and cybersecurity and said; "Service providers must protect the value of customer's information systems or data, as well as customer privacy rights using sound, risk-based cybersecurity practices as a matter of due diligence. KYC requirements must be aligned and balanced with a good understanding of the laws and business requirements."
Peace of mind for you and your customer
Cybersecurity is essential and becoming inevitable with the evolution of technology. Primary business operations are going through a technological shift, proactive risk prevention and backup are crucial to sustaining technical growth without affecting customer experience. 
"It is an important part of preventing cybercriminals from committing crimes such as money laundering by implementing methods such as document checks or facial recognition. KYC creates a layer of protection that gives both you and your customer peace of mind about the safety of their data. KYC, therefore, creates an all-round better security practice by protecting the company, the company's reputation, and your consumers." said Will Ellis, Founder of Privacy Australia and IT security consultant.

Customer due diligence helps in securing systems
Data collected during customer due diligence provides reliable information for the customers which can be used to trace them when needed. It helps in securing the system from data breaches by only allowing access to reliable and verified users, it further streamlines the security operations of a company and makes them transparent enough to identify any threat.

"When it comes to cybersecurity, verifying users and gaining a reliable source connection is something that is crucial to maintain safety and privacy when online. By applying customer due diligence to cybersecurity it gives a right for the wanted user to be located which then helps by acknowledging potential security breaches that can then be reassessed later. This helps to control internal data and manage customer information more efficiently which can create a better flow within a company. It's important to include customer due diligence in cybersecurity to have full say in what is going on in the systems." said Ludovic Rembert, founder of Privacy Canada.
KYB is also vital for fraud prevention

Due diligence is not limited to individuals but extends to business entities related in B2B relations. When acquiring or partnering with a company it's necessary to review their data protection and cybersecurity practices as a risk prevention measure. 
Sophie Summers from Rapid API highlighted the significance of KYB (Know Your Business) screening in B2B relations, either a company is acquired or partnerships are planned. "It is best to find out whether the target organization has the basic blocking and tackling in place to prevent, detect, and respond to cybersecurity incidents. Additionally, look for their secure backups to recover from unfortunate events."

Cybersecurity practices if executed wisely reap several benefits.  Customers regard these security practices of their companies if done swiftly through advanced technological solutions. Otherwise, KYC and cybersecurity which demand more time and effort affect customer experience and lead to cart abandonment and reduce customer value.

The expert insights show that KYC is an unavoidable part of cybersecurity and it's more than just customer due diligence. It helps prevent financial fraud, identity frauds, cyberattacks, data breaches, and unauthorized access to your system or your users' accounts. 
You may be interested in: