BEFORE YOU GO...
Check how Shufti Pro can verify your customers within seconds
Request Demo
No thanks
The NFT marketplace is flourishing even though the top platforms do not always comply with Anti-Money Laundering (AML) regulations.
This has paved the way for criminals to launder money while remaining anonymous through cryptocurrency.
More than $100M worth of NFTs were stolen from July 2021 to July 2022. Just in July 2022, 4,600+ NFTs were stolen, the biggest robbery in a month.
It's high time for the industry players to assess the risks carefully and implement strategies to protect customers.
A Quick Overview of NFTs 
Non-fungible Tokens (NFTs) provide the buyer with ownership of a special digital asset. The ownership is documented on a blockchain, a decentralised ledger.
NFTs can take the form of music, drawings, or even Tweets. They are frequently considered to be the future of art collections since buyers have exclusive rights to digital assets instead of owning actual canvases.
What's strange is that NFT owners cannot stop anyone from downloading or taking a snapshot of the art,  because they do not truly own the actual object.
Even though one cannot physically possess an NFT, but can sell it to another party via blockchain. There is no yardstick to measure the true value of an NFT. Art collectors can sell and resell the digital asset at a premium price.
In December 2021, digital artist PAK's, The Merge, fetched a whopping $90 million. There is no certainty as to which art will take the crown for being the most traded.
Growth in the NFT Marketplace
The trading volume of Opensea, the world's largest digital marketplace, is down by 99% as interest in the NFL has declined due to frauds and other misuse. However, it is still too early to predict the future of this industry. Statista claims that revenue in the NFT market is expected to reach $3.68 billion in 2023. The annual CAGR is projected at 22.91% from 2023 to 2027.
The Weeknd made nearly $2 million by selling NFTs of his unheard music, and Coca-Cola generated $575,00 through the sales of specialised wearable goods in the virtual metaverse of Decentraland.  Gucci, Adidas, Adidas, Nike, and other well-known brands have also issued NFTs and entering the virtual world where players can buy and sell digital artwork.
Volatility doesn't hamper the NFT market. The international NFT space is anticipated to expand at a CAGR of 22.91% from 2023 to 2027. New players and laws will emerge five years down the road; therefore, novices to the market must start to address obvious risks and pitfalls now.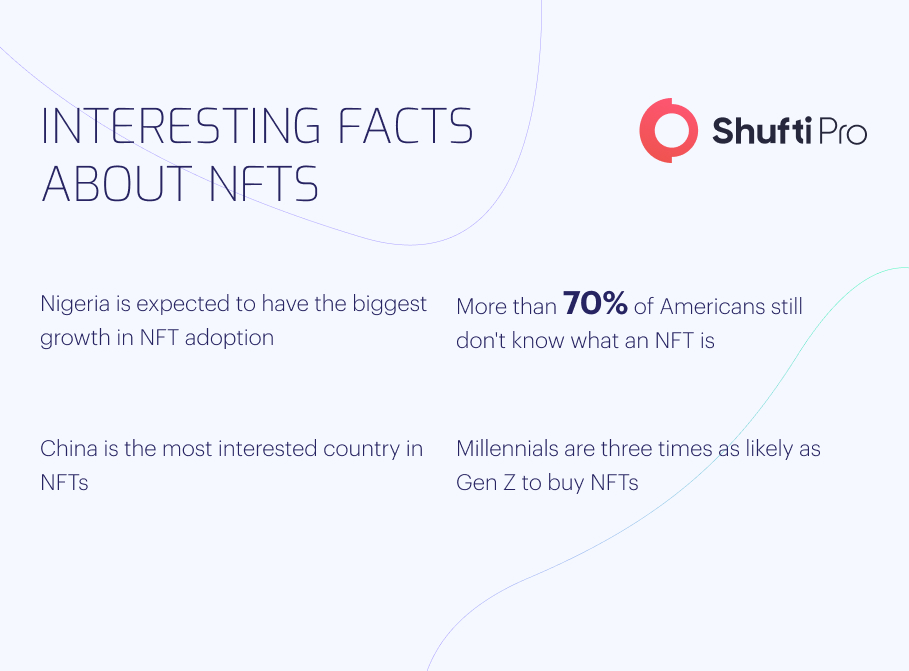 Suggested Read: NFT Market Skyrockets to $44 Billion as Money Laundering Increases
Money Laundering Risks in NFT Marketplaces
AML advocacy organisations and Interpol have expressed concerns over NFTs. Since the NFT transactions are conducted the same way as cryptocurrencies, they become ideal for criminals to launder anonymously.
Money launderers can profit from the trading of forged NFTs, like the latest Banksy print. Additionally, criminals have the capability to hack user accounts on the NFT system, sell illegal tokens, and then wash the money they make. In other cases, NFTs are utilised to transfer money between illegal parties while concealing details about security flaws.
Suggested Read: NFTs Seek to Implement KYC/AML Standards as Money Laundering Rises
Proactive Measures to Addressing AML Risks in NFTs
NFT marketplace needs to be strongly regulated to reduce fraudulent attempts of money laundering.
Several possible preventative measures include:
Identity Verification
A crucial part of reducing the likelihood of NFT money laundering is confirming that consumers are who they claim to be. The first step is identity verification services, which checks the legitimacy of a prospective buyer or seller by cross-checking  with the government databases and anti-money laundering watchlists.
This forms a part of the complete LYC (Know Your Customer) verification process that ensures that customers who make transactions, do not end up dodging the system.
Following customer verification, two-factor authentication could help safeguard accounts. Companies that manage NFT funds or support transactions may utilise other authentication methods in addition to usernames and passwords, such as biometrics, USB keys, and one-time SMS messages.
Suggested Read: NFTs, Art Market – What Investors Need to Know About ID Verification
KYC/AML Compliance
Although KYC and AML standards do not currently apply to NFTs, proactive application is important to reduce money laundering and other financial crimes.
Businesses still need to be conscious of the consumer experience in this situation. Security precautions that disproportionately lengthen the time and effort it takes to register for an account or carry out an action might cause annoyance and even result in the loss of customers. Therefore, it's crucial for companies to use continuous risk segmentation to strike the ideal balance between fraud protection and conversion.
Suggested Read: NFTs and Surging Crimes – How Shufti Pro's AML/KYC Solution Can Secure The Digital Ecosystem
Other Cyber Security Measures
Frequently examine the user database to identify connections between different accounts. For instance, when numerous accounts are opened with the same IP address, it could be a sign that they are being utilised for illegal operations like NFT wash trading.
It is quite challenging to find patterns like these manually. Here, automated solutions support the evaluation procedure and make it easier to uncover fraud rings and other forms of illegal, linked accounts.
Suggested Read: Money Laundering in the Metaverse – NFTs, DeFi, and the Role of Shufti Pro's AML Solutions
Key Takeaways
Despite the uncertainty about NFTs' future, it can be argued that these digital assets pose a threat of money laundering.
NFT marketplaces cannot continue operating without a proper KYC and CDD mechanism in place. Art is already one of the top preferred methods of money laundering for fraudsters. Digital art is only going to fuel this crime, until regulated.
It is important to take proactive measures to authenticate consumers without slowing down or complicating the speed and ease of digital transactions to limit the likelihood of criminals utilising NFTs to hide financial crimes.
Want to learn about Shufti Pro's AML Screening solution for NFT marketplaces?