BEFORE YOU GO...
Check how Shufti Pro can verify your customers within seconds
Request Demo
No thanks
There are approximately 77 challenger banks in Europe alone, the best range amongst the other regions. As growth surges, they are encountering numerous criminal risks. Fraudsters seek to exploit challenger banks to conceal their identities and illicit funds. Criminals are concentrated on FinTech services to launder money, fund terrorism, and commit different financial crimes.
Challenger banks are going through an acceptance spike as they capitalise on an accelerated need to develop progressive economic techniques. However, they want to combine environmentally-friendly AML screening solutions to meet customers' needs and regulatory requirements. As per UNODC, the estimated quantity of cash laundered globally in 12 months is roughly $800 billion to $2 trillion or 2 to 5% of international GDP. This article discusses how AML screening helps challenger banks stop compliance penalties, restrict criminal activities, and counter numerous vulnerabilities.
Vulnerabilities Faced by Rapidly Growing Challenger Banks
In addition to dangers related to FinTech offerings such as handy cash laundering, challenger banks experience customer-related threats, anonymity, and high-speed transactions. These elements are the essential sights for criminals to conceal their real identities. Furthermore, fraudsters are trying to find advanced economic services provided through challenger banks to bypass AML screening. Whilst clients are searching ahead to using these establishments as their mode of transactions and managing different cash matters, the threat that criminals pose continues to burden such banks.
Challenger banks are experiencing an excessive threat of regulatory repercussions as they attempt to make AML compliance measures lenient to entertain greater clients. It is projected to be well worth USD 15.27 trillion by 2027, registering a CAGR of 12.38% from 2022 to 2027. In return, financial crimes are surfacing on a massive scale, making these establishments and clients highly vulnerable. Further dangers that challenger banks face involve;
In order to help their residents most governments offer countless programmes. These contain less AML screening cash management, low-interest loans, economic aid, property schemes, and extra bonuses.
Criminals see superior economic technologies as their golden chance to misuse funds. Furthermore, Politically Exposed Persons (PEP) use challenger banks to conceal dirty money, often acquired through political corruption.. Similarly, criminals take advantage of these financial establishments to divert governmental money by bribing officials-this way, criminals effortlessly bypass AML screening.
Economic hardship often sees unemployment become wider spread within the population, criminals often harness this to aid their efforts in money laundering. By targeting those without income and financially unstable, such vulnerable targets are ideal victims to bring into money laundering ploys as they are desperate for cash. Fraudsters make the most susceptible humans and persuade them to indulge in money laundering. Later, challenger banks are used to break out the AML screening process, conceal funds, and hide the actual identities of criminals.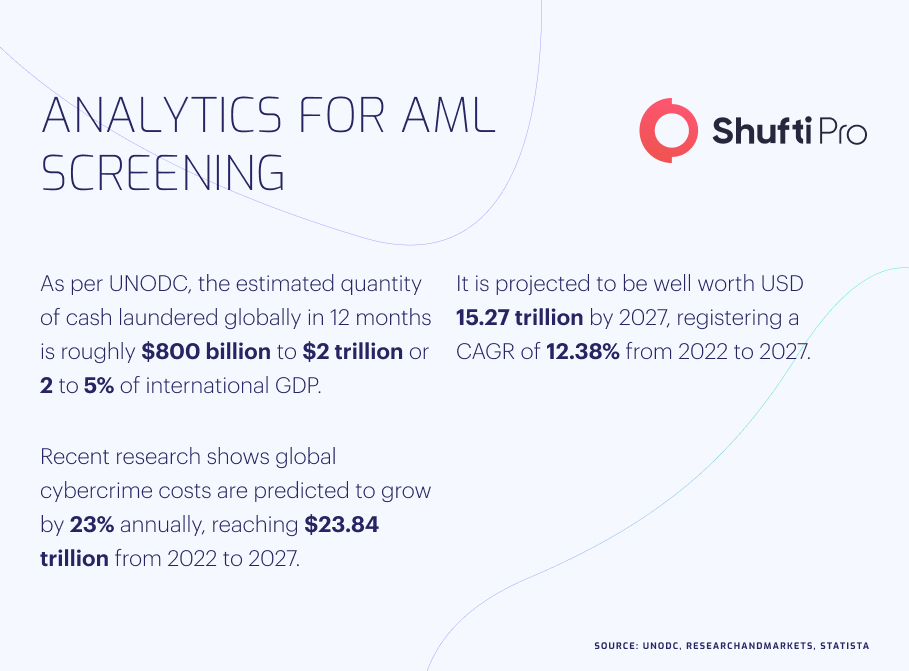 Remote deposits, withdrawals, and seamless transactions draw criminals' attention. The use of false identities permits them to ignore AML screening and function without verifying their customers. Recent research shows, global cybercrime costs are predicted to grow by 23% annually, reaching $23.84 trillion from 2022 to 2027. Fraudsters use spoofing, deepfake, and phishing to compromise challenger banks' digital systems. By committing cyberattacks, they steal private statistics and misuse monetary services.
Keeping cross-border commercial enterprise dealings and transactions in view, regulatory bodies are taking strict anti-money laundering measures. While challenger banks are the essential facilitators of digital payments, they are using extra possibilities to detect criminals. However, to restrict criminal threats and ensure compliance, integrating AML screening has become an essential protocol.
Cross-border transactions pave the way for fraudsters to launder excessive sums of money. On the contrary, robust AML screening options pick out and deter their illegal activities.
Financial Conduct Authority (FCA)'s AML Security Guidelines for Challenger Banks 
Integrating modern financial technologies and identification verification strategies is streamlining digital onboarding. Using real-time selfies, liveness detection, online record authentication, and cross-validation throughout international watchlists allows challenger banks to elevate their services.
The dramatic increase in financial crimes is spiking further criminal interest in this realm of challenger banks. Similarly, FCA made it clear that challenger banks must not compromise AML compliance controls whilst bringing in the digitisation of cash management.
FCA recognised numerous areas where challenger banks require on-the-spot improvement to prevent money laundering and fraud. Therefore, these establishments need to include the following anti-money laundering controls:
Challenger banks want to enhance threat assessment and improve monetary crime controls whilst aiming to maintain and grow business. Improvements inside Customer Due Diligence (CDD) mechanisms for invulnerable digital onboarding are other essential requirements.

Challenger banks have to obtain private information, sources of cash details, and occupational proofs.

Upgrade software of Enhanced Due Diligence (EDD) to discover high-risk clients as effectively as detecting fraudulent transactions.

Integrate robust AML options for ongoing transaction monitoring and suspiciousness detection.

Prepare Suspicious Activity Reports (SARs) and publish them to the appropriate authorities. Challenger banks are further counselled to expand the quantity of SARs to secure purchaser relationships.

 
How Shufti Pro Can Help
Customer retention and capitalising on business possibilities to outperform in an aggressive market is the predominant focus of challenger banks. In this context, they have to set up improved AML screening mechanisms. This refers to enforcing high-quality purchaser verification, due diligence, threat assessment, and ongoing monitoring. In order to make certain AML compliance, incorporating advanced financial crime prevention options is a promising wager for challenger banks.