BEFORE YOU GO...
Check how Shufti Pro can verify your customers within seconds
Request Demo
No thanks
Anti-money laundering compliance is vital for obliged entities and being conversant with AML compliance regulations and industry prevalent measures is inevitable. 
Opting for AML compliance benefits instead of non-compliance fines is just the first step. Every entity that is obliged to perform anti-money laundering needs answers to some of the common questions, such as what is money laundering in the first place, what is anti-money laundering, why is it important, is your business obliged for AML compliance, and what are the best practices for developing an AML compliance program. You'll find answers to all these questions in this blog.

What is money laundering?
Money laundering is the process of illegal movement of money to hide its original source. Black money gained through illicit activities (drug selling, human trafficking, terrorism, etc.) is transferred in a certain pattern to manipulate the authorities and to hide the money trail. Money laundering is also called a whitecollar crime as often high-rank officials and PEPs (Politically Exposed People) are involved in it. The Motive of money laundering is to wash black money in a seamless manner gradually mixing it with white money. 
Banks, financial institutions, fintech companies, stock exchanges, gaming platforms, real-estate, etc. are used to launder money, but it is only possible if the businesses in these industries are lacking on anti-money laundering screening and their AML compliance programs are not updated with evolving money laundering risks.

Money laundering is conducted through hundreds of means and methods, but generally three stages are involved in a money-laundering activity. Three layers of money laundering are placement, layering, and integration. Placement is the initial step where black money is placed in banks. In layering several financial transactions are made through the sale and purchase of financial and non-financial assets to manipulate the original place of money. Lastly, illegal money is integrated into white money through legal channels, which shows it either as the profit of a shell company or gain from the sale of assets.
What is anti-money laundering compliance?
Anti-money laundering compliance is the process of background screening and ongoing monitoring of customers to identify and eliminate any efforts of money laundering. The customer is screened against global watchlists, sanctions, and PEPs lists. AML screening is a part of KYC verification and is mandatory for several industries such as banks, fintech, stock exchanges, real estate, art and precious metals dealers, cryptocurrency, gaming platforms, etc.
What are anti-money laundering regulations?
Anti-money laundering regulations are the rules for businesses, institutions, and even countries to eliminate money laundering and terrorist financing activities. Initially, AML laws were implemented only on financial institutions to control drug trafficking. The initial motive was to control drug crime by controlling illegal movement of black money. But later on, crime became more advanced and stringent anti-money laundering laws were implemented. 
Anti-money laundering and counter financing of terrorism (CFT) are now global concerns. International authorities such as FATF and world bank are collaborating with national authorities such as FINCEN, FINTRAC, FCA, FINMA, etc. and state banks to control money laundering.

There is not a single Anti-money laundering act to describe, every country has its own laws, but most of them are following the 40 recommendations of FATF. Financial Action Task Force (FATF) is a global authority that gives recommendations to countries regarding their efforts to control money laundering and terrorist financing. 
2019 was quite a busy year for lawmakers, and AML laws all over the world changed remarkably and shaped the AML compliance in 2020.
Why is AML compliance important?

As the laws are becoming stringent it doesn't mean AML compliance is just another regulatory burden, it has several benefits for your business. AML compliance in banks and businesses is a primary source of risk prevention.
Fraud is on the rise
Fraud is increasing day by day. The technological shift in financial infrastructure and the rise of online payments has increased the risk of multiple folds. Fraudsters exploit every loophole in the AML compliance of banks and businesses. Even the crisis situation of COVID-19 is exploited by fraudsters. UK investigators found 2000 phishing attempts related to COVID-19 frauds. National Fraud Intelligence Bureau (NFIB) reported founding 509 COVID-19 fraud cases to date with total losses amounting to £1.6 million.  
AML/KYC screening of prospects helps prevent such frauds. Otherwise, banks and businesses will be bombarded with chargebacks and other such claims. 
Non-compliance leads to loss
Non-compliance results in losses, such as penalties and monetary loss due to serving money launderers. The fines of non-compliance are quite high, including but not limited to a monetary fine, loss of credit rating, temporary or permanent closure of business, etc. This is what happened with Swedbank in its recent money-laundering scandal. The bank lost €7 billion off its market value along with a decrease in credit rating. 
Customer value
Customers feel secure with businesses and banks that take necessary measures to secure their customers from fraud. In case a bank or a business has a bad reputation regarding AML, it will lose its customer and market value both. In order to get all these benefits developing a rewarding AML compliance program is necessary. 
AML compliance program 

AML compliance program is the predefined process of company-specific AML compliance measures. Although AML regulations vary with jurisdictions and industries, a few mandatory aspects of an AML compliance program are present in all. 
First of all the companies and banks must devise their AML compliance policies. Which includes AML compliance measures they'll take to prevent money laundering. How they will perform AML screening on customers, and how often customer risk rating will be updated. In this part, your company will also decide whether they'll develop an internal solution for AML screening or opt for AML screening software. 
Compliance department and AML compliance officer
A separate AML compliance department is a part of most of the AML regulations. Hiring an expert AML compliance office is necessary. The person must have in-depth knowledge of AML laws and industry-specific practices. AML compliance officer collaborates with other departments and keeps them informed about changes in AML screening practices. Also, he must inform the authorities regarding any unusual transactions of customers.
Often employees are manipulated by criminal entities to transfer black money. It is important to train the employees regarding how to identify such customers and what would be the consequences of assisting such people. 
Customer AML screening


Now that the anti-money laundering policies are designed and an AML compliance officer is hired, the vital part of the compliance starts, which is customer AML screening. AML screening is generally performed along with KYC screening at the time of customer registration.
Efficient AML compliance checklist
Most of the businesses perform AML compliance but lack somewhere as they stick to following minimum AML regulations. Going the extra mile to fulfill the anti monitoring obligations is what leads to effective AML compliance in banks, and businesses both. Efficient AML screening is in-evitable especially with changing anti-money laundering trends in 2020. Following an AML compliance checklist for effective anti-money laundering compliance brings long-lasting benefits for your business.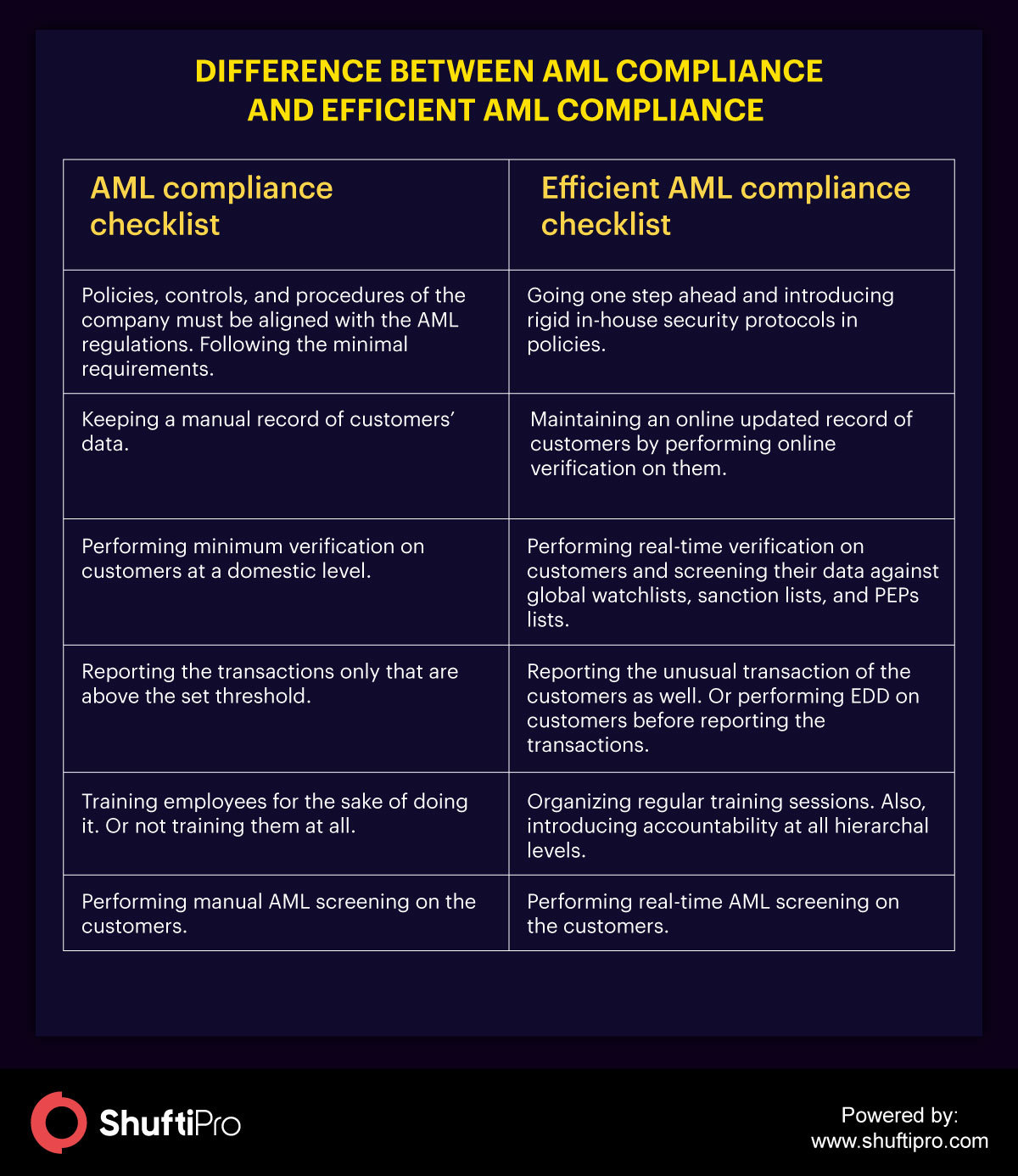 How technology can be helpful in anti-money laundering (AML) compliance?
The major part of anti-money laundering compliance is an ongoing screening of customers. AML screening solutions powered with artificial intelligence can share this burden of obligatory entities. AML screening software, first of all, verifies the identity of a customer and then screens their name against global watchlists that are updated regularly.
Ongoing screening is no more hectic with AML verification solution as it's designed to perform AML screening after predetermined intervals. So every business gets a customized solution to fulfill its compliance needs.
You might choose to perform manual AML screening on the customer by checking them against the country watchlist but it will be lacking in results. On the other hand, developing an in-house AML screening software will not be feasible due to the high cost.
AML verification software provides global coverage and can verify the people from all over the world, you won't have to hire several manual AML and KYC verification professionals to screen customers from all over the world. An anti-money laundering verification solution can verify the identity of a person within seconds and enhances customer experience. The cost of compliance is low and technical requirements for integration are quite simple.

To wrap up, anti-money laundering is inevitable due to regulatory obligations and to grow your business in a secure environment without the fear of fraud or non-compliance penalties. It is a futuristic investment that promises long-term benefits.