BEFORE YOU GO...
Check how Shufti Pro can verify your customers within seconds
Request Demo
No thanks
Cybercriminals in the realm of fraud and financial crime are constantly revising exploitation methods to bypass business security measures, if successful this could amount to irreparable reputational damage and heavy fines. Transactional monitoring is a key component in fighting against this. The KYC transaction monitoring market was worth $13.65 billion in 2021 and is projected to touch $42.52 billion by 2029.
Transaction Monitoring – A Brief Overview
Transaction monitoring is the process of tracking clients' transactions like deposits, withdrawals and transfers. The transactions that the AML monitoring system flags are further inspected to confirm if the alert is a false positive or a true hit. In the case of a true hit, a Suspicious Activity Report (SAR) is created to alert law enforcement and necessary authorities to report the risk of money laundering and terrorism financing. 
Real-time transaction monitoring usually depends on factors and considerations unique to any business, including:
Size, complexity, and geographic reach

Client profile including intermediaries, if any

Corporate culture 
Associated operational risk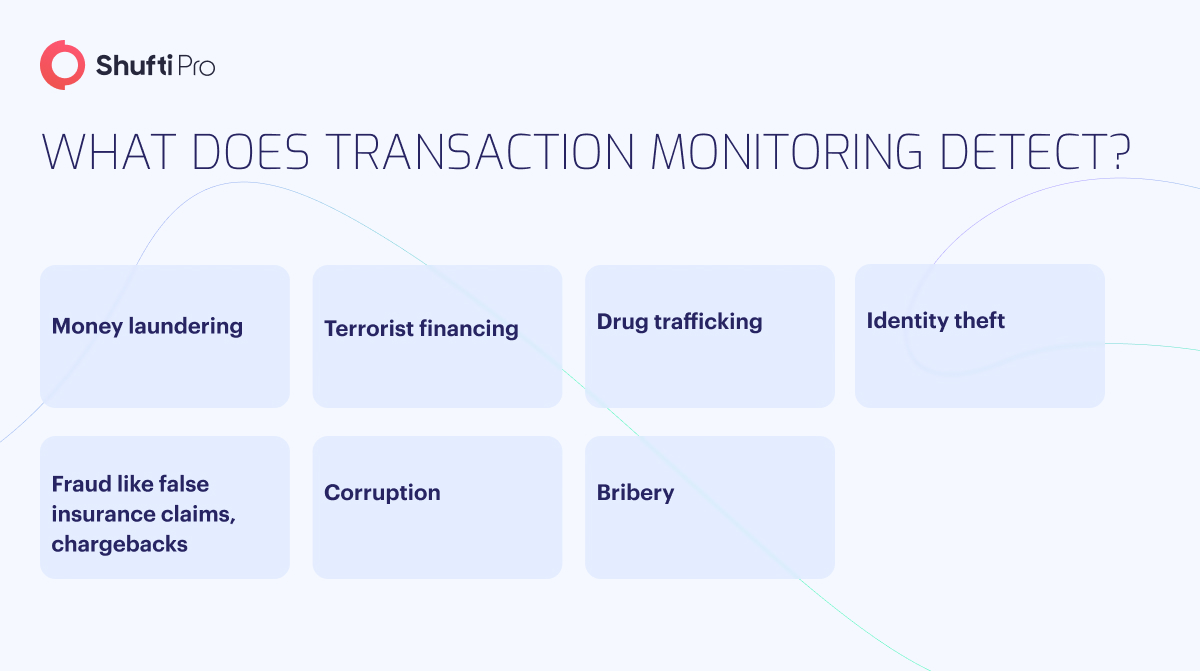 Fines for Failing to Report Suspicious Transactions (2022)
Here's a quick look at some of the key penalties for failing to report any suspicious transactions in 2022.
JPMorgan to Pay $850,000 in Swap-Transaction Reporting Case
JPMorgan Chase & Co. has agreed to pay $850,000 to resolve allegations over failing to register swap transactions.
As per the Commodity Futures Trading Commission (CFTC), JPMorgan failed to report roughly 2.1 million temporary foreign-exchange swap transactions from September 2015 to February 2020. That is nearly more than half of the total FX swaps that the bank has conducted in that time.
The order stated that JPMorgan reported every transaction, even those that were not reported, and declined to comment on the matter.
N1M Fine Imposed on Financial Institutions for Suspicious Transaction Reporting Failing
The Federal Government has levied a penalty of N1m daily on financial or non-financial institutions that fail to report suspicious transactions.
As mentioned in Section 7(10) of the Act "A financial institution or designated non-financial business and profession which fails to comply with the provisions of subsections (1) and (2) of this section commits an offence and is liable on conviction to a fine of N1m for each day during which the offence continues."
The Act describes that financial businesses encompass banks, finance companies, insurance firms, brokerage businesses and other institutions. In contrast, non-financial institutions may consist of dealers in casinos, the automotive industry, real estate,  hotels, and other enterprises specified by the Minister of Trade and Investment.
Over 6000 BVNS Under Scrutiny for Fraudulent Transactions, Reveals CBN
CBN (Central Bank of Nigeria) has disclosed that more than 6000 Bank Verification Numbers (BVNs) are under inspection over suspicious transactions.
As per Mr Dipo Fatokun, the CBN Director, "the Bank Verification Number (BVN) recently introduced would be used to achieve this". Fatokun stated that BVN means collecting clients' behavioural or physiological characteristics like signatures and fingerprints.
The latest statistics reveal that 2.72M more BVNs were enlisted in the first half of 2022, making the total number 54.65M. This is from nearly 148.4 million active customer accounts in all Nigerian banks.
How Authorities are Mitigating the Risk of Suspicious Transactions
Considering the fast-growing rate of financial crime, regulatory bodies are working hard to implement stringent regulations for monitoring bank transactions. 
SARB Issues Guidance to Discourage the Termination of Crypto Transactions in Banks
The Prudential Authority of South Africa Reserve Bank (SARB) has published a guidance note to banks on how to process transactions of Crypto Asset Service Providers (CASPs).
The note says that the banks have decided to terminate those transactions that are linked to CASPs over the risks of Money Laundering (ML), Terrorism Financing (TF), and Proliferation Funding (PF), which come with poor compliance in the sector.
According to SARB, "De-risking can endanger the nation's financial stability. De-risking might potentially lead to financial opacity for the impacted individuals or businesses, which would make it impossible to address issues related to money laundering, terrorism funding, and proliferation finance".
EU Sets a New Limit on Cash Transactions to Curb Financial Crimes
The EU nations have devised an agreement to put a new limitation on cryptocurrency cash investments, assuring more substantial management of transactions throughout the region. The countries have consented to a limit of 10,000 Euros on all cash payments. Moreover, the EU has approved setting a standard for examining every crypto transaction exceeding 1000 Euros with proper checks. 
The requirements for all EU member states: "By limiting large cash payments, the EU will make it harder for criminals to launder dirty money."
South Korean Government to Enforce Cryptocurrency Transaction Monitoring in H1 2023
South Korea's Ministry has introduced new plans for implementing a cryptocurrency tracking system to deter illicit transactions. The new program is named "Virtual Currency Tracing System", which seeks to monitor all the investors and gather other user-identifiable details. 
The ministry is planning to launch the system shortly, however, the exclusive launch is not anticipated until midway through the year; the government has further stated that "these new additions to the system are crucial to guard against increased cybercrimes". 
How Shufti Pro Helps Businesses Keep Criminals at Bay
Shufti Pro's AI-powered AML solution screens customers against 1700+ watchlists in less than a second. The process recognises suspicious transactions in real time with an accuracy rate of 99+%, safeguarding businesses from money laundering and other heinous crimes. 
Still curious to know how Shufti Pro's AML solution works?