BEFORE YOU GO...
Check how Shufti Pro can verify your customers within seconds
Request Demo
No thanks
The global art industry is embracing digitization. However, the technological advancements and a rise in the number of ultra-high-net-worth individuals (UHNWIs) are assisting this sector to grow immensely. Thus, the artifacts and collectible assets held by these individuals also is expected to spike from $1.62 trillion in 2016 to $2.7 trillion in 2026.
However, collectors and connoisseurs may not view rare artwork as commodities. But frequently, illegitimate individuals and businesses see additional value in these artifacts, the way of masking, moving, and leveraging black money. Organized crime groups are using the art industry to integrate illicit cash into legit financial systems without being detected by the financial watchdogs. However, the money can easily be reverted into currency and then can be used for personal welfare, to finance terrorist groups, and to mask crimes. Therefore, the global regulatory bodies
Art Industry and Organized Crime Organizations
With the increase in the demand for artwork and considering them as an alternative of financial assets yet lack unified regulations. However, initiatives taken by the US and other countries can help to address the potential risk of money laundering and other financial crimes linked to artwork.
Antiquities, cultural objects, and statues are the most desired items by collectors in the art market across the globe. However, these items are purchased by organized crime groups for money laundering purposes. For instance, the Islamic State of Iraq and Syria had sold out expensive artifacts, also named "blood antiquities" to finance the terrorist activities. Back in 2018, the Barcelona law enforcement authorities arrested a couple of criminals suspected to smuggle artwork looted from Libya. Thus, the global watchdogs are making efforts to reduce the violent terrorist operations and secure the heritage artifacts of the community of the world.
Since 1970, UNESCO has been working on ways of preventing and restricting the illegal export, import, and transfer of ownership of cultural property, resulting in rising awareness to address the problem of money laundering. Other than this, advanced technologies like artificial intelligence and blockchain are also helping out to redefine the conventional opaque art industry. Analytics is also aiding to determine the source and patterns of money laundering.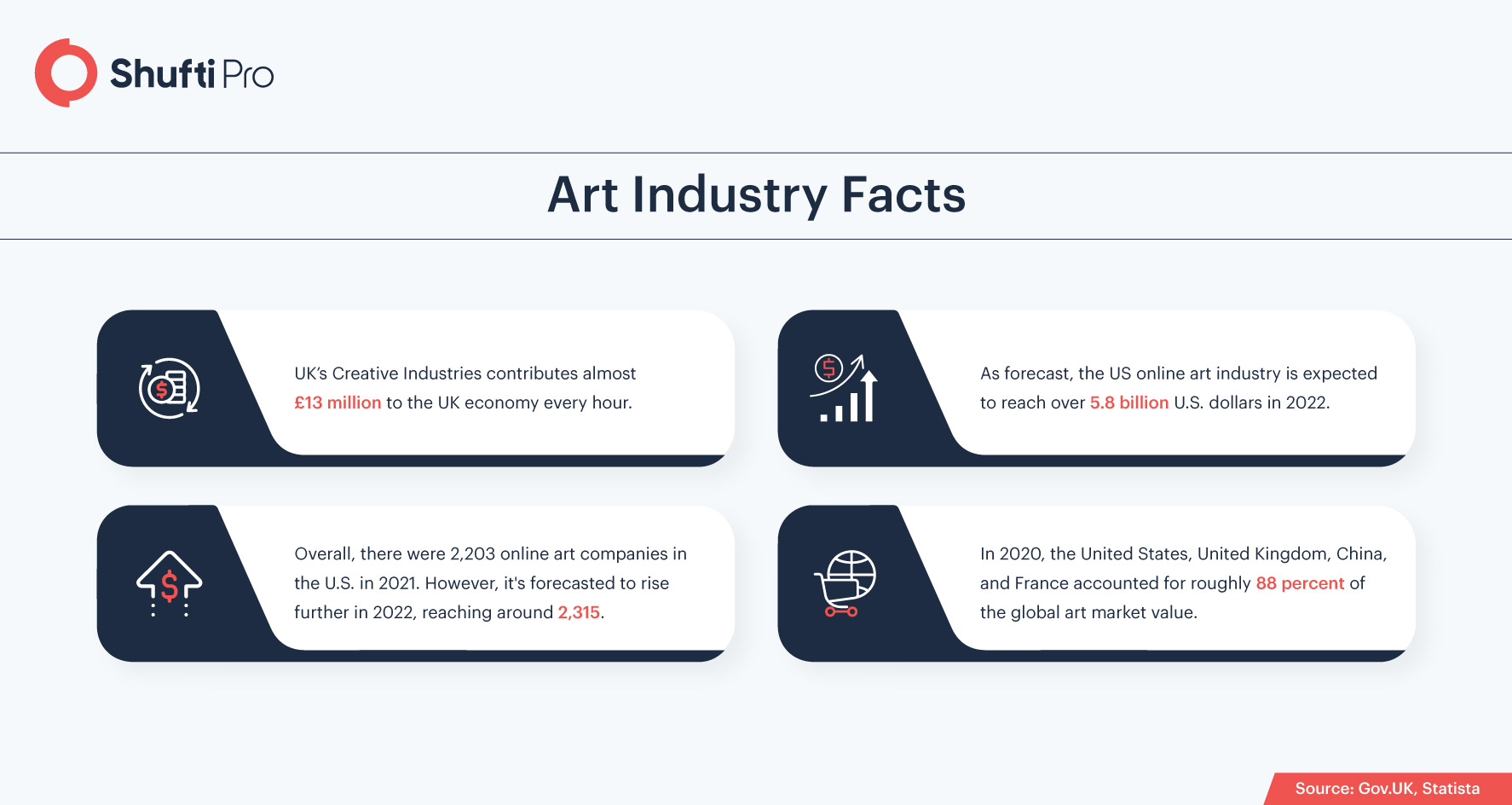 US Treasury Releases Report On Illicit Art Market Money Laundering
The united states department of the treasury has published a report regarding how criminals are carrying out money laundering and terrorist financing activities through the artwork trade. The exclusive auction houses and art dealers spent more than $1 million lobbying federal officials in Washington regarding these emerging issues. This report also seems to overcome the rising challenges the art industry is facing and restricts the sale of NFTs along with digital currencies as they are hard to trace.
"We have found that while certain aspects of the high-value art market are vulnerable to money laundering, it's often the case that there are larger underlying issues at play, like the abuse of shell companies or the participation of complicit professionals, so we are tackling those first," said the senior Treasury official appropriately named Scott Rembrandt.
The study also investigated the individuals as well as business entities linked to the art market that may present terrorist financing and money laundering risk to the US financial systems. As a result, the US Congress made the anti-money laundering act 2020 mandatory for art businesses. However, high-value art items inherent some qualities that are making them prime targets of money launderers. These include the high dollar value transactions, transportability of goods, and use of intermediaries (shell companies or art advisors).
"As we tackle systemic challenges like corporate transparency and other loopholes that allow criminals to abuse the U.S. financial system, we will look at what else might be needed to address money laundering risks specific to other industries, including the art industry," added  Rembrandt, Deputy Assistant Secretary for Strategic Policy in the Office of Terrorist Financing and Financial Crimes.
The report also highlights significant evidence of money laundering risks in the art market, but there were limited cases associated with terrorist financing risk. However, the art businesses that provide financial services are flagged as most vulnerable to money laundering. Still, the art industry is not subject to AML/CFT regulations.
"Once we've tackled more systemic issues, like creating a beneficial ownership registry to crack down on shell companies, we will look at what else might be needed to address money laundering risks specific to other industries, including the art industry," the Treasury official said in his statement.
Global Rigid AML Compliance to Secure Art Trade
The significant role of the art industry in money laundering and terrorist financing schemes has attracted increasing attention over recent years, particularly the regulatory authorities as the rising number of financial crimes is adversely impacting the industry. The global law legislating bodies have come up with anti-money laundering and counter-terrorist financing regulation to fight surging crimes.
Her Majesty's Revenue and Customs (HMRC) 
The art dealers, auction houses, and galleries are now subject to the UK's anti-money laundering complaint and are termed as art market (AMPs). On 28 June HMRC published the first assessment of the key area that AMPs should implement risk assessment procedures to determine which businesses are subject to money laundering risk. As the regulator for AMPs, HMRC is obliged to share the updated information regarding money laundering activities with AMPs including the records gathered from its own risk assessment systems. This information will provide information and aid AMPs to meet the regulatory obligations. Other than this, they must also consider Treasury-approved British Art Market federation Guidance and other relevant documents, such as the National Risk Assessment 2020 and FATF guidance regarding money laundering.
The Basel Institute Standards
The anti-money laundering standards for art market operators are set by the Basel Institute on Governance, an independent not-for-profit organization. The AML standards adopt a "risk-based" approach to legislate measures to fight money laundering and terrorist financing risks. Furthermore, the small businesses may not have a mechanism to determine the instance of money laundering in the same way the big auction houses will have. Therefore, these standards are intended to apply on art trading and intermediaries between buyers and sellers.
  They also suggest that service industries supporting the trade in art objects that are already subject to AML laws, like financial institutions, should identify their clients and customers in the art trade "as higher risk as long as there are no internationally applicable standards."
How Shufti Pro's Can Help
Enhanced due diligence and anti-money laundering screening are considered viable options to curb money laundering and terrorist financing activities. All the art dealers are obliged to incorporate a risk-based approach and practice AML checks to assure that illicit funds never get laundered through the art industry. In addition to this, ongoing AML and transaction monitoring systems can also assist the art market to create risk profiles of buyers.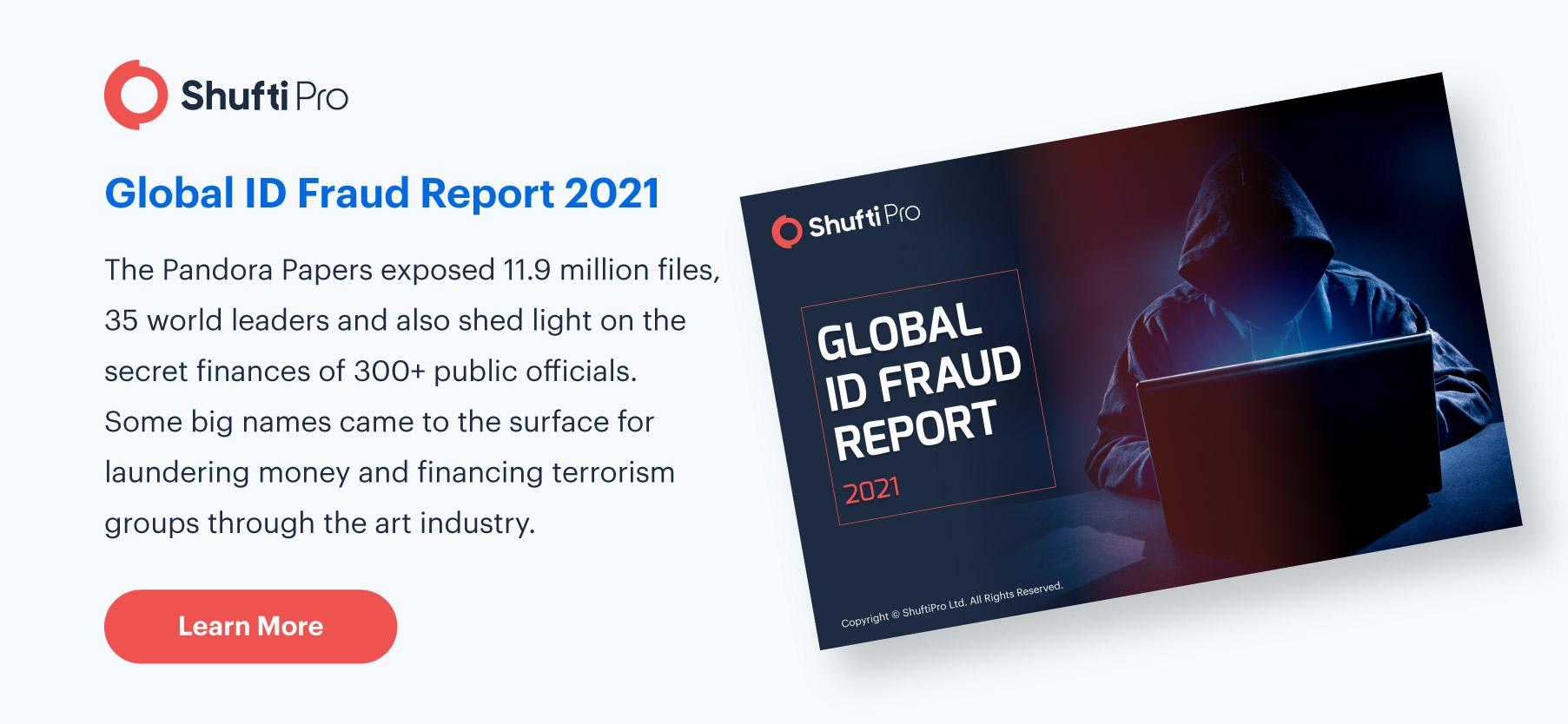 Shufti Pro's state-of-the-art AML screening services can help you to identify and verify the source of income along with monitoring suspicious transactions. AI-based AML services can also screen clients against a 1700+ global watchlist in less than a second with 98.67% accuracy.
Want to know more about AML screening service?