BEFORE YOU GO...
Check how Shufti Pro can verify your customers within seconds
Request Demo
No thanks
After the skyrocketing fines and penalties on banks for AML non-compliance in 2020, the year 2021 is ready to break records. Approximately €12.09 billion was paid only by banks in penalties last year. As of today, 17 banks have already been fined over $1,250,521,695 and £910,192,215 – yet another blockbuster year for AML penalties. This year, it's not just banks that are on the hit list but many gaming and gambling platforms have also joined the league. Moreover, regulatory authorities have levied hefty penalties on crypto exchanges too. 
Let's take a closer look at banks and gambling platforms that were fined in the first half of 2021. 
What is AML Compliance?
AML compliance is a process to screen customers against several global watchlists, sanctions and PEPs to prevent financial crimes like money laundering and terror financing. Moreover, the end-users also undergo ongoing checks to maintain an updated risk profile.  
Top AML Non-Compliance Fines on Banks
In the first half of 2021, some major names in the banking sector have faced hefty fines for AML non-compliance. Here are the top nine banks that were issued the highest fines. 
Swiss Bank
FINMA imposed a $80 million fine on Swiss Bank for violating anti-money laundering regulations in January 2021. The lawsuit was initiated against Julius Baer, a Switzerland-based private bank. On February 01, 2021, the bank reported to FINMA about the improvements it made in the annual report.  
The Swiss regulator FINMA raised allegations against two former executives of the private banking company, Julius Baer, and recommended financial improvements. ⁰

Find more at: https://t.co/LJbFbYz5AE ⁰#Swiss #regulation #Banking #BankingAndFinanceNews #Finance #fintech

— Shufti Pro (@Shufti_Pro) January 22, 2021
Deutsche Bank 
Earlier this year, Deutsche Bank agreed to pay $130 million in fine for not complying with the Foreign Corrupt Policies Act (FCPA). The Securities and Exchange Commission (SEC) in the United States conducted an investigation that found that a German bank funnelled more than a million in fraudulent schemes. After this incident, the regulatory bodies are more focused on enforcing rigid anti-corruption laws in the country. 
Norway's DNB Bank
Norway's leading DNB bank was fined in January 2021 for violating the anti-money laundering regulations. The imposed was approximately $45 million and the bank said,
"The possible fine that DNB has been notified of is not related to any suspicions of money laundering or complicity in money laundering, but rather what (the FSA) considers to be inadequate compliance with the anti-money laundering rules and legislation,"
Union de Banques Arabes et Françaises 
The French bank paid USD 8.6 million in fines for operating on behalf of sanctioned financial institutions in Syria. The fine was imposed by the US Department of Treasury and Union de Banques Arabes et Françaises was liable for conducting transactions across the Middle East, Africa, Asia, and Europe. 
MT Global 
The HM Revenue and Customs penalised a Money Service Business (MSB) named MT Global. The company had to pay £23.8 million for not abiding by the anti-money laundering laws. So far, this is the highest penalty imposed by HMRC. As said by Deputy Director of Economic Crime, Nick Sharper, 
"Businesses who fail to comply with the money laundering regulations leave themselves, and the UK economy, open to attacks by criminals. Money laundering is not a victimless crime. Criminals use laundered cash to fund serious organised crime, from drug importation to child sexual exploitation, human trafficking and even terrorism. We're here to help businesses protect themselves from those who would prey on their services. That includes taking action against the minority who fail to meet their legal obligations under the regulations as this record fine clearly shows."
ING Bank
Autorité de contrôle prudentiel et de résolution (ACPR), the French AML regulatory body fined ING for breaching AML/CFT policies. The transactions exceeded the predefined threshold for both payers and payees. Moreover, the bank onboarded some clients that were highlighted in Politically Exposed Persons (PEPs) representing a higher FinCrime risk.  
AmBank
AmBank settled $700 million with the Malaysian government in February 2021. The bank was responsible for holding former Prime Minister Najib Razak's bank accounts. One of these accounts received a $681 million payment from a Saudi royal family. Razak was guilty of laundering money and corruption. 
NatWest Bank
One of the largest retail banks of the United Kingdom, National Westminister (NatWest) was taken down by the Financial Conduct Authority (FCA) over AML law violation. FCA states that £365m worth of black funds have been deposited between 2011 and 2016 out of which £264m were made in cash. The bank claims to impose strict AML measures, however, FCA has denied all these claims.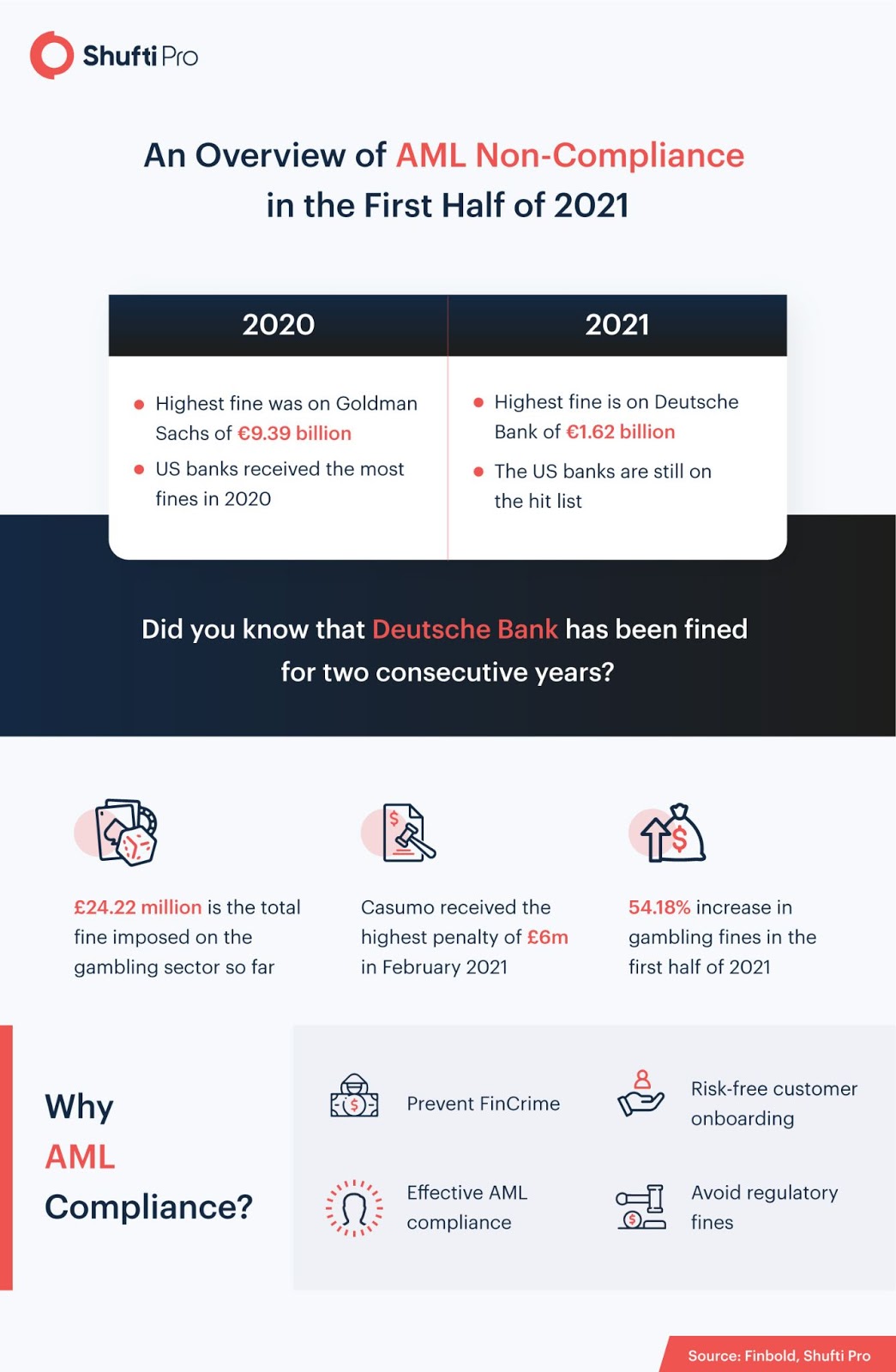 Top Fines in the Gambling Sector
After the banking sector, casinos and online gaming platforms across the world are being penalised for non-compliance with the AML laws. 
After banks, gaming and investment companies are ready to pay huge amounts in penalties for AML non-compliance.

For more, please visit: https://t.co/hgK3trlfmH#Malta #gaming #investing #money #ShuftiPro

— Shahid (@Shahid58732587) May 7, 2021
Here are the top five AML non-compliance cases in the gambling and gaming sector. 
InTouch Games
The big name in the gambling industry faced a hefty penalty for not complying with the anti-money laundering regulations. InTouch Games runs several gaming platforms across the globe but failure to abide by the AML laws resulted in a £3.4 million fine. 
Gambling Commission's Director, Richard Watson said,
"Through our challenging compliance and enforcement activity we will continue our work to raise standards in the industry and continue to hold failing operators to account."
Double Diamond Gaming 
Next in line is Double Diamond Gaming, a UK-based gambling platform, violated the anti-money laundering laws and onboarded high-risk entities. The penalty for law violation by the UK Gambling Commission (UKGC) was approximately £247,000. 
Les Croupiers Casino 
After failing to employ effective anti-money laundering solutions and gambling controls, the casino has received UKGC sanctions. Apart from the sanctions, a fine of £202,500 has also been imposed on the platform. 
"These failings were identified as part of our ongoing drive to raise standards across the whole gambling industry. Every single operator must ensure they are following rules that are in place to make gambling safer and prevent it being a source of crime," said Richard Watson in a UKGC press release. 
Shaftesbury Casino
Inability to identify high-risk entities during client onboarding and ineffective customer due diligence procedures resulted in a £260,000 fine for Shaftesbury Casino. The UK Gambling Commission further stated that the company needs robust AML procedures in place before another fine comes its way. 
Betway
For a series of money laundering and social responsibility violations, Betway – the online gambling service – has agreed to pay £11.6 million in fine. Some VIP customers made transactions above the defined threshold. 
Top Fine in the Crypto Sector
The regulations on the crypto sector were not as rigid as they should have been and financial criminals took complete advantage of the situation. However, the UAE has stepped up this year and levied a hefty penalty on DubaiCoin, an emerging virtual asset of the region. According to the company, the asset was never approved by any regulatory authority. The website promoting this crypto is a phishing attack.  
A UAE resident lost Dh 15,000 by investing in DubaiCoin. Based on the incident, Article 11 of the Federal Decree-Law No. (5) of 2012 mentions that:
"Those shall be punished by imprisonment for a period of at least one year and a fine not less than Dh250,000 and not in excess of Dh1 million, or either of these two penalties whoever takes over a personal property, benefit, deed or its signature whether for oneself or for other persons and without legal right, by resorting to any fraudulent method or by adopting a false name, or false personation through the computer network, or an electronic information system or any information technology means."
On the contrary, many countries have started working on making EDD regulations stricter for the virtual asset service providers too. Where the UK has banned crypto for transactions, Turkey is in full swing to regulate both sectors. 
In a Nutshell…
Anti-Money Laundering non-compliance penalties have significantly increased this year. Only in the first half of 2021, fines levied on banks and other sectors are equivalent to approx. 50% of 2020 penalties. Many financial institutions have been repeatedly fined in two consecutive years like Deutsche Bank. All sectors have been guided to increase the robustness of their AML/CFT solutions and structure stricter compliance policies. 
If you need any help, get in touch with our experts right away.