BEFORE YOU GO...
Check how Shufti Pro can verify your customers within seconds
Request Demo
No thanks
From baby boomers to Gen Z, identity fraud is the problem of all generations. Studies suggest that the largest segment of the world's population i.e. generation Z is at the highest risk of identity fraud. Surprisingly, the spending power of this part of the world's population has reached $143 billion during the pandemic. Therefore, the next generation of consumers is at stake. With lack of background information like credit history and thin credit files, how can businesses verify them? Digital identity verification solution is the answer to all your issues. The blog discusses common tactics that bad actors are using and how you KYC verification can help. 
What are the Common Cybercrime Tactics for Generation Z?
Gen Z is contributing to a major part of the global population. Although the masses are tech-savvy, online scams are rapidly increasing for the segment. Here are the common cybercrime tactics that imposters use to target generation Z:
Texts

Phishing attacks

Chatbots 

Social media scams
Criminal Scam Triggers – An Overview of All Generations 
Be it baby boomers or generation Z, the threat for criminal activities has increased for all generations. Here's a breakdown of scam triggers for different age groups: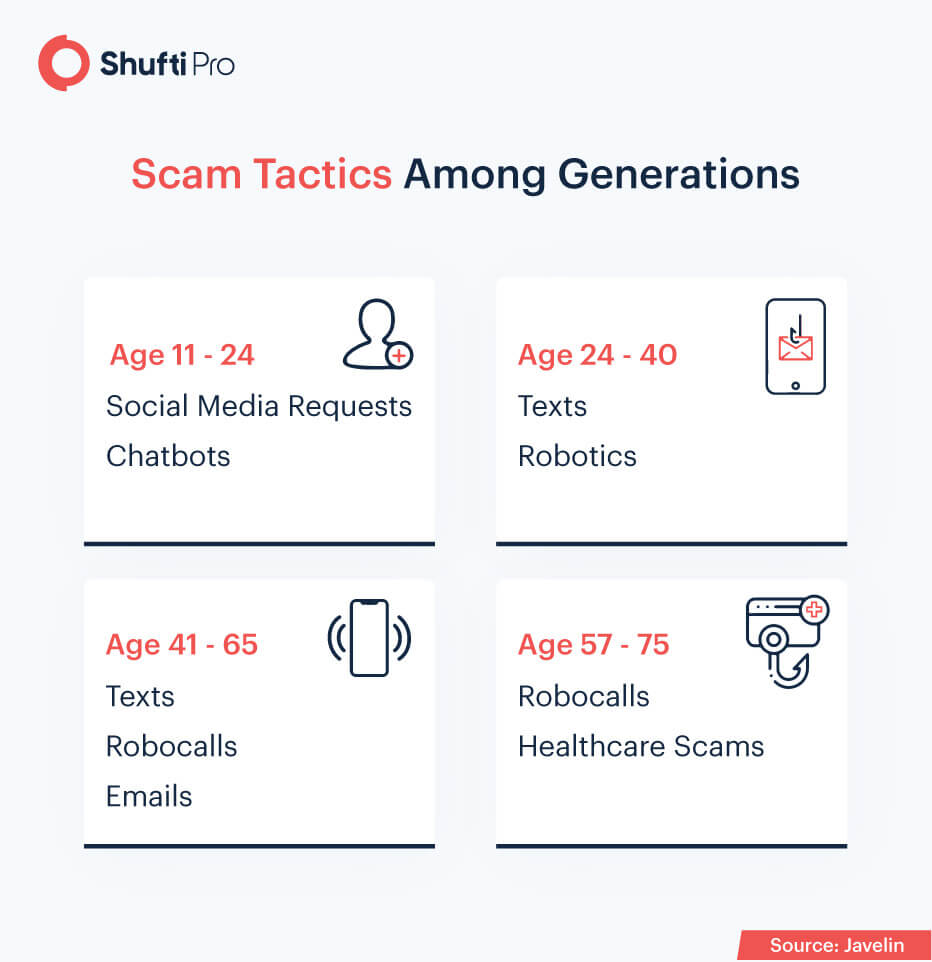 Traditionalists (1946 – 1954)
The majority of people in this generation have retired or looking forward to retirement soon, which categorizes them as "senior citizens" of a state. The National Council on Aging (NCOA) has labelled financial fraud as "the crime of the 21st century" due to its prevalence among seniors. Fraudsters find this generation an easy target, as individuals have a nice nest egg stashed in their banks. Nevertheless, low-income seniors are equally vulnerable to identity theft and financial fraud. 
Baby Boomers (1955 – 1964)
After investing around 40 years in the corporate world, baby boomers are targeted using robocalls, Internal Revenue Service (IRS), healthcare, and social security. When the generation is seeking retirement and investment plans, imposters target them to illegally acquire information or cheat them for money using Ponzi schemes. 
Generation X (1965 – 1980)
Although they didn't grow up with modern day technology, they have a considerable amount of experience using technology. However, their access to digital services is higher than expectations. Some common fraud tactics used to target Generation Xers are robocalls, texts, and phishing emails. Victims are more vulnerable to triggers like financial information, interest rates, and parcel pickup. 
Millennials (1981 – 1996)
Scams that often target millenials include job scams, online shopping scams, phishing attacks, and P2P fraud schemes. The individuals of this generation generally encounter fraud through robocalls and mobile texts. They fall prey to incentive scams like P2P money transfer confirmations. 
Suggested Read: Phishing Attacks and the Role of Two-Factor Authentication 
Generation Z (1997 – 2012)
This is the tech-savvy generation that is now becoming the primary target of fraudsters. Members of this generation are entering the workforce or students who are always available on the internet, and their digital footprints are just enough for imposters to use for identity fraud. Social media scams, data breach, IRS are some cybercrime triggers in 2021.  
Risky Behaviours Leading to Higher ID Theft Cases
The bigger question is, why are perpetrators successful in fooling people? Be it a 24-year old tech-savvy or a 50-year old, why is the number of identity theft cases increasing? The following few risky behaviours are the reason:
1. Using One Password for Multiple Accounts 
Same password for different accounts is one of the most common mistakes that people commit and often lose sensitive information to fraudsters. Moreover, the passwords are short phrases or very common numbers that are easy to crack. 
2. Not Reconciling Bank Statements 
Although reconciling bank statements is a boring job, it is important that you do not miss it at any cost. Let's suppose you checked the statement last month and missed checking it this month. After a month or two, you find out someone's messing with your accounts and you have lost a lot of money in the meantime. Clearly, you are a victim of credit card fraud (the most common form of identity theft). 
Suggested: New Account Fraud – A New Breed of Scams 
3. Shopping Online On Unreliable Marketplaces 
The online shopping trend is definitely the best thing one could ask for, but what about the downsides of this development? Shady marketplaces have significantly increased because it is an easier method to acquire confidential data. Bad actors ask for bank account information and Personally Identifiable Information (PII). A Javelin Strategies Report revealed that identity theft, account takeover fraud, pharming, and silent fraud are the growing threats for online shoppers and businesses.  If people continue to carelessly shop from unreliable e-stores, these criminal activities will continue to increase. 
ID Theft – A Problem for All Generations
Over time, identity theft has been a problem for a long time. From conventional methods to digitally acquiring information, methods for ID theft have evolved. Here's a statistical overview of identity theft being a problem for all the generations. 
The Federal Trade Commission (FTC) revealed the following statistics for identity theft in different age groups in 2020: 
| | |
| --- | --- |
| Age Groups  | ID Theft Complaints  |
| 19 and under | 23,651  |
| 20 – 29 | 190,916 |
| 30 – 39 | 306,690 |
| 40 – 49  | 302,678 |
| 50 – 59  | 244,183 |
| 60 – 69 | 123,112 |
| 70 and above  | 48,924 |
What Can Businesses Do to Protect Consumers of Different Generations?
Protecting consumers from being a victim may sound like a difficult job, but you can always win their trust and identify bad actors through identity verification. Validating every customer during the onboarding process makes it a lot easier for you to onboard the right customers in no time. Furthermore, it builds trust among consumers that they are dealing with a legit business. 
How Can Shufti Pro Help?
Shufti Pro's Know Your Customer (KYC) verification is a solution that is right for all generations. Doesn't matter if you are dealing with millennials or generation Z. Verifying the identities of every customer and helping you onboard legitimate customers is not a problem. Within 30 seconds, you get 98.67% accurate verification results. Moreover, the results are stored in the back office as well for future case building. Apart from top-notch identity verification, Shufti Pro is also GDPR and PCI DSS compliant, ensuring full data privacy and security of all your customers. 
Need more assistance on our Know Your Customer verification? Get in touch with our experts right away!