BEFORE YOU GO...
Check how Shufti Pro can verify your customers within seconds
Request Demo
No thanks
Various gamblers have investigated and exploited potential weaknesses in betting markets for millennia. Arbing is a strategy used by gamblers to earn reliably from online bookies. Different players may use more or less sophisticated methods for this. Between 2023 and 2030, sports betting is expected to increase from its 2022 total of $83.65 billion by a CAGR of 10.3%. As a result, it shouldn't come as a surprise that the gaming industry consistently faces customers eager to discover marginal gains.
In sports betting, "arbitrage" means placing wagers on several different outcomes simultaneously to guarantee a profit regardless of the event's outcome. Gamblers who employ this strategy are referred to as arbers.
Arbitrage Betting 
Arbitrage betting, known as "surebets" or "sure bets," is a strategy for winning money by betting on opposite outcomes of an event with different bookmakers. Since arbing is not gambling but rather based on mathematical calculations, an arber can post odds on all possible products with numerous bookmakers and still come out ahead. Due to the low rate of return (98% of arbs return less than 1.2%), this tactic demands either a sizable initial investment or a massive number of smaller bets that soon mount up.
The most frequent type of arbing betting is hedging, in which one exchange is used to bet on an event while another is used to bet against that outcome. Most consumers rely on a specialised monitoring service to capitalise on betting arbitrage chances. For bookmakers, arbers will always result in a loss. Accounts found engaging in this behaviour will have wagers nullified and accounts closed.
Arbitrage Gambling Process
Arbitrage betting aims to profit from perceived flaws in the sports betting system. In general, betting companies (known as "sportsbooks" in the United States and "betting shops" or "bookmakers" in the United Kingdom) set odds on sporting events so that they are willing to wager an equal amount of money on both outcomes. An arbitrage situation might develop when sportsbooks offer varying odds on the same game.
Bettors engaging in arbitrage gambling simultaneously wager on numerous outcomes for the same game. It's sure that all but one of these wagers will lose. When wagering is handled properly, the bettor will appear a little ahead regardless of the outcome.
Arbitrage Betting Examples
Arbing is rampant in the horse racing industry because of the constant fluctuation in betting prices. Given the size of these shifts, the profit potential of arbing is far higher than usual. A bettor can swiftly lock in a profit by betting on the same horse with a bookmaker and against it on an exchange account. The markets for football, tennis, and basketball arbing is also relatively active. Due to many arbable events, it can be difficult for sportsbooks to maintain accurate pricing across the board. However, there are few ways to win money here because the odds in a football game are much lower.
Arbing vs. Matched Betting
Match betting is a form of arbing, to use the technical term. However, match bettors aim to benefit from free bets, where they diverge. Both matched bettors, and arbitragers utilise mathematical algorithms to ensure picks are safe, but matched bettors rely primarily on free bets from sportsbooks to generate money.  Other types of arbitrage betting tactics than simple arbing are: 
Arbitrage across markets:

Multiple markets are combined into one wager.

Extra-point arbing:

This entails taking advantage of various bonuses provided by numerous online bookmakers.
Arbitrage Betting Bots
It's highly improbable that players will regularly encounter profitable arbing possibilities. So, they turn to bots to scour the web for betting chances on their behalf. Such programs can search numerous bookies for odds that differ sufficiently from one another to be profitable for gamblers. Since arbitrage bettors must usually act quickly to take advantage of the supplied odds, this program would update every 30 seconds or so.
The level of sophistication of such programs will vary widely. Players have access to a wealth of free tools and resources. At the same time, some firms charge a fee in exchange for access to premium features such as software that automatically scans multiple bookies at once in search of arbing possibilities around the clock.
When bookmakers get a lot of money on a little-known sporting event, they sometimes shut off betting on that event. One possible explanation for many wagers being put on a single team to win a game in Finland's second division is that arbitrage bots have identified this wager as a profitable opportunity for users.
Arbing Betting: Moral And Legal Implications
Although operators are not prohibited from taking measures to prevent arbitrage betting, doing so is in the best interest. Bookmakers try to cancel bets or limit/ban accounts to deter arbing, even though they cannot recover any profits arbers may have made. This means that even well-trained ground-dwelling arbers are vulnerable. If arbing is discovered, accounts may be closed.
There are potential downsides to arbitrage betting despite the potential upsides for arbers. When sportsbooks discover disparities in odds, the arber is revealed, and bets are cancelled. And they may still be vulnerable if prices fluctuate. Bettors can lock in a guaranteed profit if they move quickly enough, but they risk losing money if they make a mistake or the odds shift before they can place a wager.
Arbing Prevention by Betting Businesses 
It's worth noting that only some bookmakers actively work to prevent arbitrage betting. Some advocate for this tactic because it improves odds and simplifies modelling. However, many businesses take measures to curb arbing by imposing fines on involved parties. The corresponding actions consist of:
Small stakes.

This is the scenario when a bookmaker restricts a gambler's ability to increase wagers or sets a maximum wager amount.

Wagers called off.

The betting site can cancel all open wagers when a user is suspected of being an arber. Money from these accounts is typically returned.

No longer active.

This is the most vital possible safeguard against arbing. The bookmakers will close accounts even if the customers request a refund.
Since arbing poses a direct danger to the bottom lines of betting establishments, these precautions are warranted. As a result, firms employ such policies to ensure the operations' security.
Arbers Identification
Security teams at bookmakers are responsible for identifying instances of arbitrage. They use unique algorithms based on the following criteria to locate arbers:
The massive wagers placed. Extremely high stakes, almost at the limit.

Constant wagering. The bettor keeps making identical wagers over and over.

Dependable account maintenance. The bettor maintains a continuous balance.

Withdrawing money frequently. The bettor is constantly taking money out.

Choosing a controversial event. The bettor picks outlandish outcomes.
Standard monitoring includes the aforementioned triggers. However, by instituting AML/KYC standards, betting organisations can bolster the process of exposing arbers.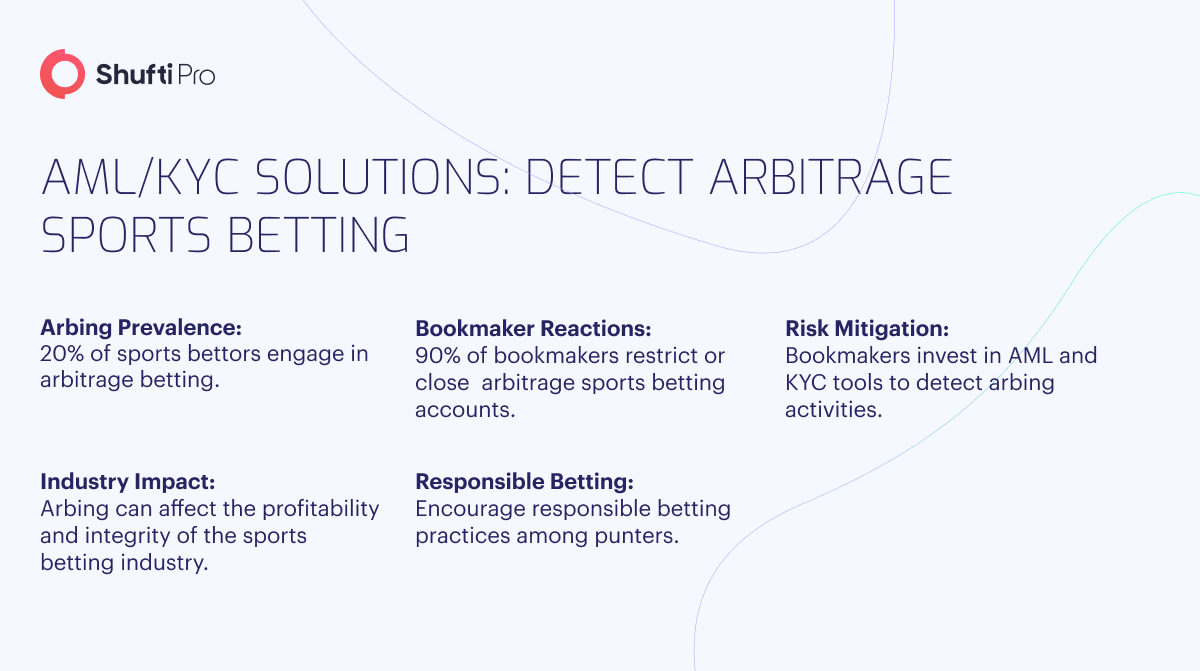 Arbitrage Detection Streamlined with AML/KYC Tools
Know Your Customer (KYC) ensures that businesses only accept trustworthy clients and prevent them from being complicit in illegal operations. Most verification processes are automated by modern KYC technologies, saving customers time and effort.
Although they can be applied in a variety of settings, the following are the most typical approaches to locating arbitrage:
Liveness.

This service certifies account ownership by authenticating users with biometric data. It also helps stop customers from creating multiple accounts.

AML Screening.

The process entails looking up a person in third-party databases to see if they have a history of criminal behaviour.

Authentication with credit card.

Bookmakers can authenticate consumers via credit card information for further safety, limiting bettors to preapproved payment methods.
How can Shufti Pro Help
Arbitrage betting, though not illegal, can spell trouble for bookmakers. They often grapple with potential financial losses caused by arbers. But fear not! Shufti Pro's cutting-edge KYC/AML solution is here to save the day, boosting your bookmaking business. Say goodbye to cumbersome verification processes and welcome smoother customer onboarding. Shufti Pro offers lightning-fast online verification and KYC/AML checks that elevate the customer experience to new heights. Our advanced AML screening solution is powered by thousands of AI algorithms, ensuring unrivalled precision. In less than a second, it screens customers against 1700+ global watchlists with an astonishing 98.67% accuracy rate.
Learn how Shufti Pro can help businesses in identifying sports betting arbitrage.