BEFORE YOU GO...
Check how Shufti Pro can verify your customers within seconds
Request Demo
No thanks
The outbreak of Covid-19 has changed how we do business. Many firms that used to operate physically were propelled into the digital sphere, with gaming and gambling no exception. The online gaming audience is estimated to surpass 1.3 billion by 2025. However, this huge growth comes with a higher risk of fraud, and gaming operators must enact checks and balances to safeguard their players. This is where e-IDV (Electronic Identity Verification) comes in, protecting the sector from fraudulent activities whilst maintaining regulatory compliance.
How Do Scammers Commit Fraud in the Gaming and Gambling Sector?
Gaming and gambling sites are becoming a hotspot for criminal activities. Scammers use different strategies to perpetrate fraud, and the most common include:
1. Account Takeover
Criminals use any means, such as stealing login credentials, by sending many emails to prospective targets to gain access to legitimate users' accounts. After hacking the player's account, the scammer uses it illicitly. However, weeks or months may pass when the genuine cardholder notices its costs.      
2. Manipulation
Online gaming is vulnerable to cheating, dramatically impacting the user experience for honest players. Fraudulent players create different accounts to cheat and change the results of games. They then use this to win rewards for signing up. These scammers manipulate players to fulfil their illicit intentions.
3. Chargebacks 
One of the most common scams that gaming and gambling operators witness is chargebacks, also known as friendly fraud. This occurs when a customer tries to get their money back by saying they did not make a purchase and want their payment back. Many operators find friendly fraud impossible to combat. However, with the emergence of robust security solutions, such as e-IDV, such types of fraud can be easily identified and prevented.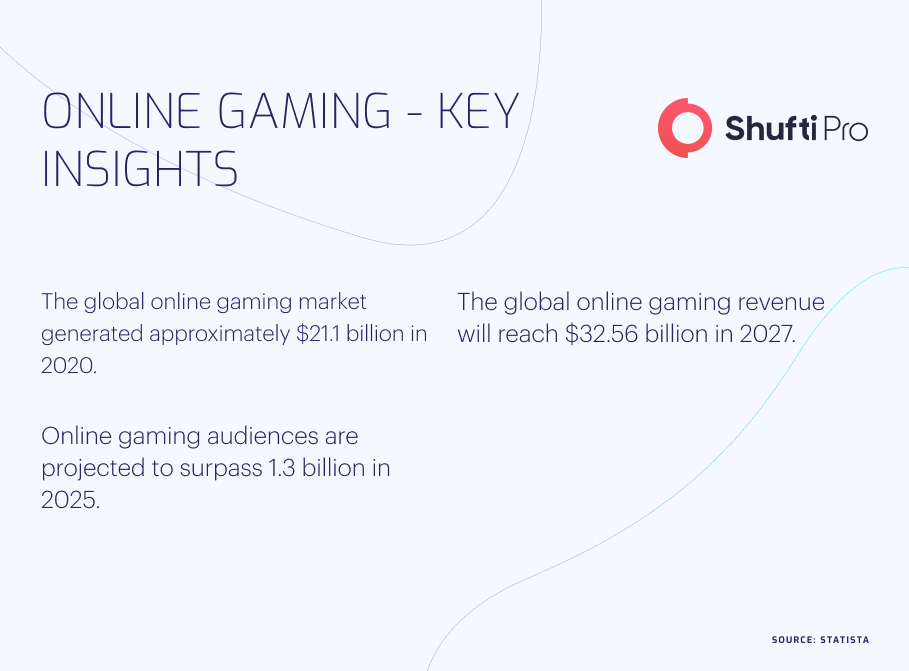 August 2023: A Quick Recap of Major Fines in the Gaming Sector
FIAU Fines iGaming Operator €236,789 Over Money Laundering
The Financial Intelligence Analysis Unit (FIAU) has discovered several Anti-Money laundering (AML) deficiencies in a remote gaming operator based in Malta and charged €236,789.
FIAU observed many irregular activities and modifications in gaming patterns shown by seven players that went unreported. Moreover, the company failed to perform checks or seek an explanation of the player's source of wealth or funds. For example, a player deposited €61,942 and faced a net loss of €12,040 in 13 months.
During the analysis, the team also noted several cases where the company did not perform Enhanced Due Diligence, although the customers posed a high risk to the gaming operator. The review also found that the firm's Customer Risk Assessment (CRA) did not adequately address the risks associated with its clients. During the examination, the analysis unit noted that the gaming operator lacked many policies and procedures, or they were incomplete or inaccurate. The FIAU also observed that the company's Business Risk Assessment (BRA) did not address many risks associated with its products. Furthermore, the gaming operator also lacked internal reporting and training responsibilities.
Crown Casinos Charged $450 Million for AML Failures
The Australian Transaction Reports and Analysis Centre (AUSTRAC) has fined Casino operator Crown $450 million over 546 breaches of AML laws. As per AUSTRAC's lawyer, Michael Hodge KC, the number of Crown violations remained uncertain due to insufficient monitoring. Hodge argued that Crown's actions didn't indicate deliberate negligence, even though the company gained from the impacted programmes and did not fail to fulfil its duties.
Justice Lee inquired, "If there was no intentional effort to violate the laws, then what prompted such behaviour?" Hodge mentioned that the reason behind the Crown's failure to abide by the law was unclear, although the leadership has been replaced after such breaches.
After entering the settlement, Crown admitted failing to assess the risk associated with its operations and implemented a scaled transaction monitoring programme. The court found that the Crown automatically gave low money laundering risk to the players who posed a high-risk level.
Identity Verification to the Rescue
The rising number of fraudulent cases in gaming and failure to comply with the regulations are wreaking havoc on the sector and legitimate players. This is where identity verification comes in, keeping scammers away whilst helping the industry avoid fines by complying with Know Your Customer (KYC) and AML regulations. However, businesses seek security solutions that provide customers with a seamless verification experience. Thus, e-IDV is an excellent investment that caters to specific business needs whilst not compromising user experience. 
How Can Shufti Pro Help?
Shufti Pro offers AI-driven IDV solutions that surpass conventional KYC and AML checks to enhance conversion rates by combatting fraud and ensuring regulatory compliance. We have launched an e-IDV solution overcoming traditional IDV challenges whilst boosting customer experience. 
Here's what makes our e-IDV solution a must investment for gaming and gambling sites: 
Paperless Verification Process:

No documents are required; the user is verified through their unique ID numbers.
Active and Passive Verification:

We do passive and active verification, checking all unofficial and official sources alongside public and government sources.

Faster Processing Time:

Collect, analyse, and authenticate customers' data through an e-IDV process to verify identities within seconds.

Faster Onboarding Rate:

Offers clients an unmatched verification journey with a seamless process and faster onboarding than traditional KYC.

An Unparalleled User Experience:

Our e-IDV solution offers simple integration, fully adaptable to location and language, increasing customer satisfaction and conversion rates.

Fraud Prevention

: Onboard online gamers of legal age, preventing money laundering and fraud.

Globally Compliant:

Our e-IDV solution helps gaming sites maintain regulatory compliance and avoid fines. 
Still confused about how an e-IDV solution protects gaming and gambling from fraudulent activities?