BEFORE YOU GO...
Check how Shufti Pro can verify your customers within seconds
Request Demo
No thanks
Noncompliance with Know your Customer and Anti Money Laundering (KYC) regulations continue to plague the financial sector and regulators aren't holding back. Regulators have charged financial firms with eye-popping monetary penalties for not fulfilling  KYC and AML requirements. Some notable AML fines from the previous year included Santander UK's  £108 million; Deutsche Bank's $7.1 million; and virtual currency exchange Kraken's $362,000.
The non-compliance penalties are high, demonstrating how important it is for financial firms to use the AML verification solution.                                                                
A Quick Recap of Major Events in January 2023 
Financial crimes such as money laundering continue to be a concern for financial institutions and governments across the globe. Several important events took place in January 2023 including new laws and regulations to curb financial fraud. Let's dive deeper into what those events actually were.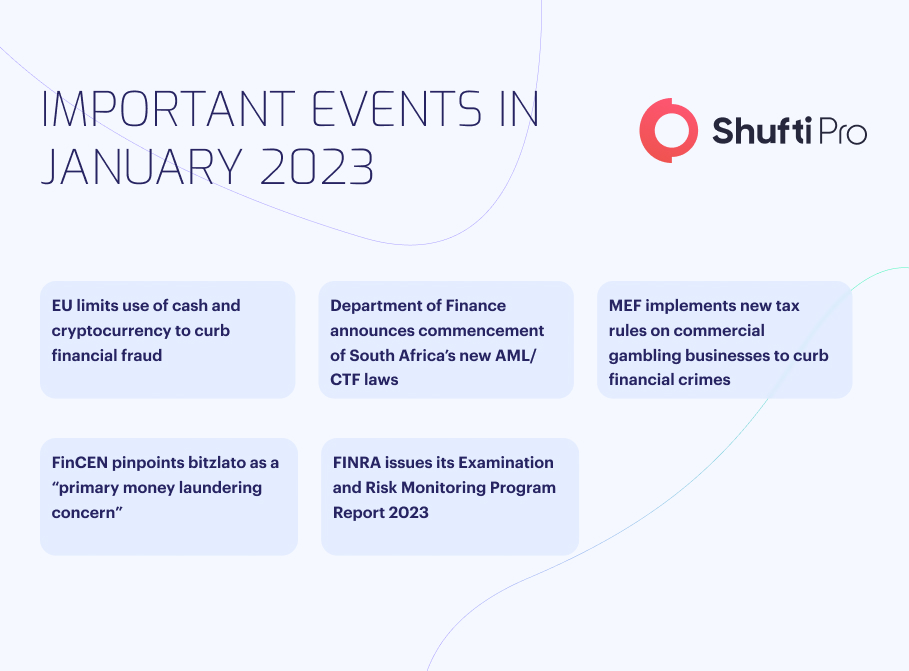 EU Limits Use of Cash and Cryptocurrency to Curb Financial Fraud
The EU (European Union) has issued new AML measures to restrict the use of cash and cryptocurrency in order to curb financial crimes. Under the latest regulations, payments in cash will be limited to a maximum of 10,000 euros with member states having an option of setting fewer thresholds.
The new measures will also impact the gold sector with increased scrutiny of large cash payments and endeavours to make it challenging to use cryptocurrency and other assets for money laundering. "Trying to stay anonymous when buying or selling crypto-assets will become much more difficult," said Zbynek Stanjur, Minister of Finance of the Czech Republic. "Hiding behind multiple layers of ownership of companies won't work anymore. It will even become difficult to launder dirty money via jewellers or goldsmiths."
Department of Finance Announces Commencement of South Africa's New AML/CTF Laws
Department of Finance has announced the starting date for South Africa's latest AML and Countering Terrorism Financing (CTF) laws to better adhere to global standards specified by FATF. 
The department stated that the commencement of regulations will split into two parts:
29 December 2022: Sections 9, 10, 16, 18 to 55, 59, and 62 to 65

1 April 2023: Sections 1, 3, 4, 5, 8, 11 to 15, 17, 56, 57, 58, 60 and 61
Sections 2 and 6 will come into effect from 1st April excluding some subsections.
Finance Minister Enoch Godongwana said that "the laws address deficiencies in at least 14 of the 20 recommendations, including an appropriate enhancement of powers and procedures for regulatory authorities".
MEF Implements New Tax Rules on Commercial Gambling Businesses to Curb Financial Crime
MEF (Ministry of Economy and Finance) has introduced new tax rules on commercial gambling companies to implement AML measures and improve transparency. Gambling businesses must comply with International Financial Reporting Standards (IFRS). 
According to  H.E. Mey Vann, Secretary of the MEF State, the regulations will let players enjoy commercial gambling in casinos; but, casinos will have to change the word to commercial gambling on signboards from 2023 onwards. 
"This is very good from a good governance perspective to ensure transparency and accountability,"  said Vann. "We cannot ask them to change immediately, and so we have to give them some time, and they are related to many factors such as their internal agreements and other legal aspects."
FINCEN Pinpoints Bitzlato as a "Primary Money Laundering Concern"
The US Department of Treasury FinCEN (Financial Crimes Enforcement Network) has tagged a Virtual Crypto Exchange Platform Bitzlato Limited as a "primary money laundering concern" in alliance with illegal Russian finance.
FinCEN specified in the issued order that Bitzlato is a financial firm operating outside the United States of America which plays a major role in CVC (Convertible Virtual Currency) laundering through illicit transactions.
The order mentions that Bitzlato offers Peer-to-Peer (P2P) services and maintains its significant operations and Illicit finance network by facilitating funds and deposit transfers through ransomware groups. The FinCEN's analysis found that their connections include, but aren't limited to, transactions involving Conti and the Russian darknet market Hydra.
FINRA Issues its Examination and Risk Monitoring Program Report 2023
FINRA (Financial Industry Regulatory Authority) issued its "Risk Examination and Monitoring Report 2023" on 10th January 2023. The latest report covers the below-mentioned areas for the current year.
Manipulative Trading

Fixed Income – Fair Pricing

Fractional Shares, Reporting and Order Handling

Regulation SHO
The report also included a financial crime section consisting of three topics:
i) AML, fraud, and sanctions

ii) Cybersecurity and technological governance
 iii) Manipulative trading
Although FINRA's report covers more than 20 regulatory areas, it continues on highlighting market integrity The four referenced areas besides focusing on market integrity also aware organisations of the upcoming strict scrutiny in such areas. 
The report seeks to provide essential guidelines to the broker-dealers so that they can prepare themselves for review and also assess procedures related to business practices and compliance. 
How Does Shufti Pro Fit in the Puzzle?
Shufti Pro's AML screening solution plays a crucial role in helping businesses combat money laundering and other financial crimes and stay compliant with KYC and AML regulations.
 Here's what makes Shufti Pro's AML Screening Solution stand out:
Interactive user interface

Screening within seconds

Screening against 1700+ global watchlists

Enhanced data security

Fully automated monitoring
Want to have a tailored AML verification solution for your business?