Blog
Online ID Verification – A Solution to Tax Refund Fraud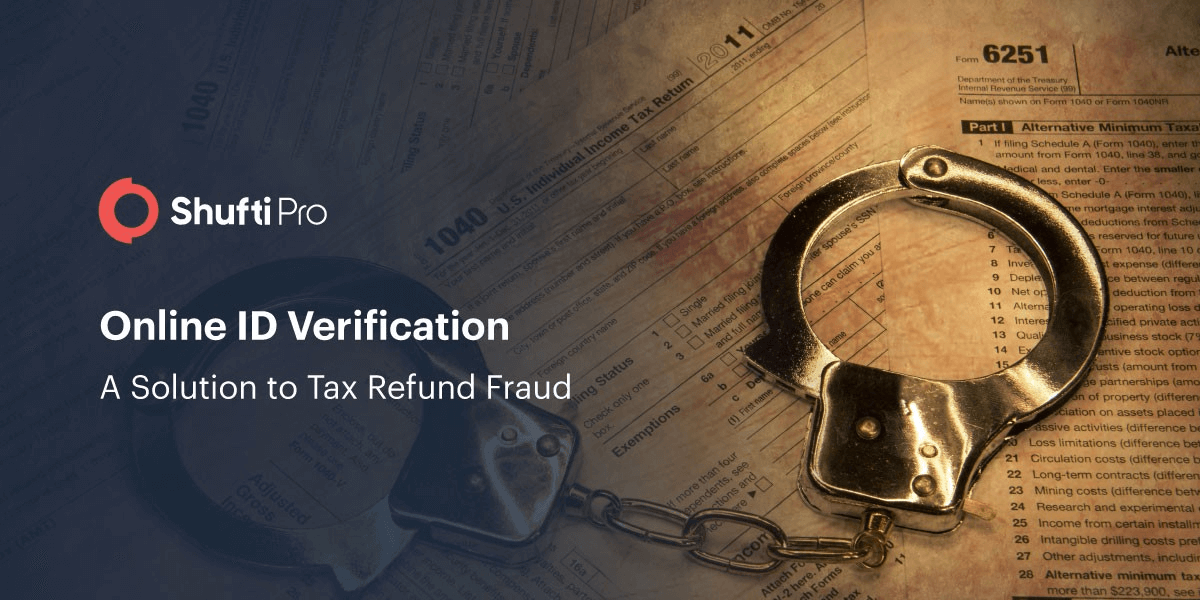 An increase in identity theft and tax fraud have become a major concern these days. Criminals are stealing other people's identities to get access to the benefits that do not belong to them. Governments are under a lot of pressure to eliminate these crimes. In 2019, a resident of St. Louis was sentenced to jail in a case of stolen identity fraud and claimed around $12 million in Tax refund fraud. To fight this issue, we present you with a real-time solution: online ID verification. With the help of an online ID verification service, identity thieves can say goodbye to stealing someone else's tax refund. Here in this blog, we will discuss what tax refund fraud is and how online ID verification services can help at the government level to fight these crimes. 
Tax Refund Fraud
Identity theft occurs when an individual steals someone else's personal information like their name, address, social security number, etc. to practice illegal activity. Tax refund fraud takes place when an individual uses somebody's personal information to file for a tax return in their stead. By filing for a tax return under somebody else's identity, criminals can gain access to their tax refunds. A tax refund is reimbursement of the overpaid money to the government while paying taxes. 
The first-ever recorded case of identity theft in tax return fraud occurred in 1988. According to Los Angeles Times, a man named Donald Penrod was the person to be charged for electronically filing false tax forms and receiving illegal refunds. 
The identity thief uses legitimate taxpayer's identity. They can steal or forge their SSN or ID document and claim their refund early in the season. They usually file for tax refund early in the season so they can steal the refund before the victim files for their tax return. The e-filing for tax returns has made it easier for identity thieves to file for fraudulent tax refunds. Even due to the online systems, people's personal information has become easier to obtain.
One of the ways these identity thieves use to gain somebody's personal information is through phishing. Fraudsters can contact the potential victim through email or telephone and pretend to be from a government organization like the IRS. The victim will trust them and reveal their personal information to the criminals. Another common method of stealing someone's personal information is employees gaining information about other employees through their company databases. They can use this information to steal their tax refund or sell it to fraudsters.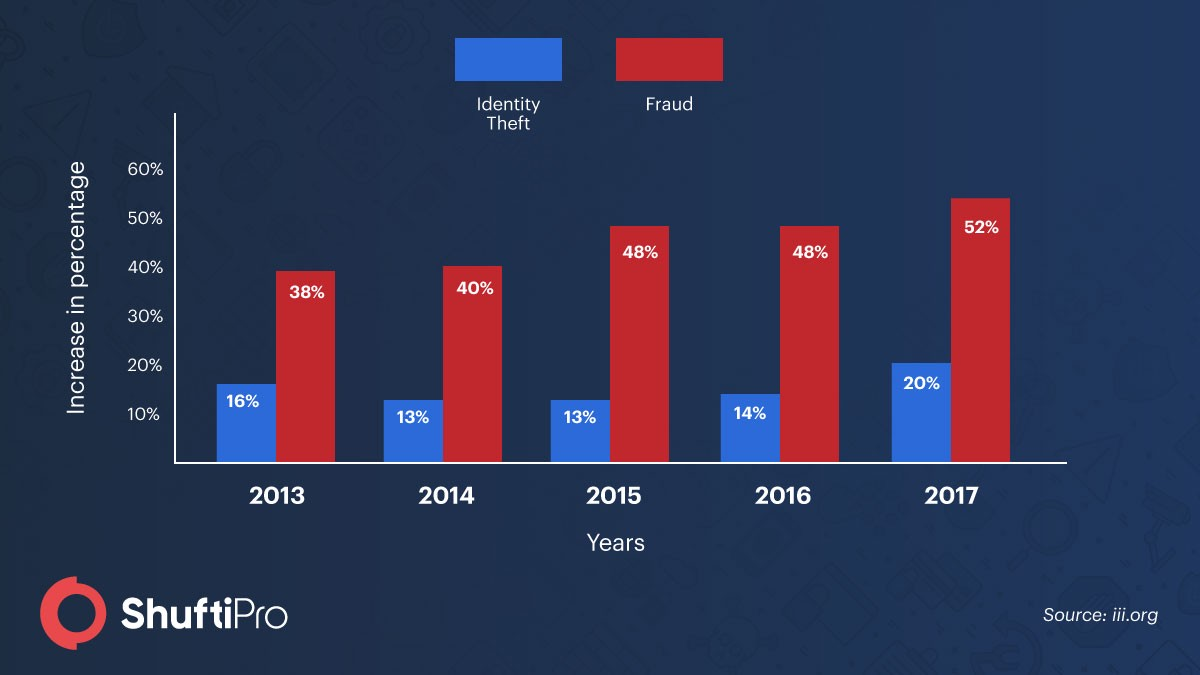 The problem that comes with Tax refund fraud 
Tax refund fraud is a growing issue that cheats the government out of millions every year. U.S. treasury inspector general, J. Russell George, states that identity theft related to tax refund fraud is a "growing epidemic". This is a problem that is rapidly increasing each year. Identity theft fraud is rated number one scam by the IRS. 
According to the U.S. IRS, a 2.2 million fraudulent tax return scam occurred in 2011. Out of which, $6.6 billion worth of tax fraud included identity theft. The department of treasury investigators have estimated that the IRS has paid around $5 billion to identity thieves in fraudulent tax returns in 2011, and around $21 billion in 2016. This shows that the issue is increasing over time. 
The government is not only facing the loss of billions of dollars due to identity theft in tax return fraud, this also affects the economy of a country and its annual national budget. A lot of budget is allotted to fight against the tax return fraud. In the USA, an estimated $5.2 billion annually is spent on fraudulent tax returns. Then there is an additional cost of $31.8 billion spent in screening for millions of tax returns. This issue is extremely unavoidable.
Along with the government, citizens have to face a lot of problems as well. Their identity is being misused in criminal activities. They are cheated out of their deserving tax refund and on top of that, they have to go through the hassle of verifying their identity to government organizations. According to Bill Smith, a managing director of CBIZ MHM's National Tax office, it takes the IRS around 6 months to investigate and then return the fund to the identity theft victim. 
US tax authority
IRS Identity Verification Service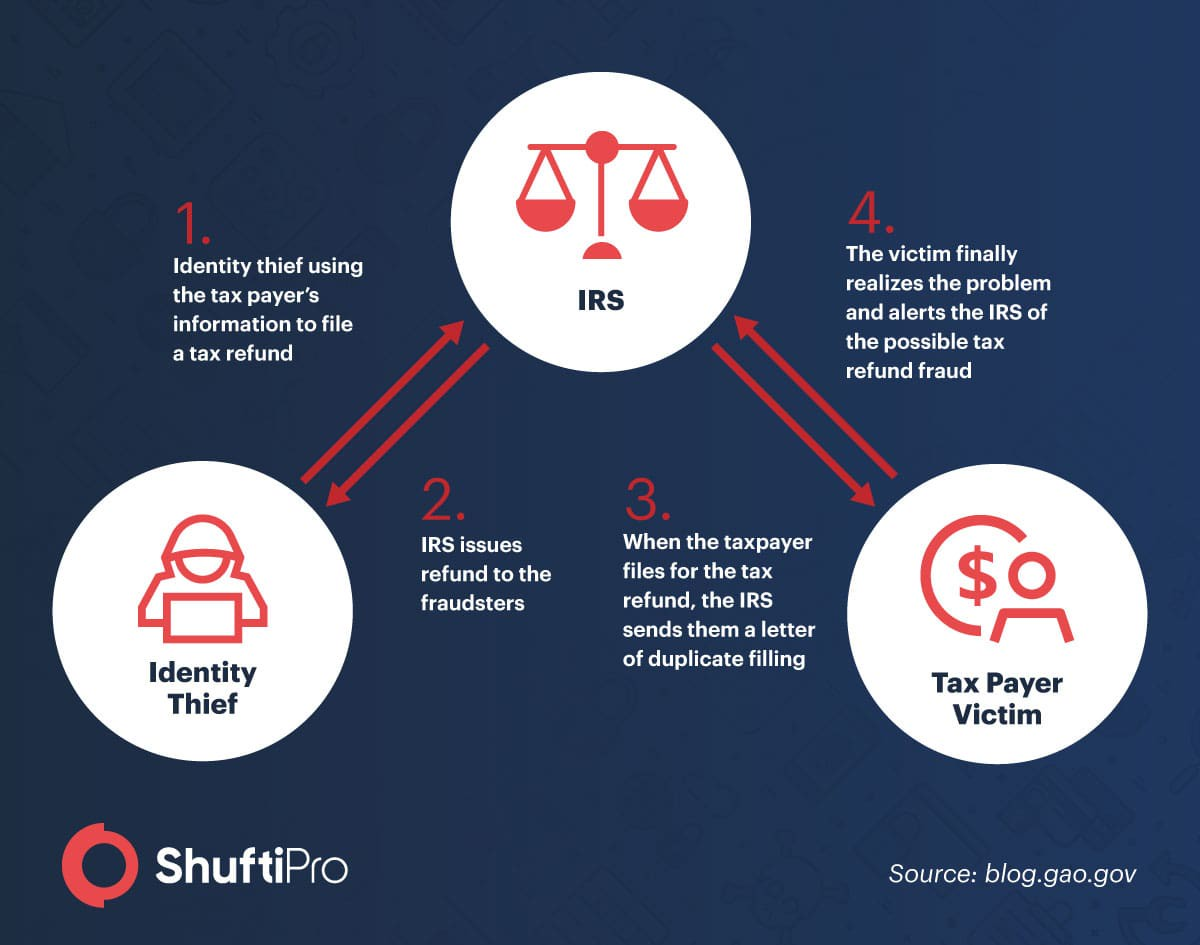 The Internal Revenue Service (IRS) is taking steps to eliminate tax return fraud activities. Although many believe that the IRS is not doing enough, the IRS has its own ID verification process.
In case the IRS suspects fraudulent activity or tax return is filed twice, they will mail a 5071C or 5747C figure to the address provided to alert the person for potential Identity theft. This letter then takes you to further steps to verify your identity. What you need to verify is, your identity is the tax return of the prior year and current year both, your SSN and DOB, account number, credit card, student loan, mortgages, loan info etc., a mobile number, copy of the letter sent by IRS. You will be asked questions only you know and you will be able to answer. If your identity is proven then you will be provided your refund, if not then further investigation will be held to catch the identity thief. 
It takes the IRS a long time to complete the verification process. The growing number of identity theft has made it hard for the IRS to catch and investigate all the criminals. This is why a more efficient and quick solution to this colossal problem is required.
Help of Online ID Verification  
Online ID verification solutions could help government organizations fight tax fraud. 
If in today's world criminals are using technology to commit a crime, then the best way to fight these crimes would be to fight fire with fire. That means, use the technology to halt fraudulent and criminal activities. Artificially intelligent softwares working with human intelligence can be a great asset to the government. Introducing these ID verification services online can help the government to verify the identity of the fraudsters within seconds and the innocent citizens would not have to pay the price of losing their funds and time. 
With the help of online identity verification, the government can gain the confidence and trust of the citizen by quickly verifying and catching identity thieves. It can help the government catch many fraudsters and lower the crime rate. This can save the government a lot of money and time on screening identities. 
How the ID Verification Solution Works
An online ID verification solution ensures that customer businesses are not involved in identity theft. It is to ensure that the individuals are who they claim to be. There are a number of ways identity can be screened. Following is the list of few explained:
With face verification, the citizen will have to upload their selfie or through 3D liveness detection can show their face on a webcam. The face of the person will be matched with the picture provided on their ID document. This way the identity of the person will be verified before they file a tax refund. 
Document authenticity can also be checked through this online Id verification service. A citizen would be required to send a picture of themselves along with their ID document to ensure that they are not using a stolen Identity card or SSN. The face of the person will be matched with the picture of their ID document. The authenticity of the document will also be checked to see that if the document is fake or not. 
In this, the identity of the person is verified through their address information. A person is required to submit their government-issued documents along with a secondary document that has their address on it. With the help of the address verification, the government can also ensure that the important mail contains sensitive information, payments, legal documents to reach on the right address. 
On-Premises Identity verification solution
On-Premises Identity verification solution can give all the access of the government only so the personal information of the citizens cannot be compromised. The service provider will not have access to the data of the citizens. They will only provide the software to the government and the database will be secured by  the government. 
To Sum it Up
This is an easy authentication solution that can verify the end-user within seconds. With the help of AI solutions, the government can verify the identity of all the citizens before giving them access to any kind of tax refund. Anybody's identity can be verified no matter where they are in the world. With just these easy steps, not only the government but citizens can be saved from unnecessary stress, wastage of time, and money. 
Disclaimer:
No warranty is herein provided that the information contained in this document is accurate, up-to-date, and/or complete. In no circumstance(s), does such information constitute legal or any other advice. Any person who intends to use, rely, pass-on, or re-publish the information contained herein in any way is solely responsible for the same. We suggest to verify the information and/or obtain
expert advice
independently if required.