BEFORE YOU GO...
Check how Shufti Pro can verify your customers within seconds
Request Demo
No thanks
Trust is a key factor when it comes to doing business or getting financial services from banks. Although today's emerging technologies provide higher accuracy, they also raise issues of trust among customers who are not aware of the new methods. Businesses and financial institutions like banks are obliged by KYC regulations to gather and process the personal information of their customers for the purpose of identity verification. 
Customers' documents are the ideal source of information to verify their identity, which makes the process to access and extract data from documents a common practice in businesses.
Document Verification as a Security Measure
Banks and businesses see document verification as not only a method for accurate identity verification but also as a way to boost customer engagement. Customer engagement involves more than the monitoring of transactions and verification of identities. It allows businesses to get better insights into the buyer personas and customer trends to offer personalized services and products in the future.
Technologies like Optical Character Recognition (OCR) have enabled businesses throughout the world to streamline and accelerate their customer onboarding process. Considering today's Know Your Customer (KYC) regulations, businesses require various types of identity documents from their customers to verify them using manual or semi-automated methods. Accurate data extraction from thousands of identity documents becomes a problem for businesses when it is done manually. 
Today's online platforms have opted for online customer onboarding methods where they authenticate documents by extracting and verifying the personally identifiable information of clients. In the absence of automated data extraction solutions, processing documents can be quite difficult. One of the reasons is the lack of standardization of documents from different countries. The templates used to create ID documents vary across countries and they also have different languages and items of information to represent an individual.
KYC Verification with OCR 
OCR technology as part of online document verification solutions makes it more convenient and accurate for businesses to detect document types with the help of AI algorithms. It allows financial institutions to perform verification with ID documents from a number of foreign countries with built-in template matching techniques.
OCR technology makes this possible by scanning identity documents and extracting the personal information of customers. 
The process involves converting the scanned images to a suitable format to allow in-detail analysis and storage of documents. OCR is also capable of converting texts in the form of non-Latin characters to Latin in order to perform accurate verification. OCR is used by various businesses to extract the required personal information from any given type of document, including ID cards, driving licenses, residence permits, passports, and utility bills. The information usually extracted using OCR includes document numbers (SSID), the name of the customer, their date of birth, nationality, gender, and the issue/expiry dates of the document (if applicable).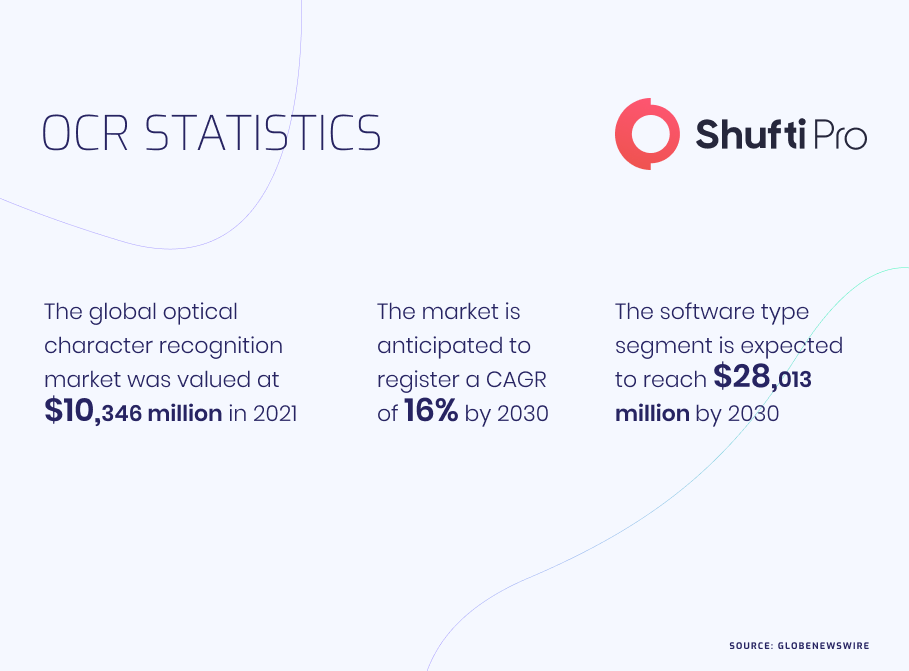 Perks of Employing OCR in KYC Verification
OCR technology is also used to extract information from MRZ (Machine-Readable Zone) codes, which include lines of numbers, characters, and spaces. MRZ codes are usually at the bottom of passports and they are used to compare and verify the customers' personally identifiable information. 
By incorporating document verification solutions with OCR technology, businesses can significantly cut down on operating costs and improve the efficiency of their system. The faster customer onboarding process also accounts for an improved customer experience and retention. Additionally, it improves the accuracy of data extraction by reducing human error and allows businesses to improve their KYC/AML compliance regime.
Speed 
Compared to the long and tiring manual processes of document verification that used to be deployed by businesses earlier, OCR-based document verification is considerably faster and reduces the burden on organizations. Many customers are reported to abandon companies that make them go through long processes of verification. However, OCR technology eliminates these risks for businesses by automating the process of data extraction.
Storage
Collecting and processing customers' information are not the only challenges that businesses face. They also need to store and protect their client's personal information. OCR provides complete control of the information in the hands of the company by converting the extracted data into searchable formats like .doc,.rtf,.txt, or pdf. 
OCR also allows better management of past data as it eliminates the need for paper documents. The information is stored in digital format and can be kept safely for as long as the company desires.
Reduced Costs
As OCR technology reduces the need for manual work, businesses are enabled to manage their operations with fewer employees. Having lesser employees working on verifying customers' documents means that the company can significantly cut down on costs. They can also use those employees for other important tasks.
That being said, even though OCR provides a cost-efficient way to verify documents as part of KYC verification solutions, there are a few drawbacks as well. For instance, there are OCR services that make use of cloud storage and go against data privacy regulations like the EU's General Data Protection Regulation (GDPR). Moreover, the initial versions of the technology had issues with images of identity documents that were taken with the wrong camera angles, or the quality and brightness of the image. 
Shufti Pro's OCR for Business
For this reason, it is critical for businesses to choose the right service provider for document verification. Shufti Pro's KYC verification offers mobile and web camera integration for OCR through different SDKs and allows accurate scanning. The technology used in the document verification solution contributes to convenient customer onboarding and a boost in conversion rates. 
Shufti Pro's OCR-based document verification solution is also capable of extracting information from documents scanned in low light. Shufti Pro is GDPR compliant and allows businesses to stay compliant with other data privacy regulations like the CPRA and CCPA. Businesses are advised to integrate Shufti Pro's OCR for business with their AML compliance programs to extract maximum benefits. Data extraction and processing are regular processes managed by enterprises around the world. Processing customer data in huge volumes can often become a challenge for online businesses in the finance, banking, insurance and healthcare sector. 
Shufti Pro's OCR for Business combines artificial intelligence to perform instant image-to-text conversion of paper-based documents into digital PDFs. The solution extracts information from a wide array of documents including handwritten, business records, official letters, invoices etc. Shufti Pro's OCR has multilingual support of over 150 languages with global coverage. With a remarkable accuracy of more than 90%, online businesses can efficiently optimise their customer data.
Get in touch with our experts and know everything about optical character recognition (OCR) for businesses.