BEFORE YOU GO...
Check how Shufti Pro can verify your customers within seconds
Request Demo
No thanks
Social manipulation in online dating platforms targets numerous users and their personal information. In the US, 24,000 individuals reported losses totalling $1 billion due to romance scams in 2021. The scammers you find on dating sites are experts in social manipulation, which makes them especially hard to catch. We'll go over how dating platforms and their users can protect themselves nonetheless. 
These scams seriously affect both dating platforms and their users alike. For users, it can mean heartbreak and bankruptcy, as just one successful romance scam can steal millions. For dating platforms, meanwhile, failure to fend off scammers can lead to severe reputational losses.
Online Dating Industry and Prevailing Crimes
With the COVID-19 outbreak, people across the world were forced to stay at home, this made them route toward digital platforms. This became the key driving force behind the rise in online dating scams and it created whole new opportunities for the scammers to fool victims. However, in previous years cybercriminals used romance as a hook to trick people into false investment schemes, particularly those playing with digital crypto money.
According to the Federal Trade Commission (FTC), digital currencies were most used as payment gateway, collectively around $139 million was lost in 2021. However, the amount is almost five times more than the figure reported in 2020. Additionally, the authority also highlighted that the majority of the victims were aged between 18 to 29 years.
Online scammers use dating platforms to lure people by pretending to be potential romantic partners. To accomplish this, fake profiles using fictional identities or false data are created over the digital websites along with social media platforms. However, according to the Federal Bureau of Investigation, the internet is making romance scams easy as it is quite easy to pretend to be anybody one wants to be, criminals can be living anywhere in the world and victimise innocents. In addition to this, romance scammers also surround themselves with entities that have ties with businesses, lawyers, doctors or any other professional having a strong background. For example, a scandalous con artist from the Netflix original series Tinder Swindler has a team of fake characters, including children, a wife, a bodyguard and a business partner. Thus, an organised crime group can also pretend to be an individual in search of love.
Therefore, the governments and regulatory authorities across the globe are collaborating with each other to take handsome initiatives to launch public awareness drives to alert individuals along with online dating platforms regarding the severity of romance scams and their consequences. The law enforcement agencies, including the U.S. The Treasury Department's Financial Crimes Enforcement Network, the Commodity Futures Trading Commission and the Consumer Financial Protection Bureau are also reaching out to the digital users to provide the essential information on how to determine the presence of romance scammers, aiming to reduce the chance of online fraud.
Top 4 Emerging Romance Scamming Schemes
Emergency Schemes
This is the most occurring method used by romance scammers. The criminals every time come up with realistic stories, particularly a tragic one that always looks legit. Such stories include how they adopted a child and need funds for their welfare or being indulged in chronic disease and need cash for instant medication. While these purposely built stories seem hard to believe, scammers exploit victims through their weak points for months to make them believe in their words.
Blackmailing 
After making victims fall in love, scammers usually ask to have a video call. During the call, criminals may pressurise them to do illicit or ethical acts in order to get them recorded. Once the romance scammers accomplish their illicit wishes, then they claim to have made a video recording and blackmail victims unless they send money.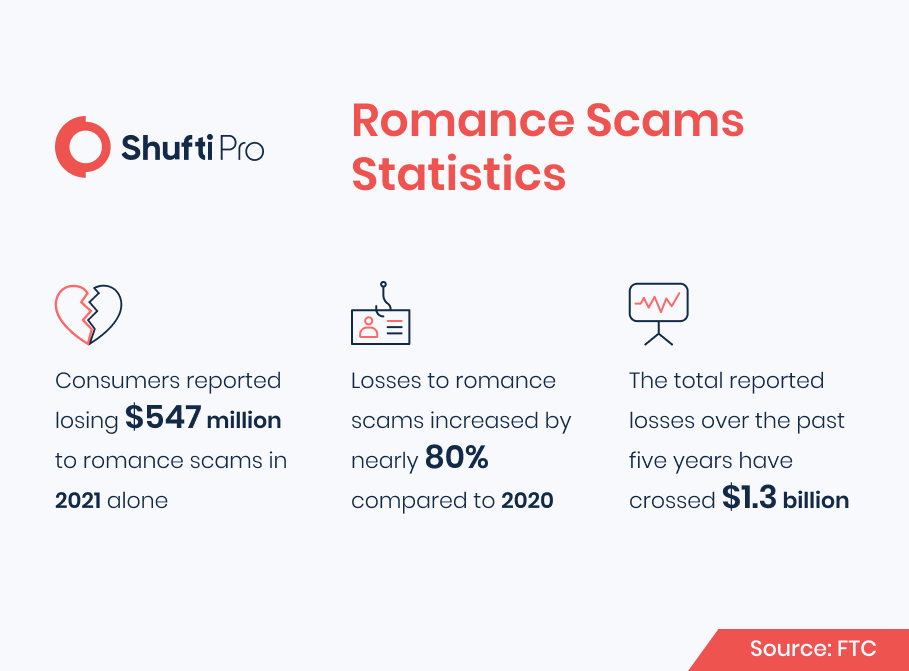 Money Muling 
This is a kind of money laundering in which the criminals hire individuals, usually students, to route illegal earnings. Money launderers send funds, cryptocurrencies, valuable assets or mobile phones to the money mules and ask them to resend them when they are told to do so. This form of scam is particularly dangerous for the victims' security as they can be involved in illicit financial dealings in or across borders which may lead them to breach regulatory obligations.
Phishing Attacks
Romance scammers send malicious links to victims through chats or emails with an aim of getting their hands over their personal data, particularly bank account credentials. For example, criminals can send a link that redirects to social media pages. In reality, the link gets directed to fake websites. Other than this, links with a message asking a victim to authenticate their account are also trending. Once the victim opens the links, they are requested to input personally identifiable information including ID card numbers, pins, etc. thus, the victims' information can be used for opening a bank account or requesting a loan under their name.
How Dating Platforms can Make Operations Secure?
To secure online dating activities from cybercriminals, the platform needs to integrate robust identity verification solutions into its existing security systems. It's the regulatory obligation along with social responsibility on such websites to safeguard their customers from getting victimised. Here are some essential tips dating platforms can go for to overcome the risk of crimes;
Building trust on the online platform. Daters will be largely attracted toward those sites that are known to be trusted as they have a modernised security system that ensures only legit entities get on board.

Take necessary steps to reduce the instance of account takeovers or unauthorised access to legit accounts. Customers should feel safe and have peace of mind that their personal information remains secure.

To improve customer experience, a well-managed space keeps away the toxicity and bullying to a minimum, increasing the client retention rate.
In addition to this, as the dating platforms' customers are not familiar with ID verification procedures, businesses need to integrate processes that have the potential to onboard daters seamlessly. Furthermore, as the scams are on rise, customers always have concerns regarding the data and privacy protection while providing their personal information, that is why emerging tech-based solutions are paired with highly secured databases and serves that store data while safeguarding it from data breaches.
Here are some of the critical components of identity verification solutions that can help to determine the presence of scammers while providing customers secure services;
Identity Document Authentication:

Anti-spoofing checks help to verify documents with high precision. With this method, the platform can also restrict underage users from getting access to services.

Liveness Detection:

With the biometric checks sites can ensure that the real customers get on board and are present during the account opening process. Additionally, users having multiple accounts can also be determined.
Geolocation and Device Assessment:

  with the KYC checks, dating platforms can verify the country name, code, and

IP address

along with other parameters that can assure the customers are not from high-risk jurisdictions.

Face Verification:

The online daters need to scan their face in order to get verified status. This helps online platforms to identify suspicious activities, while assures that scammers never get unauthorised access.
How Shufti Pro Can Help
Shufti Pro's state-of-the-art identity verification solution can help online dating platforms to verify customers' identities in real-time and helps them onboard legit clients' while filtering out the romance scammers. Powered by thousands of AI models Shufti Pro's ID verification solution generates verification results in less than a second with 98.67% accuracy in less than a second making it a viable option for online dating platforms.
Want to know more about ID verification services for dating platforms?