BEFORE YOU GO...
Check how Shufti Pro can verify your customers within seconds
Request Demo
No thanks
In November 2021, the market capacity of the cryptocurrency went over $3 trillion. With the increase in the number of crypto users and institutional interest in this industry, the drive for regulatory authorities and governments to impose regulations is accelerating. However, any legislated law requires careful consideration. As the industry is still new and poses distinctive traits that have never been dealt with before, there are various variations and complexities to consider. Financial regulation. Therefore, numerous governments have different models, perceptions, philosophies, and biases on enabling, restricting, banning cryptocurrencies, or either making them legal tender.
On another hand, an economic drive for promoting and innovating cryptocurrencies is also becoming mainstream. While crypto regulations are getting more sophisticated, crypto service providers need to understand the obligations and their objectives. For crypto exchanges to succeed in the long term, it is necessary to create customer identification programs and AML controls to take a competitive advantage over non-compliant exchanges. Thus, holistic, robust, and effective compliance solutions are essential as they can protect customers, ensure cryptocurrencies remain secure and restrict market manipulation.
Cryptocurrency Market Growth  [2022 Overview]
Increasing digitization across the globe represents one of the significant factors driving the growth of the cryptocurrency industry. In addition to this, the ease of accessibility and rising penetration of internet connectivity in daily operations are also creating a positive outlook for the crypto market. Moreover, approval of purchase, sale, trade of cryptocurrencies, and legalization in major developed jurisdictions are also becoming the reason for global adoption. However, due to the low transparency provided by blockchain and distributed databases, there is a high risk of suspicious or redundant transactions along with financial crimes due to market manipulation. 
Thus, crypto service providers have also become sophisticated as they are effectively monitoring the changes that are being made during the transaction in real-time, which enhances the data security and immutability of the transactions. In addition to this, the convenient access to digital crypto trading platforms and the increase in the number of smartphones are also significantly contributing to the market growth. Other factors include the skyrocketing market capitalization of the industry. 
It's been over a decade since bitcoin emerged, yet the regulations are not clear. But it varies jurisdiction-wise, some countries are making them legal tender, whereas, some countries are banning them. However, in El Salvador, Bitcoin is now a legal asset. On top of that, hundreds and thousands of crypto tokens backed by different blockchain models, structures, and use cases are also emerging. New entry tokens like stablecoins, DeFi, and NFTs are becoming popular which is bringing up whole new regulatory considerations. However, due to the diversity in the crypto regulations regime, there is a lot of confusion that unfortunately leads to non-compliant.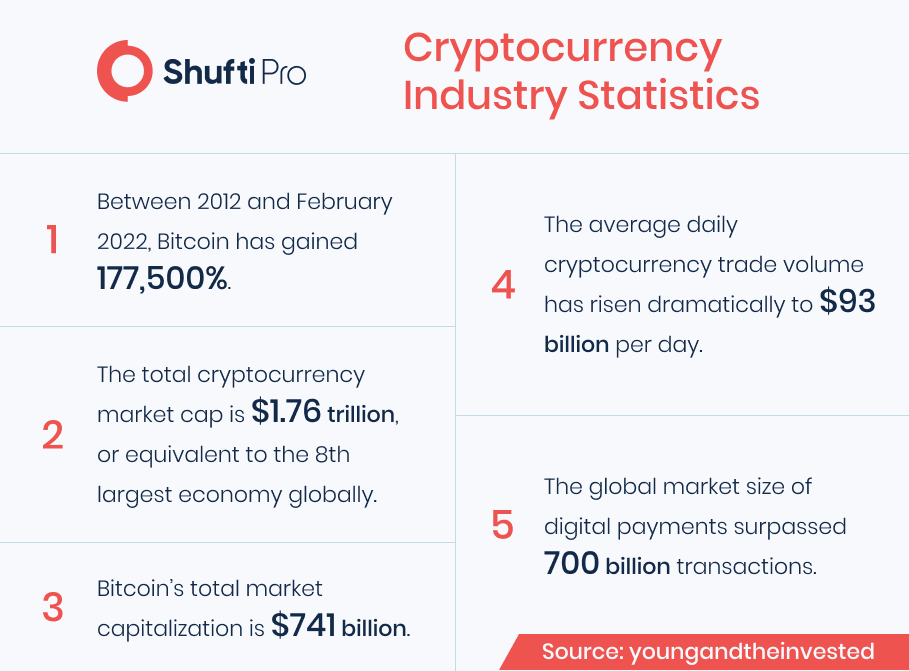 Global Crypto Regulation 2022 
U.S. Crypto Regulation 
In the US, different lawmakers and financial regulatory bodies, including the Department of Treasury (DOJ), Justice and Homeland Security, the Securities and Exchange Commission (SEC), the Commodities Futures and Trading Commission, and Federal banking agencies are working together to examine the issues and to develop a rigid framework to secure the ecosystem. Therefore, heaps of crypto bills are streamlined in congress. 
In the country, bitcoin exchanges are titled money service businesses. FinCEN issued guidelines regarding virtual currencies, person administering, and exchanges. As a "financial institution," MSBs are required to comply with Bank Secrecy Act laws and regulations, including Anti-Money Laundering (AML) requirements and Know Your Customer (KYC) rules.
In addition to this, the Financial Action Task Force (FATF) has also published 40 Recommendations including the travel rule which is a regulatory obligation for the crypto service provider operating within the US borders. Under the travel rule, cryptocurrency exchanges need to gather, hold, and shareowners as well as beneficiary information to determine the true identities as well as to detect suspicious transactions. With the present data, risk profiles can be made which can help exchanges to monitor the customer's activities along with transactions.
EU Crypto Regulations 
The future of cryptocurrencies in the European Member States is secure, as the EU regulations are becoming more evident.  EU regulatory bodies have come up with various anti-money laundering directives with an aim of securing the crypto ecosystem and reducing the risk of money laundering and terrorist financing in the EU territories. Under the Sixth Anti-Money Laundering Directive (6AMLD), all kinds of crypto service providers and exchanges are obliged to make in-house AML control systems along with the obligations that have emerged with KYC rulebooks. In addition to this, to make the regulation more rigid and unified, the European Commission has also developed an action plan called Union Policy on preventing money laundering and terrorism financing. However, back on September 24, 2020, the EU proposed the Regulation on Markets in Crypto Assets (MiCA) to provide cryptocurrencies a legal status across the EU member states. The aim is to assist the exchanges, promote digital currencies, and provide investors or individuals with secure investment opportunities.
Canada Crypto Regulations 
The government of Canada has still not legalized digital currencies. But can be used to sell or purchase goods and services in online or physical stores as they accept them regardless of what the government says. However, Canada has been proactive regarding cryptocurrencies, primarily governing them under provincial securities laws. Canada has also brought crypto analysts that is dealing with cryptocurrencies under the Proceeds of Crimes Money Laundering and Terrorist Financing Act since 2014, while in 2017 the British Columbia Securities Commission registered the first cryptocurrency-only investment fund. In August 2017, the Canadian Securities Administrators (CSA) published a notice on the applicability of existing securities laws to cryptocurrencies. In addition to this, the Canada Revenue Agency has taxed cryptocurrencies since 2013 and Canadian tax laws apply to cryptocurrency transactions.
How Shufti Pro Can Help 
To fight money laundering and various other sophisticated financial crimes,  cryptocurrency exchanges need to implement rigid AML checks and customer identification procedures in place. In addition to this, These practices have been endorsed by financial watchdogs as well as have shown encouraging results in reducing crimes.
Shufti Pro's state-of-the-art Anti-Money Laundering screening involves the verification of an end-user by screening them against watch lists compiled by regulatory authorities such as the FATF, EU, FINTRAC, AUSTRAC, and others. It involves authenticating the user information against 1700+  watch lists, global sanctions, and Politically Exposed Person (PEP) lists in less than a second with 98.67% accuracy. As a result, fraudulent customers are detected and compliance targets are easily met. 
Need more information on AML for cryptocurrencies? Talk to our experts right away!