BEFORE YOU GO...
Check how Shufti Pro can verify your customers within seconds
Request Demo
No thanks
Cleaning black money has always been the incentive behind every financial crime. Owing to this fact, the real estate industry is notorious for all the right reasons. While most of the industry is riddled with loopholes, perpetrators continue their nefarious activities hiding behind the weak infrastructure. In this regard, authorities like the European Union have laid out regulatory obligations for real estate businesses to reinforce due diligence standards. While developing anti-money laundering policies and procedures enable the real estate to address most of the challenges, understanding the root causes and eliminating them is the way forward.
This blog gives a detailed insight about real estate crimes, the reasons this industry is so attractive for bad actors, and how businesses can combat financial crime by employing state-of-the-art compliance practices utilising digital solutions.
What is Real Estate Money Laundering?
Financial organisations are not the only entities that encounter financial crime. In real estate, criminals obtain illegitimate cash from different sources to buy property, which they later sell to receive clean money. They carry out money laundering by switching multiple income sources leaving behind an untraceable money trail.
Reasons Why Real Estate is Lucrative for Criminals
Purchasing a 10,000 square ft manor to clean black money seems to be a good option. Fraudsters use various methods such as opaque financing, Ponzi schemes, and layering to deceive the legal financial system. Real estate is attractive for bad actors because of two reasons:
i- Massive return on investment
ii- It acts as a haven for money laundering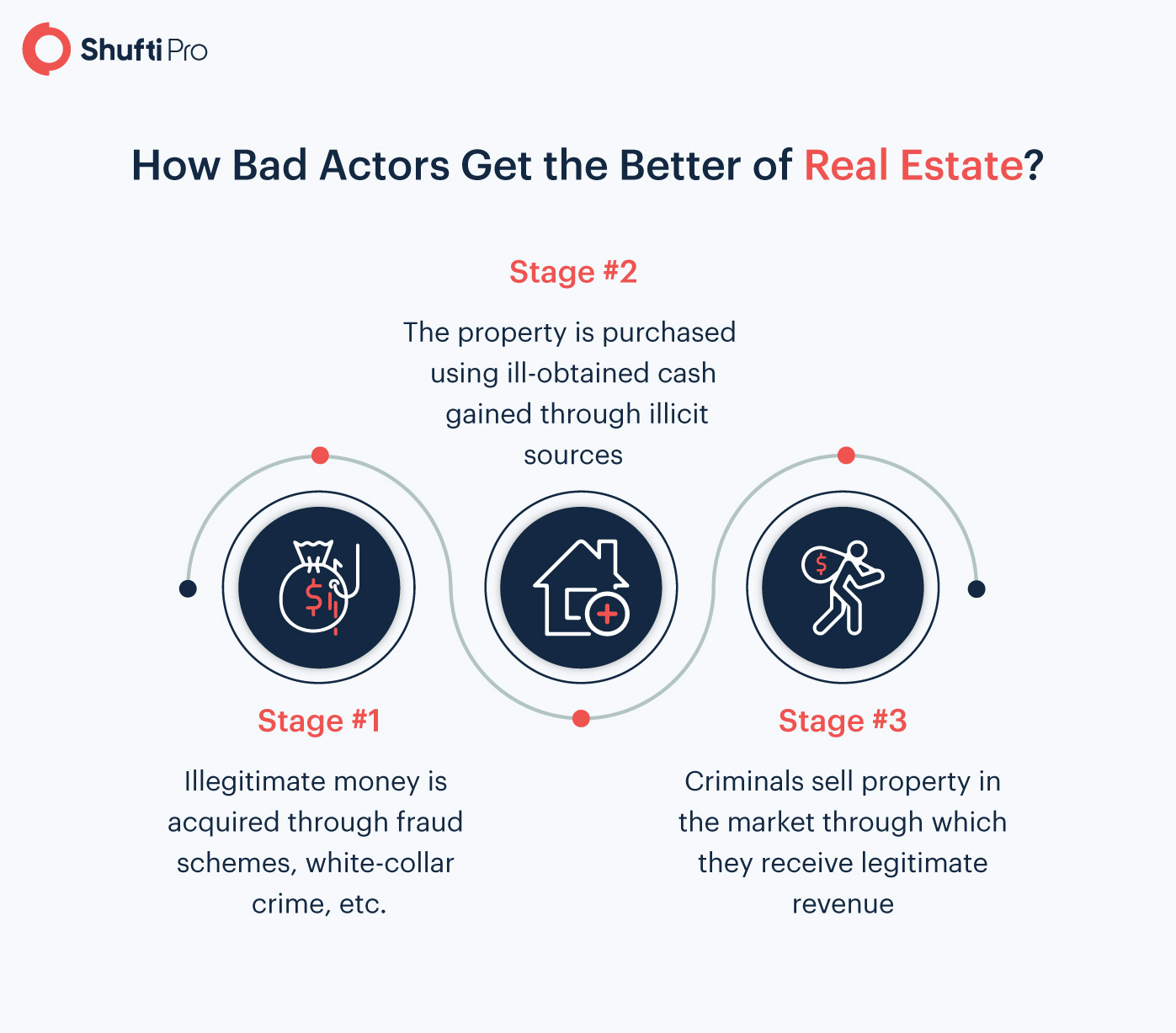 Below are listed some reasons which attract criminals to launder money through the real estate market. 
Lack of Regulatory Standards
The fact that unlike the financial industry, there are many businesses operating in real estate that do not qualify as a financial entity, therefore, are considered exempt from regulations. There are limited scrutiny and anti-money laundering procedures for such businesses since they qualify as a
Designated Non-Financial Business or Profession (DNFBP).
Return on Investments
Since real estate is considered a relatively stable investment, there exist various means of making a decent amount of money. Renting out property, and selling it out when the odds are favourable can maximise profits and the return on investment in the long run.
Money Laundering Opportunities
As a rule of thumb, real estate prices increase over time due to a surge in customer demand. This offers a great opportunity for criminals to bank on and make huge sums by laundering money. As the prices go up, legitimating massive sums of money in transactions becomes easier.
Subjective Bracket for Pricing
Real estate is subject to location and market standards. For instance, a property in Manhattan would cost relatively more than one in North Dakota or Alabama due to commercialisation, lower interest rate, and the soaring buyer interest. This variable pricing can allow fraudsters to bag enormous black money.
Money Laundering Methods in Real Estate
Criminals employ numerous ways and means in an effort to gain financial profit through real estate. Here are some methods commonly used to clean dirty money in the industry:
Under & over valuation of property
Frequent reselling of property
Running shell companies
Buying real estate for criminal proceeds
Mortgage and brokerage firms as a source of illegal funds
Using intermediary facilitators and third-party platforms
Why are AML Standards Necessary for Real Estate?
Real estate businesses have the same financial requirements as that of financial institutions such as banks, insurance firms, credit unions, etc. Third-party brokers, real estate management, consultation firms, and similar businesses are directed to perform Know Your Customer (KYC) verification of all onboarding customers to prevent bad actors from associating with their business. Complying with these due diligence practices not only allow the real estate industry to carry out transparent operations but also to avoid violation penalties by financial regulators.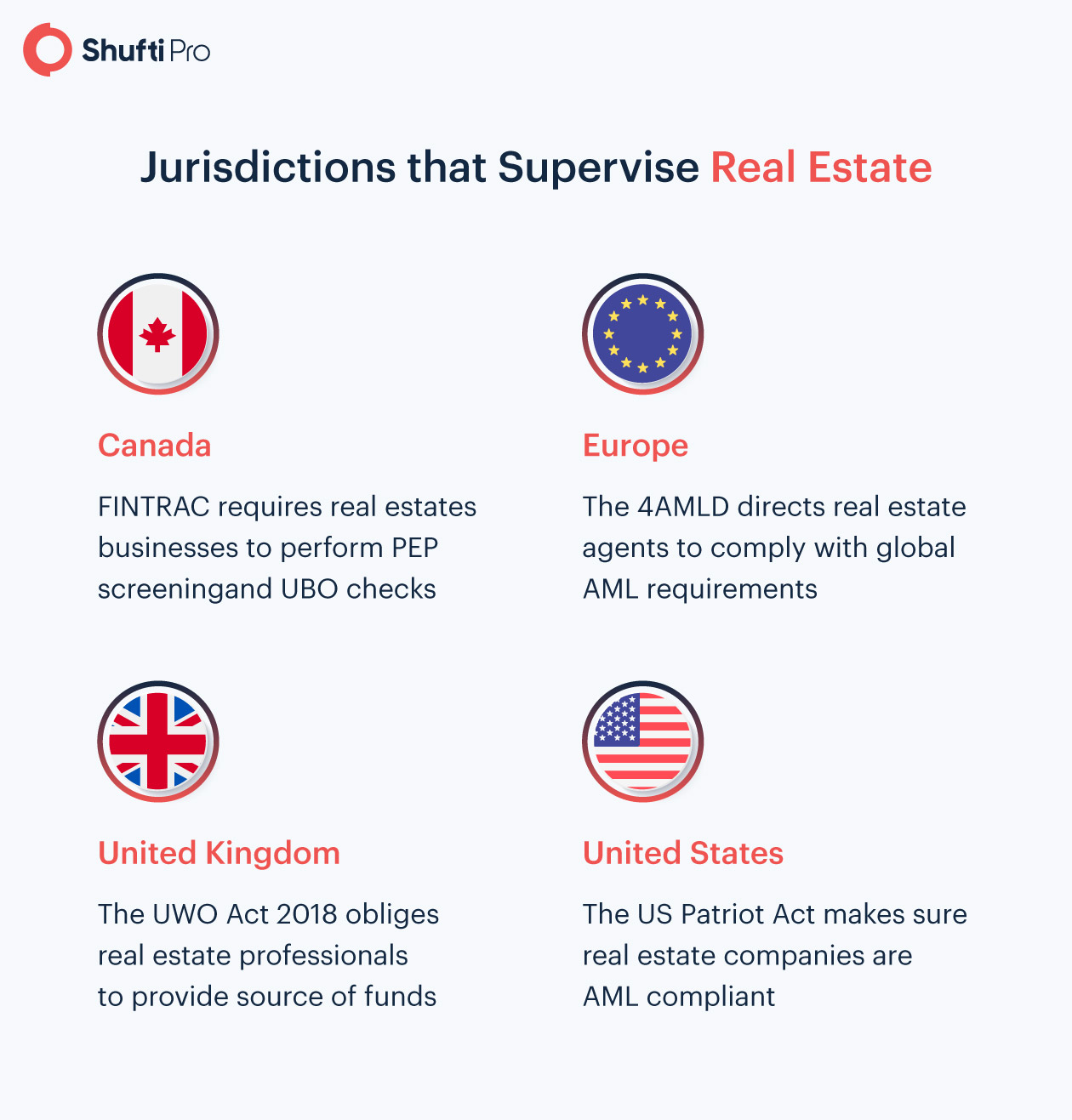 Know Your Customer
KYC policies and procedures are at the core of any business entity.  Using these standards, organisations and SMEs can instantly verify customers and determine if they are honest in what identity information they provide. Real estate businesses, through robust identity verification, can check if any criminal is using false or synthetically-created user data to open an account, restricting access to business services. 
AML Screening
Screening potential real estate customers against PEP (Politically Exposed Person) lists and global watchlists can reduce the risks of money laundering and other financial crime. Since individuals found on these sanction lists are either high-risk or carry a significant risk of potential crime, screening them can allow businesses to fall into the wrong hands.  
FATF's Take on Real Estate Crimes
The Financial Action Task Force has issued guidelines for the real estate sector in order to combat money laundering and terrorist financing. The Recommendation 22 states that real estate agents, businesses, and firms fall under the definition of DNFBP and are directed to follow the customer due diligence standards outlined in Recommendations 10, 11, 12, 15 and 17.  
As per the guidelines, real estate agents need to follow a risk-based approach considering proper assessment of their client's transactional data. These requirements are also relevant when dealing with other DNFBPs such as lending and mortgage service providers, notaries and property agents. 
Shufti Pro – The Ultimate Solution for your Real Estate Needs
Businesses offering services in the real estate market have regulatory obligations set forth by financial watchdogs. When it comes to the digital space, the challenges add up since cyber actors are always on the move with their heinous motives. Shufti Pro is a UK-based IDV provider that offers a robust AI-powered AML screening solution for real estate businesses enabling them to remain compliant with industry-specific regulations. Businesses can effortlessly identify suspicious and high-risk customers by cross-checking them against 1700+ watchlists to stay compliant with global due diligence standards. 
Are you a business that deals in real estate? Find out how to comply with global regulations with our customer-centric KYC/AML solution.