BEFORE YOU GO...
Check how Shufti Pro can verify your customers within seconds
Request Demo
No thanks
COVID-19 has brought enough changes to make the world smarter. Businesses and customers migrating from the analog to digital space have created a buzz around different industries like tourism, healthcare, and retail. Considering the current global health scenario, digital-only solutions for COVID test verification started becoming popular in the market. Banking on the technology trends, the healthcare and hospitality sectors are now adopting purpose-built apps to verify the vaccination data of end-users. Although this method is reliable and effective, it comes with a fair amount of data privacy concerns.  
What are Vaccine Passports?
Tourism-reliant economies took the blow in 2020 and safe revival of global travel and tourism is inevitable to prevent any further damage. Vaccine passports are anticipated to be the tool that would bring life back to normal.  To stop the virus from spreading in public spaces, effective verification of vaccine passports is essential.

Vaccine Verification Apps – Problems & Challenges
The fact that COVID report verification is becoming increasingly important has created the need for reliable digital-only solutions. From health pass initiatives to digitally verifying vaccine certificates, the world has seen some drastic changes. COVID vaccine verification apps are increasing in number on a daily basis to resume the normal travel and tourism operations.  Although such innovations could help us get back to normal, there are some concerns related to how the vaccination data is shared and processed.  
Privacy Fears & Data Sharing
When it comes to digitized health solutions, it is necessary that user trust is a top priority. In this regard, healthcare service providers need to develop clarity on what personal information they process about their customers. The same applies to vaccine verification apps where users are concerned about how their personal data and address information is processed and who can access medical records. 
Privacy and data sharing concerns have surfaced in other countries as well where digital apps for passport verification were introduced. One such example is the government-led vaccine verification program, Green Pass, which is under audit due to being closed-source and memory inefficient for smartphone devices. A similar case emerged in Singapore where law enforcement agencies faced the music for violating privacy policies of contract tracing apps. To address these problems, vaccine verification apps need to be transparent towards data sharing and processing of personal information.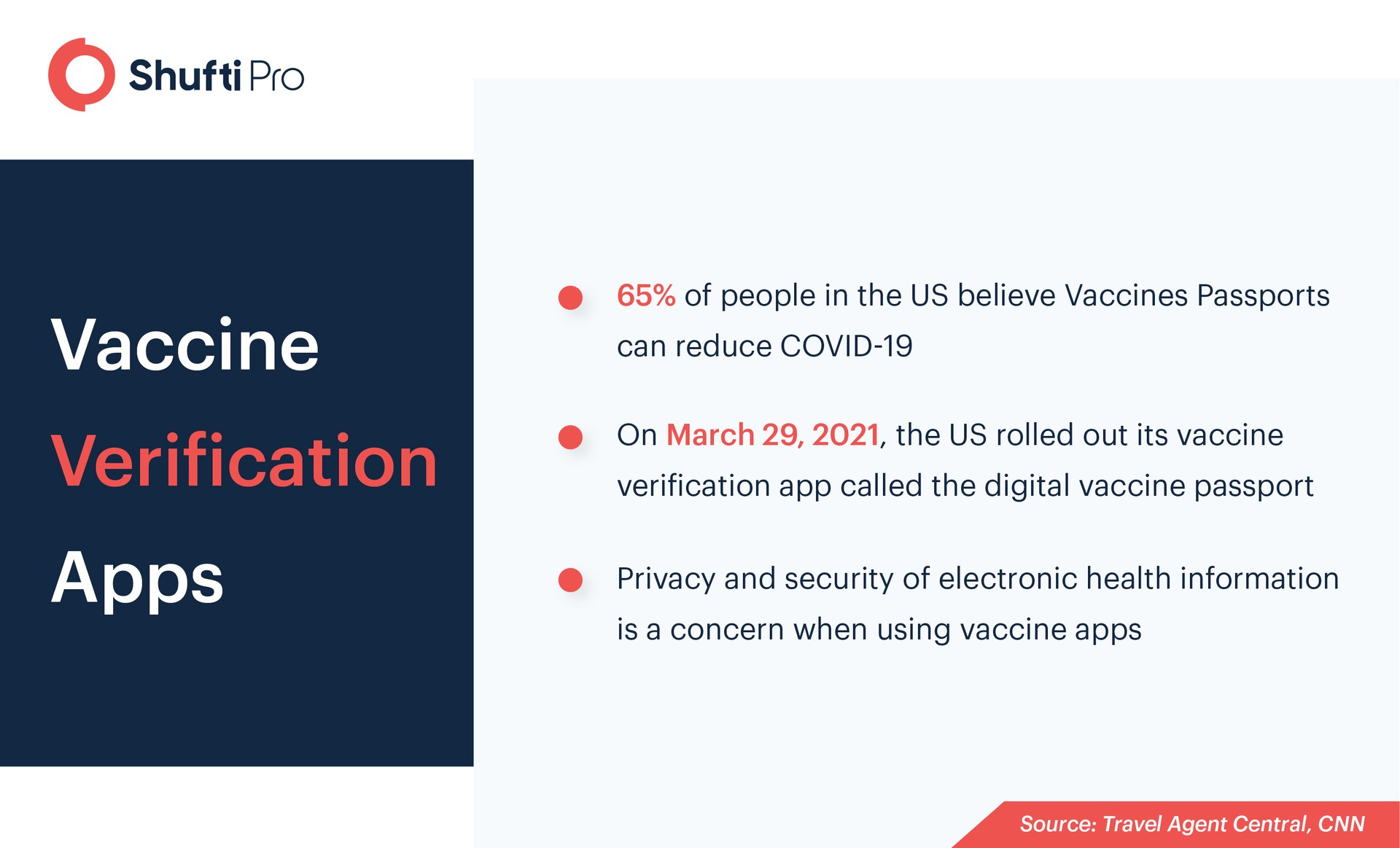 Counterfeit Vaccine Cards
What else does an identity thief need except for a forged document to deceive a security system? The heightened interest in COVID tests and vaccine cards lead to an increase in fake documents that are being used as proof of verification. This is especially common in the travel industry where tourist authorities need to make sure the passengers are COVID-negative. According to the latest news by NBC Chicago, blank cards sold on well-known online platforms are now being used to create counterfeit vaccination cards.
Vaccine verification apps are struggling to ensure if the document submitted by the end-user is genuine or not. Lack of proper document authenticity checks for vaccine passports and cards is alarming not only for other tourists as well as for the verification personnel. This creates the need for making vaccine verification apps more robust through the use of artificial intelligence. 
The Digital Divide
Telemedicine or care-at-distance methods became popular with the advent of COVID-19. This internet access gap is subjected to the way healthcare services are offered to end-users. Vaccine verification solutions provided by different service providers in the market may use unparalleled ways to obtain COVID vaccine information. This can create challenges for the end-user specially if one is a tourist and needs to use a different app each time they travel abroad. 
Currently, there is no standard process for the passport verification apps development, which creates a gap in KYC protocols practiced in the tourism sector. 
A Purpose-built Approach Towards Vaccine Verification
ID verification is one innovation that can redefine the COVID vaccine authentication experience for the end-user. It comes with efficient and reliable tools to identify and take down illegitimate vaccine passports and fake COVID-19 test reports. This allows tourism businesses to onboard COVID-free individuals and the healthcare sector to maintain data privacy standards. 
All-in-one ID and Vaccine Verification in a go
The benefit of ID verification is two-fold: (i) If a tourist uses fake or compromised vaccine documents to bypass COVID checks at security checkpoints, they can be held accountable. (ii) Healthcare service providers can verify personally identifiable information on COVID vaccine cards and reports to verify users. Today, state-of-the-art IDV service providers perform detailed checks to look for document authenticity, which beats old-school and manual verification on all grounds. These checks come with the support of artificial intelligence that offers a reliable mechanism for identity verification.     
No-installation Solution
Since COVID test verification is mandatory when visiting public spaces like malls, cinemas, and transport terminals, a quick and on-the-go solution is all that the end-user needs. Digital COVID Pass verifies vaccine reports and certificates in minutes without the need for any tedious setup or pre-installation. All the user needs to do is upload a photo of their vaccine passport and a selfie for verification. The solution uses AI-based models to extract information relevant for the COVID verification keeping intact data privacy policies. This way, the user can authenticate vaccine cards without bothering about their identity information being compromised.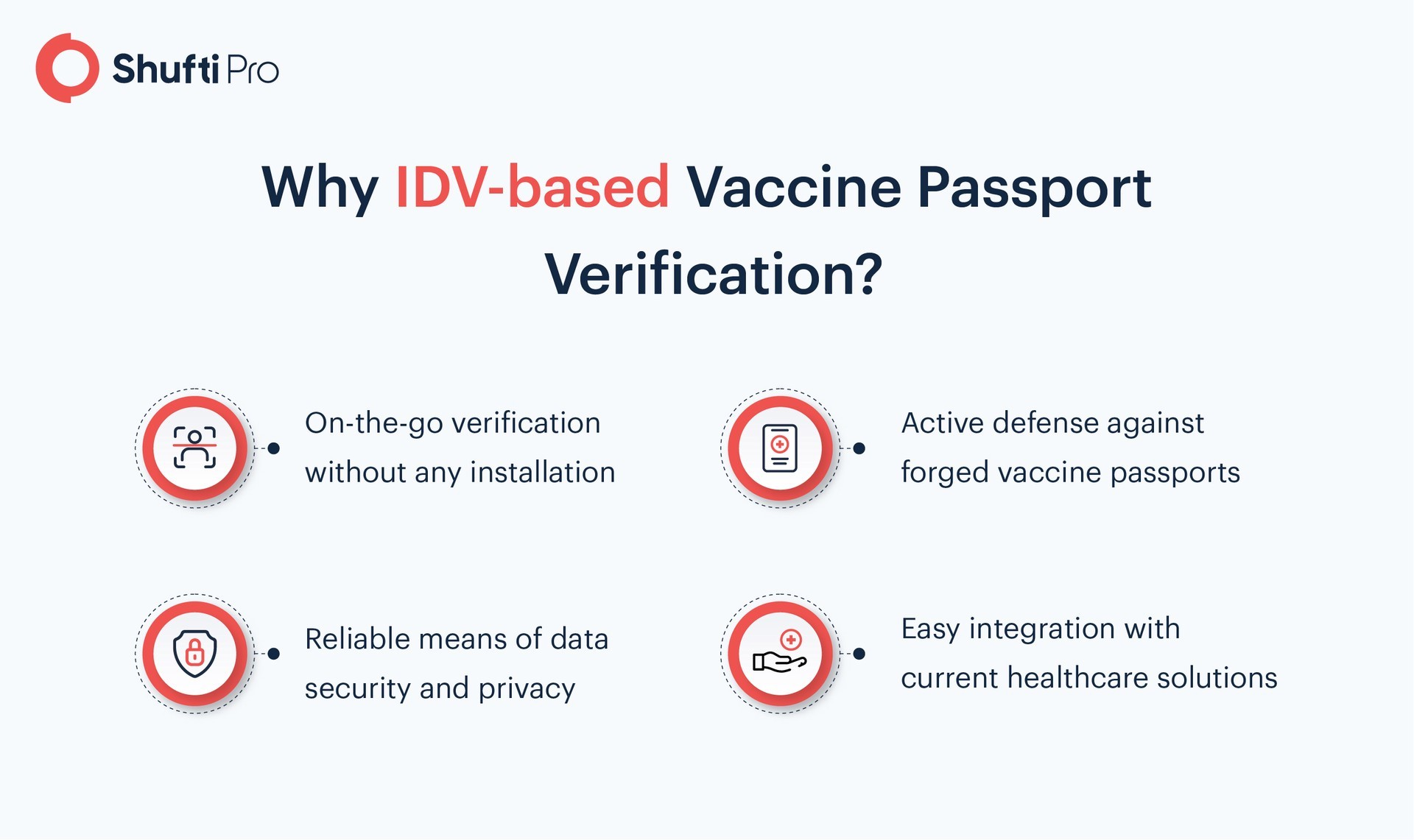 Rapid Detection of Fake Vaccine Passports
A robust IDV solution can instantly identify if a vaccine passport or COVID report is fake or legitimate. This is possible thanks to ID verification technology based on machine learning that looks for possible tampering, modifications, or other features that are commonly found in ill-created documents. These apps can verify that the COVID vaccine passport is authentic and presented by the original owner. 
Easy Integration with Healthcare Apps
The best thing about IDV solutions is that they are scalable. Their ability to enable services with a single API integration puts them at a fair advantage in terms of data accessibility and security. This allows the tourist authorities and healthcare facilities to quickly verify COVID vaccines and test reports while maintaining safe data sharing protocols. 
Wrapping Things Up…
Digital mobile-based solutions for COVID vaccine verification are becoming popular 

A robust IDV-based passport verification service can be integrated with healthcare facilities to provide COVID verification through digitally accessible lab reports while maintaining the data privacy standards