BEFORE YOU GO...
Check how Shufti Pro can verify your customers within seconds
Request Demo
No thanks
As regulatory authorities are seizing the yachts and real estate belonging to Russian oligarchs, freeports and art dealers are facing the risk of becoming the next target for money launderers. While countries around the world are making efforts to steer clear of sanctions imposed after the Russian invasion of Ukraine, the art industry is also being forced to end relationships with wealthy business tycoons. 
Safeguarding their businesses from the ill-gotten funds of oligarchs, art dealers and auction houses are shying away from organizing events. One of the world's top auction houses cancelled the Russian Art Week in London, which is frequently visited by the Russian elite.
Art Industry and Sanctions Evasion
Arts and antiquities are the go-to items for wealthy businessmen who find different mediums to stash their illegally obtained money. Throughout the world, these priceless items constantly change hands between heads of organized crime groups and money launderers. Federal agents were surprised to find over 14 paintings on walls and 33 others that were kept in a storage facility a few miles away from the house of art dealer Ronald Belciano. 
Apart from the paintings by artists like Picasso, Renoir, and Salvador Dalí, the agents found $2.5 million in cash hidden in a secret box under a fish tank. 
This is just one of the many cases where billions of dollars are stashed through the purchase of art and antiquities – the reason being the opacity of the art industry. Neither the buyers nor the sellers know where the money is coming from and there are no Anti-Money Laundering (AML) checks. 
Mikhail Fridman, who has faced sanctions from the EU and the UK, reportedly purchased Andy Warhol's 1962 "Four Marilyns" for $38.2 million at Phillips in 2013. The following year, he sold it to a Turkish banker for $44 million, thereby cleaning his dirty money. Similarly, Roman Abramovich, another Russian tycoon to be sanctioned by the EU and the UK, bought artwork like Lucian Freud's "Benefits Supervisor Sleeping" for $33.6 million at Christie's and a Francis Bacon triptych for $86.3 million at Sotheby's. 
Both the Russian tycoons bought the artworks at the Gagosian gallery in New York, the founder of which has been named the "official art dealer to the Russian oligarchy" by the New York Post. As an answer to the question of whether Gagosian's client relationships will be affected by the Russian sanctions, the gallery stated that it has "established effective internal controls and undertakes due diligence measures to fully comply with all relevant laws."
Actions Taken by Art Dealers Following Recent Sanctions
UNESCO has been making efforts to prevent and restrict the illicit flow, including export, import, and exchange of cultural and artworks since 1970. The efforts raised awareness against the global issue of money laundering. Likewise, advancements in technologies like artificial intelligence and blockchain are reshaping the previously opaque art industry. Today, the art industry can incorporate AI-driven solutions and utilize the power of analytics to detect and eliminate money laundering. 
By the end of February this year, Canada and US among other Western European nations collectively assigned a task force to find and seize the assets of wealthy Russians in other jurisdictions. However, seizing assets is not that simple – the task force will need to prove who the owner of the artwork is. In the art industry, this is a big question mark, as anonymous purchases from hidden sources are quite common. 
Garage, a museum in Moscow founded by Dasha Zhukova, an art enthusiast, collector, and ex-wife of Roman Abramovich, is getting cancellation calls from artists saying they will not exhibit their artworks at the venue. At the same time, Russian billionaire Vladimir Potanin has resigned from the Guggenheim Museum's board of trustees in New York. 
At the beginning of this year, Congress updated the federal anti-money laundering regulations that are formulated to regulate the banking industry and added antiquities dealers into its scope. The Department of the Treasury worked together with other agencies to determine whether stricter regulations should be imposed on the art market in the legislation. Similarly, laws were recently adopted in Europe to oblige art dealers and auction houses to perform identity verification and determine the background and sources of wealth of their clients. "Secrecy, anonymity and a lack of regulation create an environment ripe for laundering money and evading sanctions," the U.S. Senate's Permanent Subcommittee on Investigations said in a report last July in support of increased scrutiny.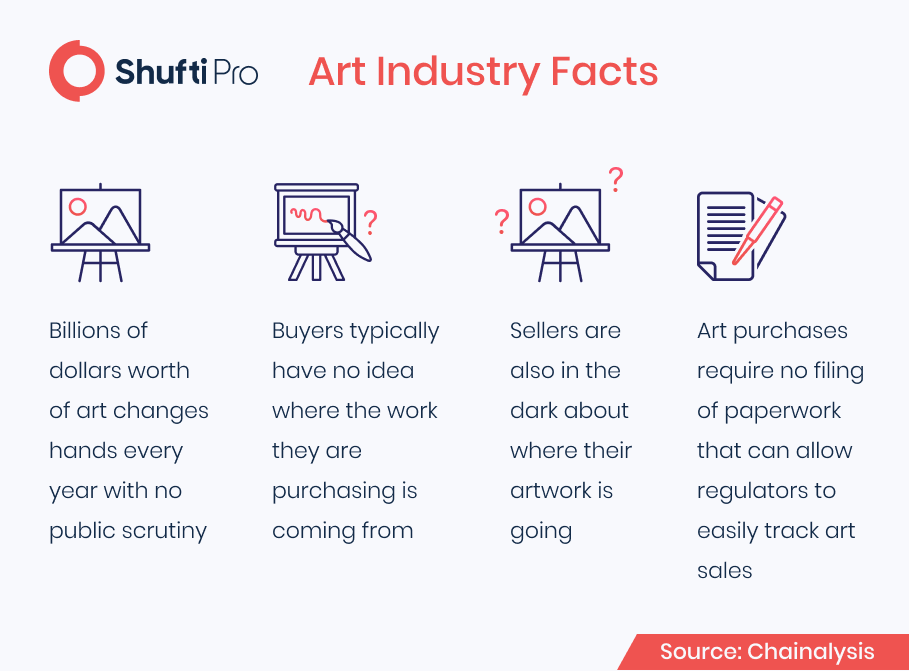 How Art Dealers & Auction Houses Are Dealing with Sanctions
Although most auction houses and art dealers are ready to cut off relationships with clients that have been put on sanctions lists, some are still thinking about how to take their business further. Sotheby's told Insider that it "conducts business in strict compliance with all applicable laws and regulations, including sanctions" and is "will comply with any regulations put in place."
Similarly, Christie's stated that it has "immediately taken actions through our strict client identification and screening processes in place as part of our global anti-money laundering and sanctions compliance programmes."We are not permitting individuals or companies who are designated on applicable sanctions lists to transact with us," the company said.
What Shufti Pro Offers
Anti-money laundering (AML) screening and enhanced due diligence are the AI-driven solutions that art dealers and auction houses can use to prevent money laundering and terrorist financing activities. Art dealers are obliged to incorporate a risk-based approach and practice AML checks to assure that illicit funds never get laundered through the art industry. In addition to this, ongoing AML and transaction monitoring systems can also assist the art market to create risk profiles of buyers.
Shufti Pro's state-of-the-art AML screening services can help you to identify and verify the source of income along with monitoring suspicious transactions. AI-based AML services can also screen clients against a 1700+ global watchlist in less than a second with 98.67% accuracy.
Want to learn more about our AML screening service for art dealers?