BEFORE YOU GO...
Check how Shufti Pro can verify your customers within seconds
Request Demo
No thanks
Twenty years back, "identity theft" was imagined as pictures of shady figures rifling through garbage cans to get users' bank statements or other records. Now, with easier access to Personally Identifiable Information (PII) available on the dark web, Identity (ID) theft has changed immensely. 
2022 witnessed a surge in fraudulent cases by 18% compared to 2021, wreaking havoc on businesses. It is estimated that cybercrime will cost the globe $10.5 trillion annually by 2025.
Understanding fraud trends in the previous year is crucial in implementing the proper data protection measures to minimise data breaches in 2023 and beyond.
A Quick Look at the Top Fraud Trends (2021-2022)
Shufti Pro's team of experts analysed the complete data for 2022 across all industries and regions and compared the trends with 2021 to help businesses flourish in a world where fraud is rampant.
Here's a recap of different fraud trends:
Document Fraud
Document fraud is when someone creates, modifies, or uses genuine or false documents to deceive or bypass specific controls. The penalty for document fraud differs depending on the situation, relating to the type of document forged and the purpose behind it.
2022 was marked as the year of the highest rise in document forgery, with nearly 24% of documents falsified compared with 18% in 2021, a surge of more than 33% within a year. However, passports topped the list of document fraud at nearly 40%, corresponding to ID cards at over 26%.
Biometric Fraud
Shufti Pro's latest ID fraud report analyses a jump in biometric fraud i.e. from 16% in 2021 to 18% in 2022. Criminals used deep fakes and other sophisticated technologies to bypass KYC. This is because artificial intelligence-powered biometric verification is robust enough to catch spoofing attempts. As surpassing liveness detection isn't easy, hackers are now shifting their focus to document forgery.
Digital Banking Fraud
The banking sector has been especially targetted, and become a hub for fraudulent activities. UK Finance has proclaimed bank fraud as a "threat to national security." The UK has witnessed a drop of 13% in fraud losses as compared to the same period last year. However, UK Finance affirmed that cybercrime would not slow down despite the decrease in losses.
ID Theft
Hackers leave no stone unturned to misuse others' identities, making ID theft the top financial fraud. Looking back at 2022, there were 864,999 ID theft cases reported to the Federal Trade Commission (FTC) during the first three quarters, costing consumers $6.18 billion.
ID Theft remains in the spotlight as per the data collected from FTC: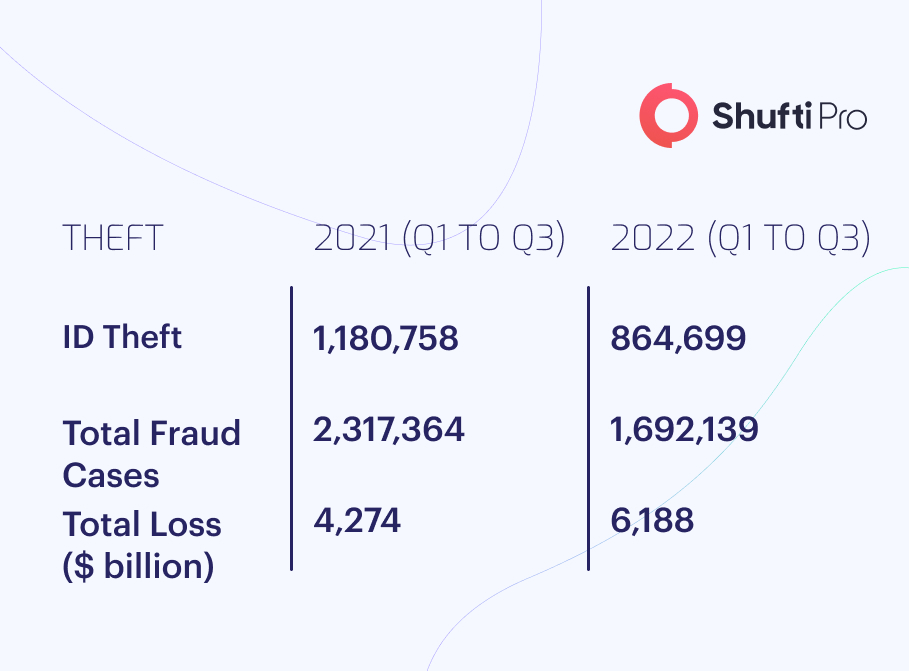 Authorised Push Payment Fraud
Authorised Push Payment (APP) fraud tries to trick businesses and consumers into manually transferring payments to criminals' accounts. The victims are convinced that they're making payments to a legitimate individual and for a legitimate purpose. What is worrying is that there's no legal legislation to cover the losses of APP fraud. Over £600m was pocketed (UK Finance) in H1 2022 and 60% (£360 million) of this was APP scams.
What to Expect in 2023?
Fraud is growing into a billion-dollar industry as crypto exchanges, banks, educational institutes, hospitals, and even governments have become the target of hackers.
Shufti Pro has uncovered new data manipulation methods given the rising number of identity theft and cybercrime cases in 2022. Here is what to expect in 2023. Governments and businesses need to look out for these kinds of forgery:
Man in the Middle Attack
The attack occurs when any third party listens to the communication of other parties and accesses all details. Phishing attacks are usually made to lure victims into conveying their sensitive financial information through a communication channel like emails or phone calls.
Stolen IDs
People are becoming victims of stolen IDs with each passing day. 47% of Americans have faced ID theft, a rate three times greater than the rest of the globe. There were 3.71 million fraud cases reported in the first three quarters of 2022, among which 864,000 were of identity theft.  
Duplicate IDs
Social media saw 1.4 billion and 1.6 billion fake/duplicate profiles in 2022. These profiles were designed to imitate political figures, celebrities, and legitimate businesses. This is a growing trend that Shufti Pro revealed through its collected data and is expected to continue in the future.
Remote Hacking for Fake Liveness
Cybercriminals are staging biometric attacks to bypass identity verification controls through morphing. The challenging liveness detection is tough to circumvent but hackers are coming up with smart ways to surpass security controls through remote spoofing.
Ransomware
A ransomware attack is when the hacker threatens to publicise the victim's confidential details or block its access permanently unless a ransom is paid off. All small and medium-sized businesses are facing ransomware attacks in this digital age. 623.3M ransomware attacks were reported globally in 2021, more than double those in 2020. Although these attacks decreased by 23% in 2022 which might be due to stringent regulations, these attacks are still forecasted to continue in the years to come.
Stay Compliant with Shufti Pro or Pay the Cost  
Looking to navigate through 2023 successfully without being worried about paying heavy non-compliance fines? Try Shufti Pro! Available in 230+ countries and territories, supporting 150+ languages, Shufti Pro's IDV solution is trusted globally in mitigating fraud and making companies compliant with KYC/AML regulations.
Want to know how Shufti Pro's identity verification solution works?