BEFORE YOU GO...
Check how Shufti Pro can verify your customers within seconds
Request Demo
No thanks
With emerging technologies and rapid digitization, identity fraud has become quite common, raising the concerns of several financial crimes including money laundering and terrorist financing. All online businesses and service providers authenticate the identities of their customers through documents like ID cards, driving licenses, and social security. Users have to input all their confidential details while using any digital service, putting them at high risk of cybercrime. The criminals use fake and forged documents to onboard the system and get involved in a large number of scams raising threats of identity theft.
In the US alone, the FTC received 5.9 million reports of fraud in 2021, out of which 25% were for identity fraud. The whole digital sector, especially financial institutions, faces huge threats in the form of identity fraud. Scammers steal the information of users and abuse them for different fraudulent activities, particularly fake account opening and debit/credit card scams. Implementing a robust system of forensic document authentication is imperative for online businesses to secure the confidential data of their users and prevent financial crimes.
Forensic Document Examination – An Overview
Although all financial institutions like banks, insurance companies, crypto exchanges, and e-commerce have stringent measures to curb document fraud, criminals are using more sophisticated ways which require modern solutions. The traditional methods of record verification are not serving the purpose as the cases of identity theft of increasing every year. The whole system is in dire need of an advanced document authentication process which could be through the use of forensics. The solution that incorporates scientific principles to verify documents is forensic document examination, and it involves various modern techniques that can confirm the record's authenticity. There are experts in forensics who work in dedicated laboratories to counter fraudulent activities. Currently, the trend of using forensic techniques for document examination is rising, and many courts only accept forensically approved records.
The Financial Action Task Force (FATF) has also highlighted the need to curb identity theft as criminals use stolen details of users to carry out money laundering and terrorist financing. It is estimated that online businesses are spending an average of 21% of their IT budget on cybersecurity, but still, criminal activities are prevailing costing billion of dollars as financial losses. Incorporating forensic document authentication techniques like infrared imaging, photography, and handwriting verification can really help digital businesses to curb identity fraud, ensuring security for their users.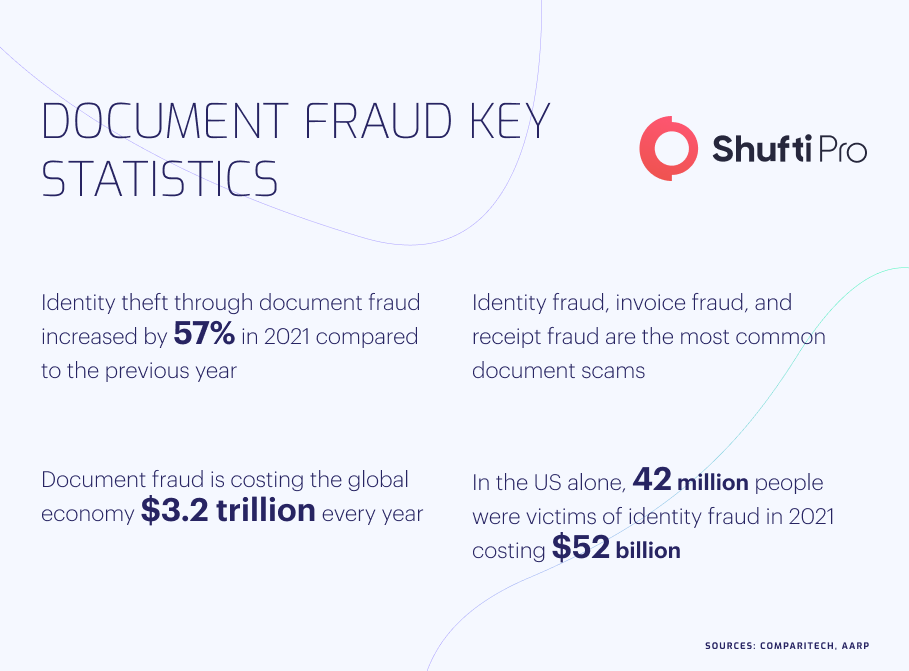 High Profile Crime Cases Involving Document Forgery
All countries across the globe are facing extreme threats in the form of identity theft and financial scams. Although jurisdictions are implementing stringent regulations, the crime ratio is going upwards, compelling authorities and businesses to opt for forensic document examination systems. In the recent past, several cases have surfaced across the globe where criminals tried to defraud different departments, particularly educational institutions, immigration, and banks, through forged documents.
Large-Scale Document Forgery Case Cracked in Germany and Greece
In July this year, German law enforcement authorities, along with Europol, carried out a huge raid in Germany and Greece, arresting a gang involved in a large-scale document forgery. Police raided 12 different houses in both countries and confiscated a large number of forged documents, including passports, ID cards, and driving licenses. It has been found in the investigation that criminals were involved in illegal immigration scams and helping people from different countries to come to Europe through fake records. Police have stated that many criminals belonging to the gang are yet to be arrested and investigations are still going on to trace more illegal activities.
Finland Detects a High Number of Fake Travel Documents
The Finnish Border Guard has revealed in the latest press conference that they have detected a large number of forged documents used by the immigrants. It has also been stated that criminals are using high-quality forgery techniques to make false documents and then using those records for immigration purposes. Finland law enforcement agencies have initiated a high-level inquiry against a group allegedly considered to be involved in the scam.
Regulatory Authorities Monitoring Document Scams
Document fraud has posed a major threat to all financial institutions, which has convinced the major jurisdictions to legislate stringent laws against scams. Global organizations, particularly FATF, European Union (EU), and Interpol, have also highlighted the need for an effective framework to counter cyber criminals through effective document authentication checks. In the wake of this, several countries have implemented laws that are helping online businesses to monitor verification operations.
Germany
Germany is one of the countries which have quite strict policies toward document forgery and individuals involved in this illegal activity. The production of a false record or falsification of any genuine document is a criminal offense as per German law, which is punishable by a fine or imprisonment of up to five years. Code 267 of German criminal law is quite clear about document fraud and even any attempt to forge the details is considered an offense. Several criminals have been tried under this law and put behind bars for violating rules and regulations.
France
France has also legislated strict laws against document forgery which is the reason that identity fraud cases are quite less here compared to other European countries. The mere possession of a single false document in France can cost the criminals two years of imprisonment and a €30,000 fine. In case the nature of the crime is worse, this penalty can go up to 5 years with €75,000 fine. Besides this, the perpetrators also risk several sanctions imposed on them, which may include freezing their bank accounts and restricting them from using online services.
Enhancing KYC Using Forensic Document Examination
Documents are the most important source of determining the true identities of users and without any effective system of verification, it will remain hard to counter the criminals. With growing digitization, online businesses are picking up the pace raising the need for forensic document examination systems to secure financial transactions. Through forensic authentication of documents, not only can criminals be identified, but sophisticated users can also be saved from financial losses.
The global regulatory authorities are also highlighting the need for viable Know Your Customer (KYC) measures that can be enhanced by incorporating the techniques of forensic examination of documents. It will allow the online service providers to check the legitimacy of users' records using advanced methods and will also help to keep the bad actors away. The criminals are using sophisticated ways to cheat the system and it is the need of the hour to fight them through the most effective methods which could be forensics verification.
What Shufti Pro Offers?
Shufti Pro is offering the most advanced identity verification services, which authenticate the documents of customers using forensic techniques and Optimal Character Recognition (OCR), helping businesses securely onboard clients. Combating identity theft and other financial crimes is quite crucial for online service providers and by using Shufti Pro's state-of-the-art identity verification services, they can ensure compliance with global standards. Powered by thousands of AI algorithms, Shufti Pro's KYC solution will verify the true identities of users and provide output in less than a second with 98.67% accuracy.
Want to get more information about forensic document examination for digital businesses?