BEFORE YOU GO...
Check how Shufti Pro can verify your customers within seconds
Request Demo
No thanks
Identity theft, data breaches, and other crimes are rising in this age of digitisation. A quick recap of 2022 shows no signs of identity theft slowing down, with over 1.1M reports submitted to the Federal Trade Commission (FTC) so far. The figure clearly signifies how crucial it is for businesses to use biometric verification. Not only deploy, but you as a business owner must understand the basics and some Frequently Asked Questions (FAQs) before investing in biometric verification.
FAQ# 1: How Does Biometric Security Work?
Biometric security verifies individuals through unique physical traits, such as facial features, iris patterns, fingerprints, or voice. Businesses use biometric verification to detect any red flags and mitigate the risk of fraud in the near future. 
Here's how biometric security works:
Enrolment:

An individual's biometric information is obtained and stored in the database during enrolment. The details are usually fetched with a biometric sensor, capturing an image or recording the individuals' physical or behavioural traits.

Processing:

After capturing the biometric data, it is processed to create a template, i.e. a distinctive digital representation of the individual's biometric trait.

Comparison:

When an individual tries to access a specific system or device secured by biometric verification, their physical or behavioural trait is captured again and processed into a template.  After that, the new template is compared to the one in the database.

Authentication:

If the comparison shows a match between the templates, the individual is verified and granted access to the secure resource. On the other hand, any dissimilarity in the templates signals a red flag, and the person is denied access.
FAQ# 2:  Why is Biometric Better than Passwords?
Biometric verification is considered safer and more user-friendly than conventional passwords for many reasons:
Unique and Tough to Replicate:

An individual's biometric identifiers, such as face and iris, are unique to every person and difficult to imitate.

Difficult to Forget or Lose:

As passwords can be forgotten or lost, biometrics is always with the individual and can never be misplaced.

Faster and More Convenient:

Biometric validation is faster and more convenient than conventional passwords as users do not have to remember a password to access a device.

Difficult to Steal:

As biometric information is stored on the device and is not transmitted over networks, it's more challenging to steal than passwords. 

More Resistant to Hacking:

Passwords can be hacked through different means, such as phishing and social engineering. On the other hand,

biometric authentication

is more resistant to hacking as it requires the real presence of an individual.
However, it's worth noting that biometric verification isn't foolproof, and there are privacy concerns and many potential security risks associated with using biometric data. Proper security protocols are essential to ensure that biometric information is protected and used only for authorised purposes.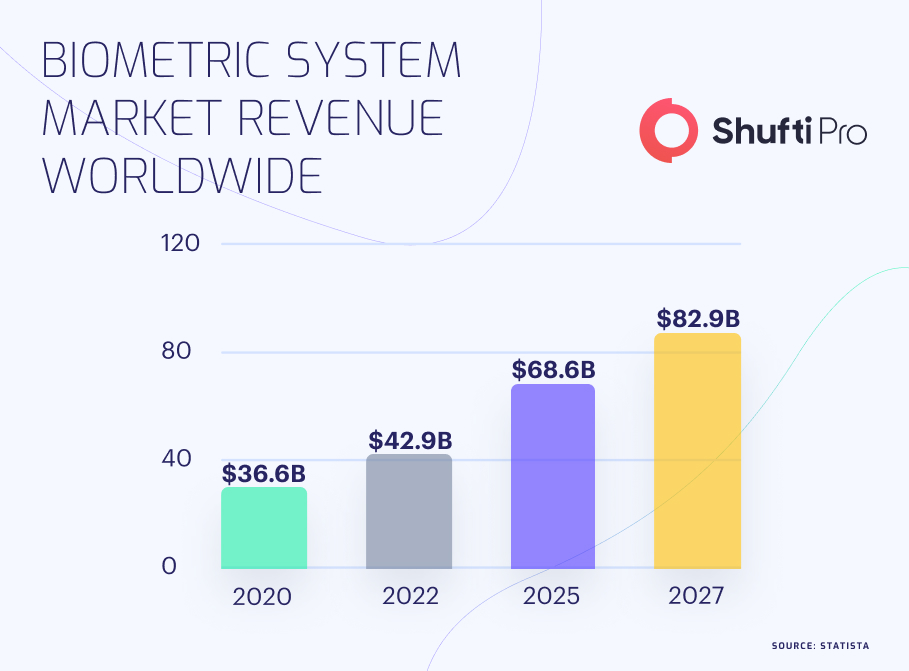 FAQ# 3: Can Biometric Passports be Forged?
Although biometric passports have been designed to be more secure than conventional ones, they can still be forged or altered. 
Biometric passports also have additional security measures, including holographic pictures, watermarks, and unique inks that are challenging to copy to thwart forgery and tampering. Most countries have also set stringent standards for issuing biometric passports, including background checks and biometric data verification.
Despite these safeguards, there have been cases of biometric passport theft, where attackers could get around the security measures and create fake passports. Although these occurrences are relatively infrequent, authorities are still working to strengthen passport security to combat fraud and safeguard travellers.
FAQ# 4: Can a Biometric Passport be Tracked?
Only in specified situations and with proper legal approval can authorised parties, including law enforcement or immigration officials, trace a biometric passport.
At immigration checkpoints, the biometric information on a passport's microchip—such as face recognition data—is used to confirm the holder's identity. Only authorised parties may use this information to follow a passport holder's international travels.
The collection, keeping, and use of biometric data are governed by stringent rules and regulations in most countries. Only authorised employees are permitted access to this information, and it is usually only used for specific purposes like border control, law enforcement, etc.
Although biometric passports are intended to increase security and prevent fraud, it is essential to note that they cannot monitor the passport holder's movements outside of border checkpoints. A person may be tracked beyond border crossings using other kinds of proof of identity, such as their government-issued ID cards or driver's licences, which may contain biometric information.
FAQ# 5: What are the Advantages of Biometric Authentication?
Biometric verification is needed for many reasons:
Enhanced Security:

Biometric authentication offers greater security as it is based on an individual's unique physical or behavioural traits that are difficult to replicate.

Convenience:

Biometric verification is more convenient as users do not have to remember passwords to access a device.

Fraud Prevention:

Biometric authentication prevent fraud as an individual's unique characteristics cannot be duplicated easily.

Cost-effective:

Biometric verification can be cost-effective because it eliminates the need for costly hardware tokens which can be stolen or damaged.

Regulatory Compliance:

Biometric verification help organisations abide by regulations and prevent them from paying hefty fines.
How Can Shufti Pro Help?
Shufti Pro sets new standards for verifying customers remotely with AI-powered biometric solutions in this fraud-hit world. But why is Shufti Pro's biometric solution a business's go-to option? 
Verify individuals within seconds and mitigate the risk of fraud

Onboard customers seamlessly with a facial scan

Streamline sign-ins via selfie login

Deter spoofing and impersonation attacks
Want to know more about how biometric solutions can empower your business and enhance security?