BEFORE YOU GO...
Check how Shufti Pro can verify your customers within seconds
Request Demo
No thanks
Healthcare scams cost our economy tens of billions of dollars every year and the lowest value of losses is 3% of total healthcare expenses. whilst some governments estimate the loss to be 10% of the sector's total budget, equating to over $300 billion. These concerning statistics have urged healthcare providers to consider streamlining security measures to accommodate the growing threat by implementing biometric verification solutions. 
Latest Healthcare Fraud in Review
Twenty-three Michigan residents were fined lately for their alleged involvement in two unauthorised schemes. Their goal was to trick Medicare of over

$61.5 million

through bribes, kickbacks and also billing Medicare for nonessential medical services that they never provided.

Federal prosecutors have recently

fined

a firm operating addiction treatment centres in Rhode Island and Massachusetts, its owner and a senior worker with healthcare fraud.

The owner and manager of Meik Medical Equipment and Supply are now federally convicted for participating in a scheme to circumvent Medicare Advantage and Medicaid managed care plans. Both were alleged to billing two insurance companies fraudulently, for over

$3.8 million

,  from December 2010 to February 2014 for a number of costly patient support systems that were never offered to caregivers or patients.
Common Types of Health Care Fraud
Healthcare fraud affects everyone— businesses and individuals alike. It can elevate health insurance premiums, expose people to unnecessary medical procedures, and cause tax increases.
As per the Federal Bureau of Investigation (FBI), there are different types of healthcare fraud:
Healthcare Fraud Committed by Medical Providers
Phantom Billing:

Charging for a service visit or those items that were never offered to the patient

Double Billing:

Submitting a number of claims for the same services

Upcoding:

Billing a more costly service that the patient hasn't received actually

Unbundling:

Submitting many bills for the same service
Healthcare Fraud Committed by Patients and other Individuals
Imitating a Healthcare Professional:

Offering or charging for health-related equipment and services without having a licence to do so

Identity Swapping/Identity theft:

Allowing any individual to use your insurance or using another person's health insurance 

Bogus Marketing:

Compelling individuals to give their health insurance ID number as well as other confidential details to charge for non-rendered services, or register them in a simulated benefit scheme
Fraud Involving Prescriptions
Forgery:

Producing or utilising forged prescriptions

Diversion:

Diverting any legal prescription for illicit use such as marketing your prescription medicine

Doctor Shopping:

Visiting healthcare providers to

get prescriptions for controlled substances or receiving them from those offices that are involved in illicit activities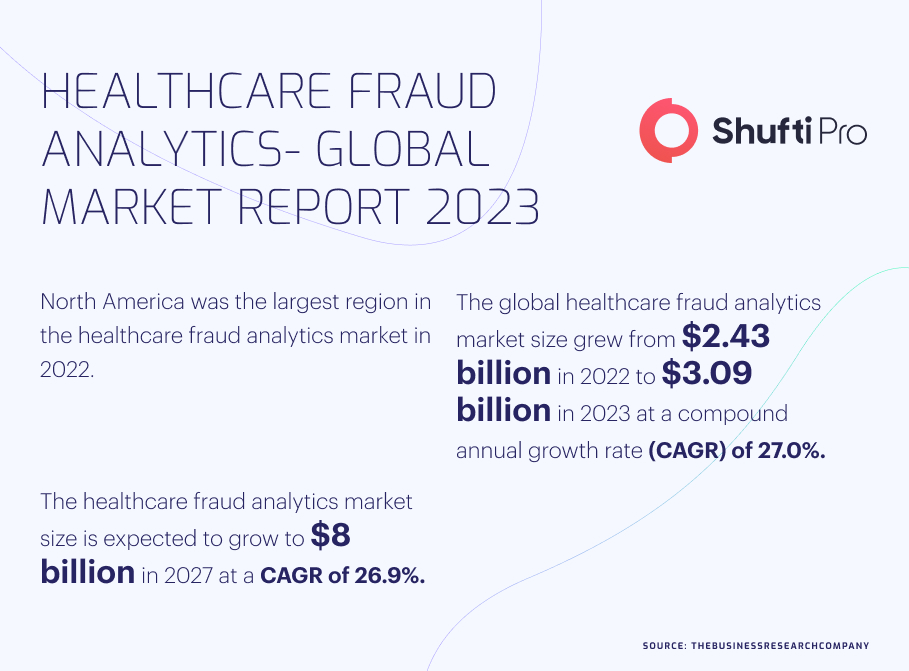 Biometric Verification to the Rescue
Data privacy is the primary concern of every business and the healthcare sector is no exception. Patients' data is highly confidential and may contain sensitive details that need to be protected. Leakage of patients' personal details causes havoc, not only on their privacy but also on the image of a healthcare institution. These data leaks are a reality as 28.5 million Americans were impacted by such breaches in the last half of 2022. However, 21.1 million residents were affected during the first half of the year, representing an increase of 35%. The average data breach in the healthcare sector affected more than 91,000 individuals in the last six months of 2022. Therefore, it is essential to deploy robust security solutions that can ensure data privacy in this fraud-hit world. This is where biometric verification comes to the rescue.
Biometric authentication uses unique biological or physical characteristics of a person to check that they are who they claim to be. One of the most commonly used techniques is face verification which uses facial features to verify individuals and mitigate the risk of fraudulent activities in healthcare and other businesses.
Benefits of Biometric Verification in the Healthcare Sector
Not only biometric verification protects healthcare from identity theft, data breaches, and other heinous crimes but it offers the sector a number of  benefits such as:
HIPPA Compliance:

the Health Insurance Portability and Accountability Act of 1996 (HIPPA) is a federal regulation that sets the standard for protecting patients' sensitive health data. The healthcare sector has a legal binding to follow the rule, otherwise, be ready to pay hefty fines. This is where

biometric verification

steps in, making the healthcare sector compliant with HIPAA. 

Improved Patient Experience:

Patients always want a seamless experience whilst they go through security checks deployed in healthcare or other organisations. This is where robust

biometric verification

is a promising solution, enhancing customer experience. 

Positive Brand Image:

When the customer is satisfied, they portray the company's positive image to their family and friends. This helps the sector establish its name in the market and biometric verification takes the lead in this regard.  
Where Does Shufti Pro Step in?
Shufti Pro offers an AI-powered biometric verification solution to identify individuals entering healthcare and other sectors. The authentication solution uses 3D liveness detection to securely and quickly authenticate users with their selfies, mitigating the risk of fraud in this technologically advanced world. 
Here's what makes Shufti Pro's biometric face verification an ideal option for the healthcare sector:
Globally trusted IDV solution provider

Verify within seconds

Accuracy rate of over 99%
Want to know more about how Shufti Pro's biometric verification solution protects the healthcare sector from heinous crimes?