BEFORE YOU GO...
Check how Shufti Pro can verify your customers within seconds
Request Demo
No thanks
Fintech is a fast-growing sector that combines finance and technology to assist businesses and customers in managing payments, funds, and more. It is estimated that fintech revenue will be worth  €188 billion globally by 2024. This makes transaction monitoring a key issue in fintech. 
Although this growth is good news for novices to the market, setting up a fintech company is not the same as starting a business in other sectors. The fintech industry is heavily regulated, and those entering the sector must abide by regulations to avoid heavy fines. 
Another area the sector finds challenging is Anti Money Laundering (AML). Here regulations mandate fintech to conduct comprehensive monitoring of clients' transactions.
A Bit about Transaction Monitoring in Fintech
Transaction monitoring, the phrase says it all, is the tracking of customers' transactions. This includes purchases, deposits, transfers, and withdrawals and is usually linked to analysing clients' historical information to give a complete picture of customers' activity. 
Transaction monitoring helps fintech and other firms predict clients' future activity and manage risk. It facilitates businesses in curbing fraud, money laundering, terrorism financing, and different types of financial crimes.   
In this connected world,  transaction tracking and assessment are crucial to satisfy AML and Countering Terrorism Financing (CTF) regulations in addition to other obligatory requirements.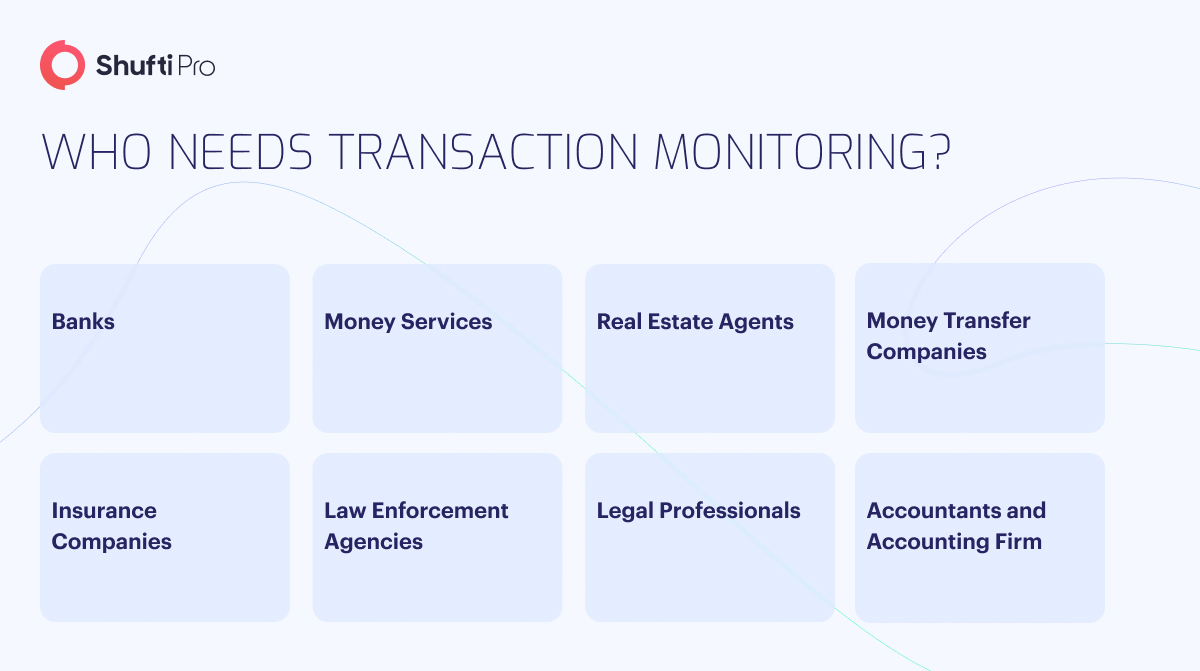 How Does Transaction Monitoring Work in Fintech?
Although the most powerful strategy to track customer transactions in fintech is delegating the task to the workforce to stop and check every transaction manually, it needs more efficiency. Reviewing each transaction before getting it processed is an impractical concept, fails to scale, and needs to be more workable. 
Instead, many fintech sectors will pick an automated AML solution that monitors transactions in real-time and flags any suspicious transactions to be reviewed manually. Taking advantage of automation enables fintech to reduce human error and allot more human capital to review and investigate suspicious behaviour.
When appropriately deployed, a transaction monitoring system detects criminal activity on a broader scale, including bribery, corruption, identity theft, money laundering, and terrorism financing. After detecting the illegal activity, an automated transaction monitoring process issues an alert and the compliance team then does the follow-up assessment. 
Transaction Monitoring Thresholds
Being a financial form, there are many local and international regulations to comply with. FINRA has also published its latest report on the investigation and risk monitoring program.  
FATF has set some standards linked to AML and CTF processes. It recognises the below-mentioned factors as determinants of AML/CTF controls:
How diverse are the operations being conducted in the financial sector? 

What is the scale, nature, and complexity of the firm?

To what degree does the fintech sector deal with intermediaries, third parties, and 'non-face-to-face' access? 

What is the distribution channel that the industry is using?

What is the size and volume of transactions taking place?

What is the extent of risk linked to each area of the fintech industry?

What is the financial sector's product, activity, and client profile? 
Best Practices of AML Transaction Monitoring
All the sectors can pick a KYT verification solution that meets business demands in order to monitor customers' transactions. Choosing a manual transaction process is an outdated approach these days. Only those businesses can stay ahead of their competitors who use an automated KYT solution that tracks any fraudulent activity in real time.
Tips to Enhance Transaction Monitoring in Fintech
Getting to grips with an AML transaction monitoring system is something the fintech sector is looking to tackle criminal activity. It is because any customer who has ties with Politically Exposed Persons (PEPs) or those on global watchlists could face hefty penalties.  
To provide customers with the best user experience and stay ahead of competitors, making transaction monitoring a frictionless process is crucial. Here's how companies can hit the ground running with their updated transaction screening solution. 
1. Understand Customer Risk Factors
Customers carry different risk levels influenced by several historical and current factors like location and industry. Thus, it is crucial to understand the clients' risk factors if they want to mitigate financial crime. 
2. Create Rules for Each Risk
The fintech sector needs to enact rules for every risk category, be it low, medium, or high, to avoid financial crimes and prevent non-compliance fines. The tip is to create rules that must be dynamic and customisable.  
3. Set Up Alerts
Whenever any AML rule is violated, an alert should be issued. The reason is to notify human alerts that some suspicious activity just happened and that they should gear up for stringent security measures.
4. Notify Compliance Teams
As soon as the alert is triggered, no transaction would be allowed to continue until or unless properly and thoroughly investigated by the risk or compliance team. 
5. Create a SAR
In case, any suspicious activity is detected, generating a Suspicious Activity Report (SAR) is crucial. The transaction into the probe should be reported to the Financial Intelligence  Unit (FIU). This is a cumbersome process but can be made seamless with an automated Know Your Transaction (KYT) solution. 
How Shufti Pro Fits in the Puzzle
Although it is tempting to handle the KYT verification manually, the value of a sophisticated AML solution can't be overlooked. Moreover, the changing regulatory landscape and complex nature of financial crime make AML transaction monitoring a complex element of compliance. 
A globally trusted AML transaction monitoring solution offered by Shufti Pro is the go-to option for the fintech sector to comply with AML regulations. Screening against 1700+ global watchlists and available in 230+ countries and territories, Shufti Pro's transaction solution is a great bet to make the premises safe and sound.
Do you need clarification on choosing the best AML solution for your business?