BEFORE YOU GO...
Check how Shufti Pro can verify your customers within seconds
Request Demo
No thanks
Financial crimes are rising, wreaking havoc on organisations and individuals. The fraud rate has increased from 13% in 2021 to 16% in 2022 worldwide. The international financial watchdogs are urging stricter Anti-Money Laundering (AML) measures to detect and stop suspicious activities related to money laundering. This is where e-transaction screening comes in, protecting firms from illicit activities.
Understanding Transaction Screening
Transaction screening involves real-time monitoring to detect suspicious transactions. One of the first transaction screening requirements is to verify the customer's identity. The process is highly resource intensive if it is done manually. Financial institutions today have built sophisticated internal systems involving human resources, automation, and AI to analyse a large volume of transactions. Customers are also screened against the latest global sanctions lists. The systems are regularly updated to reflect recent changes.  As financial crimes continue to rise, transaction screening provides customers and financial institutions with a safety net.
How Does Transaction Screening Work?
Firstly, the

transaction screening process

compares transactional data against watch lists, Politically Exposed Persons (PEP), and sanction lists. These lists contain information about individuals, countries, regions, and jurisdictions associated with terrorist financing, money laundering, fraud, and other financial crimes.

Secondly, an alert is triggered when a transaction matches or resembles an entry on the watchlist. Then compliance officials within the financial institution investigate the alert and determine whether the transaction is suspicious or requires further action, such as reporting to regulatory authorities.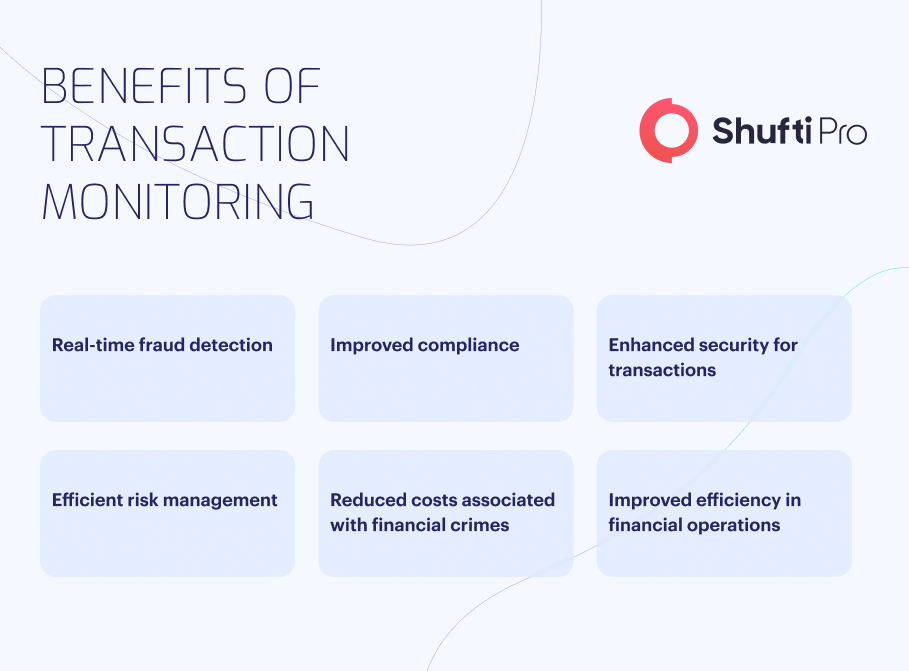 What are the Benefits of Transaction Monitoring?
Real-Time Fraud Detection:

One of the critical merits of transaction monitoring lies in its ability to promptly identify fraudulent activities in real time, aiding financial institutions in swiftly spotting and flagging suspicious transactions. This safeguard helps prevent financial losses and protects customers' financial data.

Improved Compliance:

Financial institutions must adhere to various regulations to combat crimes. Implementing a transaction monitoring system allows these institutions to effectively detect and report potentially unlawful activities that may breach these regulations.

Enhanced Security for Transactions:

Transaction monitoring empowers financial institutions to detect and thwart fraudulent activities preemptively, thus bolstering the security of financial transactions.

Efficient Risk Management:

Transaction monitoring aids fintech companies in identifying and managing risks associated with their business operations. This includes detecting and mitigating money laundering risks, terrorist financing, and other illicit activities.

Reduced Costs Associated with Financial Crimes:

Financial institutions can incur substantial losses due to fraudulent activities. A transaction monitoring system can minimise these losses and the costs of investigating and preventing financial crimes.

Improved Efficiency in Financial Operations:

A payment screening process streamlines identifying suspicious activities, automating many manual tasks, reducing the need for human intervention, and elevating the overall efficiency of financial operations.
The Challenges in Implementing a Transaction Screening System
Despite its advantages, transaction screening systems also come with its challenges, such as:
Systems Not Configured Properly:

Incorrect system configuration might lead to missing suspicious transactions or excessive false positives. To guarantee optimal functioning, regular monitoring and modifications are required.

Changing Regulatory Requirements:

Transaction screening regulations are subject to regular change. Changing the screening algorithms, data sources, or procedures to conform to new laws and criteria might be difficult and time-consuming.

False Positives:

When legal transactions are mistakenly marked as suspicious, false positives happen, High false positive rates might overburden compliance teams, causing higher expenses, labour-intensive manual checks, and possibly longer processing times for legitimate transactions.

Updates and Maintenance:

  Transaction screening systems must be updated and maintained regularly to work efficiently. Due to their dynamic nature, maintaining the quality, comprehensiveness, and timeliness of various data sources can be difficult.

Evolving Money Laundering Techniques:

Criminals constantly modify their methods to avoid being caught. Keeping up with these shifting strategies is challenging for transaction screening systems to identify and stop illegal activity successfully.

Data Quality and Integration:

The accuracy and currentness of the data used for transaction screening come from various internal and external sources. Due to mistakes, inconsistencies, and missing data, maintaining data quality can be difficult. Technical and practical challenges arise when integrating data from many sources and guaranteeing data accuracy and consistency.

Resource Allocation:

Examining and investigating alerts by knowledgeable compliance team members are necessary for an efficient payment screening process. However, there is a considerable lack of skilled workers in the financial crime compliance industry, given the increase in financial crimes.
How Shufti Pro Helps Address Transaction Screening Challenges?
Whilst AML transaction monitoring has numerous challenges, Shufti Pro helps financial businesses overcome them.
Advanced Technology

: Shufti Pro offers robust transaction screening solutions that leverage cutting-edge technology like machine learning, artificial intelligence, and data analytics. These technologies can improve detection efficiency, decrease false positives, and more accurately identify intricate patterns of suspicious activity. Investing in cutting-edge technology solutions made specifically for transaction screening expedite operations and boost productivity.

Optimised System Configuration

: Our real-time transaction monitoring solution ascertains that the institution's risk appetite, compliance guidelines, and legal requirements are all met. It often reviews and changes the system's setup for shifting threats and legal requirements. Our transaction screening solution conducts routine system audits to find any holes or potential areas of improvement.

Compliance with Regulations

: Our transaction screening solution remains up-to-date on all regulatory and legal requirements. It tracks and evaluates modifications to the rules and regulations of the appropriate regulatory organisations to avoid penalties.

Enhanced Data Management

: Our solution performs robust data management to guarantee the data's correctness, completeness, and quality for transaction screening. It regularly maintains and updates watchlists, sanctions lists, and other pertinent data sources. The transaction screening solution automates procedures and the ability to integrate data, simplifying data administration chores and reducing human error.

False Positive Reduction

: Create strategies that reduce the false positives the transaction screening system produces. This might involve adjusting screening criteria, using cutting-edge analytics to optimise algorithms, and regularly reviewing false positive instances to spot trends and enhance the screening procedure. Work together with technology providers or consultants who are knowledgeable about methods for reducing false positives.
Looking for a customised AML transaction screening solution?